When most people think of a typical North Korean city, the gleaming spire that is the Ryugyong Hotel or the glowing torch atop the Juche Tower will probably spring to mind. These, and many other famous sites, are located in the heart of North Korean capital city, Pyongyang.
However, there are many other cities dotted around the country.
Amongst others on the eastern seaboard. There are Wonsan and Hamhung whilst to the west Nampo and Haeju. Chongjin, Hoeryong and Rason are the three major population centres of the far North-East. Kaesong and Sinuiju sit on the South Korean and Chinese borders respectively, and other, smaller cities like Pyongsong and Anju are all visitable by foreign tourists.
North Korea's cities were bombed flat during the Korean War (1950-1953) and, for this reason, have all been rebuilt in a classic socialist style with their architecture and layout meticulously planned out.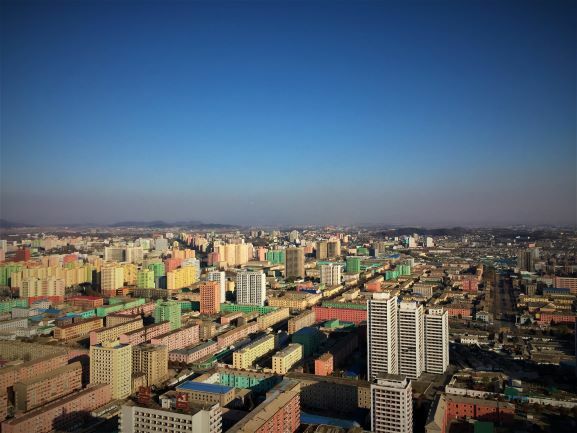 ---
North Korean City Centres
Like many cities throughout the communist world, most cities in North Korea are built around a central square. Perhaps it's to symbolise the importance of the society over the individual, or just a handy place for mass gatherings and celebrations.
Pyongyang is famous for its square, Kim Il Sung Square, named after the first leader of the country, President Kim Il Sung.
Chongjin, Sinuiju & Hamhung boast the most impressive city squares outside of the capital. Often, the buildings surrounding the square will be some of the city's most important. The Hamhung Grand Theatre is the centrepiece of Hamhung's square, whilst Chongjin's is the site of the North Hamgyong Revolutionary History Museum.
Sinuiju city square is the site of the North Pyongan Revolutionary History Museum as well as the city's railway station which visitors who enter the country by train will stop off at for their customs checks.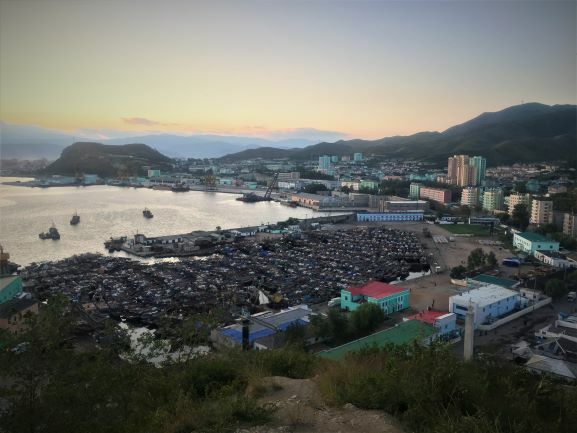 ---
North Korean Monuments & Murals
Every town, city and village in North Korea will have some monument, mural or plaque dedicated to the national leadership. In Pyongyang, the most notable of these is the two 22m high bronze statues of the leaders on Mansu Hill; known as the Mansudae Grand Monument.
In many North Korean cities, the central square is also the home of these statues. Generally speaking, cities will have a central monument with two statues of Kim Il Sung and Kim Jong Il.
There are a few exceptions, however. Samjiyon, in the far north, only has a statue of Kim Jong Il, since he was said to have been born in the region surrounding the city. Hoeryong only has a figure of Kim Jong Suk, Kim Il Sung's wife and the mother of his successor, Kim Jong Il since she was born in the city.
Every town & city will have what is known as a 'Tower of Eternal Life' – a large marble or stone tower upon on which inspiration quotes about the leaders or the country are emblazoned in gold lettering. In Pyongyang, there's usually one for each district.
Villages will often have a mural. Rural villages may have a themed mural depicting the great leaders looking out over fields of corn or giving on-the-spot guidance to local workers. In contrast, industrial towns may have murals depicting the leaders surrounded by factory workers or other relevant imagery.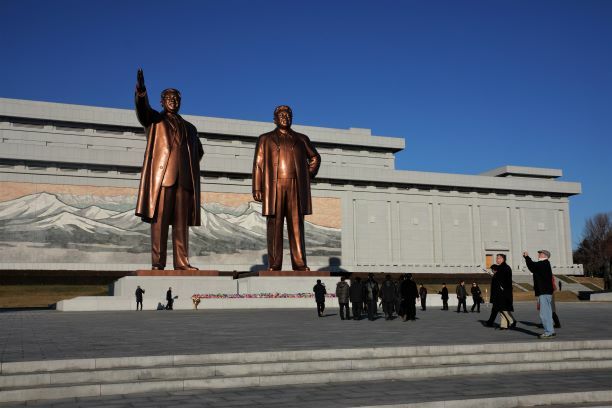 ---
Modern North Korean Architecture
The architecture of cities in North Korea was, for many years, very soviet. Row upon row of concrete buildings covered the landscape with no defining 'Korean' characteristics. Many structures were convenient prefabricated blocks akin to the Khrushevskiy apartments found across the former Soviet Union.
However, much has changed since the turn of the century. East Pyongyang's buildings now sport bright pastel colours.
New buildings in cities all over the country tend to have a little more of a splash of colour. The soviet-style exposed concrete that remains sees either a watered-down blue, yellow or green or a modern bolt-on glazed cladding.
New districts have also been developed in Pyongyang, Wonsan, Samjiyon and other cities which displayed a unique, modern architectural style.
Today, a visit to Ryomyong Street or Mirae Future Scientists Street in Pyongyang will change your perception of North Korean architecture. Advances in contemporary cladding have allowed architects in North Korea to build from their imagination.
Buildings range from simple wave effects through to dark glassed twisted spirals, rocket launch platforms, open books and more.
If you think Pyongyang as the capital is the only city to see, modern building advances you'd be wrong. The entire city of Samjiyon was razed to the ground and rebuilt in a new funky style. Wonsan has also seen renovation to include a modern tourist resort and a shiny new glass-fronted airport.
Plans are accelerating to modernise the look and feel of North Korea's cities a visit to Pyongyang's architectural institute will give a visitor just a glimpse of what is to come.
---
---