Mirae Street 미래
(Future Scientist's Street)
Introduction
Location
Exterior
Interior
Visiting & Tips
Mirae Street: Introduction
The street is 6 lanes wide and was officially opened in November 2015.
The project was started in 2014 and completed in November 2015 at "Pyongyang speed".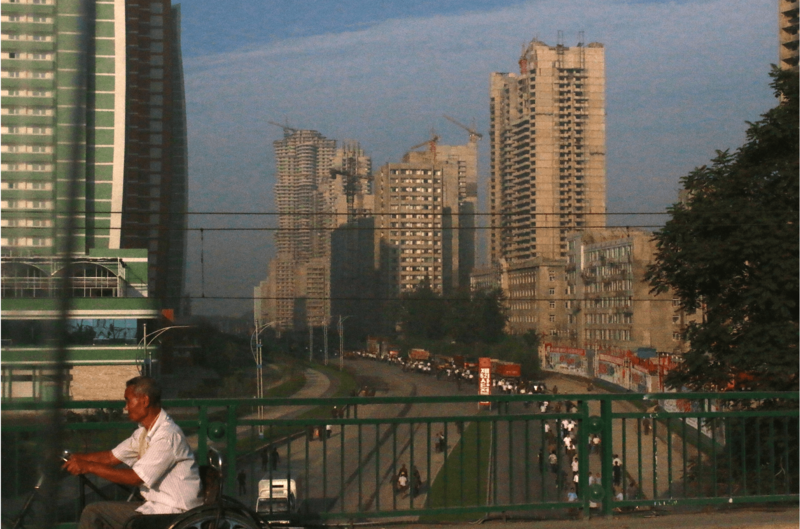 Image: Construction continues, August 2015, three months before the completion of the street.
Most of the work completed by the military and shock brigades (young people finished school or university who volunteer for construction projects).
---
Mirae Street: Location
Mirae Street is located on the banks of the Taedonggang River in West Pyongyang, very close to the Yanggakdo Hotel.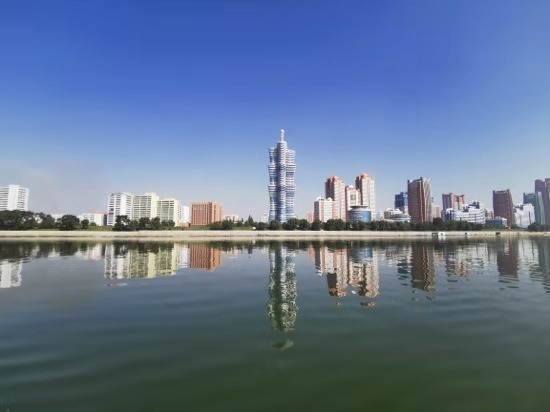 ---
Mirae Street: Background
Mirae Scientists Street (미래과학자거리) is one of Pyongyang's newest districts built to house employees of the Kim Chaek University of Technology. This is located nearby along the banks of the Taedong River.
The area is distinct for the uniquely modern architecture which lines either side of the road. This is as an example of how much importance the government places on the science and technology industry.
The buildings stand out when compared to the rest of Pyongyang as the construction marked the start of a shift away from Soviet-style communistically inspired architecture and into a new homegrown futuristic-style modern architecture.
This style has since spread slowly and was incorporated heavily in the design of Ryomyong Street in central Pyongyang a year later.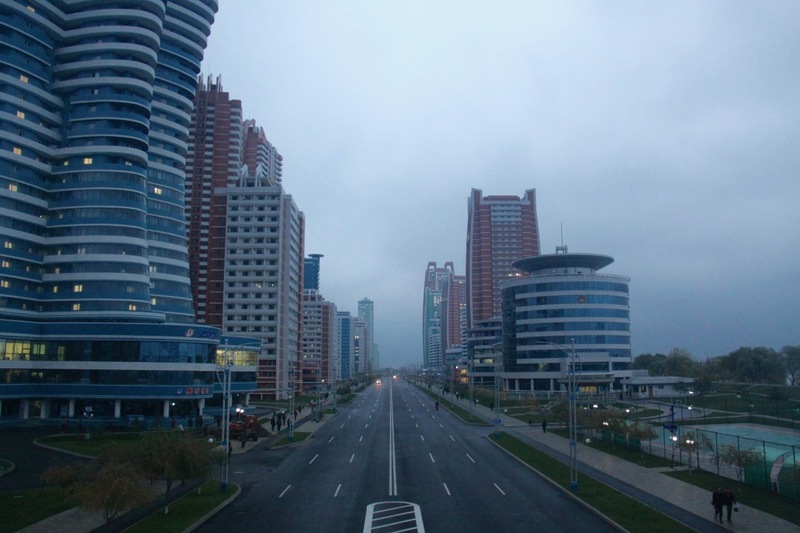 ---
Mirae Street: Mirae Unha Tower
One of Pyongyang's tallest buildings is located on the street, the Mirae Unha Tower or 'Future Galaxy Tower'.
The tower is reminiscent in style to an atom which has been stretched upwards. Mirae/Scientist's Street and the Unha Tower are clearly visible from the Yanggakdo International Hotel which sits on Yanggak island in the middle of the Taedong River, only slightly south-east of the bright lights of Mirae.
This makes for a fantastic view out the window of the hotel at night.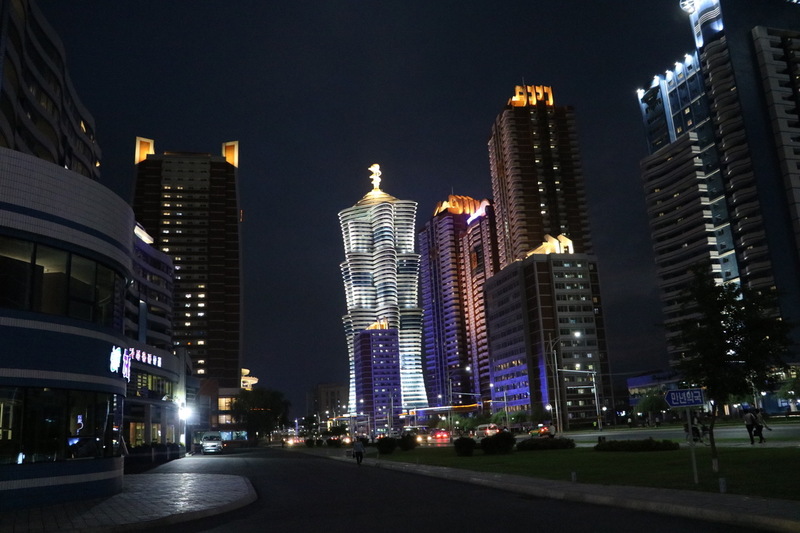 Image: Unha Tower or Galaxy Tower is a futuristic 53-story building and the tallest and most eye-catching of the towers.
---
Mirae Street: Visiting Mirae
You can walk along Mirae Scientist's Street and explore the interesting architecture.

For a great photo opportunity, there is a bridge at the top end of the street that you can walk over and stand on to get a full view.

One of Pyongyang's Pizza Restaurants is located on this street, though this particular restaurant is now not available to tourists. Not to worry though, there is a much better pizza restaurant on Kwangbok Street.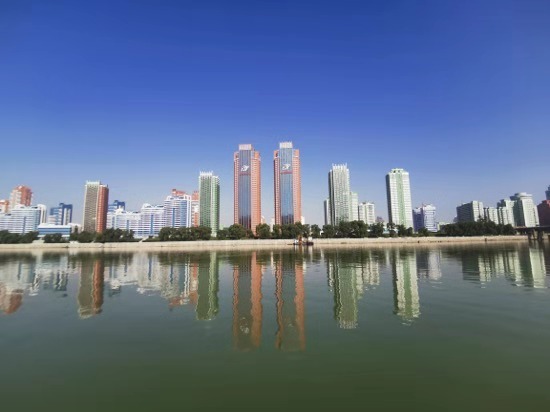 ---
---
Interested in a tour to North Korea?


Travel to

North Korea

with the only
North Korea travel experts, Koryo Tours
North Korea Travel Guide PDF | Sign up to the mailing list | About Koryo Tours