When you think of North Korea, North Korean food or North Korean cuisine may not be on the top of the list of things that come to mind.
So what are some North Korean restaurants you shouldn't miss?
North Korea, like South Korea, has some great things to offer in terms of Korean food - and more recently also has a wide (and getting wider) range of foreign cuisines, such as Italian and Japanese. With a lot of Chinese tourists coming in annually, there is also a noticeable Chinese influence in a lot of Korean dishes in North Korea.
Being the capital city, Pyongyang is naturally home to most of these foreign cuisines, as well as some of North Korea's best restaurants. But there are some gems further afield, too!
Let's take a look at 7 top North Korean restaurants around the country!
Note: Bear in mind that on a tour to North Korea, it's not possible to change the restaurant on the spot or just head to a restaurant because you read this blog and now really want to... In a group tour, restaurants are booked in advance to reserve seating etc. If you have a special dining request, do let us know and we will do our best to accommodate!
---
Wonsan Seafood Restaurant
Cuisine: Korean, Seafood
Location: Wonsan
Wonsan Seafood restaurant is a small restaurant, but has excellent staff and most importantly, excellent food.
Specialising in seafood means meals here include a variety of fresh seafood caught in waters of the Korean seas. Meals are served in the typical Korean way of multiple dishes for sharing amongst the table, and here they generally serve rice and soup at the end as the last dish.
Expect to see fresh crab, scallops, mackerel, squid and other delicacies of the sea served here all cooked to perfection to suit the particular seafood.
A surprising stand out here is that they serve fries which are some of the best fries you'll find in North Korea. A rare opportunity to try a Korean take on fish and chips!
---
Duck BBQ Restaurant
Cuisine: Korean, BBQ
Location: Pyongyang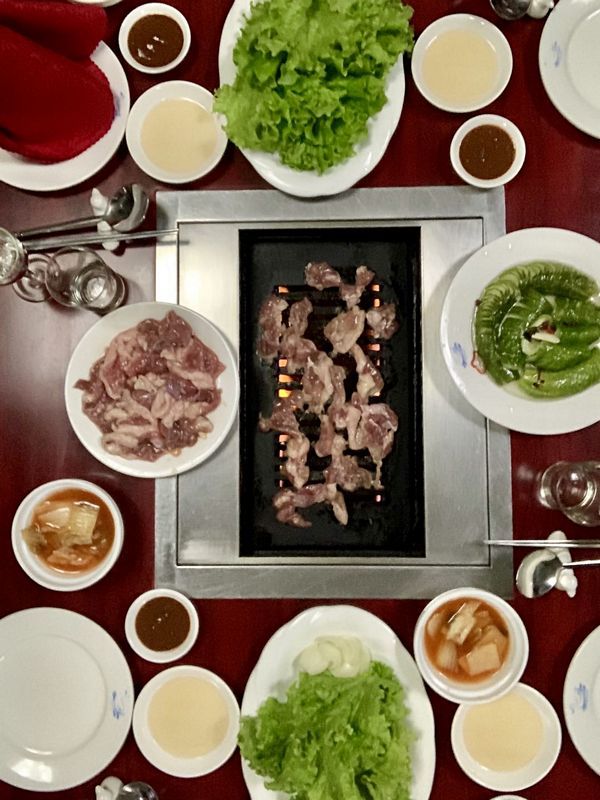 For many tours, the last culinary experience in North Korea is the Duck Barbecue Restaurant.
It's a perfect place for a farewell. Not only that you get to enjoy Korean barbecue but it is a very communal experience. You grill your own meat in the centre of the table.
There are various side dishes as well as the main centrepiece; the meat. This is best eaten together with lettuce and sauce also provided!
Soju is also served here.
---
Okryugwan
Cuisine: Korean, Cold Noodles
Location: Pyongyang
One of the most famous North Korean restaurants, if not THE most famous.
Okryugwan is the most famous Pyongyang Cold Noodle Restaurant in North Korea, and therefore probably also in the world. As the name suggests, what's on offer here is Korean food. Specifically, Pyongyang Cold Noodles. And as the name of these suggests, they are noodles, served cold.
And it's delicious!
If cold noodles aren't your thing, it's definitely worth a visit here anyway just to check out the grand interior of the restaurant, and enjoy Pyongyang's best ice-cream at the end.
---
Takahashi Sushi Restaurant (Kenji Fujimoto)
Cuisine: Japanese
Location: Pyongyang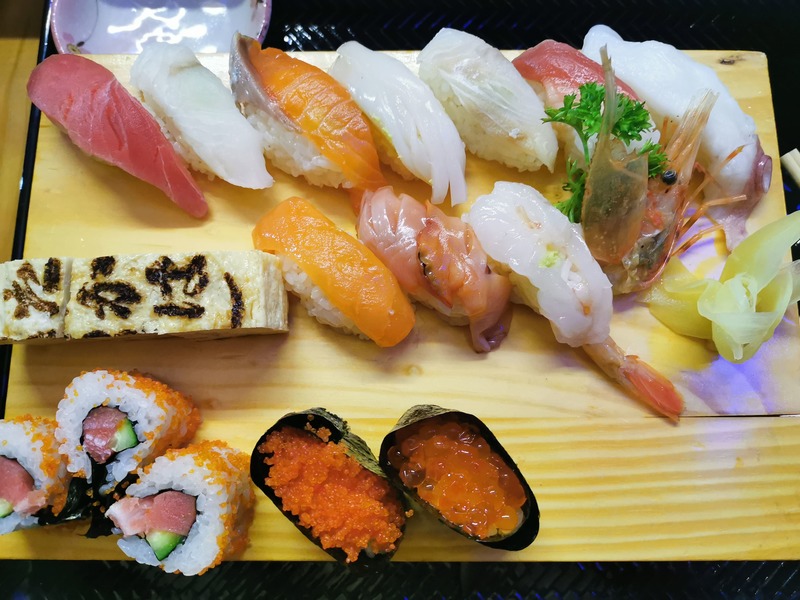 One of the more upper-class restaurants located in the North Korean capital, Pyongyang, famed for the head chef Kenji Fujimoto.
There are many stories surrounding Kenji Fujimoto, the once the apparent personal chef for Kim Jong Un. Have a google of his name or read more about him here.
A bit pricey but worth it for a special treat, Kenji Fujimoto's restaurant offers a wide range of sushi, sushi sets, bento boxes, and pretty much anything else you'd expect at a sushi restaurant anywhere else.
It's only available on reservation and it's wise to book a bit in advance since there is limited seating available.
Note; it's not certain that Kenji Fujimoto will be here. There are also other chefs working.
---
KITC Restaurant No.2
Cuisine: Korean, Chinese fusion
Location: Pyongyang
KITC Restaurant No.2 is a favourite amongst tour groups. The staff are friendly, it's in a good location, and there is a great souvenir shop downstairs. Oh, and the food is great, too!
Here you will have a choice between Bibimbap or Pyongyang Cold Noodles - the Bibimbap here is great, so we definitely recommend this option!
As well as a main meal, there will also be several options for various kinds of side dishes that are Korean/Chinese inspired, or typical Chinese dishes with a Korean spin on them.
---
Tongil Restaurant (Pansangi)
Cuisine: Korean (Pansangi Royal Meal)
Location: Kaesong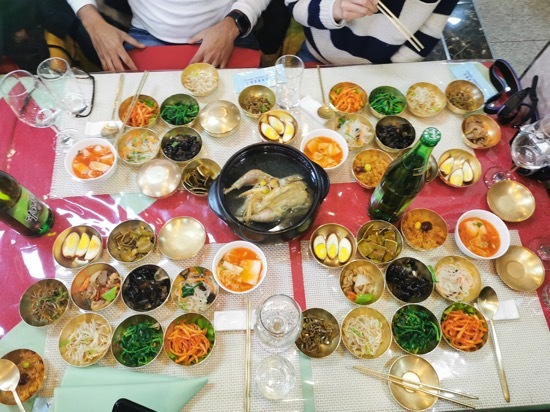 The Tongil Restaurant is Kaesong's most famous restaurant. It is named after the word Tongil in Korean meaning 'Reunification' (literally 'together one').
The food on offer here is the Pansangi royal meal. This is a cuisine made up of a dozen or so small brass bowls containing a variety of dishes, from sticky rice to small fish, kimchi to slices of egg.
Here you can also order the notorious 'sweetmeat soup' (dog meat soup) as well as Ginseng Chicken (Kaesong city being the home of cultivated Ginseng, still a major crop in this area) which is basically a chicken cooked with ginseng stuffed inside it.
---
Samtaesong Hamburger Restaurant
Cuisine: American/Asian Fusion
Location: Pyongyang
Think North Korean McDonalds. Samtaesong is a chain of 3 fast-food restaurants spread across Pyongyang.
It started in 2009 as a joint venture with a group of Singaporean businessmen, and now supplies tourists and North Koreans alike with their hamburger fix.
Here, you can choose from a wide range of hamburgers, and get some fries to go with your order too. There's a large board up at the back showing various different kinds of burgers you can get. Although, like most places around the world, what you get looks a tad different from the photo. If you're feeling like you're cheating a little bit, you can get some Korean side dishes too to wash down your guilt with.
---
---