Pansangi
Traditional North Korean Food
Introduction
Where can I find it?
What is Pansangi?
Tips
Introduction
A favourite in North Korean cuisine, this North Korean food is unique and found mainly in the southern region of North Korea.
It goes by various names; Banchan, Bansang, Pansangi (반상, 반찬)
Read more on North Korean food.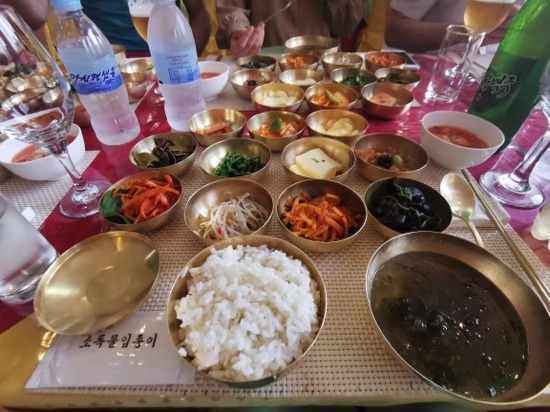 ---
Where can I find it?
Pansangi is a common food found in the Kaesong area of North Korea.
There are many restaurants that offer Pansangi.
It is definitely worth a try whilst you are visiting Kaesong or the DMZ.
---
What is Pansangi?
Pansangi is the term for a collection of various dishes presented in small bronze bowls.
The more dishes, the more important a guest you are!
The standard is usually anything between 9 - 12 dishes, with 12 being the most.
The dishes vary in what they include, but usually tofu, an egg dish, a small amount of fish and meat, fermented vegetables. kimchi, cucumber, and eggplant.
This is always accompanied with soup and rice. And a side of soju!
---
Tips
You may not like all of the dishes. But at least give them a try!

If you are vegetarian or vegan a few of the meat/fish dishes can easily be swapped.

The small cup next to the dishes is NOT water. This is soju - North Korean alcohol.

---
---
Interested in a tour to North Korea?


Travel to

North Korea

with the only
North Korea travel experts, Koryo Tours
North Korea Travel Guide PDF | Sign up to the mailing list | About Koryo Tours