Pyongyang Cold Noodles / Pyongyang Naengmyeon
Pyongyang Cold Noodles: What is Pyongyang Naengmyeon?
Pyongyang Cold Noodles: History of Naengmyeon
Pyongyang Cold Noodles: How to make Pyongyang Naengmyeon
Pyongyang Cold Noodles: What is Pyongyang Naengmyeon
Naengmyeon is a dish consisting of long thing noodles made from various types of flour including buckwheat, potatoes and sweet potatoes.
The dish is served in a stainless steel bowl in icy cold water leading to its the western name 'Cold Noodles'. It is traditionally eating during celebrations such as birthdays and weddings.
The Pyongyang-style Naengmyeon is made with buckwheat and beef broth with slices of radish added into the mix.
Pyongyang is renowned in Korea for its Naengmyeon which has grown in popularity throughout Korea, north and south, leading to many restaurants in South Korea advertising 'Pyongyang Naengmyeon' as a menu item.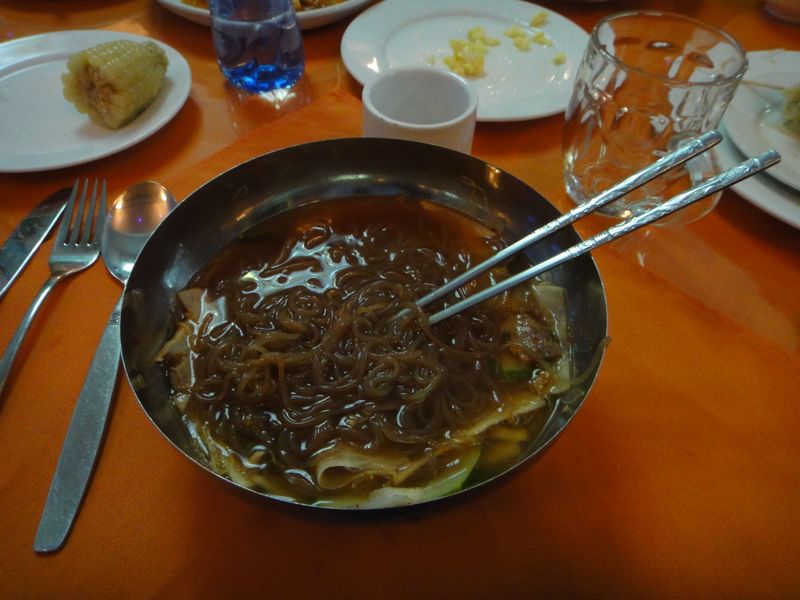 ---
Pyongyang Cold Noodles: History of Naengmyeon
Documents from the 1800s suggest the dish has been produced since the days of the Choson dynasty.
The dish became especially popular in both northern cities of Pyongyang and Hamhung. Since then, the dish has varied with the 'Pyongyang-style' dish uses beef broth or occasionally other meat such as chicken or pheasant whilst the 'Hamhung-style' is served with a spicy dressing made from red chilli paste.
Hamhung's Naengmyeon is known as 'Bibim-naengmyeon' whereas Pyongyang's noodles are known as 'mul-naengmyeon'.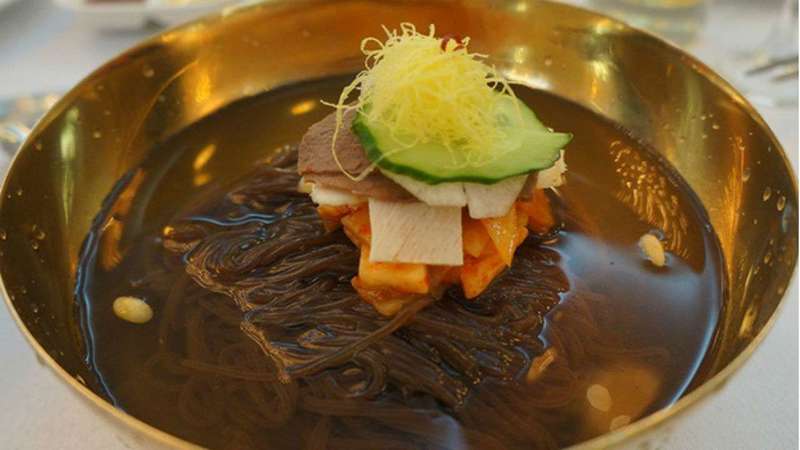 ---
Pyongyang Cold Noodles: How to make Pyongyang Naengmyeon
How to make Pyongyang Naengmyeon Ingredients
Buckwheat flour 750g
Beef 275g
Pork 340g
Chicken 410g
Kimchi 400g
Cucumber 100g
Pear 100g
Hard-boiled eggs 2.5
Salt 20g
Soy sauce 50g
Vinegar 30g
Mustard 15g
Baking soda 8g
Dongchimimul (Korean radish water) 500ml
How to make Pyongyang Naengmyeon instructions
Boil the beef, pork and chicken in plenty of water. Season with salt, soy sauce and the dongchimimul to make the broth for the noodles.
Slice the cucumber, pear and kimchi into thin strips. Peel the eggs and cut each in half.
Mix together the buckwheat flour, baking soda and 70-80ml of warm water. Knead it for a few minutes before pressing through a noodle mould and rinsing with cold water.
Boil the noodles for 15-20 minutes, stirring continuously so that they don't stick together.
Dress the noodles with meat shreds (leftover from the broth), the sliced vegetables and half a boiled egg. Lastly, pour over the broth water.
Makes 5 bowls.
How to make Pyongyang Naengmyeon​​​​​​​ Notes
Make sure the amount of water you use to boil the noodles is about twice as much as the volume of noodles.
If the amount of water is too small, the noodles will need to be cooked longer, and their surface will be rough and soggy.
---
---
Interested in a tour to North Korea?


Travel to

North Korea

with the only
North Korea travel experts, Koryo Tours
North Korea Travel Guide PDF | Sign up to the mailing list | About Koryo Tours