Algerian Flag
Flags of the World
Algeria, Africa's largest country by land area since 2011, is represented by a flag that both symbolises religion, and it's place within Africa and the Arabic world.
The Algeria flag has been in use in the country since 1962, prior to which, a similar version was used for the provisional government.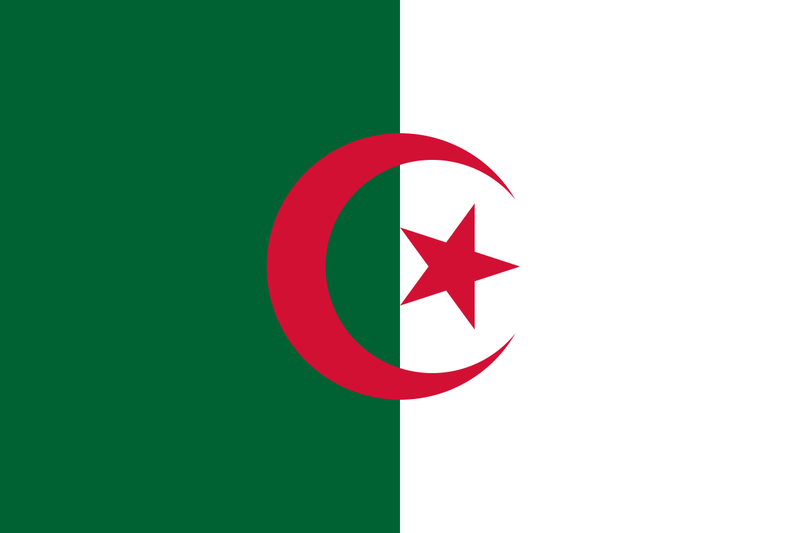 ---
Algeria Flag Design
The flag is split into two vertical bars of green and white. The green is on the hoist-side and the white on the opposite side.
In the centre of the flag sits a red crescent and star.
The red crescent and star are common symbols of the Islamic faith, the dominant religion in Algeria.
The green once again represents Islam, whilst the white represents purity.
The flag, as with many Arabic countries, takes is influenced heavily by the pan-Arabic colours.
Typically, countries in the Middle-East fly flags made up of Red, Green, White and Black; all but one of these appear on the Algerian National Flag.
Other variants of the flag are flown; the Presidential Standard of Algeria is identical to the National Flag but with Arabic text on the top and bottom above and below the crescent and star.
---
Algeria Flag History
Between 1830 and 1962, Algeria was a French colony, flying the French red, white and blue tricolour as its national flag.
In 1958, the Provisional Government of the Algerian Republic was formed, taking a flag almost identical to the modern-day national flag.
The provisional government flag was similar, except the white bar took up two-thirds of the space and the green area, and red crescent and star were moved closer to the hoist.
In 1962, the People's Democratic Republic of Algeria was formed, taking the current flag as its national symbol.
The flag has not been modified or changed in any way since its introduction in the early 1960s.
---
---