Bolivian Flag
Flags of the World
Bolivia gained its independence from Spain in 1825, and since then, the country has used three flags as it's the national standard.
Bolivia is rare for being one of the few countries to have two different national flags, but we'll come to that later.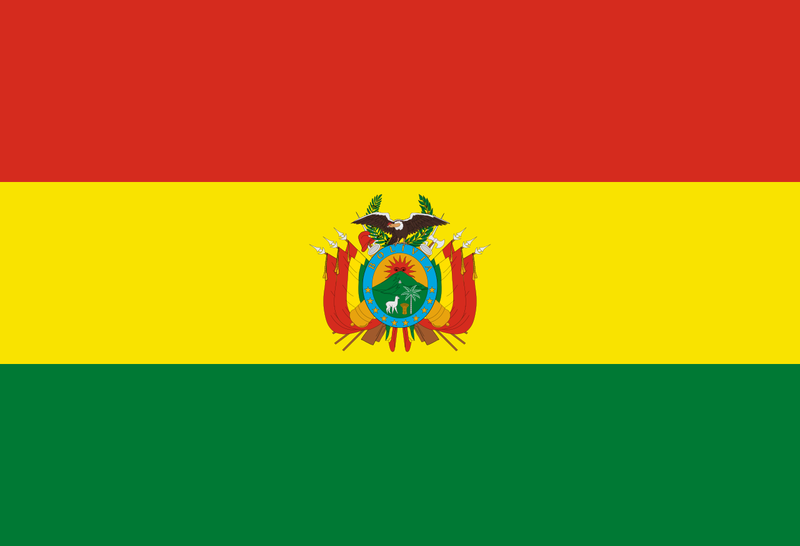 ---
Design of the Bolivian National Flag
The Bolivian National Flag is a red, yellow and green rectangular, horizontal tricolour with the coat of arms of Bolivia in the centre.
The red represents the blood shed by national heroes for the birth and preservation of the Republic.
The yellow represents Bolivia's wealth and resources.
And the green represents the richness of the country's natural areas as well as hope, a foundational value of Bolivian society.
Whilst the national flag is most recognisable with its state emblem; this is not officially required as part of the flag. The horizontal tricolour without the emblem is just as valid.
---
History of the Bolivian Flag
Until 1825, Bolivia and the surrounding region was under the control of the Spanish Empire. For this reason, the Spanish Cross of Burgundy was flown as the national standard of the Spanish colonies.
In 1825, the Bandera Menor was adopted as the state flag.
This flag was a yellow cross on a red background with two green bars on each side. A green wreath surrounded the star.
In 1831 the Bendera Mayor was adopted.
This design saw the state emblem in the centre on a yellow, red and green tricolour.
In 1851, this flag was replaced with Bolivia's current flag, which remains in service today as the national flag.
---
Wiphala
The Wiphala banner holds equal status to the Bolivian State Flag and has been used since 2009 to represent the indigenous peoples of the Andes.
The flag is a square made up of seven colours arranged diagonally in a patchwork/pixelated design.
The colours depend on which group is being represented. The Wiphala also appears in the canton of Bolivia's naval ensign.
---
---