Kazakhstan Visa
Visa For...
Do I Need a Kazakhstan Visa?
Kazakhstan Without A Kazakhstan Visa
Central Asia's dominant giant, Kazakhstan, is by far the easiest of the 'Stans to visit and travel around in the most basic ways.
This includes the ease of the Kazakhstan visa.
Kazakhstan is well connected by flights from multiple Asian and European destinations.
It's home to a more well-structured and mature civil society than many of its neighbours, and has a well-educated and young population in the major population centres of Almaty and Nur-Sultan (the former Astana).
A visit to Kazakhstan is incredibly worthwhile and easy to arrange.
Kazakhstan has a bewildering 39 different visas on offer!
Which is probably the most difficult thing about the Kazakhstan visa... Which one will you get?!
For almost all readers, the list will be irrelevant.
Why?
Let's find out.
---
Do I Need a Kazakhstan Visa?
You probably don't need a Kazakhstan visa.
Most citizens of the CIS (former Soviet Union) don't require a Kazakhstan visa for up to 90 days.
Mongolians also do not require a Kazakhstan visa.
Most citizens of 'western' countries (UK, EU states, USA, Canada, Australia, etc) don't need a Kazakhstan visa for visits of up to 30 days.
Chinese visitors and people from, generally speaking, the developing world, do need a Kazakhstan visa, but there is now an e-visa scheme being rolled out that will make this simply a process done on the internet.
Easy peasy, lemon squeezy!
---
Kazakhstan Without A Kazakhstan Visa
Going to Kazakhstan without a Kazakhstan visa?
No problem!
Simply get a ticket to enter the country; by air, by land... Across the Caspian Sea even!
Then when you show up to the Kazakhstan border you complete a short form (asking all the usual stuff; name, address, passport number, etc) and hand it to the immigration officer.
They will stamp the passport and voila!
Welcome to Kazakhstan!
But... it's too simple!

My mate went there a few years back and needed a visa for Kazakhstan!
You may be thinking...
Well, times they are a-changin'!
Time marches relentlessly forward, leaves change from green to yellow and back again, today's pop music becomes the retro sounds of classic radio, and so on.
Anyway, what was then is not what is now.
The Kazakhstan visa policy has changed, become much more liberal and much simpler.
Here's a picture of a visa issued in 2009 to go to the country to watch England play Kazakhstan in a FIFA World Cup qualifier (4-0 to England, result as expected to be honest).
This was needed then, but is not needed any more!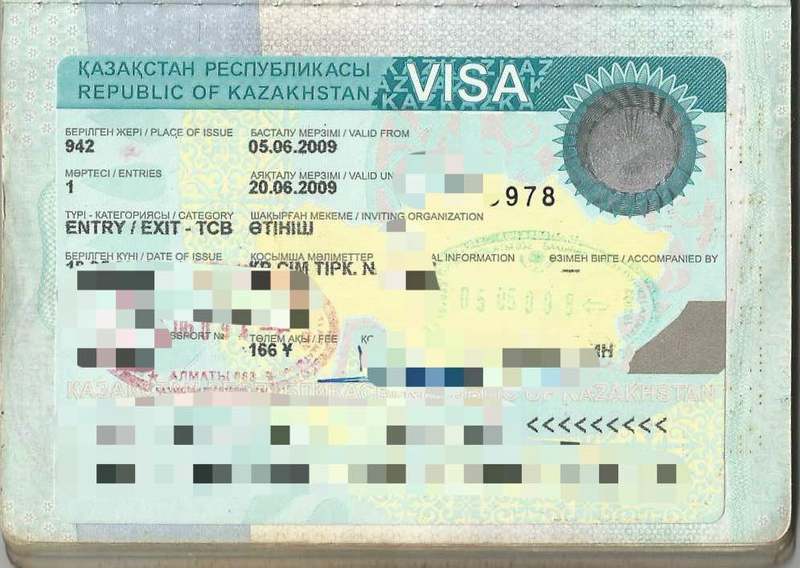 Koryo Tours Kazakhstan
The tours offered by Koryo Tours, of course, hit the many Kazakhstan highlights, but also go far off the beaten track.
We visit Nuclear weapons testing areas, former gulags, smaller regional cities, and far more besides.
---
---