Tajikistan Flag
Flags of the World
History of the Tajikistan Flag
Symbolism of the Tajikistan Flag
Where to Find the Tajikistan Flag
The Tajikistan flag was created at the collapse of the Soviet Union.
With the collapse of the Soviet Union at the end of 1991 more than a dozen new states leapt into existence and they all needed flags, anthems, and all the other symbols of being a real-life grownup country.
Tajikistan holds the dubious honour of being the last of them to choose what is now the current Tajikistan flag.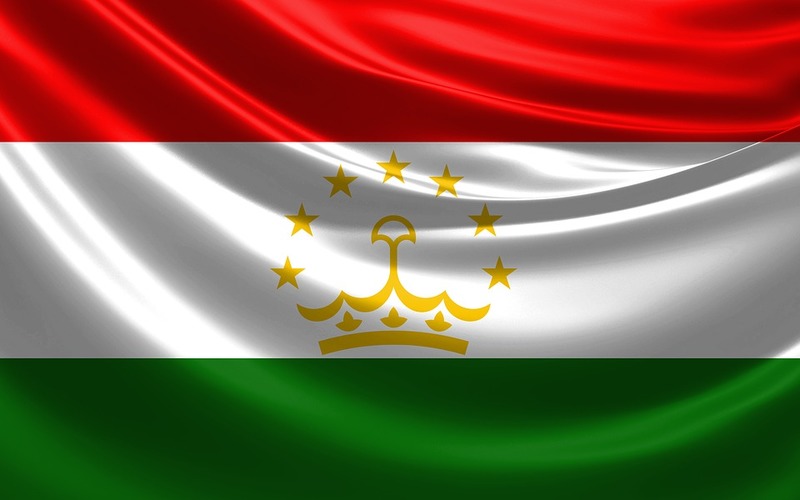 ---
History of the Tajikistan Flag
Initially, the Tajikistan flag simply used a flag which unimaginatively simply removed the Soviet hammer and sickle from the flag of the former Tajik Soviet Socialist Republic.
However, by November 1992 the choice was made to adopt an all-new flag though and discard the remnant of the past.
And so the flag of Tajikistan was born!
The choice made was a tricolour of red, white, and green (in descending order) with a golden crown under seven stars occupying the centre of the white stripe, the largest of the three.
---
Symbolism of the Tajikistan Flag
Unlike the other peoples of Central Asia (who are of Turkic origin) Tajiks are a Persian people, sharing language, culture, and traditions, with Iran.
The colours of the new flag match those of the Islamic Republic of Iran but also have been used as colours of Iranian/Persian people in general for over a hundred years before its adoption in the flag of either country.
There are competing claims as to the meaning of the colours these days; Red for the soviet past or the working class? White for snow & ice, purity, or intellectuals? Green for Islam or the peasant class?
Anyway... It looks nice!
Tajikistan may be simply the 'home of Tajiks' but the word Tajik itself is considered to be derived from the Persian word for crown; Taj.
7 is an auspicious number with heaven being made up of seven mountains, with a star above each; the stars shining above the crown on this flag
---
Where to Find the Tajikistan Flag
Sadly, Tajikistan is not blessed with great mineral wealth and as a result, is less economically developed than many of its neighbours in the region.
The capital city, Dushanbe, doesn't have much in the way of prestige architecture to match the pizazz of Ashgabat and Nur-sultan, but Tajikistan did once hold the world record for tallest free-standing flagpole!
So when in Dushanbe, simply look up, and this 165m monster can be seen from all over – flying the national Tajikistan flag of course!
---
---