Visiting Russia – Elista
Koryo Tours has been running tours to remote regions of Russia since 2009 – this enormous country has much to offer any visitor and there are a lot of places we can recommend to those who travel with us.
In this series, we take a look at some of the places around Russia that you may want to add-on to any tour with us.
---
Introduction
Elista (known as Stepnoy between 1944 and 1957) is the capital city of the Republic of Kalmykia, an autonomous state within the Russian Federation, located between Volgograd Oblast (location of Volgograd/Stalingrad) and the Caspian Sea, the very eastern edge of Europe.

Kalmykia has a fascinating history – populated at various times by various nomadic tribes it eventually came under the sway of the all-conquering Mongols. The Steppe-like landscape does bring Mongolia to mind for any visitor who has also been there. As the Mongolian empire collapsed and withdrew Tsarist Russia filled the void and the Oirats (A Mongolian people) who remained in the area now became vassals of the Russian Empire, providing border security in the massive multi-ethnic empire.

During the post-revolution civil war, many Kalmyks fought for the Whites and, as a result, faced persecution from the victorious Reds at the end of the conflict, refugees fled and caused a kind of mini-diaspora through Europe (Kalmyks already being part of the greater Mongolian diaspora after all).
---
---

In 1934 though, a greater tragedy occurred. Stalin decided that the Kalmyks were German collaborators and had the entire population departed to Central Asia and Siberia (also many other ethnic groups suffered this collective punishment). This happened in a very brief period and caused a huge number of deaths. Return was finally allowed in 1957 and some survivors of deportation began to trickle back to their lands, now home to a largely Slavic population.

Elista, the capital, was founded only in 1865 (Kalmyks/Mongolians being nomadic, no fixed settlements really existed there previously). Kalmyks were forcibly collectivised and settled in the 1920s and urbanization thus began.

Elista is a small city of only 100,000 people, most of them being Kalmyk at least in part. Kalmykia itself is known only for a couple of things; being the only Buddhist-majority state in Europe, having a very unusual former President (Kirsan Ilyumzhinov, he used to communicate with aliens), and among aficionados of unusual travel it is known for being the site of Chess City (more on this below!)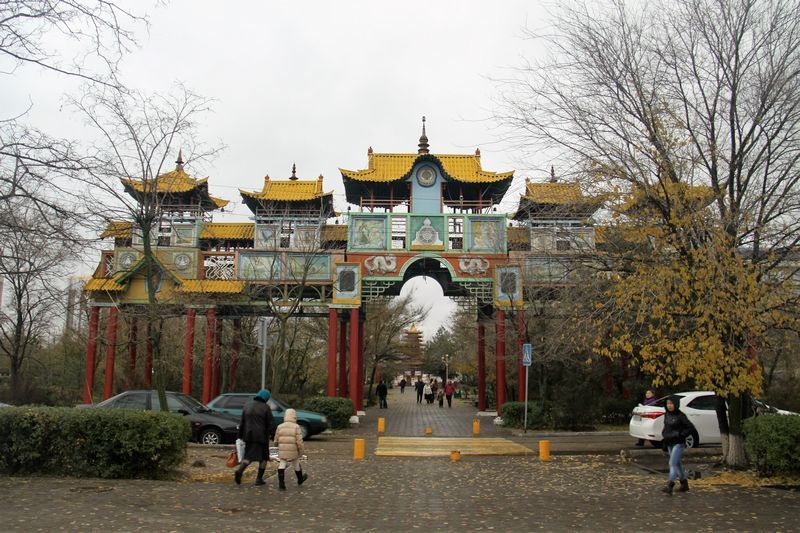 ---
Arriving/Departing
There is a small airport in Elista (Elista International Airport – ESL) with almost all flights being domestic. So most people will arrive here from Moscow. It is also possible to arrive by road from the larger regional cities such as Volgograd and Astrakhan (each around 4 hours away) and by rail (connecting to the main Russian rail network). Both Volgograd and Astrakhan are better connected though, and many locals will simply take a bus to one of those cities and then use trains from there. This is recommended to avoid long waits for the infrequent trains.

Elista doesn't sit on a river but the Volga (Europe's longest river) does run partly through Kalmykia.

Getting around the city is a simple enough process – we recommend walking as much as possible as the city centre is small, even the surrounding residential neighbourhoods are within range (made up mostly of the somewhat brutalist soviet apartment blocks we all know and love!), the only place of major interest a little further out would be Chess City (more on this below) which is at the eastern edge of town, less than an hour on foot from the centre.

Taxis can be easily found as well as a local bus and marshrutka network. The best advice for anyone visiting such a place is to download Yandex Taxi first, this is available in English and is easy to use.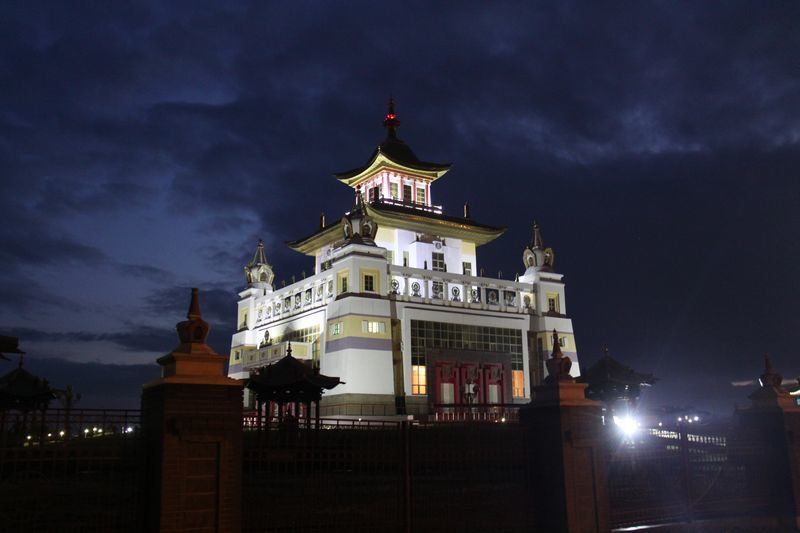 ---
Highlights
Golden Temple
The signature building of Elista. A pretty and looming Buddhist Temple in a very central location. Welcoming to non-Buddhists and very photogenic indeed this has been visited by Buddhist luminaries such as the 14th Dalai Lama and Steven Seagal. There are monks in residence, worshippers and services, also some souvenirs.
Prayer cloth tied to bushes, people perambulating around the building, spinning wheels, it is all very….Mongolian. An uncanny sense of being somewhere else is common, here in eastern Europe after all! This is an unmissable stop when visiting Elista.
Friendship Park
A 1km strip running west from the city centre, with walking path, various Asian-style pavilions, resting places, etc for walkers. Very pleasant experience and a great way to get a taste of the vibe of this place. Like many ungentrified parks in Russian cities, there is a fair degree of things crumbling a bit, but that kind of aesthetic has its own charm for sure!
The War Memorial and eternal flame backed by a multi-ethnic row of faces are located here also.


City Monuments
As with almost all Russian cities, Elista is dotted with fun statues and markers that work as a great way to see the city. So, check out the Lenin (himself part Kalmyk), a couple of Pushkins, and a great one of Literary icon Ostap Bender (from the novel The Twelve Chairs, and the inspiration for Chess City).
Chess City
One of the single most unusual housing developments in the world! Sited at the edge of Elista and looking absolutely nothing like the rest of the city at all, this is the brainchild of former President Ilyumzhinov (last seen playing chess with Colonel Gadaffi in 2011). Ilyumzhinov was the head of FIDE (the governing body of world Chess) for many years and was a renowned enthusiast for the game. Chess City (known as 'Citi Chess' - Сити-Чесс, in Russian) this was built to host the World Chess Championships in 1998 and has since been used just a handful of times for such tournaments.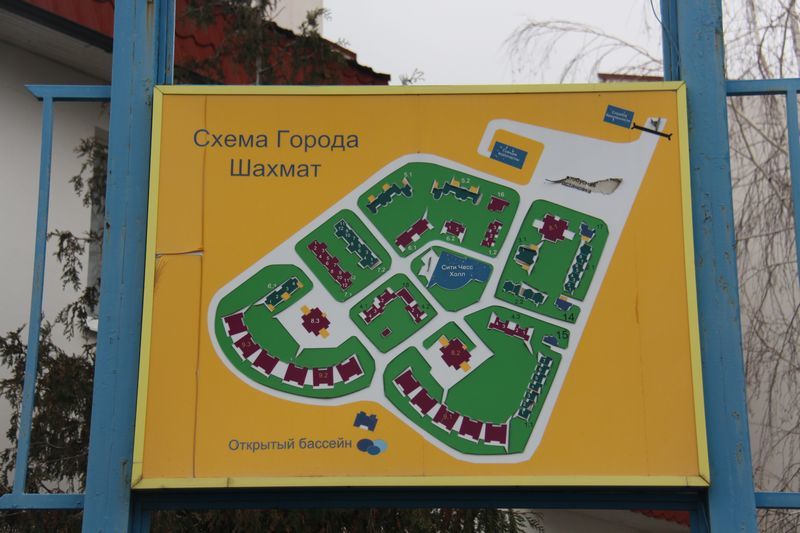 While there is not actually much to see and do in the somewhat deserted Chess City, it is still well worth a visit just for being such an odd place! It only takes about 15 minutes to walk every street, the feeling of being lost in an American suburb is hard to avoid, but the Chess piece-themed street lights and signs remind you of the game this is supposed to be based around.
While plans for Chess City still show facilities for sports, meetings, government work, and so on, in reality, there is a central building which houses a hotel (don't stay here, it is nowhere near anything other than itself!), and the actual Chess Centre, which has some photos on the walls of the luminaries who have visited (mostly chess players, plus the DL and Steven Seagal again), some large chess boards, lecture rooms and so on.
Quirky rather than essential, but if you're in Elista you really should walk over and check it out! Bonus – there is a Mongolian consulate and a Japanese restaurant in Chess City!
---
---