Visiting Russia – Makhachkala
Makhachkala is the capital city of the Republic of Dagestan, and the largest city in this part of the North Caucasus with around 600,000 people calling the city home.
While Dagestan has a bit of a bad reputation for extremism (justifiably, given that there have been various serious issues over the last couple of decades or so) Makhachkala itself is a very diverse and generally tolerant city with a fascinating combination of Russian influence and the flavours of the Caucasus and all its peoples in general.

The ethnic mix here is particularly interesting, the largest group would be Avars who make up around a quarter of the people of Makhachkala. – Avars are a North Caucasian people, as are Kumyks (2nd in terms of population), Darghins (3rd), Lezgins (4th), Laks (5th), Tabasarans (7th) and so on.
Compared to neighbouring Chechnya which has a high degree of ethnic homogeneity this is very notable. It makes for a far more diverse urban population than most would expect, also notable that identifying as a 'Dagestani' is not really a thing at all!

Makhachkala is on the Caspian Sea, the west coast, it is one of the largest cities on this inland sea (with Baku, Azerbaijan being by far the most prominent and biggest) and has a very Mediterranean vibe when at the seaside. Visiting this part of the city is an absolute must, especially on a sunny day!

Founded initially as a Russian fort in the mid 19th Century Makhachkala has gone by many names (both Russian and native). When known as Petrovsk it was briefly used as an air base by the occupying Royal Air Force (of the UK) during the Russian Civil War After the consolidation of victory of the Red forces the name was settled on Makhachkala, after the local revolutionary hero Magomed-Ali 'Makhach' Dakhadaev.

Makhachkala is a somewhat chaotic city, in great contrast to the order and polish of the rebuilt centre of Grozny, many visitors who have been to Russia though will notice the familiar cracked sidewalks, random abandoned buildings, constant renovation, demolition, and building of somewhat unattractive malls and retail outlets.
It is largely unplanned, heavy with traffic, and generally bustling. The Central area near the beach is the most pleasant with some surviving examples of 19th and early 20th Century architecture, as well as some high-Soviet buildings still standing. The outskirts tent towards the utilitarian late-Soviet and 21st Century 'Chinese-Style' apartment buildings

A note on drinking – Dagestan is not a dry republic, but still, the majority of people in Makhachkala and the republic, in general, do not touch alcohol. Being majority Muslim here does mean that beer houses and bars have to operate in a certain way. What most of them do is set themselves up as 'fish bars' where you can buy a wide range of smoked fish (they are delicious, if a little pungent sometimes) and also get a beer to go with your snack, including locally brewed ones.
Customers usually then sit in a booth and a curtain is drawn around them to protect their modesty. It does have the result of projecting shame onto the furtive drinker, whether you generally feel shame while having a beer or not. Quite an experience and something to be tried for sure! Do not take photos of people drinking alcohol - that's considered a bit rude.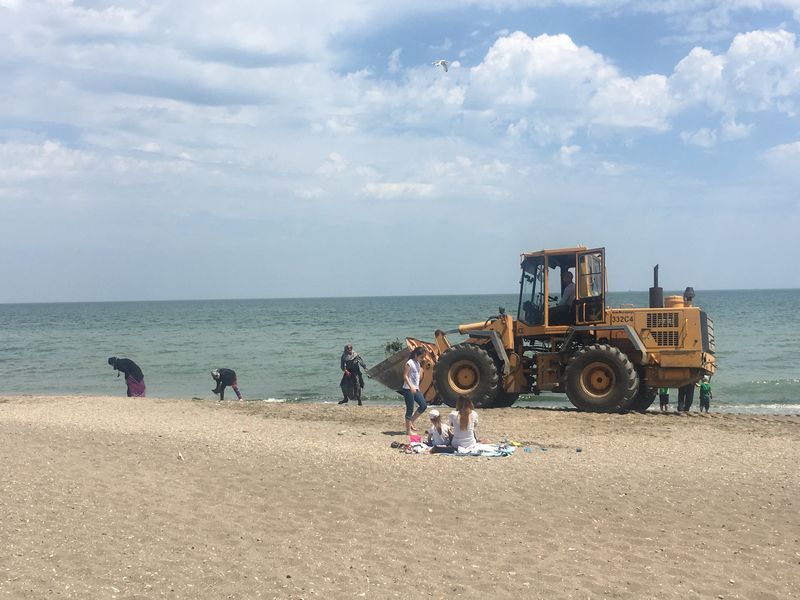 ---
Arriving/Departing
Uytash Airport (MCX) lies to the South of Makhachkala and serves mostly domestic destinations in Russia as well as the occasional flight to Dubai and various charter flights to Jeddah and Medina during Hajj season.
The airport is named for a fighter ace who was a Crimean Tatar, which makes it an odd choice of name for the eastern end of the North Caucasus.

By rail Makhachkala is connected to the main Russian system so reaching here from Vladikavkaz and even further up into European Russia is also an option. Being a Caspian Sea port should enable access to the neighbouring countries of Iran, Turkmenistan, Azerbaijan, and Kazakhstan but in reality, there is little passengers traffic from here. Worth checking out options on cargo ships though if you're feeling adventurous!

To get to the best city to visit in Dagestan, Derbent, there is a train that takes a leisurely 4 hours riding down the coast of the Caspian Sea.
This is by far the best way to get between the two most significant settlements in Dagestan.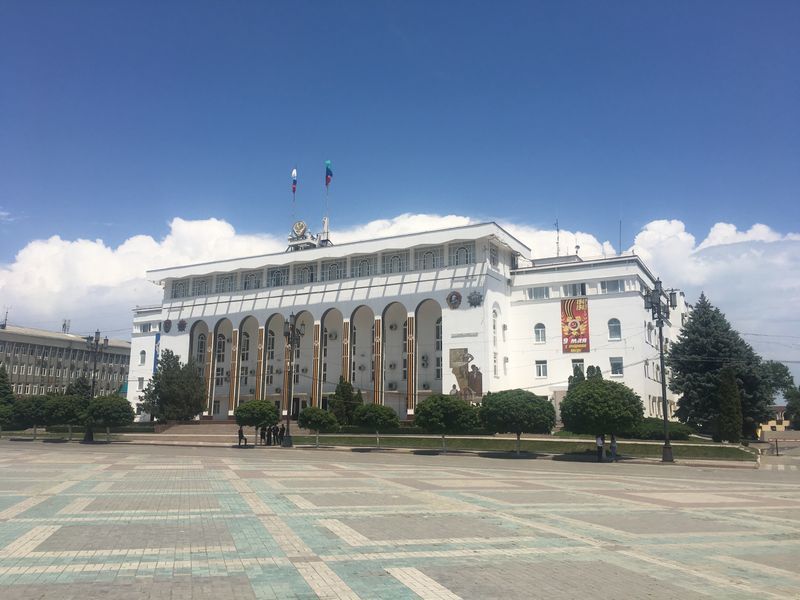 ---
Highlights
Makhachkala Grand Mosque – one of the biggest in Russia this is the main attraction in the city. It is a Sunni Mosque and people here do take their religion seriously, so the dress code is enforced, women cannot go into the men's section (nor vice versa) and casual visitors may get some looks from worshippers if they show up during prayer time.
This is very much a functional house of worship rather than something aimed at tourists. Still do go and see it, and check out the I Heart Mosque sign outside (a play on the almost-Omnipresent 'I Heart Wherever-I-am' signs you will have seen before.
This is an impressive multi-domed white building, reminiscent of the Istanbul Blue Mosque.


Lenin Square
A large space in the city centre with a towering Lenin Statue and all the main government buildings for the administration of the Republic of Dagestan plus the House of Friendship, local telecom base, Museum of the Republic, and so on. Basically the proper heart of the secular city. The Buildings here are very attractive and the size of the square makes it popular with kids playing, families strolling etc. Don't miss the very pleasant park to the south of Lenin Square, in summer people often sell antiques here, bargains and curios aplenty!
City Beach
In summer this is very much an unmissable spot. To many people who know nothing of Dagestan apart from its reputation for Islamic Extremism the idea of a beach full of sunbathers here is a bit of an odd one, but here you can find all manner of people, dressed conservatively, or very un-conservatively mixing and enjoying the sun. The beach is around 1km long and nicely sandy, the sea is cold but most people seem to be sunbathing rather than water bathing. Cafes and sitting areas are set up and it is a very pleasant spot. the buildings around here give off a Mediterranean vibe also. There may be no beer bottles but the range of ice creams for sale is highly impressive!
Makhachkala Bazaar
Inconveniently located uphill to the south of the city the main bazaar is a modern kind of place, in that it is not one of the particularly attractive bazaars that people may imagine. Most things sold are functional or the kind of clothing you can find anywhere, but there are still a few places selling Dagestani carpets and local trinkets.
Worth it for people-watching and as a reason to take a trek across the city (or jump on a public bus or marshrutka, there are loads of them and they are very cheap) to save some effort!
Statues and Monuments
As we have come to expect from Russian cities Makhachkala is full of interesting statues and monuments – two Lenins, a Pushkin (of course), Kirov, Rahul Gazmatov (an Avar poet), the city father Makhach Dakhadayev on a horse, a great monument to Dagestani fighters for Soviet power (outside the House of Friendship). And an excellent monument to Imam Shamil – the hero of Caucasian resistance to Russian imperialism.
Also, there is a Tu-134 monument at the airport.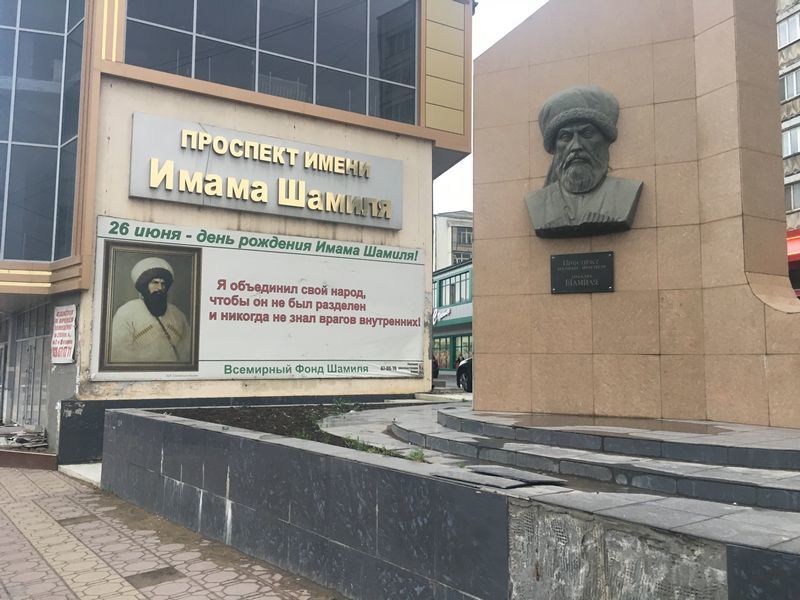 ---
---