Visiting Russia – Kazan
Kazan is one of the largest and best-known cities in Russia, founded in 1005 but not incorporated into Russia until the violent conquests of Ivan the Terrible in 1552, this was the capital of the Khanate of Kazan and the Islamic history of the city and of Tatarstan (of which Kazan is the capital) are still evident here today.

Seen as the place where east meets west in Russia, this was also one of the sites for the 2018 World Cup and is considered as the 'Sports Capital of Russia' as well as the 'Third Capital' in general, following Moscow and St. Petersburg.

Situated where the Volga River meets the Kazanka River this was a crucial piece of land and so the establishment of a major settlement should be no surprise, contested by various tribes, nations, and groups over the centuries (from Volga-Bulgars, Mari natives, Kipchaks, Mongols, and more) the incredible Kremlin (see below) is understandably the vital part of this strategically located city.

Kazan is a very religiously and ethnically diverse city, with Sunni Islam and Orthodox Christianity being the main faiths alongside communities of Roman Catholics, Jews, Bahai, and Protestants all present, Ethically Tatars and Russians are the majorities (each around 48%) but with all the other nations of Russia (and beyond) also represented here. Russian is spoken by all but the Tatar language is still widely used as well.

Visitors to Kazan will find a city well-suited to international tourists; with easy-to-navigate public transport, English is spoken in many major shops, restaurants, etc.
Major hotel chains and a welcoming and diverse local population too. If you're looking to go somewhere other than the two main cities in Russia but are wary of being stuck with nobody to communicate with and not knowing what to do then Kazan is an excellent choice to display both the complex depths of Russian society and to be easy enough to get to and get around.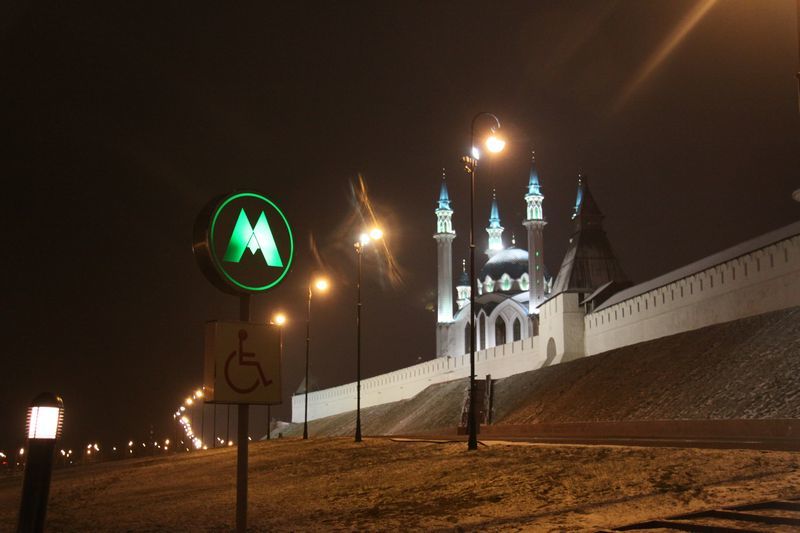 ---
Arriving/Departing
Kazan International Airport (KZN) is large and modern, has flights all around Russia and its neighbouring countries as well as to more distant hubs such as Frankfurt and Dubai. It is easy to get to, and getting from the airport to the city is also very simple; just take the airport express train. Simple!

Another good option for getting to and from Kazan is the train, the city is located on the Trans Siberian Railway and so is easily accessible from Moscow and from anywhere east as well. There are also smaller lines from Kazan to places such as Yoshkar-Ola which very few foreigners use and which is a fun way to travel with the local commuters.

Once inside the city visitors will find the central part quite walkable but to get to the edges of town either a taxi or public transport can be used. There is a pretty and ornate metro system with designs from local history and lore incorporated into the station murals and walls – sadly there is only one line so it is useful if you are going somewhere along that line and less so otherwise.
Still, it is worth a journey just for the experience for sure.
There are also trolleybuses and trams as well as normal buses – for the public transport nerd, Kazan has a lot to offer!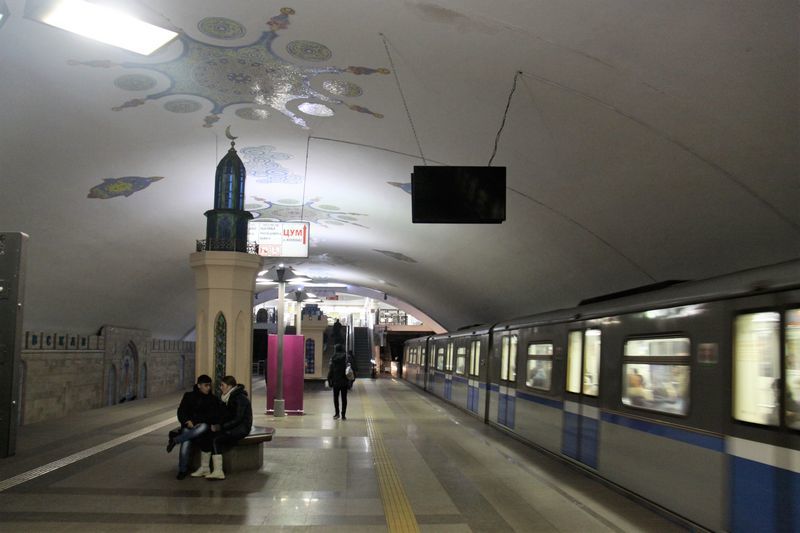 ---
Highlights
Kazan is very large and offers a lot to visitors, here follows a shortlist of recommendations, far from exhaustive though!
Kazan Kremlin
The very best Kremlin in Russia (yes, including Moscow); A huge complex at the north end of the city centre and overlooking the confluence of the two rivers. Open day and night (seriously - go twice, it's worth seeing in both states) this complex of battlements, museums, churches, mosques, and much more was built up over the centuries and is rightly nationally famous.
A full explanation of everything to see here would take more space than we have but the unmissable parts would be the views from the walls, the Soyembika Tower, the Presidential Palace (president of Tatarstan that is), the Cathedral of the Annunciation, and the magnificent Kul Sharif Mosque (Ripped down by Ivan the Terrible, and finally rebuilt in 2005).
There is handily a metro station at the Kremlin so visiting is very easy, it is a large area so allow a couple of hours each visit to take it all in. 100% unmissable.
Bauman Street
A long pedestrianised road running through the centre of the city (mostly just above the metro line). Containing all manner of restaurants, cafes, shopping malls, souvenir shops, quirky statues, hawkers, and people simply wandering around. This is the proper centre of the city and a great street to simply walk up and down taking it all in.
For most tourists, most of what they will visit will be within walking distance of this street so you will find it very useful to have such a pretty and convenient road to get from A to B along.


Museum of Soviet Life and Museum of Happy Childhood
Two quite similar small museums (also located very close to each other) which display artefacts from the time of the USSR (mostly the latter half of it, when there were simply more consumer goods). See some retro clothes, old games and toys, wander around with some middle-aged locals reminiscing on their own 'back in the day' ways. Great fun, and each has a small shop as well.
Fascinating Architecture
Even if you don't go into any of these buildings it is worth checking out the exceptional range of architectural styles that can be seen in Kazan. Setting aside the Kremlin it is also with checking out the Disney-esque Children's Palace, the Kazan Concert Hall which is a glass-topped pyramid, the UFO-like Kazan Circus, the Ashgabat-esque Palace of Agriculture (with its amazing tree sculpture at the main entrance), and much of the high-Tsarist period buildings in the city centre.
As you go further out then the expected Soviet Utilitarianism and brutalism becomes more prominent.
Temple of All Religions
Located a bit out of the centre and more of a curio than anything else this place is an effort to somehow host an Orthodox Church, a Sunni Mosque, and a Synagogue in one place (so not actually all religions after all!). The architecture looks exactly as you might expect if someone merged classic versions of each of these buildings together.
This is more of a landmark than actual faith-centre as it is unconsecrated and this doesn't actually function as a temple, aside from being a temple of an exceptionally ambitious idea!
Statues and Monuments
No tour around a Russian city is complete without a few of these; there is an excellent
Lenin mosaic in Tinchurin Park (which also host a weekend flea market, great for soviet and Russian antiques and curios), there is a monument to the dragon which appears on the city flag and crest, a monument to the famed cats of Kazan which are said to have kept the Hermitage clear of mice and rats since the days of Catherine the Great, there is a statue of a kind of Tatar pie or pasty as well – plus all the usual war heroes, Pushkin, Tolstoy (also a Tolstoy Museum), and Lenin.
Collect them all!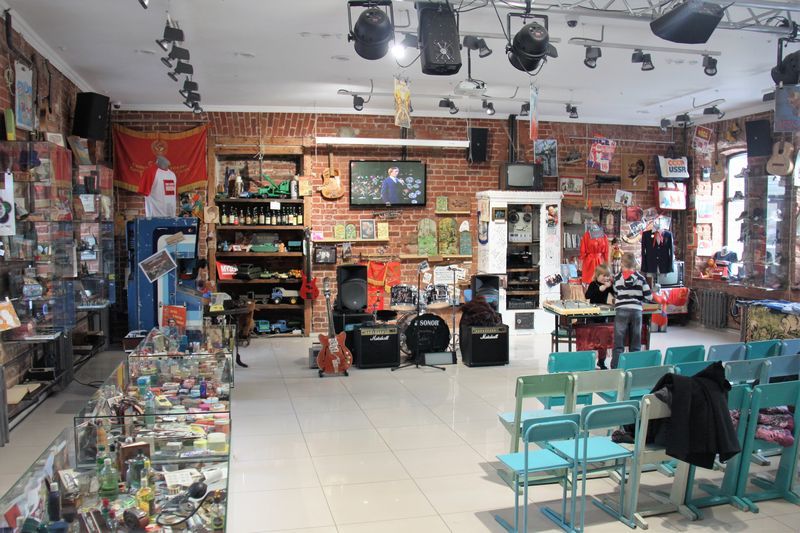 ---
---