North Korea Borders Opening Updates
Last Updated: September 2023
Updated: 28th September 2023
Further updates on the North Korean border opening will be updated and posted here.
For North Korean tours in 2023, click here.
---
UPDATES:
Tuesday, 26th September - China's news outlet CCTV made an announcement that foreigners would be let into North Korea on 25th September. The announcement was made saying that it had been announced by North Korea. However, there has not been any confirmation from North Korea yet. You can find an updated report here.

Nevertheless, if the rumours are true, then tourism is still a long way off. The first foreigners to go into North Korea will be those with the highest priority. This includes people like diplomats initially, followed on by humanitarian aid workers etc.

Tuesday, August 22nd - the first Air Koryo flight from Pyongyang to Beijing since the shutdown takes place - reopening a crucial route which has been out of use since January 2020. Not a flight for tourists, but for North Koreans to finally return home after years stuck overseas. A positive sign for the resumption of this route going forward.

A North Korean Taekwondo team was sent from Pyongyang to Kazakhstan to take part in the Taekwondo World Championships They were featured in the opening ceremony and made their way to Kazakhstan by taking a train from the DPRK into China, staying in Beijing, and then going on to Kazakhstan. This is the first sports delegation sent out of the DPRK since 2019 and they would not be sent if they were not able to return again afterwards.

As reported by NKNews there will be flights from Vladivostok to Pyongyang happening very soon. So far only a couple of flights are confirmed and it seems likely that these are specifically for returning North Koreans. This route was never the most viable for tourists and, given events that have been happening involving Russia since the last time these flights took place, they are perhaps even less useful for Western tourists now, but it is a sign that DPRK airspace is opening to flights again.

North Korean students in China continue to gather in Dandong awaiting trains to return them to the DPRK. Many of these students finishes their courses years ago but have been unable to return to their homes since then. They number in the hundreds at least and will likely be the first to go back when this opening for DPRK citizens takes place.

August 22; The first international flight lands in Pyongyang from Beijing, China.
---
North Korean Borders Opening
Koryo Tours received the news on the 10th of August that North Korea (the DPRK) is expected to officially open its border again very soon. This is the first time since it closed back in January 2020 to prevent the spread of Covid-19.
When Will North Korean Borders Open?
Who Are the North Korean Borders Open to?
No official date has been given. Nevertheless, the general consensus from multiple sources (all of them North Korean) is that it will be "soon".
Who Are the North Korean Borders Open to?
Initially, the opening of the North Korean border is for North Korean citizens only.
While the closure of North Korea has affected companies like ours, and anyone wanting to visit and engage with the country, it has been far more disruptive and difficult for the many thousands of North Koreans trapped outside of their home country for more than three and a half years now.
Anyone who was not in the DPRK when the borders closed has not been able to return. So, workers, students, businesspeople, diplomats, and all kinds of folks who were in China and elsewhere are still outside of the country and are no doubt keen to see their own families again. This is a chance for them to finally do so.
When Will the Borders Open for Tourists?
The opening of the North Korean border is currently for North Koreans, but we expect this to be expanded soon afterwards. Initially, this will likely be for important incoming figures such as diplomats and NGO staff, etc. Eventually, tourists will follow.
However, when this will be we do not know.
North Korea International Flights
Flights between Pyongyang and China are expected to resume very shortly for North Korean nationals. UPDATE: they have started. he first flight to Beijing, and scheduled flights from Vladivostok for North Koreans to return home.
North Korea Train (China, Dandong - Pyongyang)
The train from Dandong to Pyongyang will be operating normally soon.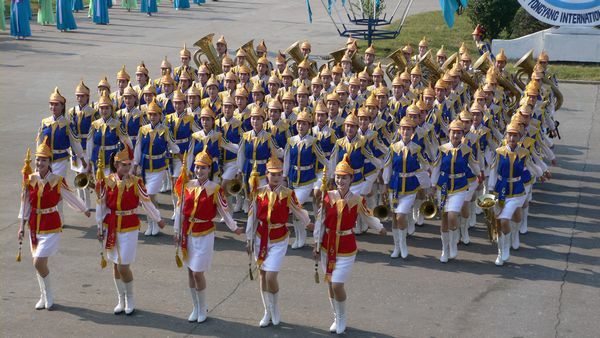 ---
---