Lake Chon, Mt. Paektu
Lake Chon Introduction
Lake Chon Stats
Lake Chon Location
Lake Chon Legend and History
Lake Chon Visiting
Lake Chon Monster
Lake Chon Introduction
Sitting atop the massive Mt. Paektu, Lake Chon is contained within a vast caldera caused by a huge volcanic eruption in the year 946. This annihilated the top of Mt. Paektu, causing years of climate change in the region as well.
This left Korea's highest peak as a huge pit. It filled up with water over time, and eventually became Lake Chon.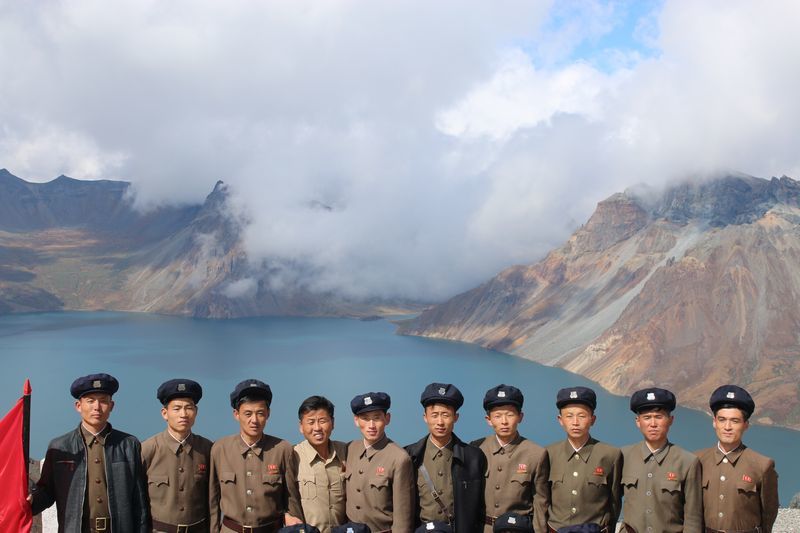 ---
Lake Chon Stats
Lake Chon itself sits at an elevation of 2189m (the lake's surface that is, usually as there are seasonal variations).
The area of the lake is 9.82 km2 and the depth can be as much as 384m. Lake Chon is frozen for much of the year, the long Oct – June winter of northern Ryanggang Province.

---
Lake Chon Location
At the very top of sacred Mt. Paektu, on the de facto border between China and North Korea.
Lake Chon is in two countries at once. In Chinese Lake Chon is known as Tianchi (天池) Both the Chinese and Korean names mean 'Heaven Lake'.
Lake Chon is the source of the two rivers which form the current border between China and North Korea; the Tuman River and the Amnok River (in Chinese these are called the Tumen and Yalu Rivers respectively).
The name of the province in which Mt. Paektu and Lake Chon sit is called Ryanggang Province (two rivers) for this reason.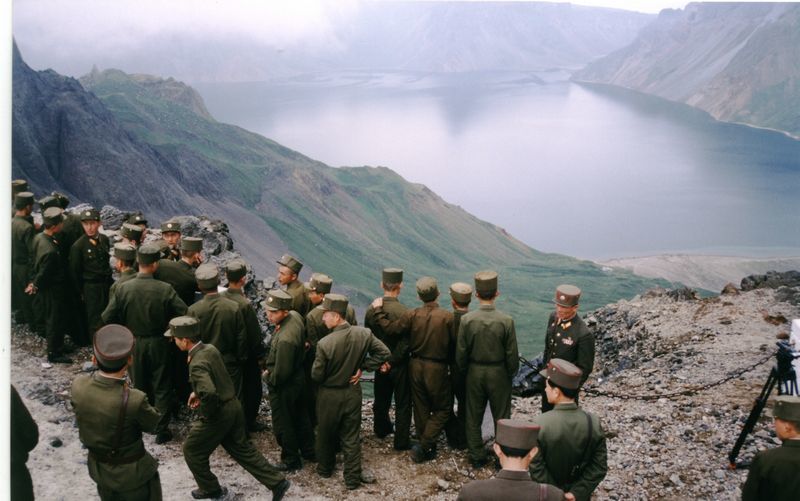 ---
Lake Chon Legend and History
King Tangun, the founder-king of the Korean nation is said to have hailed from this area; with his story (told in full at his mausoleum near Pyongyang) being one that combines narrative, metaphor, and legend.
It is a combination of his association with this place, plus the official DPRK version of history stating that Kim Jong Il too was born in the Mt. Paektu Secret Camp, that adds so much significance for many Koreans when visiting here.

When visiting Lake Chon there are markers to show where Kim Il Sung, Kim Jong Il, and Kim Jong Un have stood as they regarded this lake, and in recent years several high-profile visits to the area have been undertaken, most significantly the September 2018 visit by Kim Jong Un and South Korean President Moon Jae-in, along with their wives. Signifying the shared history of all Koreans. A powerful message indeed.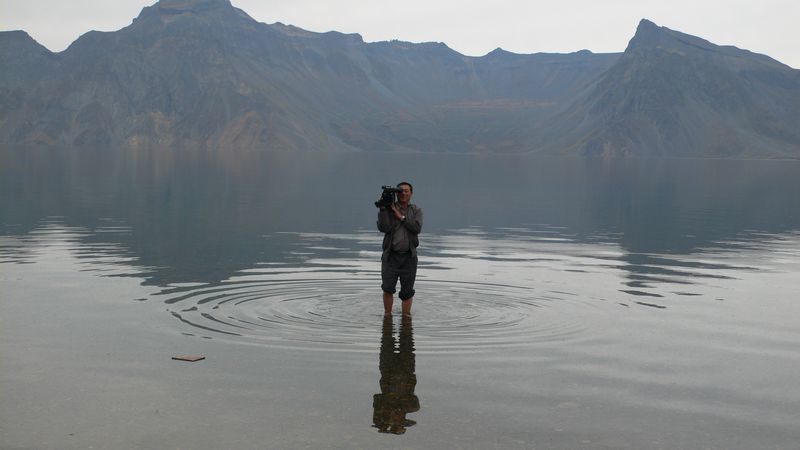 ---
Lake Chon Visiting
Lake Chon is simply a stunning sight, a massive elevated body of water in such a remote part of the DPRK that very few tourists ever get this far.
To reach here, tourists must come by air from Pyongyang Airport to the nearby Samjiyon Airport. In either a charter or one of the occasional regular Air Koryo services.

A bumpy drive through the forested north and then out above the tree line to the foot of Mt. Paektu. Reaching the summit either on foot, by a small road, or on a funicular railway visitors are then presented with either a stunning view of the lake or a wall of cloud which could dissipate at any moment, or linger for hours – it is a mercurial place climactically!

To reach Lake Chon itself from the peak of Paektu there is a zig-zagging concrete path, descending several hundred metres to the lakeshore.
This is a long walk down and an arduous one back up.
There is also a sometimes-operational cable car which runs from the crater edge to the lakeshore that can be used.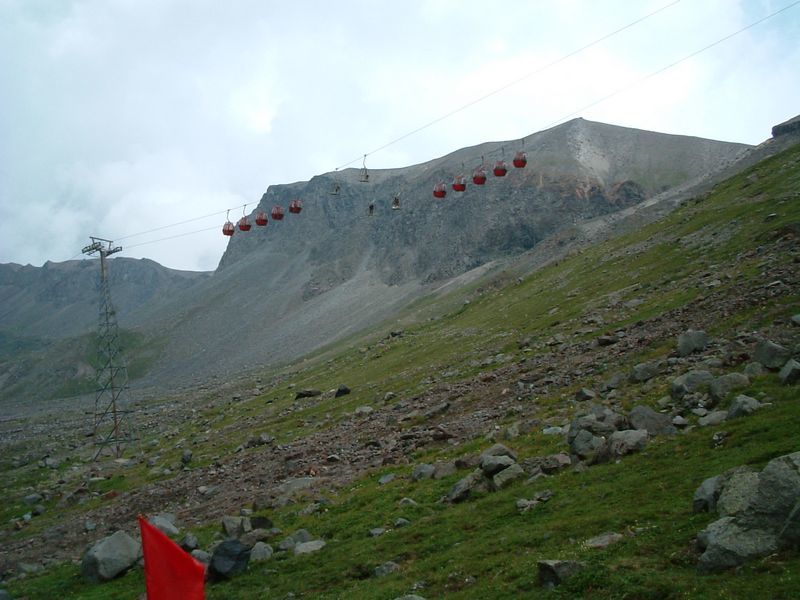 At the edge of Lake Chon setting foot in the waters is permitted. Going for a swim is considered bad form (on the Korean side at least) due to the sacredness of the lake.
On the Chinese side, there is somewhat less reverence and people sometime even camp the night on tents on the frozen surface.
The shores are rocky and sharp. This was of course literally the inside of a mountain until just under 11 years ago.
And there is no lakeside infrastructure, but even though it is an effort to get to the waterfront itself this is part of a long and epic journey, well worth the effort when visiting somewhere both sacred, historically significant, imbued with revolutionary characteristics, and so geographically remote. Don't miss out!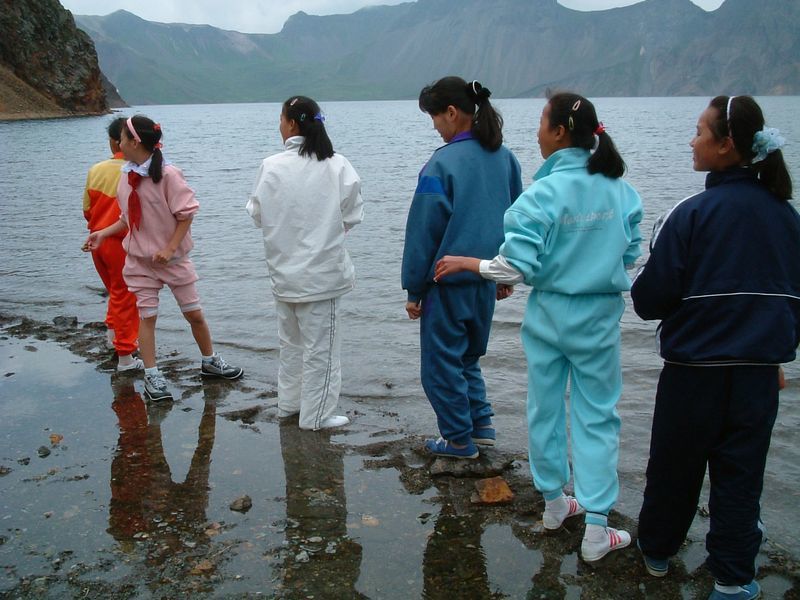 ---
Lake Chon Monster
There are rumours and claims, all from the Chinese side, that there is a species of lake monster that inhabits Lake Chon.
This is known as the Lake Tianchi Monster.
It is considered unlikely by scientists and, as with almost all cases of cryptozoology, there is no compelling evidence. Cameras jam at the wrong moment, reflections make images blurry. You know how it goes!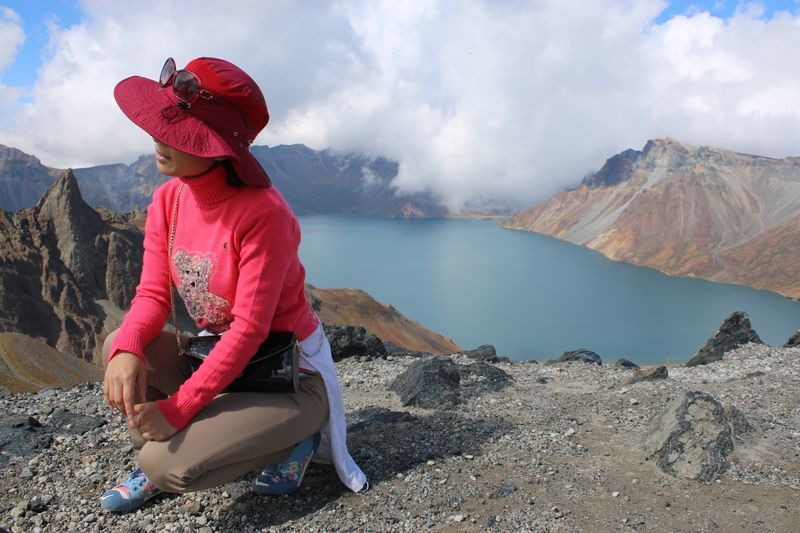 ---
---
Interested in a tour to North Korea?
Travel to
North Korea
with the only
North Korea travel experts, Koryo Tours
North Korea Travel Guide PDF | Sign up to the mailing list | About Koryo Tours