What's it like to visit North Korea?
Introduction
Is it safe to visit?
What are the hotels like?
What is the food like? Will I get enough to eat?
What is there to see and do?
How will I get around North Korea?
What do I need to prepare for my travel in North Korea?
Summary
Introduction
Welcome!
If you've come to this page you've probably asked your preferred internet search engine 'what's it like to visit North Korea?' or something similar.
Thankfully you've come to the right place as we here at Koryo Tours have been taking tourists to North Korea since 1993. We've taken well over 20,000 people to North Korea during this time, and from all over the world.
Looking at the questions we get asked from people interested in visiting North Korea we've developed the following to give you an idea of what it's like to visit.
---
Is it safe to visit?
North Korea is a safe country to visit with petty crimes almost nonexistent for tourists.
Despite what a sensationalist media would like you to believe, arbitrary detention is not a thing in North Korea nor has it ever been. To find yourself in trouble in North Korea you do have to have made an effort.
Crimes such as theft, assault, illicit drugs, etc. that are crimes in your home country and elsewhere in the world are also crimes in North Korea. They have some more unique laws that need to be respected such as not criticising the North Korea leaders, proselytisation (promoting religion for the purpose of converting), not spreading imperialist propaganda (e.g. South Korean movies, music, publications, etc.), not taking photos of the military and not wandering around by yourself.
If you are caught committing these crimes at worst you will end up in the North Korean judiciary system, or at best you will cause some minor to major difficulties for your local guides.
If for some reason you feel like it's going to be an issue for you to abide by the laws, customs & etiquettes of North Korea, then you should not visit.
For those that do decide to travel to North Korea then do ensure you are fully briefed before going. Even the most experienced travellers have been caught out by the customs and etiquettes of travel in North Korea. Koryo Tours requires everyone to have completed a briefing before traveling to North Korea. A proper briefing not only ensures that you are fully prepared, but also will make clear where the potential risks are which mean you can relax knowing where they are.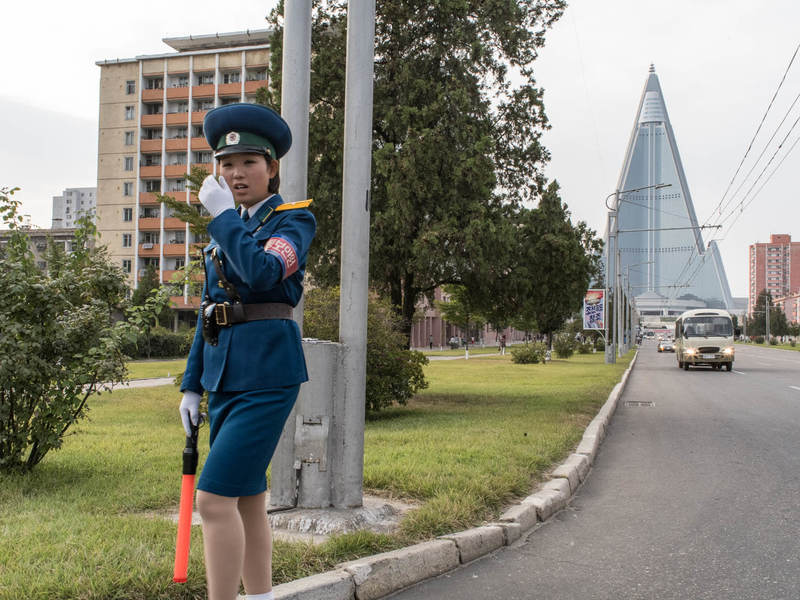 ---
What are the hotels like?
Hotels in North Korea range from basic hotels through to 5-star establishments, and there is even a homestay you can stay at if travelling in the North East of the country. Having stayed in them all, we generally find them very comfortable places to be.
Hotels in Pyongyang are generally better equipped than those outside of the capital and have reliable electricity and hot water supplies, though some of the older hotels in Pyongyang don't have reliable supplies of these.
With the exception of a couple of high-end hotels, the majority of hotels outside of Pyongyang don't have reliable electricity, which is why it's recommended to bring a torch or ensure to keep your phone charged for when the lights do go out. Most also don't have 24-hour hot water and some do not have 24 hour running cold water, so it's important to confirm with your local guides or tour leader what those times are and prepare to be flexible. They will do their best to accommodate your needs, but it is not always possible.
If the hotel you are staying doesn't have 24 hour running cold water they will already have large buckets filled with water or have the bathtub full of water so you can use it for bathing or flushing the toilet. Don't drain the bath if it's full already though, otherwise you won't have any water left!
In terms of hotel facilities, they all have restaurants, snack shops, bookshops, table tennis, billiards, massage, sauna, karaoke rooms and somewhere to drink – either a dedicated bar, or tables and chairs located somewhere convenient.
You can roam the hotel and its surrounding grounds without needing your guides, but you cannot leave the hotel grounds. Sometimes this means going no further than the front doors of the hotel.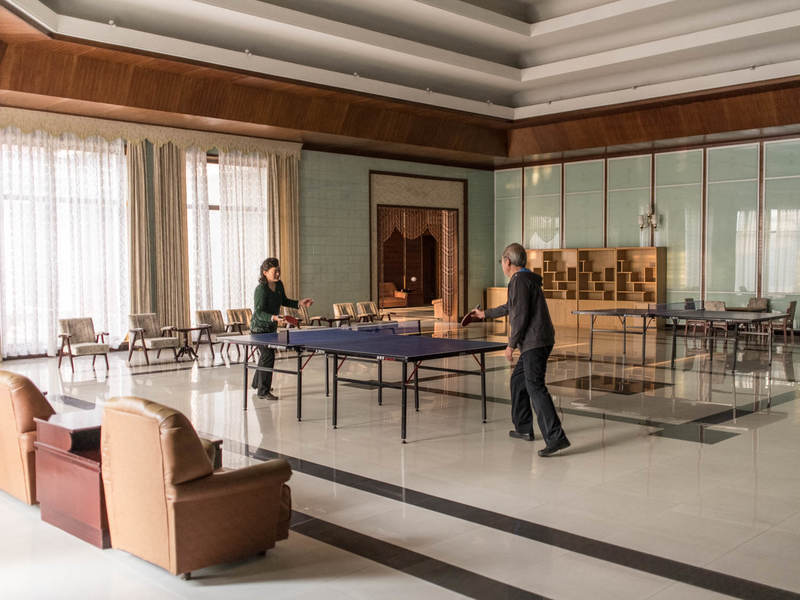 ---
What is the food like? Will I get enough to eat?
North Korean cuisine is vast and not only has just regional specialities, but also regional variations of common dishes. As an example, there are many different variations of the ubiquitous Kimchi, and even the common Kimchi made with Chinese cabbage varies throughout the Korean peninsula in how it's made.
The style of dishes can also vary, particularly between the southern and northern half of North Korea. In the southern half they have more flat land and rice is the staple, but if you head to the mountainous north to places such as Mt Myohyang or even the Mt Paekdu region then potatoes become the staple and this is reflected in the cuisine served.
On tours, the majority of meals will be Korean meals served in the traditional way with multiple dishes for sharing as a group, and then an individual dish at the end of the meal which is usually either rice or noodle dish, or possibly even a soup dish.
There are some locations where meals will be more European style, and in Pyongyang, there is even a fast-food restaurant serving burgers and fries.
Breakfast is always served in the hotel, with lunch and dinners either in the hotel or at a local restaurant.
One thing is for sure and that is you will be served too much food as in Korean culture the host needs to over-serve food to guests. If you don't finish all the food served, then that is ok! It means you are leaving well-fed and your hosts are looking after you well.
Dietary requests can be accommodated, just be clear and honest with your local Korean guides in regards to it. It is ok to say you are vegetarian if you have trust issues eating meat while in foreign countries, but don't then decide halfway through the trip that the barbeque everyone else is eating looks more delicious than the tofu you've been served as this will annoy your local hosts who have been making extra efforts to accommodate your requests.
Make a choice and stick with it.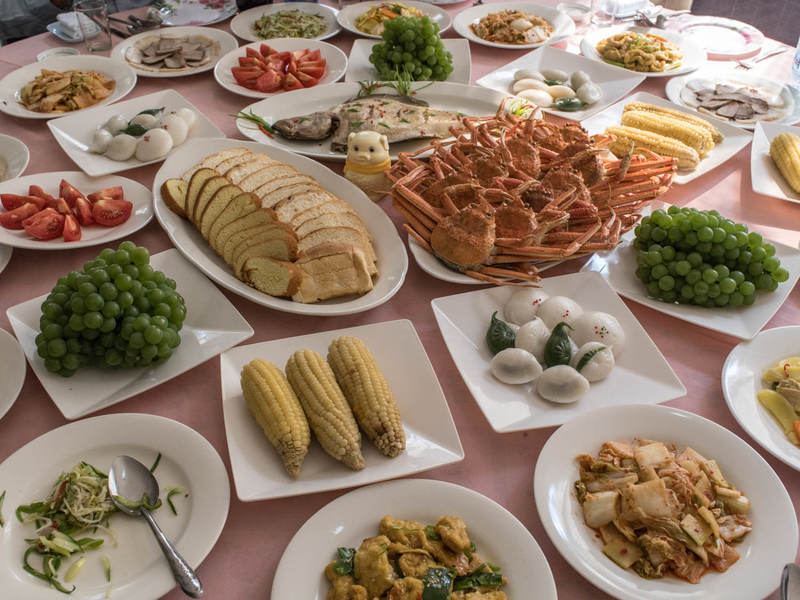 ---
What is there to see and do?
As our North Korea travel guide shows, there are many things to see and do in North Korea.
There are sights that cover ancient and modern history, political sights, local industries, culture, monuments, daily life, shopping, sports, beaches, skiing, hiking, nature, local transport, funfairs, bars and more. Many people are surprised by just how much there is!
Most people will visit as part of a group tour which means your itinerary is largely fixed to what was advertised. Changes often happen to the order of events, and sometimes itinerary items are cancelled last minute due to circumstances beyond everyone's control, but they will be replaced with something just as good. Sometimes there are even opportunities to attend events that are unplanned such as performances. You will have a Tour Leader who will be working with the local guides to give you the best experience possible.
If you are on a private tour then you will have already developed your itinerary working with your Tour Manager. You can make requests to them either by listing specific places or by giving them a theme to work to. Alternatively, you may have put your trust in them to develop a good itinerary for you. Last-minute cancellations and changes can still occur on private tours, so you will need to work with your local guides to come up with an outcome that you are happy with.
No matter which tour option you travel with, itineraries are usually packed full of activities and sightseeing. Most people usually find they can be tiring with early mornings, late finishes and much to do in between, but are appreciative of the amount covered as for most it is their only time in North Korea.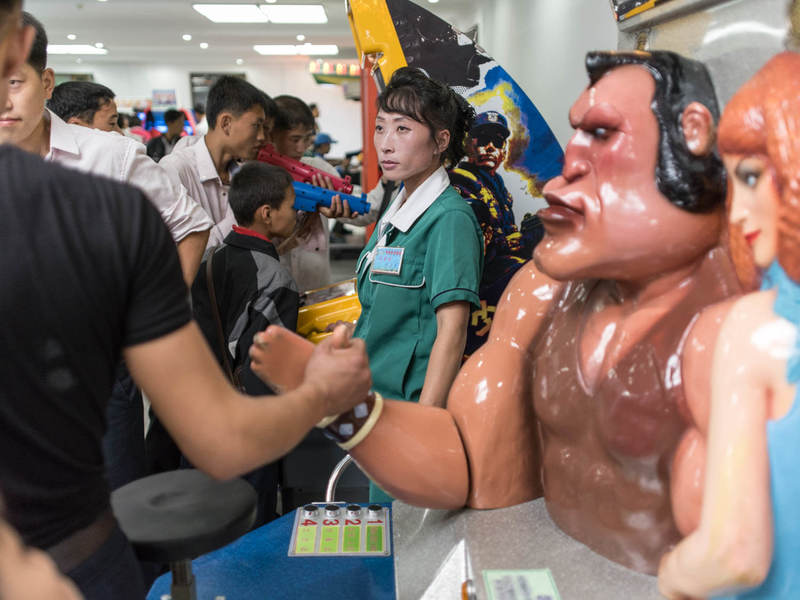 ---
How will I get around North Korea?
If you're on a group tour then you get around North Korea on a bus, or if you are on a private tour then you will get around in a car, van or minibus depending on the size of your group.
For the majority of places, you will be bussed between locations as this is the easiest & quickest way to get about, but where possible in terms of location and time your guides may include walks between locations to mix things up and give you a different experience.
There are also some opportunities to use public transport which is generally included in your itinerary as an activity. Most will get to visit and use the metro system in Pyongyang, but if you're lucky you may also get to use a trolley bus or tram.
Of course, if your tour includes visiting the more remote parts of North Korea in the North East such as Mt Paekdu or Chongjin then you will most likely use an internal domestic flight (chartered or scheduled) on one of Air Koryo's fleet of aircraft.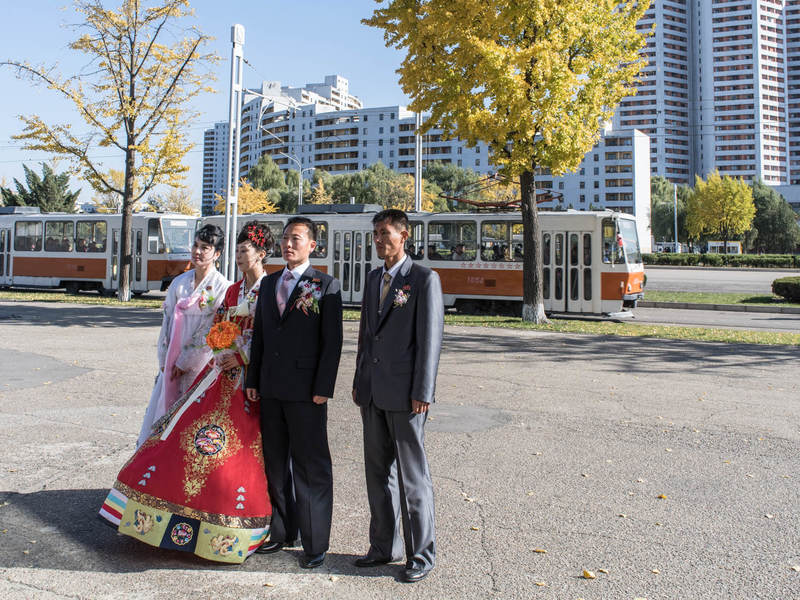 ---
What do I need to prepare for my travel in North Korea?
Apart from the usual items you need for travel (clothing, toiletries, travel documents, cameras, etc.) there are some things you will need to ensure to prepare.
The main one is enough cash for the duration of your time in North Korea. While your tour package includes the costs of big-ticket items such as meals, accommodation, entrance to attractions and transport you will need cash for spending money and to tip your local guides. North Korean currency known as 'won' is officially not allowed to be used by foreigners, so instead, you can use Euros, US dollars or Chinese RMB. You'll just need to ensure to have a sufficient supply of these to last the duration of your trip as there is no way at all to get additional cash out or use credit cards. You will also want to have some smaller denominations as providing change is a problem in the country.
It's worth mentioning that unlike other countries, if you do happen to forget to bring something you need for your time in North Korea in most instances it is very difficult to impossible to be able to get what you need in North Korea. It is important to plan ahead and make sure you pack everything you need. This is not just in terms of clothes and toiletries, but also medications, flashlights, extra batteries for your devices and so on.
You will need to check your planned itinerary as there often is activities included that may require different clothing to what you'd usually wear. If your tour includes hiking, sports activities or even swimming then you'll want to bring clothing & footwear appropriate for the activity. Some places where you can go swimming such as Munsu Waterpark you can rent a swimsuit, but if heading to the beach then this may not be possible.
Lastly, if your tour includes a visit to Kumsusan Palace of the Sun then you need to ensure to pack appropriate clothing for your visit. The best mindset to help you prepare for this visit is to think of it as attending a funeral. Not all tours visit here so check your itinerary or with your Tour Manager.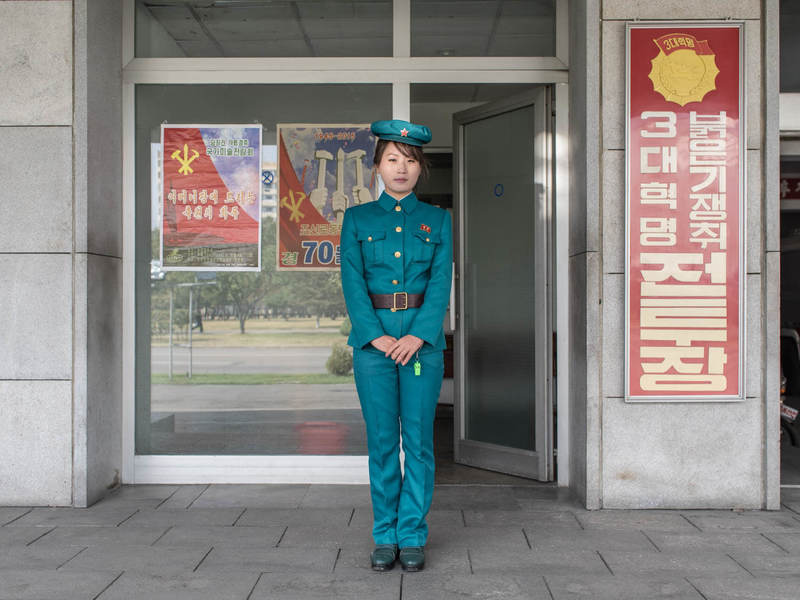 ---
Summary
So there you have it, an insight into what it's like to visit North Korea based on common things we are asked.
The only other things we might add is going with an open mind and you will probably come away with a fresh perspective, better understanding or, as is most often the case, more questions than answers.
Everyone has their own experiences and things that take away from their trip to North Korea. Travel is like that. None of it is wrong or better, individuals will focus on one thing over another and go on to report to their family/friends/colleagues/neighbours what they made of it all.
For you – dear reader – there is only one way you can get your own feeling, impression and/or conclusion about North Korea and that is to visit for yourself. You may think 'of course a North Korean travel company would say that', but it's true! You can ask twenty people who have been to North Korea what they thought about their visit or watch all of the tourist videos on YouTube, and you will find everyone will come to different conclusions.
Ready to start talking more about planning a trip to North Korea? Take a look at our scheduled group tours here or send us an email on [email protected] to ask us more!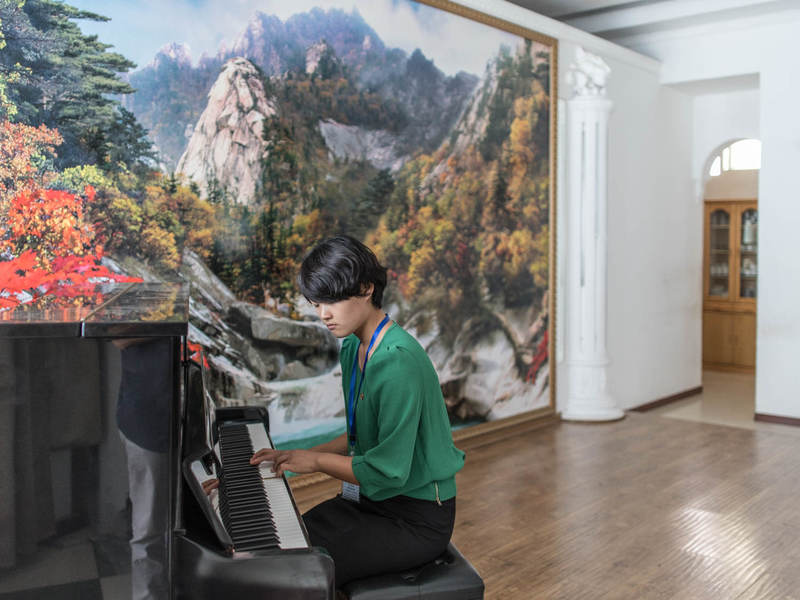 ---
---
Interested in a tour to North Korea?


Travel to

North Korea

with the only
North Korea travel experts, Koryo Tours
North Korea Travel Guide PDF | Sign up to the mailing list | About Koryo Tours