Pyongyang Tram
Introduction
Where does the Pyongyang Tram run?
History of the Pyongyang Tram
Kumsusan Palace of the Sun Tram
Pyongyang Tram: Introduction
The current Pyongyang tram network opened in 1991.
There are 3 tram lines in operation as well as a special line running up to the Kumsusan Palace of the Sun for individuals visiting the palace.
The Pyongyang Tram system has historically operated trams from the former Czechoslovakia. North Korea purchased various models of the Tatra tram from ČKD (Českomoravská Kolben-Daněk) one of the largest engineering companies in the former Czechoslovakia. If you observe carefully, the sign ČKD is embossed on the front white part of the tram.
In 2018, the first domestically produced tramcars were seen in operation. There is also a metre gauge line from Samhung metro station to Kumsusan Memorial Palace in Pyongyang (all other lines are standard gauge) which were purchased in 1995 from stock retired the year before from the for the Zürich tram system (Maschinenfabrik Oerlikon and SWS, matching trailers by SIG). This is not for use by foreigners but by locals for visiting the Memorial Palace.
The Pyongyang Tram makes up an important part of Pyongyang's public transport infrastructure along with the metro and trolley-bus network.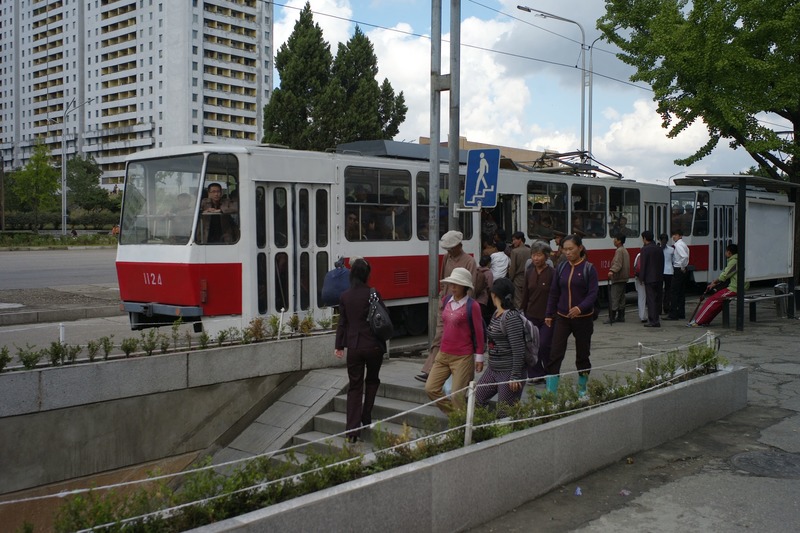 Pyongyang Tram: Where does the Pyongyang tram run?
The Pyongyang Tram, unlike the Pyongyang Metro, spans both sides of the Taedong river.
Line 1: Tongdaewon - Pyongyang Railway Station – Mangyongdae
Line 1 runs between the east of the city through the centre of Pyongyang and ends in the Mangyongdae district where the native house of President Kim Il Sung is located.
Line 2: Munsu – Rakrang
Line 2 runs between Munsu in north-east Pyongyang and Tongil street. A tram depot is located one block away from Munsu Water Park.
Line 3: West Pyongyang Railway Station – Rakrang
Line 3 runs from the north-west Pyongyang railway station "West Pyongyang" to Rakrang, the same terminus as Line 2, on Tongil street.

Pyongyang Tram: History of the Pyongyang Tram
Historically, Pyongyang was one of 3 cities in Korea to operate a tram system with Seoul and Busan.
Much of the network was destroyed during the Korean War.
Due to overcrowding on the trolley-bus network, the Pyongyang Tram network was rebuilt.
Line 1 officially opened in 1991.
Foreign tourists are not permitted to travel on the trams with locals, although some visitors can charter tram rides as part of a tour.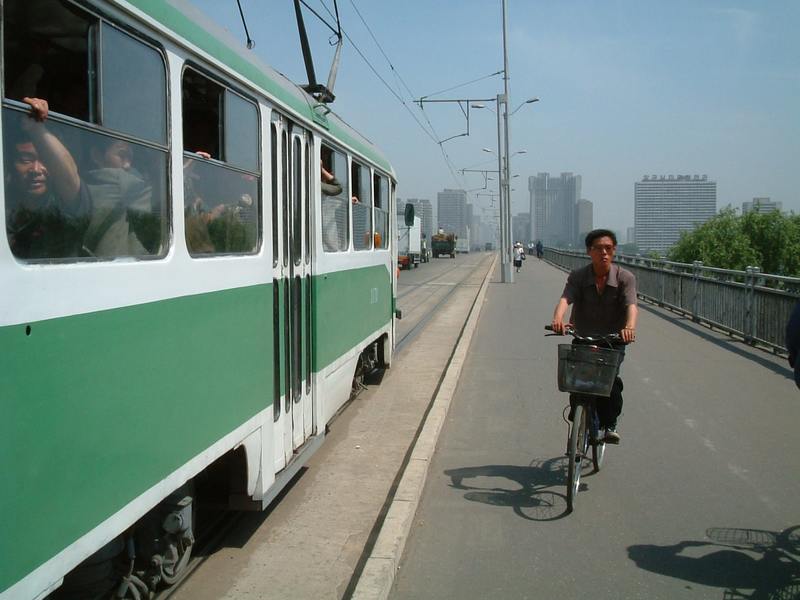 Pyongyang Tram: Kumsusan Palace of the Sun Tram
The Kumsusan Palace of the Sun in north-east Pyongyang has its own short tram line.
The line runs between the Kumsusan Palace Tram Stop and Samhung on Ryomyong street.
The tram does not connect to other lines and operates only for local visitors to Kumsusan.
Unlike the main trams, the Kumsusan tramcars are painted green and can often be seen arriving at the Kumsusan tram station (located in the palace waiting area).
---
---
Interested in a tour to North Korea?


Travel to

North Korea

with the only
North Korea travel experts, Koryo Tours
North Korea Travel Guide PDF | Sign up to the mailing list | About Koryo Tours