Introduction
Location
Exterior
Interior
Visiting & Tips
Munsu Water Park: Introduction
The Munsu Water Park is the largest water park in North Korea. During both winter and summer months, this is a popular location for locals to go and enjoy their weekends, evenings, or holidays.
Foreigners can visit this water park and have a chance to hang out with local North Koreans whilst they're relaxing and having fun.
The name 'Munsu' describes the district it's situated in, 'Munsu District'. This name is derived from the fact that "this area is as beautiful as embroidery on silk cloth".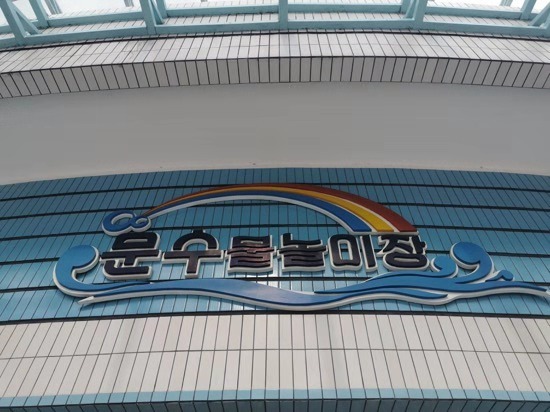 ---
Munsu Water Park: Location
Munsu Water Park is located in Munsu District. It is located on the banks of the Taedonggang River in East Pyongyang.
The Munsu Water Park covers an area of 125,000 meters squared.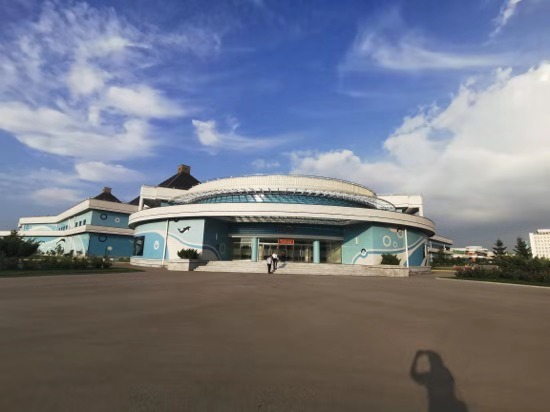 ---
Munsu Water Park: Exterior
The exterior of the Munsu Water Park is open only for a short period during summer months.
To the end of summer, the outside area is still open, but slides are not in operation.
Swimming Pool
On the outside area of Munsu Water Park are several outdoor swimming pools.
There is a large pool connected to the inside swimming pool, a large pool to the right, and a stream that runs through the middle and acts as a river you can live and relax in as it flows you gently to the various areas of the outside.
There is also another smaller pool situated in the middle and a wave pool to the right.
To the far right, there is a small pool for diving, with three diving board heights.
Water Slides
There are approx 10-15 water slides in Munsu Water Park, all of different heights, lengths, and type of slide.
They range from small and suitable for smaller children, to very large and only for the brave.
Some will require you to go down with a single rubber ring, a double rubber ring, or a mat.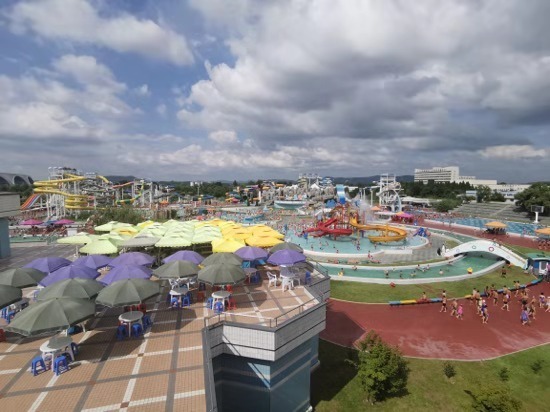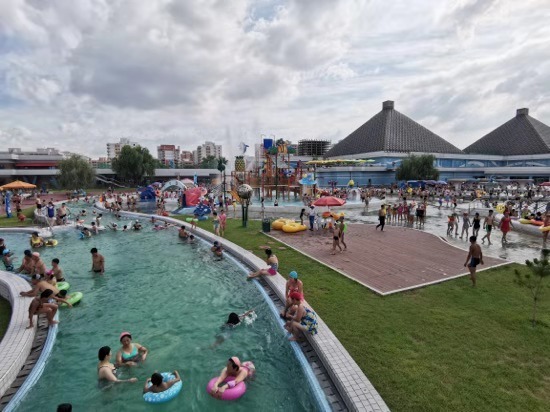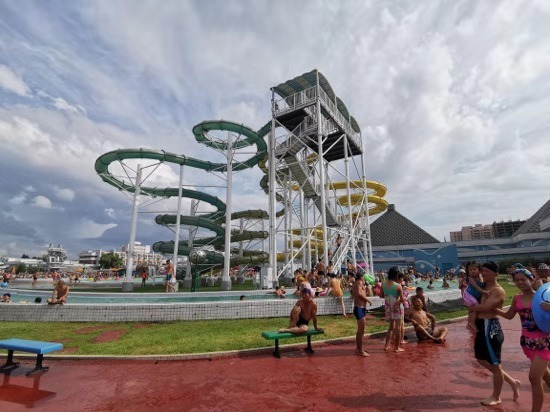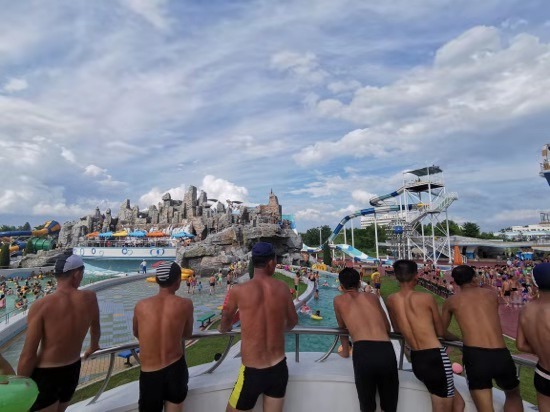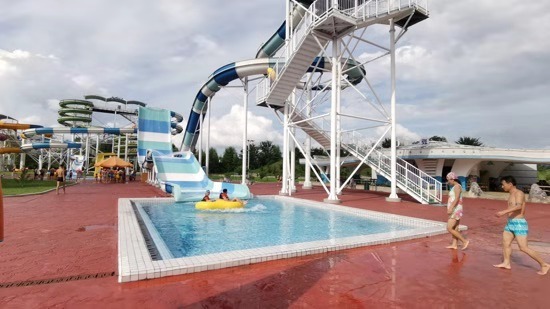 ---
Munsu Water Park: Interior
Shop
Located next to the reception as you walk into the entrance, the on-site shop in Munsu Water Park has everything that you'd need for a swim. It also offers some pretty retro swimsuits.
Reception
The reception area is located at the entrance of Munsu Water Park. Here you can pay for your swim, rent any swimsuits and towels, or book a massage/haircut.
Hair Salon
The hair salon is located upstairs. There is a barber for men and a hair salon for women. Hair cuts start at relatively low prices, and you can just go for a blow-dry if you wish. You should book a place at the reception downstairs.
Massage
The massage parlour is located upstairs. You can choose from various massages (full-body, foot massage etc). You should book this in advance.
Coffee Shop
The coffee-shop is located on the second floor of Munsu Water Park. This is a coffee chain called Sunrise Coffee. Here, you can refresh with some of Pyongyang's best coffee - or also order some food here.
Bar/Billiards
Behind the coffee shop on the second floor, there is a bar and billiards area.
Changing Rooms
Changing rooms are divided into male and female and include lockers and showers.
Swimming Pool
In the main area of Munsu Water Park is a massive indoor swimming pool area. This consists of many different shapes and sizes of pools, as well as a wave pool, an area for children, and a pool for doing lengths.
Sauna
In the swimming pool area to the right-hand side, there is a separate sauna area. This is a typical Korean-style sauna. You need to pay extra to visit this sauna area, and you will be expected to remove all clothing for hygiene reasons. Men and women are separate.
If you don't want to go into the Korean-style sauna, there is another sauna and steam room to the left-hand side where it is mixed men and women. For this, bathing suits are required!
Swimming Pool Viewing Platform
Useful if you want an area to relax away from the crowds, there is a viewing platform on the second floor. Here, there are some sun loungers to relax on.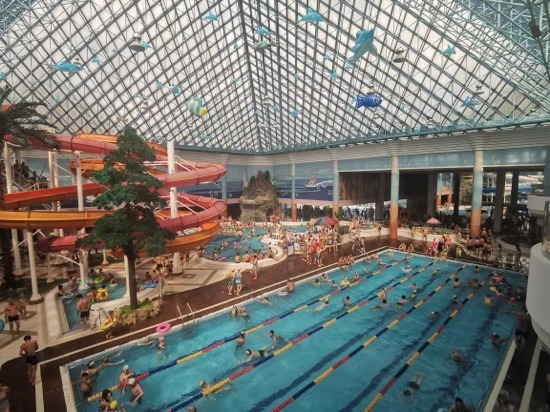 ---
Munsu Water Park: Visiting Tips
- You can rent swimwear from the counter. This is included in the price and comes with swimwear, towels, and soap.
- Catering facilities are available both inside and outside.
- If you have your own swimwear, you can wear this. Women can wear bikinis, but the local Koreans will all be wearing a one-piece swimsuit.
- You can spend anything from one hour to one whole day here. Depending on which facilities you want to make the most use out of!
- The sauna that you should pay extra for requires you to remove all clothing before entering. The men and women are separate. This is not the same as the sauna located in the mixed swimming pool area. Here, you are expected to keep your swimsuit on!
- Bring a waterproof phone case to keep your phone for taking any pictures and some small notes so you can buy some drinks and snacks in the outside area on a sunny day.
- The outside area is only open for a couple of months during the summer period.
- Weekends and national holidays will be very busy with North Koreans. If you want to go at a quieter time, it's best to go during the week.
- Here you can speak with locals and enjoy your time with them, but bear in mind they are there to relax and have fun and may wish to be left alone to enjoy time with their friends and family.
- Photography is permitted here, but locals may not like you taking images of them in their swimwear. It's best to keep photography limited.
- If you want a tour of Munsu Water Park to see all the facilities before going in, you can request this at the reception.
- Entry is approx. 10 EUR per person. Extra services e.g. massage, haircut, sauna, are all at an extra charge. You should pay in advance.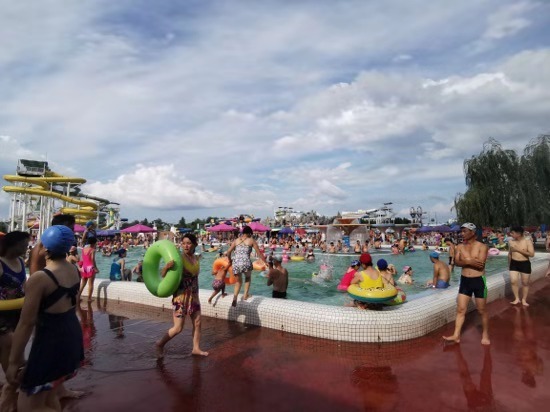 ---
---
Interested in a tour to North Korea?


Travel to

North Korea

with the only
North Korea travel experts, Koryo Tours
North Korea Travel Guide PDF | Sign up to the mailing list | About Koryo Tours