North Korea is a country shrouded in mystery for most. Much of the information and answers to North Korea FAQs you'll find online have out-dated information, incorrect information, or simply no information at all.
So as the experts in North Korea and North Korea travel, we've put together a collection of North Korea FAQs most frequently asked by our travellers and followers to give you the most up to date information all in one place.
Follow the link at the bottom of every North Korea FAQ to find out more.
Still got a question on North Korea?
Contact us!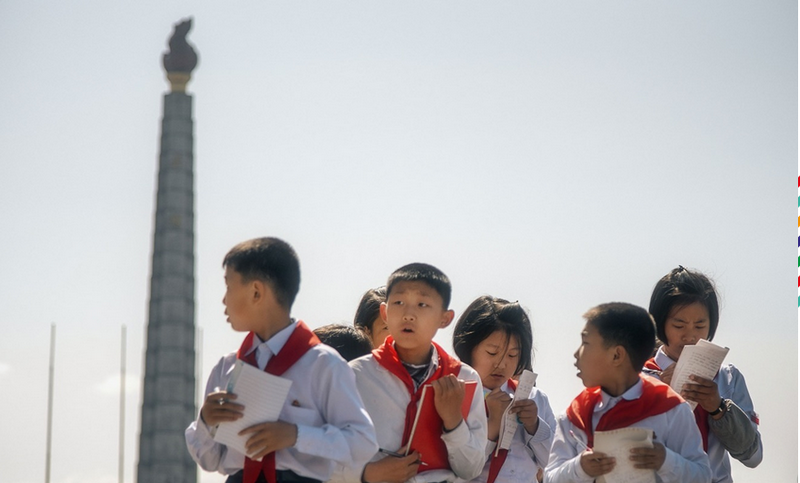 ---
1. Can I Travel to North Korea?
Contrary to popular opinion - yes. You probably can travel to North Korea.
There are few people who can't travel to North Korea, and this is mainly due to their profession or home country government.
The only nationalities restricted from travel to North Korea as tourists are citizens of South Korea - Republic of Korea (ROK), and the United States of America (USA).
South Korean citizens must obtain permission from both the ROK and DPRK governments to legally travel to North Korea. Those travelling on American passports are legally allowed to visit by the DPRK, but not by their own government without special permission.
The North Korean government places restrictions on professional photographers and journalists travelling on tourists visas without prior permission. Please note that conducting journalism in North Korea without prior permission is illegal.
Active military personnel from most countries can travel to North Korea, but may require obtaining permission from their senior commanding officer and/or human resources department.
---
2. What's it Like to Visit North Korea?
Visiting North Korea will probably be nothing like you expect. It's not like you will see in the media; you probably won't see a military parade, and the rules are not as strict as you might think. It's 'pleasantly underwhelming'.
Hotels in North Korea range from basic hotels through to 5-star establishments, and there is even a homestay you can stay at if travelling in the North East of the country.
North Korean cuisine is vast and not only has just regional specialities, but also regional variations of common dishes.
There are sights that cover ancient and modern history, political sights, local industries, culture, monuments, daily life, shopping, sports, beaches, skiing, hiking, nature, local transport, funfairs, bars and more.
If you're on a group tour then you get around North Korea on a bus, or if you are on a private tour then you will get around in a car, van or minibus depending on the size of your group.
---
3. Is it Safe to Visit North Korea?
North Korea has a reputation for being a dangerous place to visit.
However, with the right precautions and a good dose of common sense, it's no more dangerous than any other travel destination.
The crime rate is very low in North Korea, so you don't need to be too concerned about theft or pick-pocketing.
The biggest concern people have when visiting North Korea is being arrested for some minor misstep. This will not happen unless you make it happen. It is very difficult to get yourself into serious trouble by accident.
They have some more unique laws that need to be respected such as not criticising the North Korea leaders, proselytisation (promoting religion for the purpose of converting), not spreading imperialist propaganda (e.g. South Korean movies, music, publications, etc.), not taking photos of the military and not wandering around by yourself.
If you are caught committing these crimes at worst you will end up in the North Korean judiciary system, or at best you will cause some minor to major difficulties for your local guides.
If for some reason you feel like it's going to be an issue for you to abide by the laws, customs & etiquettes of North Korea, then you should not visit.
For those that do decide to travel to North Korea then do ensure you are fully briefed before going. Even the most experienced travellers have been caught out by the customs and etiquettes of travel in North Korea. Koryo Tours requires everyone to have completed a briefing before travelling to North Korea.
---
4. How to Get a North Korean Visa?
Believe it or not, the North Korea visa is among the easiest to obtain.
The rules and the process are pretty straightforward and there are no hidden surprises along the way.
Simply contact a North Korea tour agency, book a tour, fill in your details, and they do all the work for you!
All tourists regardless of citizenship will need a North Korea visa.
North Korean visa (Tourist Card) issued in China is EUR €60 (incl. agent fee).
---
5. What Currency Should I Use in North Korea?
The official currency of North Korea is the North Korean Won (KPW). However, foreigners are generally not permitted to use this, and it is not possible to obtain outside the country.
So what currency should you take to use in North Korea?
Instead of North Korean Won, you can use any of the following;
Renminbi (CNY)
US Dollars (USD)
Euro (EUR)
Japanese Yen (JPY) and Russian Roubles (RUB) are accepted at selected locations, although we do not recommend bringing either of these to use.
The official exchange rate of North Korean Won to USD is;
1 USD to KPW = 900.074 North Korean Won
(XE Currency Converter, February 2020)
This exchange rate can, however, vary in North Korea depending on where you shop in North Korea and where you exchange your money.
It should be noted that there are NO ATMs in North Korea. You should bring ALL the money you need for your ENTIRE trip.
---
6. Where Can I Get North Korean Won?
You can get and use North Korean Won at the Kwangbok Supermarket, in Rason, or a couple of other locations.
If you do find yourself at the market in Rason or the Kwangbok Supermarket, you'll need to get your own North Korean currency to use.
At the Kwangbok supermarket, you will find an exchange booth that will exchange foreign currencies, including EUR, CNY, USD, and JPY.
In Rason, you can pay a visit to the Golden Triangle Bank where you can get a bank card and get North Korean money out here.
---
7. Can I Take North Korean Won Outside North Korea?
It is not strictly allowed to take North Korean Won outside of North Korea as a souvenir. North Korean Won is a closed currency.
Therefore, any that you do get your hands on you should make sure to spend.
You can, however, purchase special sets of North Korean money at many shops and hotels inside North Korea.
---
8. Can Americans Travel to North Korea?
At the current time, it is not possible for Americans to travel to North Korea as tourists.
Koryo Tours will not take those travelling on US passports to North Korea in accordance with the US State Department restrictions, effective September 1, 2017 (renewed September 1, 2018 and August 19, 2019), which invalidate US passports for travel to the DPRK without special validation.
The US State Department may grant one-time-use special validations for the following activities:
1) professional journalism
2) officially sponsored Intentional Red Cross or American Red Cross humanitarian missions
3) trips justified for compelling humanitarian reasons and
4) trips otherwise deemed to be in the US national interest.
You can find more information about the application process for special validations here.
---
9. Is Weed Legal in North Korea?
No.
Reports regarding the use of marijuana and cannabis culture in North Korea are largely exaggerated.
Hemp is grown in North Korea for industrial purposes and some varieties are used in herbal medicine in rural areas. The plant can occasionally be seen lining fields as in other parts of Asia.
---
10. Can I Bring My Mobile Phone to North Korea?
In short... Yes, you can!
Contrary to the many outdated reports on the internet, your mobile phone can be taken with you on trips to North Korea (DPRK).
Your mobile phone does not need to be left at home. However, it may be checked on arrival or departure.
Such was the case in the past, but no longer (as of more than a few years ago).
---
11. How Much Does it Cost to Go to North Korea?
Most introductory tours to North Korea will typically range between 600-1500 EUR per person depending on your point of departure, tour length, group size, accommodation type, rooming preference, and your preferred method of transport.
We recommend visiting the country on at least a 3-night tour.
---
12. Is the Ryugyong Hotel STILL Empty?!
Unfortunately, yes - the Ryugyong Hotel is still empty (last time we checked in January 2020!)

Although the hotel is an iconic feature of the Pyongyang skyline, the building still isn't entirely finished — making it, at 330m, the tallest unfinished building in the world.
The construction for the hotel began in 1987 but was stopped 15 years later when funding ran out. The main structure had been completed by then, but the exterior and windows of the building weren't added until 2011.
---
13. If I Have a South Korean Stamp or Visa in my Passport Can I Visit North Korea?
Yes, you can!
Having a South Korean stamp or visa in your passport is not an issue or problem for visiting the Democratic People's Republic of Korea ('DPRK' or 'North Korea'). The relevant North Korean authorities and travel companies do not care if you have visited South Korea before.
Many travellers choose to see both North and South Korea on the same trip, which can be done by transiting through China or Russia.
There are, however, a number of things you should be aware of if you plan to visit both North and South Korea on the same trip.
---
14. Will I Get a North Korean Passport Stamp?
Probably not, no.
There will be no passport stamp for North Korea and the visa is on a separate piece of paper, so nothing is put in your passport.
There are a couple of locations that will stamp you in and out - Rason being one of them.
If you want your North Korean visa in your passport, you can go to your North Korean embassy in your home country and get it there. Prices vary.
---
---
Still got a question on North Korea?
Contact us!