Beijing Museum of Natural History
Location: 126 Tianqiao Nan Street, Dongcheng District, Beijing. Nearest subway stations are Zhushikou and Tianqiao, each around 500m away.

Opening: 09:00 – 17:00 Tues – Sun (closed on Mondays)

Cost: Free (bring passport or ID card)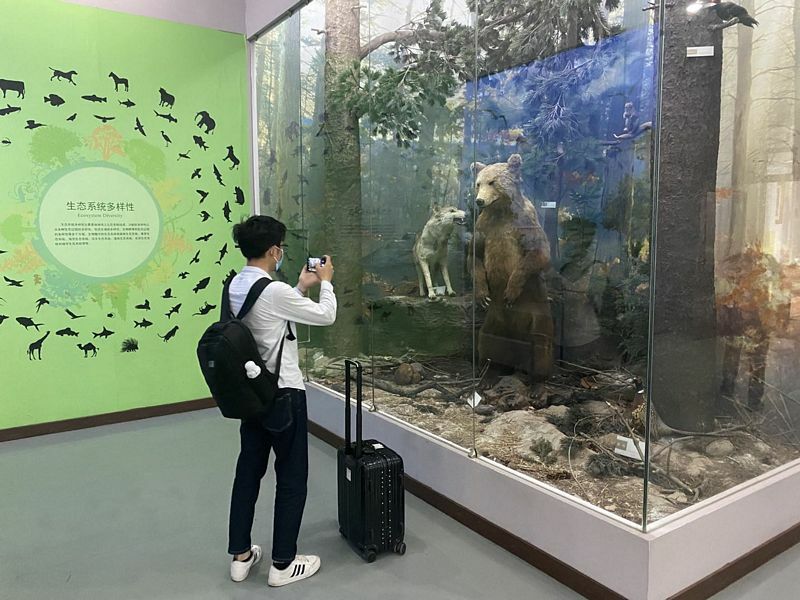 Beijing Natural History Museum is one of the older institutions in the city, first founded in 1951 the building itself is clearly of its time, being one of those museums that seems to get built and then all the stuff squeezed inside rather than the more modern type which gets built with more specific planning in mind. Still, this is a very museum piece of modernism from the outside, and just somewhat dated on the inside, but no barrier to all the learning that goes on in these somewhat dated halls.

A wide range of exhibits are spread over three main floors, with the ground/first floor containing the most popular exhibits, with a large range of taxidermied animals of all types on display. There is a hall of insects (some pretty amazing creepy-crawlies in there), animals of China and the world, the very impressive Hall of Paleo-Mammals, which contains skeletons and models of Mammoth and Wooly Rhinos, and the main attraction which is the Ancient Reptiles exhibit, which is of course – Dinosaurs!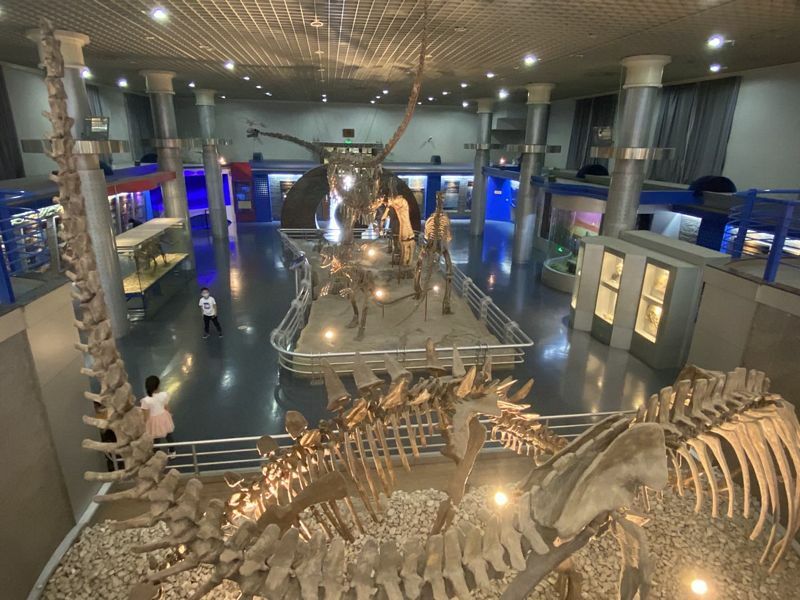 In a couple of previous Museums of Beijing entries (see The Geological Museum of China and The Paleozoological Museum of China for example) I have bemoaned the fact that despite China being blessed with a staggering amount of dinosaur finds there are really not any places in Beijing that actually seem to have much of a collection. The Natural History Museum has more than the others in the city, but still not all that many compared to similar institutions overseas. I know there are specific dinosaur museums elsewhere in China, but it is a pity that they couldn't add an extra wing to this museum and get some more of those amazing beasts on display in Beijing. Anyway, the kids and families who made up almost the entire body of visitors at the time of my trip here seemed to be impressed, with lots of very excited youngsters running around.

On the second floor there are some good exhibits on humans and human evolution. Answering the questions of where we came from. Despite this museum and its clunky layout being a relic of the 1950s most of the exhibits themselves are clearly more recent, and there are a few multimedia elements to be interacted with, as well as some very well-displayed exhibits. However, when it comes to a translation from Chinese most halls seem to have bothered only with the introduction, conclusion, and a few captions. Which is disappointing, given the decades they have had to make this more of an international standard place.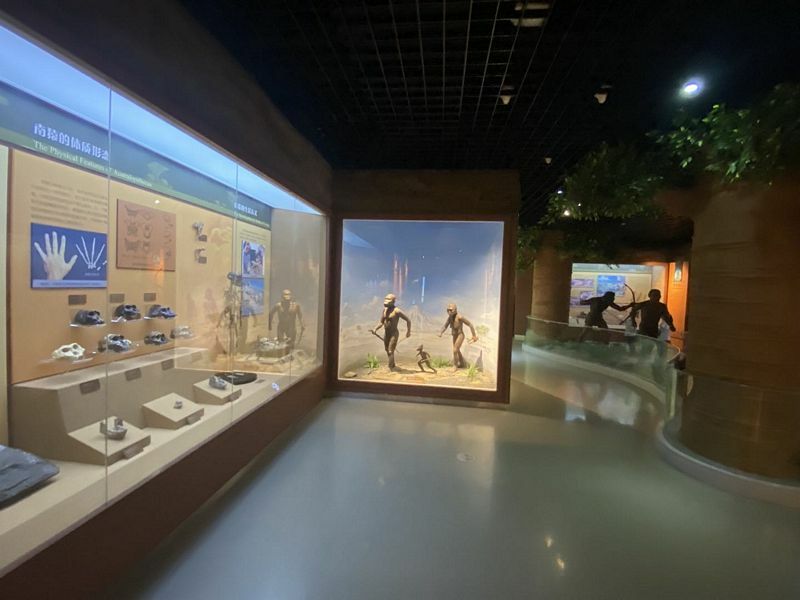 In fact the exhibits with the most parts translated are the most…I hate to say boring…but the most boring parts – plant fossils, and that kind of thing. The human evolution exhibition was really good though although the 'how you are made' part does show a couple procreating in a photo and it very much looks like the lady is not enjoying it at all, surely a better photo could have been found!

On the subject of human bodies – the last time I visited this place was in 2001, at that time the highlight of the Natural History Museum, and what it was mostly known for among Beijingers, was the display of human bodies on the top floor. These were not the hyper-stylised types of displays to be found in the eternally-touring Bodyworks exhibit, but mostly human bodies, in whole or in part, displayed preserved in glass tanks. Like a nightmarish vision of a show Damien Hirst wishes he could put on. I recall it being deeply disturbing and also fascinating. I also recall the rumours about where these bodies came from. This display isn't there anymore and the top floor is some kind of kids adventurezone, which wasn't open at the time of my visit – perhaps they are still airing out the formaldehyde odour? Anyway I was both disappointed and relieved to find that I didn't have to go through this hall of the macabre once again.

Beijing Natural History Museum would greatly benefit from the addition of a café, something I believe the weary-looking grandparents who were attempting to control the children they were chasing around the place would agree with me on, it does have a very impressive shop though, mostly selling stuffed animals and plastic dinosaurs, but where you could also buy some interesting rocks, fossils, and paperweights with giant bugs sealed inside.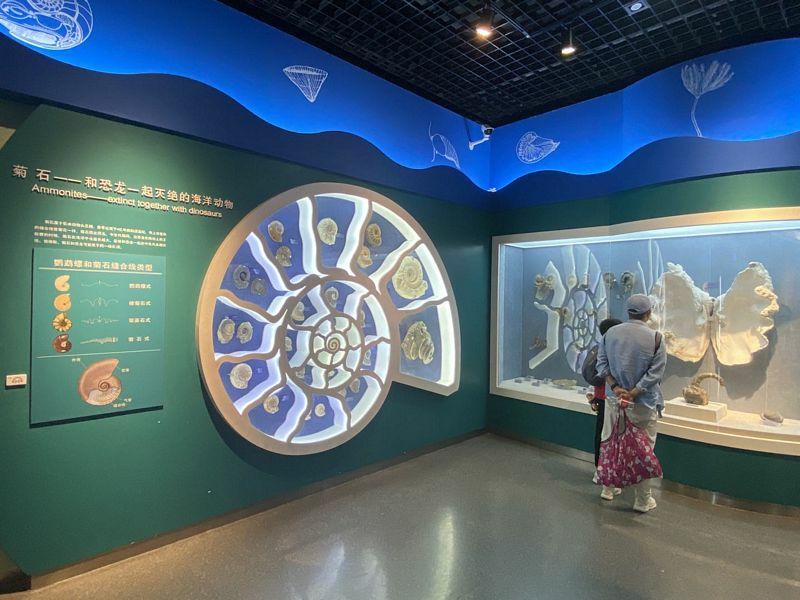 While the museum is quite fun and is genuinely interesting it is also very hard to actually recommend to any visitors to Beijing. Much like some other places on this list (such as the Beijing Planetarium and the China Science and Technology Museum) there is nothing particularly 'Beijing' about this museum. If you are coming to China from London then go to the Natural History museum there first, as it is much better, and the same is true of many other cities.

But if you're entertaining kids, or want to see some dinosaurs, or are just in the area and looking to pass an hour or two, then this is a good enough choice, even if you might find that the explanations, even in Chinese, are a little lightweight for anyone with a deeper interest in the scientific subjects on display here.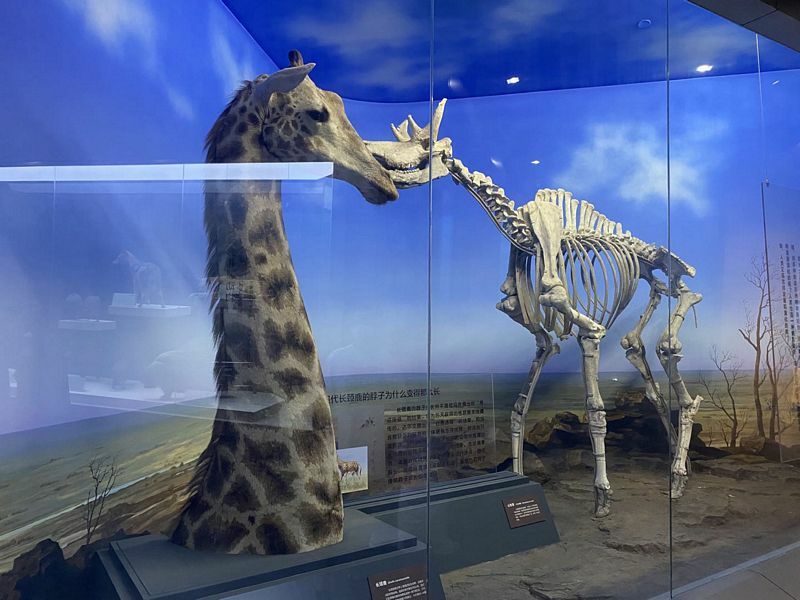 ---
---