China Science and Technology Museum
Location: 5 Beichun Donglu, Chaoyang District, Beijing. Nearest Subway Station is Olympic Green (around 500m away)

Opening: 09:30 – 17:00. Tues – Sun (closed on Mondays)

Cost: 30 RMB (bring passport or ID card)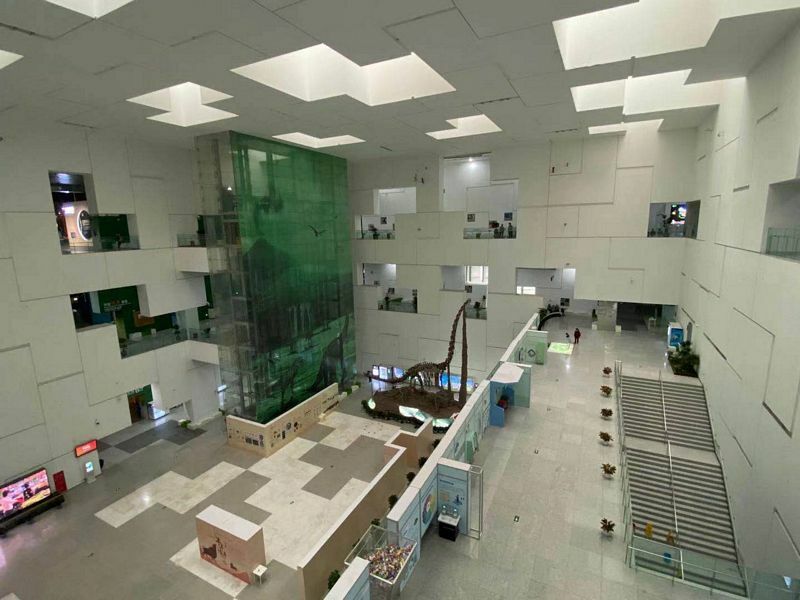 Located in the Olympic Village area of Beijing, a vast area which has laid semi-used and semi-unused since the events of 2008, this absolutely enormous museum is one that is easily overlooked by visitors to Beijing as being a bit out of the way, but for anyone with an interest in anything to do with science and technology, and especially anyone with kids who have such a curiosity and a great deal of energy, this may well be a good choice of somewhere to include when in the city.

With a cavernous entrance hall decorated with a moving light display (well done) and a colossal screen showing various people speaking about science (not necessary to be this big to just show people, surely?), the China Science and Technology Museum impresses right away. Built to accommodate a huge number of visitors judging by the amount of ticket kiosks, entrance turnstiles, and elevators, not to mention the sheer amount of floor space in and around the various exhibitions (called here 'galleries') there were probably a couple of hundred people there at the same time as me (in March 2021) but yet at times it seemed very empty.

There are five floors in the building, with the basement holding a canteen and pizza restaurant for those who end up staying here the longest, and you could make a whole day of it if the energy levels don't give out by then, there is so much to see even with some of the galleries closed for either renovation or because science hasn't developed enough facets to fill them yet.
For me the highlight was on the first floor; an exhibit called simply 'Glory of China'. Here various innovations from the country are displayed, many of them touchable, working, and demonstrating how they work, it really was quite fun and very well done. From waterwheels and aqua-technology, to silk processing, astronomy, weapons manufacture, timekeeping, the voyages of Admiral Zheng He, and of course Traditional Chinese Medicine, as well as many more of the ancient developments created in China. This may have seemed to me at first to be a display of nationalism just to get out of the way before the real science stuff, but it was actually enlightening, interesting, and almost worth the visit for itself.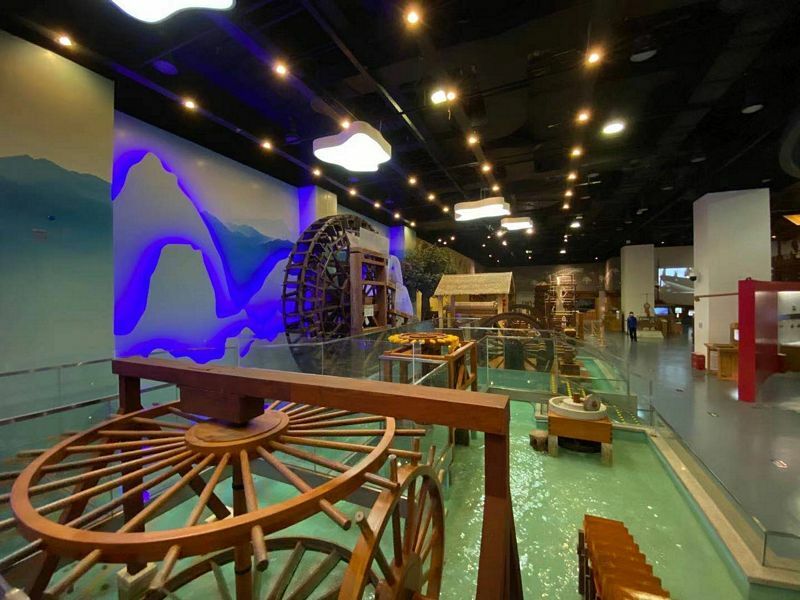 On the second floor we find two galleries; 'Exploration and Discovery A' and Exploration and Discovery B' These are mainly to introduce kids to science; so the various fields such as medical science, mathematics, engineering, and so on. The number of interactive displays was very impressive and more than half of them were actually working (a positive ratio compared to some other museums I have visited). There are decent explanations in Chinese although many of the games and demonstrations have English titles but no translated option once the screen is activated, which makes me wonder why they bothered or didn't bother to complete the job. There are also a couple of dinosaur skeletons on this floor – in the mezzanine with the giant open centre of the building making them seem very small, the internal window/alcoves shaped like Tetris blocks are quite fun here as well.

The third floor is more science and technology, this time four galleries (of which two were closed) dedicated to 'Sci-Tech and Life' – so there are medical sections, plant-growing, and more. Frankly it all starts to get a little exhausting as the galleries are so large and there is so much to see and twiddle with, it was almost a relief to find that some of the galleries were not open, but maybe that is proof of a lack of curiosity about some science and technology in the reviewer than the museum being oversized, perhaps.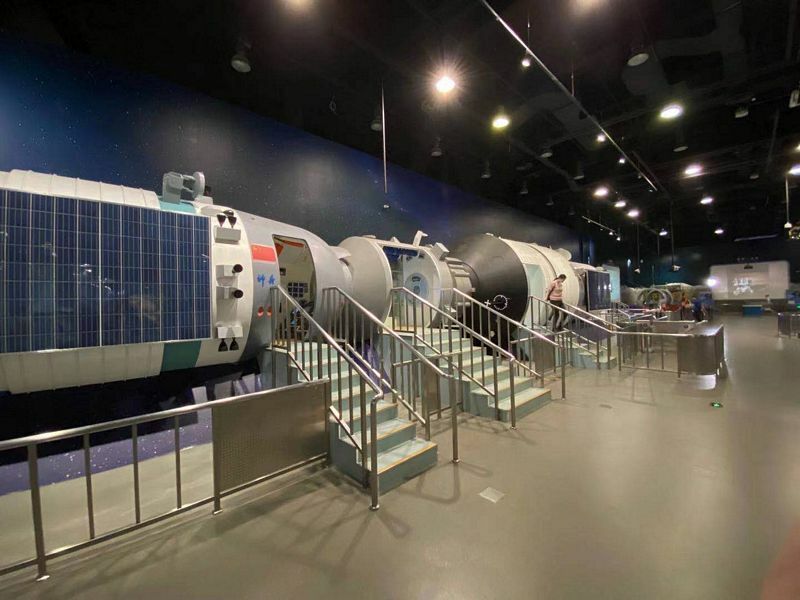 Up on the fourth floor we find more of the good stuff; Space Exploration! Models of Chinese spacecraft, histories of space exploration, things to explore, buttons to press, all kinds of things. This was a new highlight for me and energized me again after the slightly more pedestrian middle floors.

In total I spent more than 90 minutes in this museum, and that was while moving fast and alone. If visiting with the intention of learning a lot, seeing everything, or in the company of children then a lot more time could be spent here for sure. One of the workers told me that people often spend the whole day there, which I find quite possible.

For visitors this is not going to be a great attraction as most of the science is pretty universal already (as science tends to be) but entry is not expensive, it is easy to get to on the subway, the gift shop is quite fun, and there are various theatres (one with a dome, a 4D one, and others) with films to relax during (or learn from, whatever you prefer), plus pizza available in the basement, so why not make a half-day of it if you're in Beijing for more than just a short visit, a walk around the Olympic Centre can be included with ease as a combined program.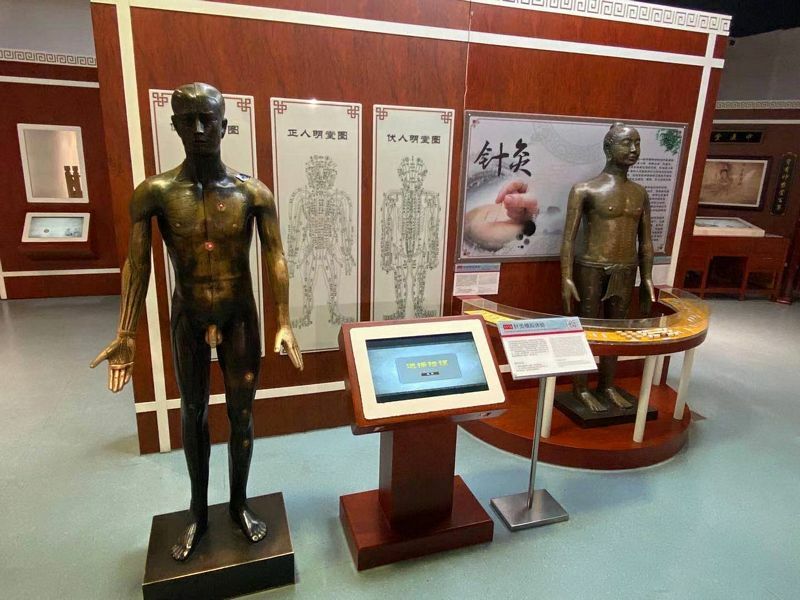 Of all the interactive displays in this museum, the part most touched by the hands of visitors seems to be this model in the Traditional Chinese Medicine section ;)
---
---