Risheng Hosiery Museum
Location: Risheng Socks Factory, Yancun Town, Fangshan District, Beijing. Nearest subway station is Xingcheng, around 250m away.

Opening: 09:00 – 16:30 Mon-Sat (closed on Sundays) Best to call ahead to tell them you are coming to visit

Cost: Free!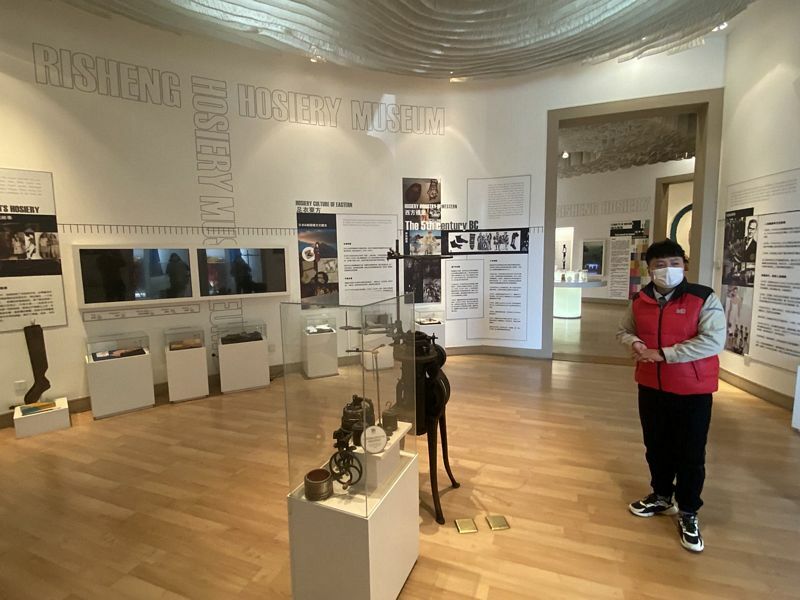 Far to the southwest of the city centre, around 50km from Tiananmen Square in fact, lies the Risheng Socks Factory, established in 1995 and a medium-sized enterprise making all manner of socks since that time, for the local and export market, under contract for companies such as Uniqlo as well as Chinese firms as well. Normally a place such as this wouldn't attract the eye of foreign tourists, but this is no ordinary factory – it is also home to the Risheng Hosiery Museum, a museum all about socks!

I didn't expect much from this place to be honest. I thought maybe this would be a small exhibit showing off the wares of the factory and not much more than that. The almost complete absence of information about the Risheng Hosiery Factory on the English-language internet was also not a good sign, so I didn't know quite what to expect.

After showing up though things rapidly exceeded expectations and turned into something of a quirky gem – I was offered a guide, which I accepted, and a very nice chap showed me around the four-room exhibit and demonstrated a complete mastery of his subject, which was very impressive indeed.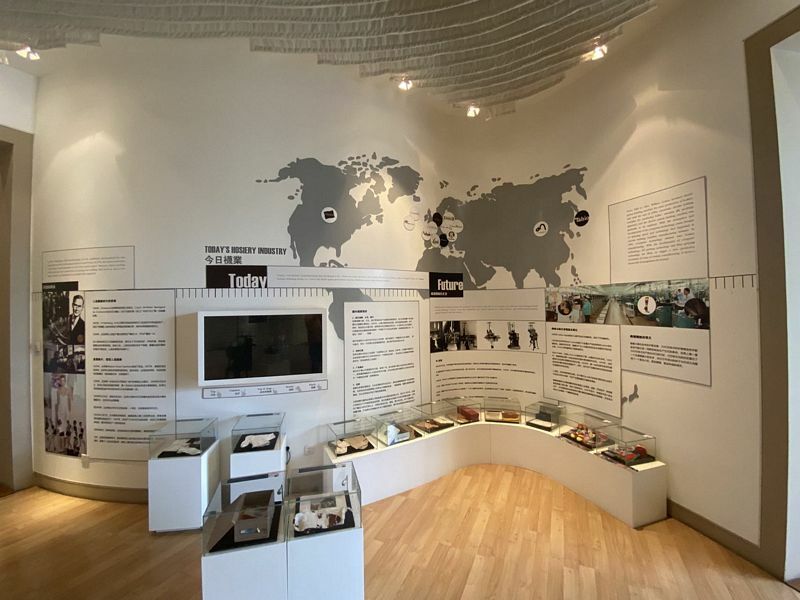 The first room shows us the history of socks. From tens of thousands of years ago to the near present day. Of course, this is a potted history, but there are examples on display of the earliest socks ever discovered, different styles through the ages, and a fascinating original document ordering the unbinding of women's feet in Heyang Country in 1929.

The most interesting part of this room (which is itself the most interesting room in the museum), is the display of socks through the 20th century in China. Here we can get a glimpse of the turbulence of this period through the medium of…socks.

The early Republic of China, and the industrialisation that accompanied this new state, brought brand logos, standardisation of production, and modern processes. So, the socks from this time, a hundred years ago, are recognisable today. Then some socks from the Eighth Route Army (Communist forces during the civil war and anti-Japanese period) bring us up to the early PRC where state-owned brands were all that there was, and the colours tend to the bland. Interestingly there are also some socks from the Cultural Revolution – plain, white, unadorned and unbranded. The implication is clearly that this was a time of playing it safe when it came to footwear.

Then through the newest part of the New China story, things get far more recognisable with an explosion of styles, materials, and designs. All explained in captions in Chinese and English throughout, an effort has clearly gone into the translations here too.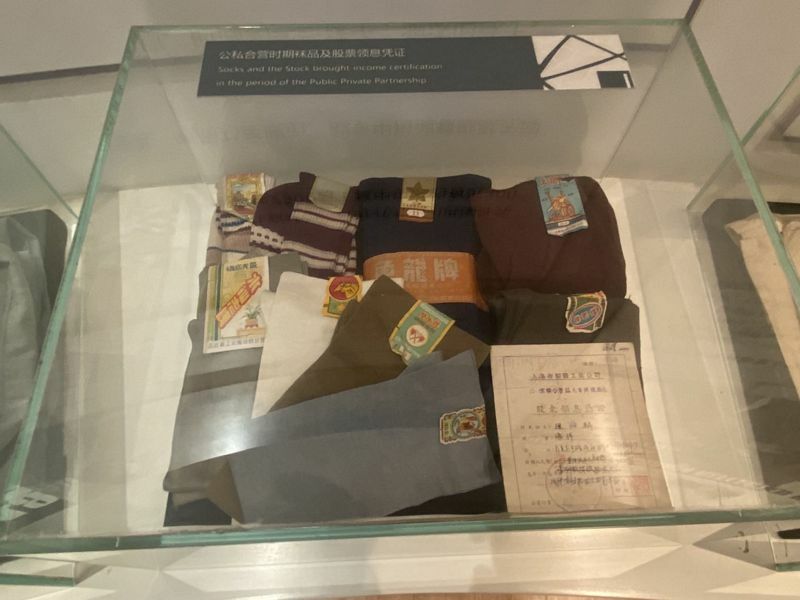 The next room is about the materials used, in an exhibit ringed with mannequin feet adorned with the company products. So, there are jars of cotton, wool, rabbit fur, birch tree fibre, bamboo, and all kinds of other materials. There is silver thread which the guide enjoys demonstrating can be used to activate a lightbulb (the actual efficacy of this as a sock material, beyond being cool, was a bit lost on me).

Room three is a fun collection of items made from socks. Including an armchair, some toys, and some quite realistic sushi (!), and then the museum ends with a room of future designs from this company – socks that may or may not soon be available in a shop near you. Including socks specifically for those suffering from diabetes, those with cracked heels, and so on. There is a small shop in the lobby but there is a larger and much more interesting shop just across the car park – this is a kind of company shop but visitors can also buy some socks (and other clothes too) there, for lower prices than in stores!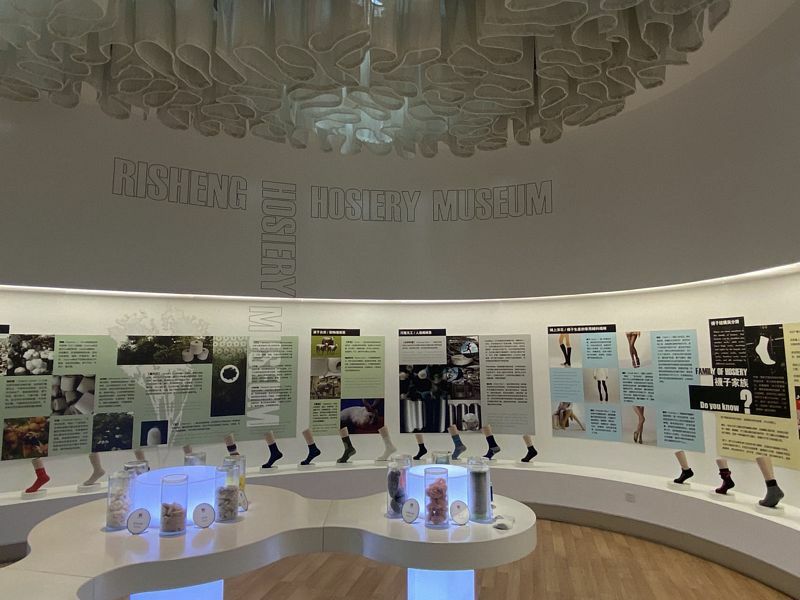 My guide was also kind enough to offer me a tour of the factory itself, which was very interesting too. A series of halls filled with modern machinery production socks of all kinds and all brands. A couple of hundred staff control the machines, perform quality control, and move boxes around. It's all very clean and efficient, and (again) far more interesting than I expected.
I have to say that the guide made the whole experience. He was knowledgeable, patient with parts that were not immediately understood, and helped with the factory tour and shopping too. Without him I would have spent maybe twenty minutes in the museum, with him I was there for more than an hour in total. Learning all about socks, and also leaving with some of their products for my own feet too of course!

While a sock museum is hardly going to be top of the list for those with a short time in Beijing, this is a strong recommendation for anyone looking to travel to the very edge of the city, to see something fun and unusual, and being just a few minutes' walk from a subway station makes it far more convenient than its location would suggest. Additionally, the Risheng Hosiery museum is not far from the Zhoukoudian Peking Man site, so a very idiosyncratic combination visit could be easily done including both of these fascinating places.
If you want to visit the Risheng Hosiery Museum then call ahead on +86 10 89313177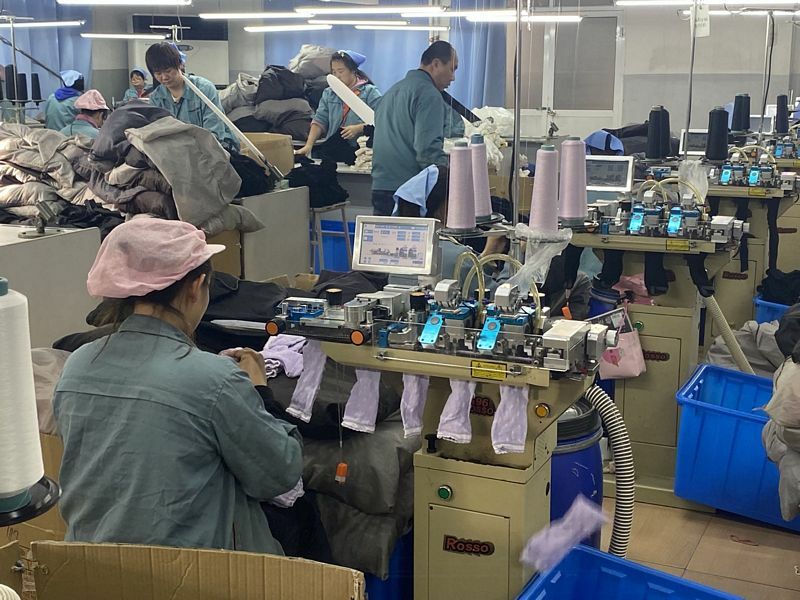 ---
---