China Railway Museum
Location: 1 Jiuxianqiao North Road, Chaoyang District, Beijing. Nearest Subway Station as the crow flies is Wangjing East, but this is still quite far away so a taxi would be a good option for the last part of the journey to this museum

Opening: 09:00 – 16:00 Tues – Sun (closed on Mondays)

Cost: 20 RMB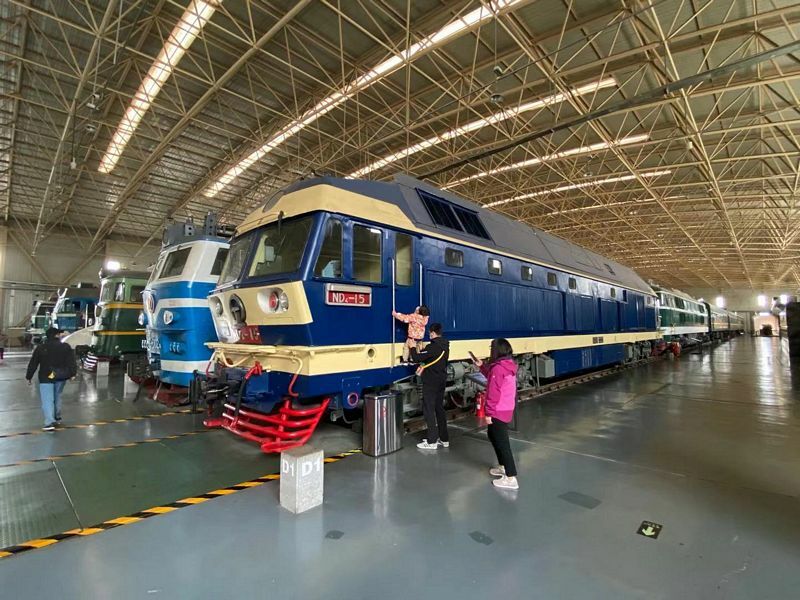 China Railway Museum is made up of more than one site, I have previously reviewed another branch of this museum which is next to Tiananmen Square in the heart of Beijing, and now we turn our focus to the massive site which is some way outside of the city centre, at the northeast part of the fifth ring road – a huge complex situated both inside and outside of a vast hangar, and an absolute goldmine for anyone with the slightest interest in anything to do with trains.

On arrival this branch of the China Railway Museum at first seems like simply a few old trains outside a large building, and that's just how things start. With a row of locomotives of various forms, very photogenic but sadly all labelled with signs prohibiting climbing aboard (something ignored by a few of the kids who were present when I visited). Across the street there is also a railway platform, partly from an old train station and partly new. Here too there are trains on display from an old steam engine to a few modern carriages from one of the first trains to run from Beijing to Hong Kong after the handover when Hong Kong returned to Chinese control in 1997.

All this is impressive and fun, but there is a distinct lack of information and no boards telling the visitor what is what. given the tendency towards minutiae that many train enthusiasts exhibit I thought this was a missed opportunity and a possible cause of dissatisfaction too. I'm no train fanatic so I could simply accept the lack of info, but I know some who would be miffed and let down by this. However, the real gold at this site lies within the enormous hangar, here things change from a dearth to an overload of information.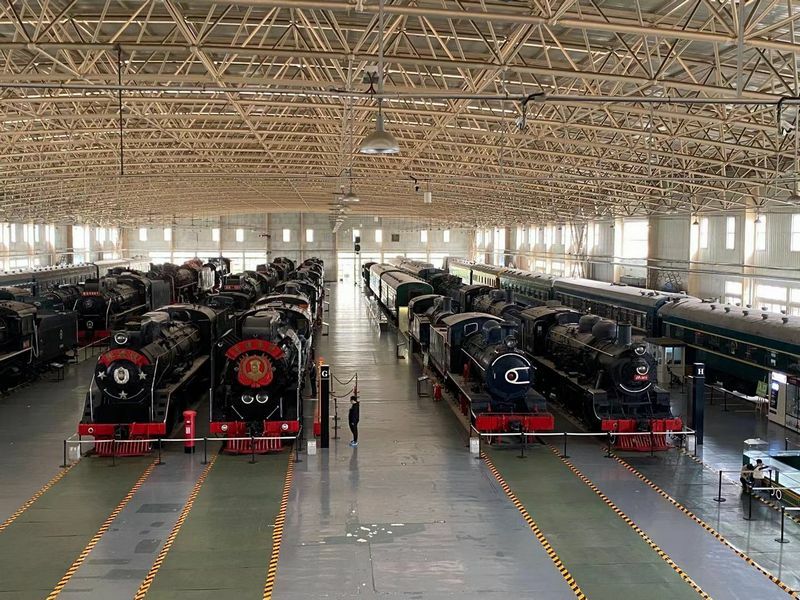 Entering past the basic security checkpoint one immediately realises the sheer variety of trains on display here at the China Railway Museum – there are dozens of vehicles in this building, those on the right being older and more classic, those to the left being from the more modern era, it is immediately a little bit overwhelming as several corridors of trains on each side branch out, offering a wealth of treasures for anyone with even the slightest interest.

I decided to start with the familiar, or at least more familiar to me as a medium-term resident of China. So I looked around some of the locomotives that looked familiar to me, from the very first high-speed train built and operated in China (as the sign says though " "with independent property right" – meaning not based on 'acquired' Japanese technology) which could achieve a then-amazing and now-modest 270 km/h, a few engines that have been decommissioned during my time in China, some of the classic green sleeper cars that I've spent a good many nights in, and some hulking beasts that were brought in and out of service before my time. Most of these were built in China but some of them, usually the ones from the 50s and 60s were from overseas: from the USSR, France, Germany, Japan, and the UK.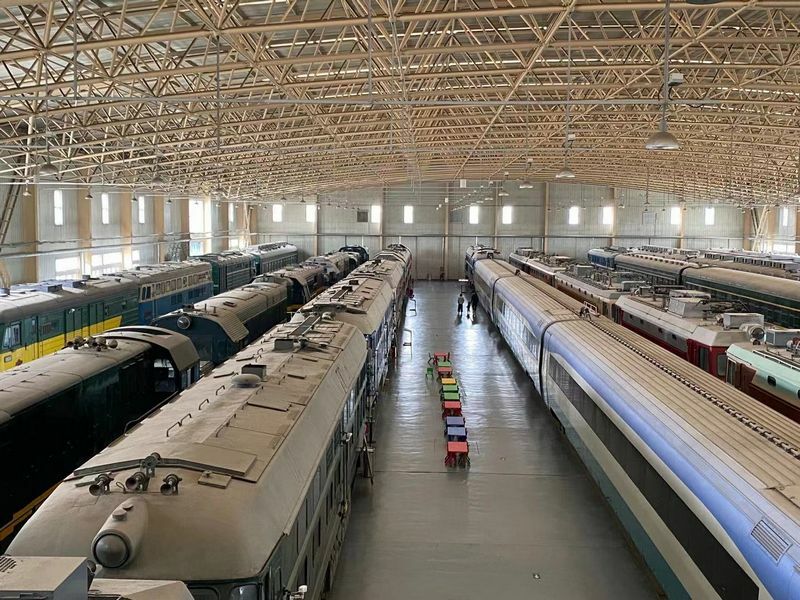 Each corridor has a list of what trains are stored and each train has a board giving detailed information in Chinese and English as to when it was built, what model it is, the gauge, when it was decommissioned, and so on. A good number are even prototypes and unique examples of trains that were never used in the end. It's all very well done and some of the kids present could barely contain their excitement. One Chinese boy decided to tell me all about one of the trains and was so thrilled by the whole experience that he could only stutter out some of the highly impressive information he had learned and was almost tearful at being confronted by these magnificent vehicles.

In this part there is also a raised viewing platform that offers views over the whole collection, their dusty roofs not really detracting from the sight of all these trains at all.

Over on the opposite side there are more older vehicles, many of them from the UK, Germany, the US, and elsewhere. These are mainly steam trains and were used in the early days of Revolutionary China, or even before that. Mostly black but with some variation (a lovely orange Belgian one took my fancy), again there are stats and info given with each engine, and there are boards that display some track technology (the only part not translated actually), as well as the logos of trains, info on the signs, and so on. There is also a steam train and carriage previously used in Myanmar that was donated to the museum.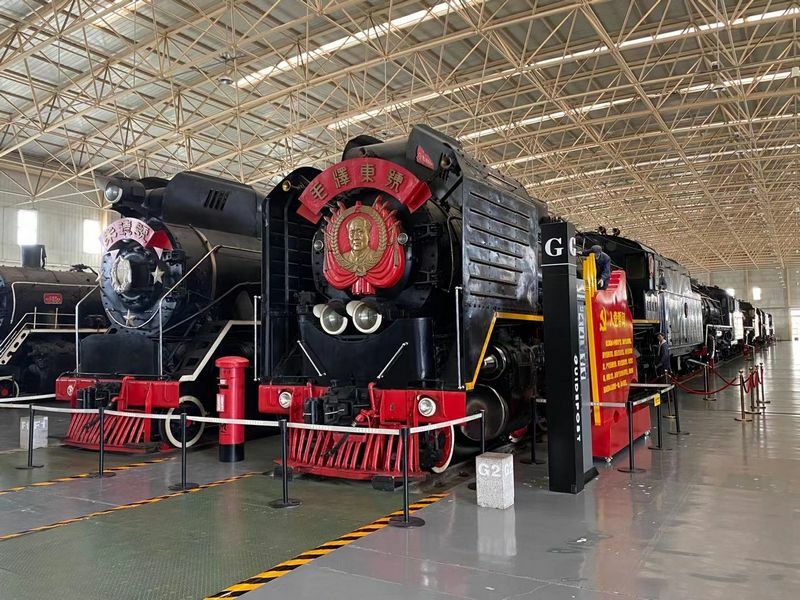 The centrepiece trains here are the two with portraits of Chinese leaders mounted on the front. A tired looking Mao Zedong on one, giving the huge black locomotive behind it the vibe of a less child-friendly Thomas the Tank Engine character, and one with a mounted and faded photo of Zhu De (another paramount leader of the early PRC). These are the main pieces but for me the highlight of this side was the row of carriages it is possible to go inside. There is an extra fee for this but it is only 10 RMB and you are asked to put on plastic shoe covers (which broke immediately on my clown-sized feet) and then you can walk through a row of four carriages. The front one was the personal carriage of 1960s railway minister Teng Daiyuan and has a lovely living room in particular. Next is the personal carriage of Mao Zedong, used from 1949 to 1975. So anyone who knows anything about Mao may shudder at the decisions taken and actions partaken of in these rooms in that period.

Mao's carriage's corridor is narrow for a big man, the bed looks uncomfortable, and the toilet is at a weird angle, not exactly the luxury that one may expect of the prime leader of the country in those years. Next carriage was that of Zhou Enlai, who apparently had a photo of himself on his desk, and a toilet in the middle of the bathroom, worryingly far from the wall (a design choice?). Then a general staff carriage. This part was fun and somewhat enlightening, although a bit more info could have been added as to where they went in these carriages perhaps, and the lighting could have been improved too.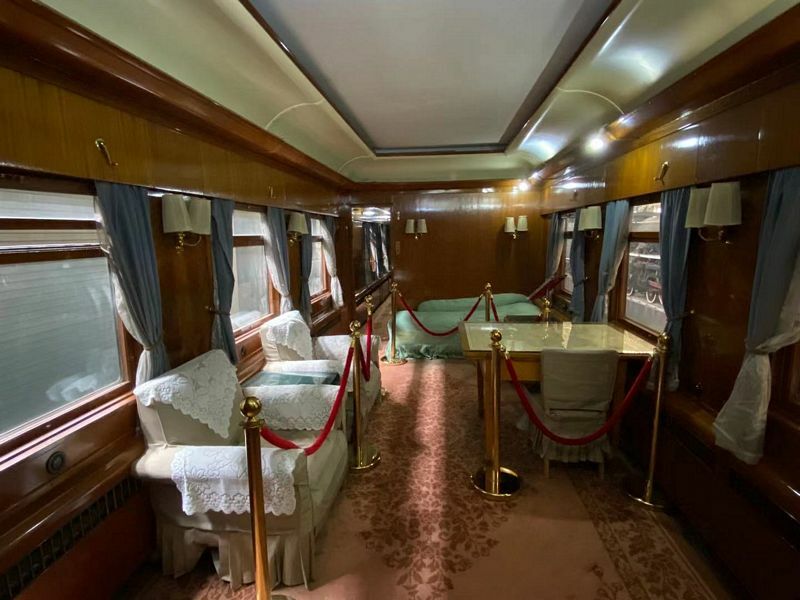 The China Railway Museum is a proper gem though, one that I have no hesitation at all in recommending for anyone with even a passing interest in trains (like myself). Two hours could be spent here easily by the casual visitor, and a day could be filled by a train obsessive. There is even a restaurant in an old train carriage but sadly that was closed on my visit. The main letdown was that the shop, which initially looked fun and well-equipped, really only sold a few trinkets and some models. I was hoping for a catalogue of the trains on display which I would have bought (and then maybe never opened), and maybe even a t-shirt or a train mug, something to get a few more RMB out of my pocket into the hands of the museum, but it was not to be.

Of all the museums visited as part of this project so far I would say that this is the most impressive and the one I would recommend above all the others. It is a bit of a hike from the centre of town to get here, and it does take a fair amount of time, but there is history, engineering, big trains, good photos, and lots to learn, so add it to the list the next time you are in Beijing!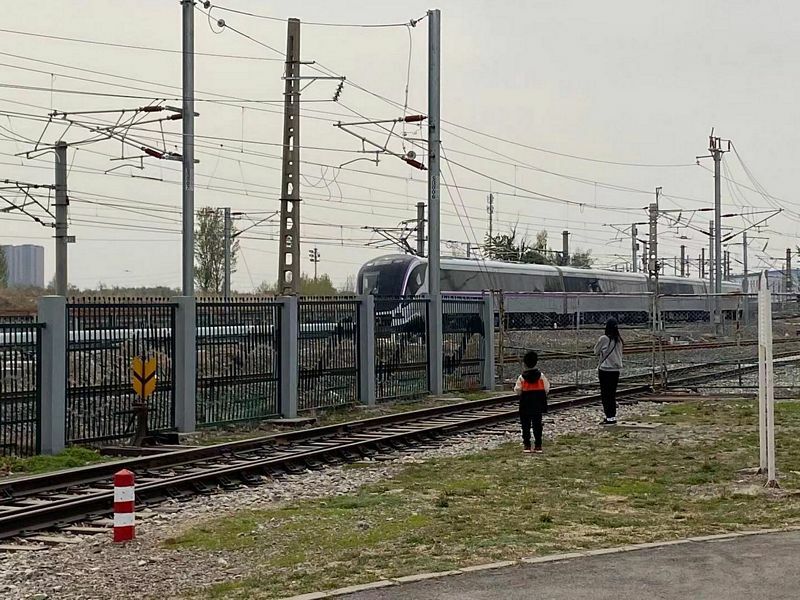 ---
---