Pyongyang Airport
Pyongyang Airport Introduction
Pyongyang Airport Location
Pyongyang Airport Flights and Airlines
Pyongyang Airport History
Pyongyang Airport Infrastructure
Pyongyang Airport Arrival and Departure
Pyongyang Airport Tips and Anecdotes
Pyongyang Airport Introduction
Pyongyang Airport, or officially Pyongyang Sunan International Airport, is North Korea's only functioning international airport and the main point of entry and/or exit for the majority of western visitors to North Korea.

Pyongyang Airport is both a prestigious place in terms of contact with the outside world and a fascinating place in its own right. Here we will dig into the changes here over the years as well as what to expect when your flight touches down in this most fascinating of airports.

Pyongyang Airport has the IATA code FNJ, so flights from Beijing to Pyongyang are PEK/FNJ, from Vladivostok they are VVO/FNJ and from Los Angeles LAX/FNJ (only two of these are real at the time of writing!)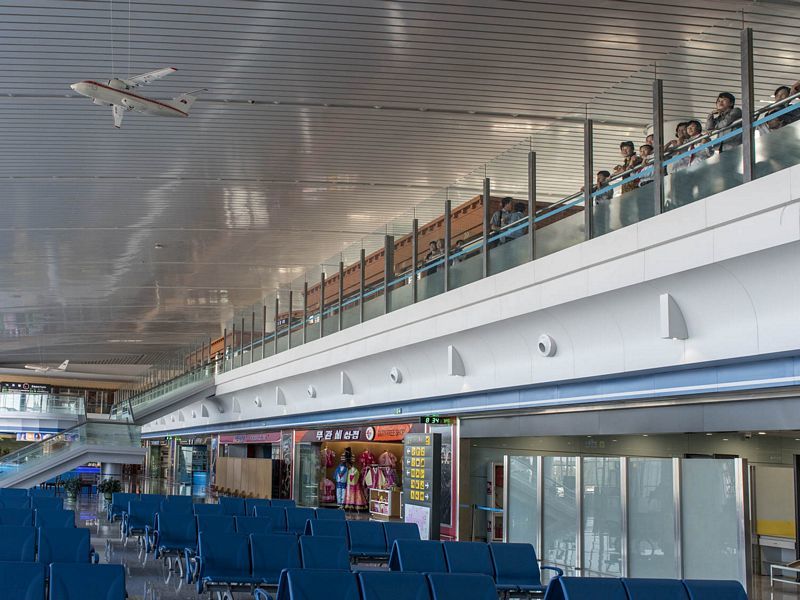 ---
Pyongyang Airport Location
Pyongyang Airport is officially known as Pyongyang Sunan International Airport, due to the location of Pyongyang Airport being in Sunan District, to the north of the Pyongyang urban area.

FNJ is 25km from downtown Pyongyang, the only way to travel there is by road and this takes around 30 minutes or so. As there are very few flights it is rarely very busy at the Pyongyang Airport so traffic is not very heavy at all

If taking the train from Pyongyang to China you will roll past Pyongyang Airport after about an hour, take a look out of the left side of the train for the view of FNJ.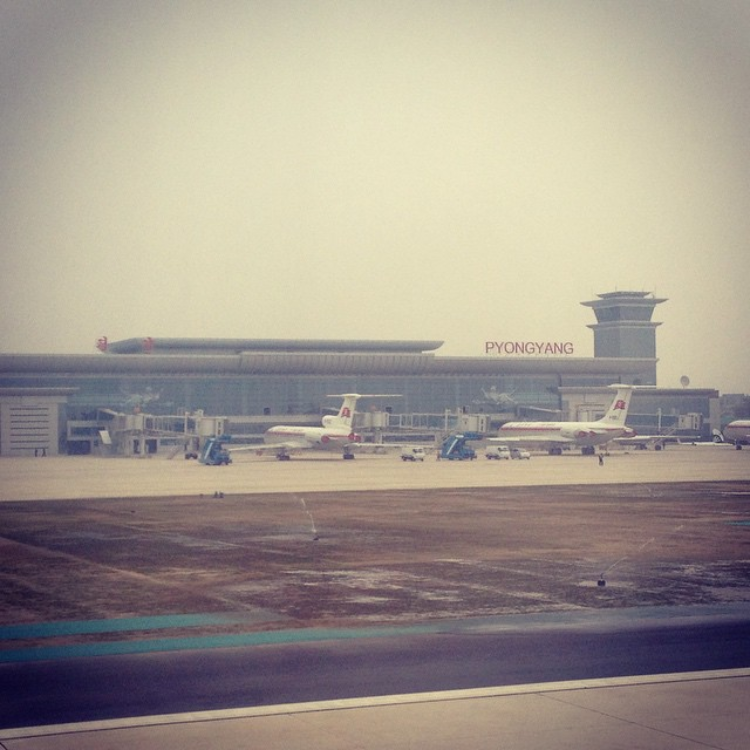 ---
Pyongyang Airport Flights and Airlines
There are only two airlines that fly regular flights to Pyongyang Airport. This is Air Koryo – the national carrier of North Korea, and Air China.

Air China flies from Beijing up to three times a week (seasonally, and subject to demand) and Air Koryo flies usually five times to Beijing (PEK), twice to Shenyang (SHE), twice to Vladivostok (VVO), and twice to Shanghai (PVG).

In the past, Air Koryo have also operated flights to Khabarovsk, Macau, Kuwait, Kuala-Lumpur, Moscow, and elsewhere, all from FNJ.

Air China may be the only non-DPRK airline to fly here at the moment but for many years the PEK – FNJ – PEK route was operated by China Southern Airlines, prior to that the now-defunct China Northern used to fly here (often via Dalian) and of course back in the day Aeroflot also used to serve Pyongyang.

There are occasional charters, special flights, all kinds of exceptions to the above list.
One notable sighting was of an Alrosa Avia flight here in 2017 – the airline of a Russian diamond mining giant! Another would be spotting Air Force 2 at FNJ.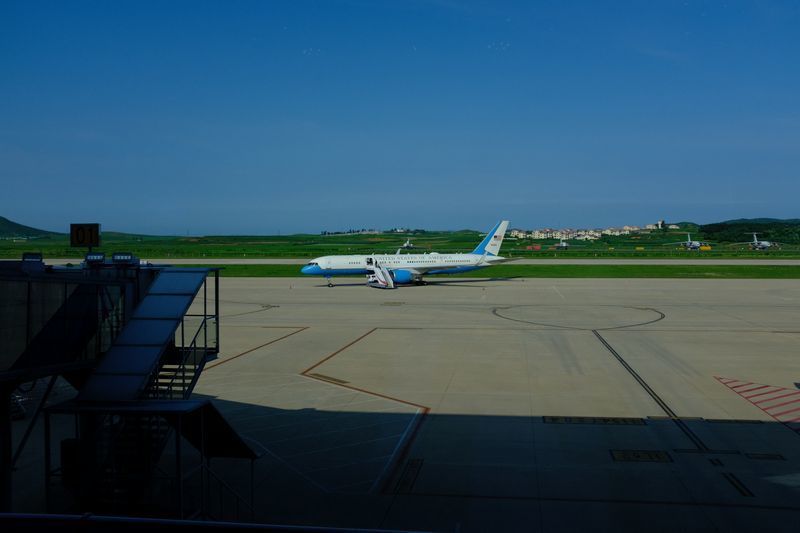 Domestic flights also exist. These can be charter flights or scheduled flights (which are not overly reliable but do happen at peak season). Service the regional airports of Samjiyon (near Mt. Paektu), O'rang (between Mt. Chilbo and Chongjin), Sondok (near Hamhung), and Wonsan-Kalma (near Wonsan).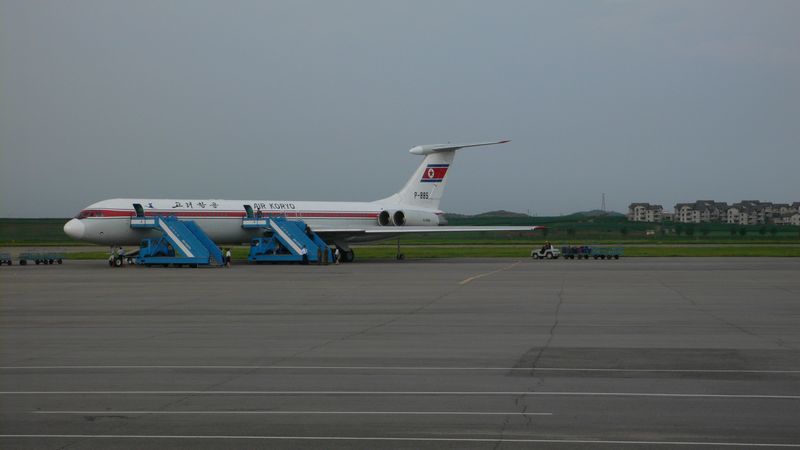 ---
Pyongyang Airport History
Pyongyang's original airports were two Japanese-era constructions, one in Mirim District (it is still there, not used for commercial flights though), and one just east of the Taedong River, in a space now occupied by the Party Foundation Monument.
Sunan Airport was rapidly built in the early days of independence, and expansion began after Pyongyang Airport was unsurprisingly targeted during the Korean War.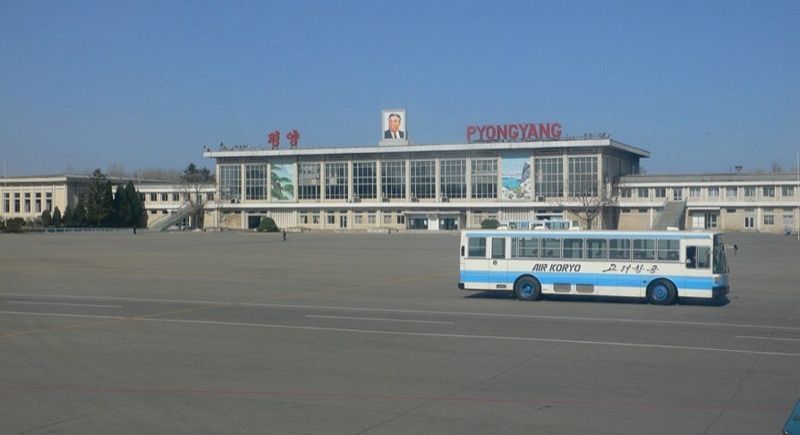 While records of the early days of Pyongyang Airport are a little unclear, what we can state for certain is that by the time western tourism started growing. In the 1990s, Pyongyang Airport was a single-terminal concrete and glass construction, with a certain eastern European charm to it from the outside, and mostly a quirky, but not unattractive, austerity to the inside.

On the runway-side of the building there were signs in English and Korean stating that this was indeed Pyongyang, and a portrait of President Kim Il Sung.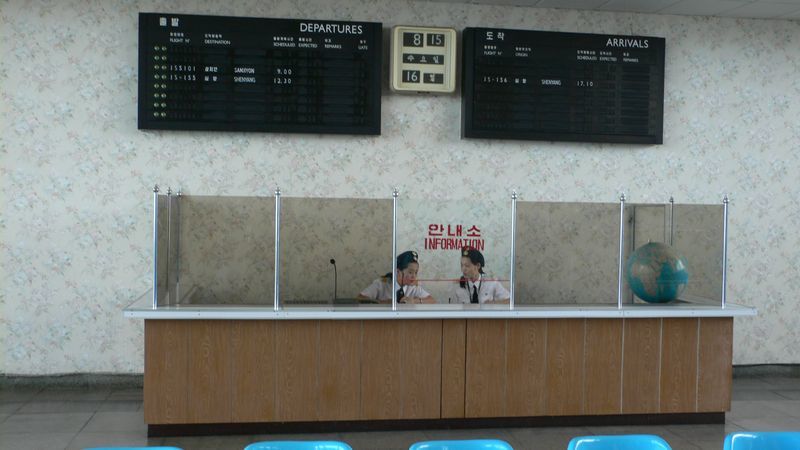 In terms of facilities, this airport was a little basic. A couple of cafes, a very simple duty-free shop, and not much else.
Weirdly though, the building was actually quite large the departure lounge was tiny, with only about 20 seats in total, so not really space to relax at the end of a trip. There were no air bridges and normal buses were used to take passengers to and from the flights.
This was always a pain because the first person onto the bus would always sit in the front seat, meaning everyone else had to push past, with their hand luggage.

For the visit of the New York Philharmonic Orchestra in 2008 proper airport transfer vehicles were introduced, these are used today in some cases, a much better option and a huge improvement on the previous situation!

In 2012 it was announced that Pyongyang Airport would be closed, more or less torn down, and completely renovated. This meant that operations moved to a temporary terminal beside the main building. In the end, this was the de facto airport for about four years.

It was a simple hall, not much in the way of décor, a tiny shop at either end (for arrival/departure) and two slow carousels inside. Cold in winter, roasting in summer, persistent power cuts. Not an amazing way to start/finish a trip.
Luckily for frequent fliers, those days are in the past!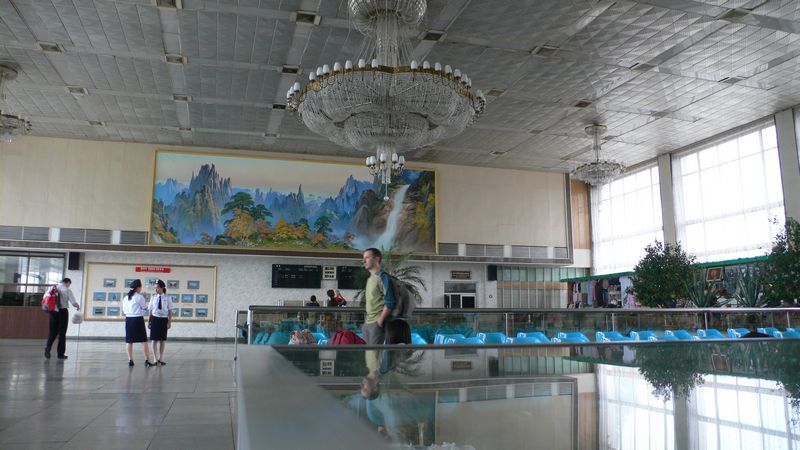 ---
Pyongyang Airport Infrastructure
Today's Pyongyang Airport has two terminal buildings, number 1 and number 2. The smaller one is T1 and this is for domestic flights only, it is rare to go into this part of Pyongyang Airport although it is equipped with some shops and snack bars still.

T2 is the bigger one, where international flights arrive and depart. This is where most visitors will spend at least some time.

Pyongyang Airport is a modern structure, opened in its present form just in 2016, after a 4-year renovation campaign.
Many visitors are expecting something much more run-down, but the current FNJ is quite impressive and kept in good condition. While it is too large for the current flight numbers it is not afflicted by the gigantism of many new buildings of Pyongyang and it a similar size to many smaller regional Chinese Airports, space for expansion of passengers numbers is built-in

The Pyongyang Airport building is two storeys, with the arrival and processing area on the ground floor and departures the one above, within the atrium of the departure area there is another floor, with shops and restaurants and an area for looking down into the departure gate area to wave off friends/relatives/etc

Airside there are some basic shops; artworks, books, medicines, snack bar, coffee shop, etc.

Groundside in arrivals there is also a coffee shop, duty-free shop, small supermarket, and plenty of seats for those waiting to pick up their guests. A TV blares out concert videos incessantly here so anyone who spends a lot of time waiting for arrivals will have a strong command of the Moranbong Band catalogue of hits!

When a flight lands and taxis to Pyongyang Airport passengers usually deboard via one of the three airbridges, then proceed to the immigration lines, which can suddenly get very long as the process is a little more than just glancing at a passport.

The baggage claim area is the one part of Pyongyang Airport that could do with being larger as it has only two small carousels, and with the tendency for a lot of returning North Koreans to bring a vast amount of luggage it can back up here and take a while.

There are a dozen or so customs checking areas, arrivals crawl through here as the X-ray machines are slow, the hand check of any books and printed materials takes a while, it is the least interesting part of being in Pyongyang Airport, but it has to be endured rather than enjoyed.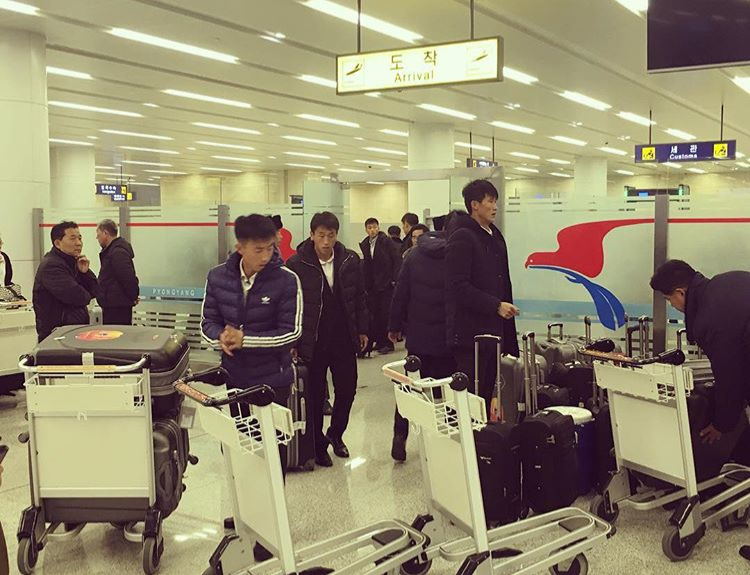 ---
Pyongyang Airport Arrival and Departure
Arrival
Deboard from the plane, say thanks to the stewardesses, and either cross the airbridge (if you took a larger plane) or get on the bus (if the smaller ones) and proceed to the main building.

Next stop will be to line up for immigration check. Note that there is WC here but not inside the baggage claim area, so do your business here as you never know how long you will wait for bags.

At the immigration desk, a uniformed officer will check your passport, North Korean visa, and your entry card. Once satisfied they will stamp the visa, hand it back with the passport, and wave you through the baggage claim.

Two carousels stand here, usually, the furthest one will be used, never two for one flight!
A large amount of luggage checked in by many North Koreans, plus the tendency to unload cargo onto the carousel at the same time as luggage, make this a frustrating and slow process. When your bag appears though just grab it and move, the next step is slow too!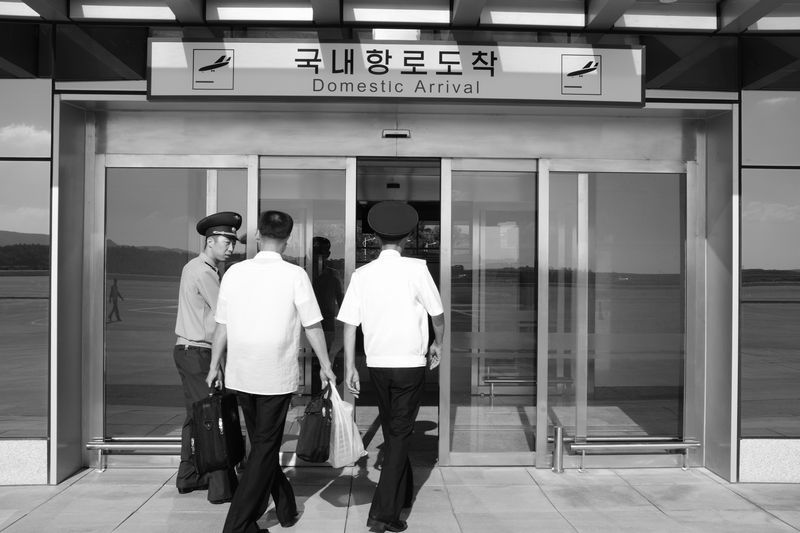 Customs
Actually the process is simple enough.
Line up. Hand over the declaration (remember don't declare everything, nobody wants to read a list in a foreign language of everything you have with you, electronic items is enough). Hand over your phone and passport (you get this back of course, they just make a list of who has what phone). Bags go through the X-ray machine. You go through the metal detector. Pick up bags. Then you are asked to take out any books and anything that got flagged on the x-ray screen. Take those things down a corridor to another desk where another officer quickly flicks through your books to check if they are legal (illegal: books about North Korea, pornography, books about South Korea). They're given back. You go back to get your bag. Hand over the baggage tag. Emerge into the ground-side part of the airport to meet your welcoming tour guides!
Departure
First passengers gather in the atrium, around the centrepiece of an Air Koryo plane flying around a grassy globe. Other model Air Koryo planes hang from the ceiling throughout the airport too.
Once check-in is open, usually just an hour before the flight, the predictable undignified scramble to the check-in desks begins. There are about 12 of these desks, so pick one and line up.

At the front, you do the usual. Weigh your bag, get a baggage tag, ask for window, aisle, middle seat, then when you have the boarding card in hand it is time to say goodbye to your local guides.

Proceed to the emigration section and hand over passport, boarding card, visa – you will get the first two back, then next is the security check.

Here you have your bag x-rayed again, you go through a metal detector, all basically like any airport. Finally, you find yourself cleared and in the airside departure area.
Grab a coffee, look out the window, do some final shopping, your flight will depart before too long.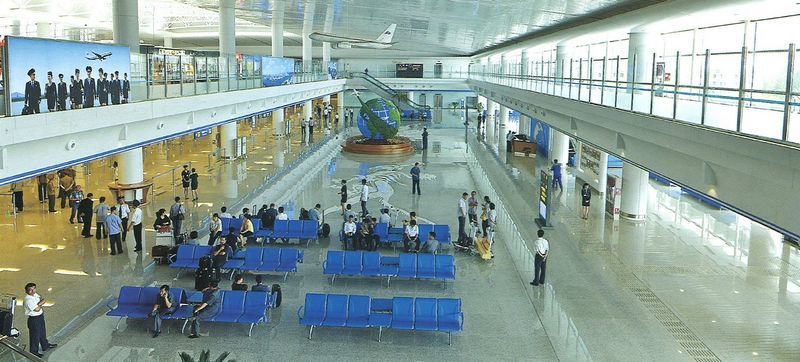 ---
Pyongyang Airport Tips and Anecdotes
• Planes are not the only vehicles to use Pyongyang Airport. It is also possible to take Helicopter pleasure flights over Pyongyang. An initiative created by Koryo Tours. The bird used is a Russian-made Mil-17 with seats for 10 people. An amazing experience and a unique way to see the city.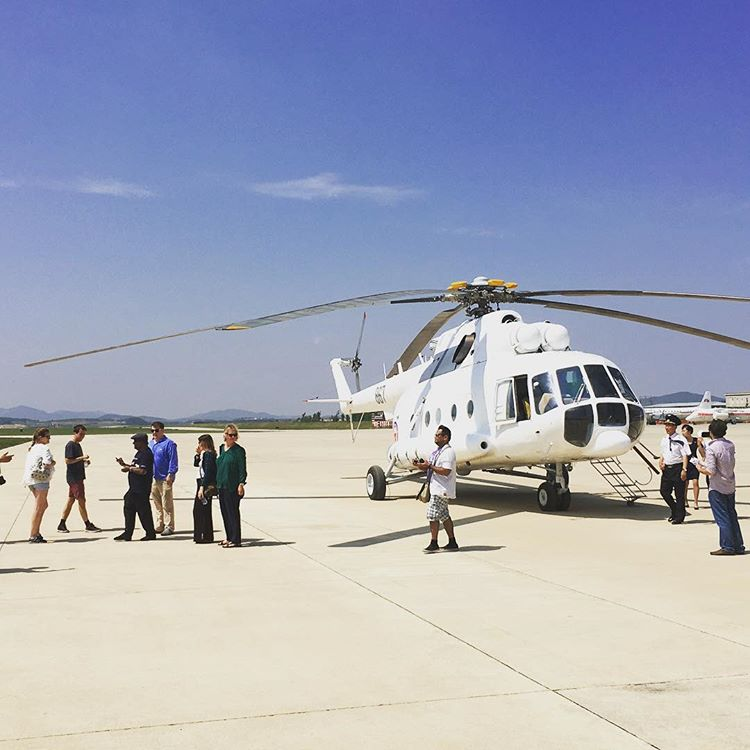 • When taxiing across the huge runway system here you may notice the fleet of mothballed Air Koryo planes on the far side of the airfield, also a large hangar behind some trees may be spotted. This is said to be for the private plane used by Kim Jong Un, you can't go anywhere near this building!

• Air Koryo does operate a business class on most flights, and there is a business class lounge in the departure area. It is very basic though but they are quite strict about not letting the hoi-polloi into this room, so if you want to try it out you will need a Business Class boarding pass.

• Internet is available in Pyongyang Airport!
Of course, it is more complicated than having a Wi-Fi network that anyone can connect to. It is only available at the departure area and the process is to find the tiny desk in the communications room (it is at the opposite end of the terminal to the coffee shop, next to the WC and smoking room).
Then pay for either 10 or 20 mins of internet ($2-$3) and you are given a piece of paper with a code printed on it. Then you need to go back to the coffee shop as that is the only place the wifi works, and hope that the code is a success. One barrier to this working is that often the young lady who sells the tickets is late or not there at all. It is frustrating and frankly a silly process to have to go through.

• In September 2017 a Hwasong-12 missile was launched from Pyongyang Airport. It travelled 3700km and landed with pinpoint accuracy in the sea. This was the longest shot to date of any DPRK missile and understandably made international news.
As the use of civilian airports for such practices is somewhat frowned-upon, this was not a great advert for enjoying the jet-set arrival and departure from FNJ, and all previous missile tests had been from elsewhere. Tourists were not present for this display of advanced rocketry.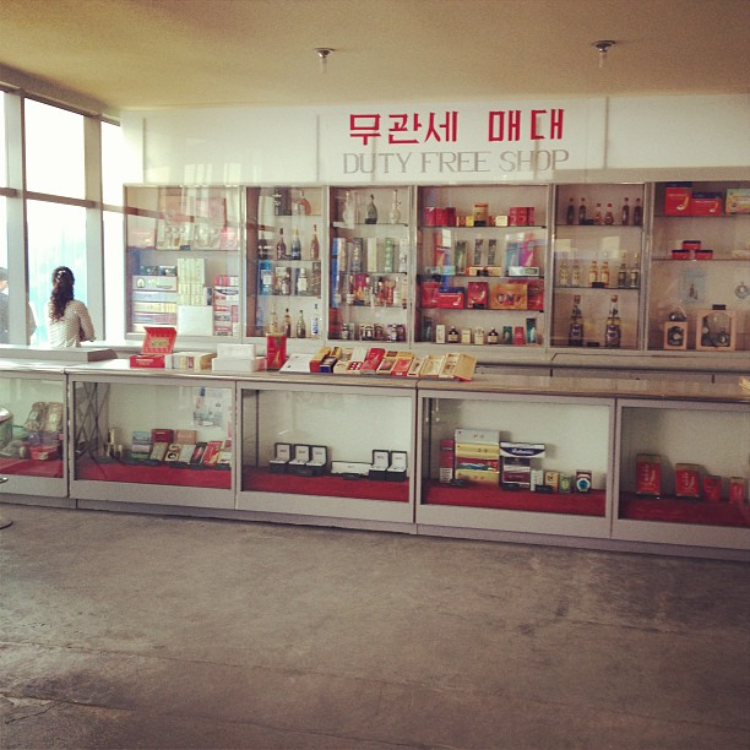 ---
---
Interested in a tour to North Korea?
Travel to
North Korea
with the only
North Korea travel experts, Koryo Tours
North Korea Travel Guide PDF | Sign up to the mailing list | About Koryo Tours