Helicopter Scenic Flight
Introduction
Location
What is it like?
Cost
Tips
Further Information
Introduction
See the sights of Pyongyang from a different perspective in a helicopter scenic flight over Pyongyang in a Russian made Mi-17 helicopter operated by Air Koryo.
NOTE - at the time of writing the helicopter scenic flights over Pyongyang are on an indefinite hiatus.
Feel free to get in touch to see if we have any updates, but we will update this page once they are available again.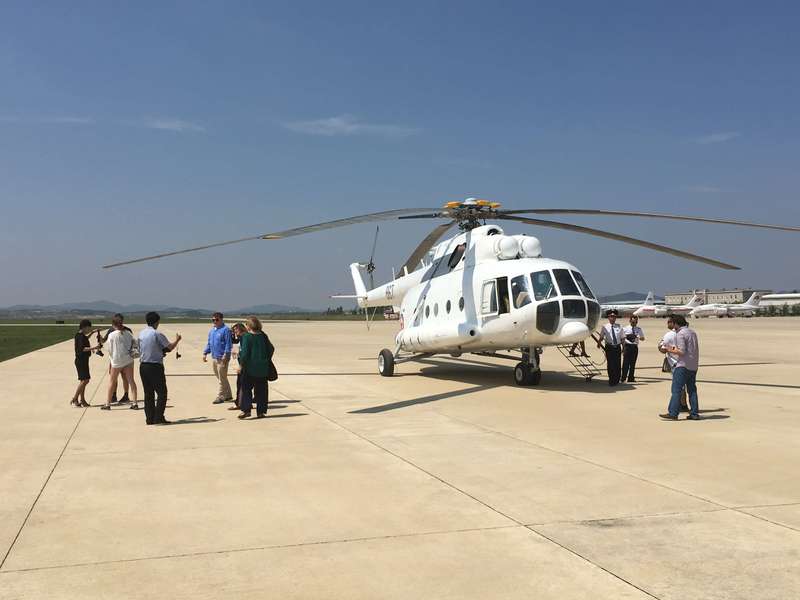 ---
Location
The helicopter scenic flight operates out of Pyongyang Sunan International Airport, a 45-minute drive north from Pyongyang.
---
What is it like?
The helicopter scenic flight provides a great alternative way to see Pyongyang.
The flight itself lasts around 40 minutes, but combined with getting to and from the airport, flight check in, moving around the airport and photos it can take up to 2-3 hours.
The flight operates as per a scheduled flight with flight tickets issued, check in, security checks and even using the airport bus to move between the terminal and the helicopter.
Once all are on board the aircraft, they will fire up the engines and take you for your low flying jaunt over Pyongyang.
The helicopter follows a circuit over the capital, and along the Taedong River, taking in such sights as the May Day Stadium, the Science & Technology Centre, and, of course, the Ryugyong Hotel.
The flight finishes with your return to Pyongyang Sunan International Airport.
Depending on when your scenic flight is scheduled, lunch is usually included either before or after your flight. Lunch is at Pyongyang Airport's European Restaurant and is a multi-course European meal featuring pizza, pasta, chocolate cake and even ice cream just to name a few highlights.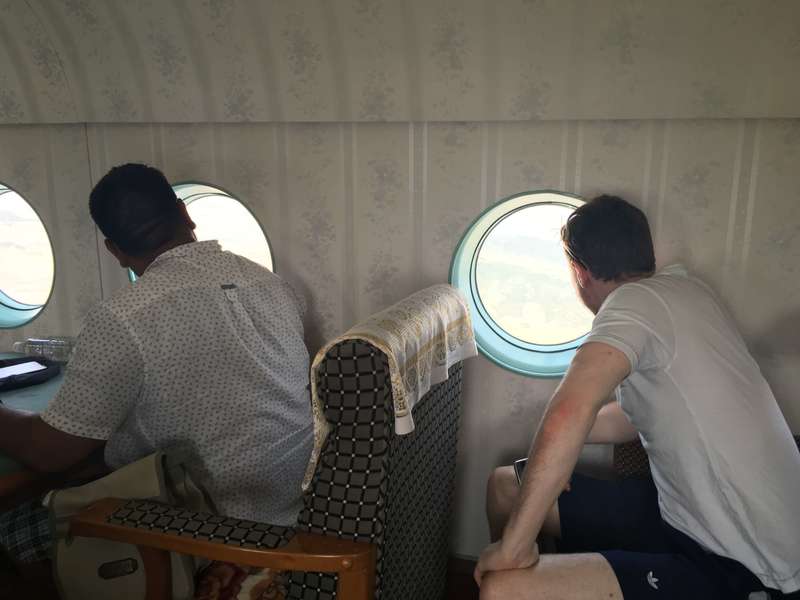 ---
Cost
On group tours, the cost is 180 EUR per person with a minimum of 8 people required.
The flight can be arranged for private tours as well, please discuss this further with your Tour Manager if interested.
---
Tips
The helicopter can carry up to 15 passengers, but in practice around 10 tourists plus support staff (a local guide and Air Koryo staff) is the ideal amount of people to have on board and still be comfortable

The helicopter has a small door so do try to avoid hitting your head - the Air Koryo staff will do their best to assist.

There are no seat belts on the helicopter

Some windows have tinted window shades with one shade for two windows meaning pushing it out of the way covers your neighbours window

If on a group tour, opting to do the scenic flight does mean missing out on 2-3 hours of the tour itinerary. Your guides will do their best to minimise the impact of this, but you will miss out on something in order to have this unique experience.

Flights are weather dependent and there have been instances of the scenic flights being cancelled or postponed – your guides will do their best to manage this, but sometimes it simply isn't possible for it to go ahead due to circumstances beyond everyone's control.
---
Further Information
The helicopter is a Russian Mil Mi-17 which itself is an improved version of the original Mil Mi-8 – you can tell it's the newer '17' version as it has its tail rotor on the port side whereas the '8' has its tail rotor on the starboard side.

Air Koryo only has one helicopter and in instances where the helicopter is unavailable due to technical issues or maintenance, they will offer to do the same flight in an Antonov An-24 turboprop airliner instead. While it's not a helicopter, the experience of flying low over Pyongyang in an old noisy turboprop aircraft is a worthy alternative.

Pyongyang is a hazy city thanks to its coal-fired power plant and other industries located in and nearby, so visibility is often ordinary

While the scenic flights over Pyongyang are currently not available, it is possible to charter the helicopter to fly you to other parts of the country. Enquire within if you are interested to arrange this and we can confirm if it will be possible and the cost.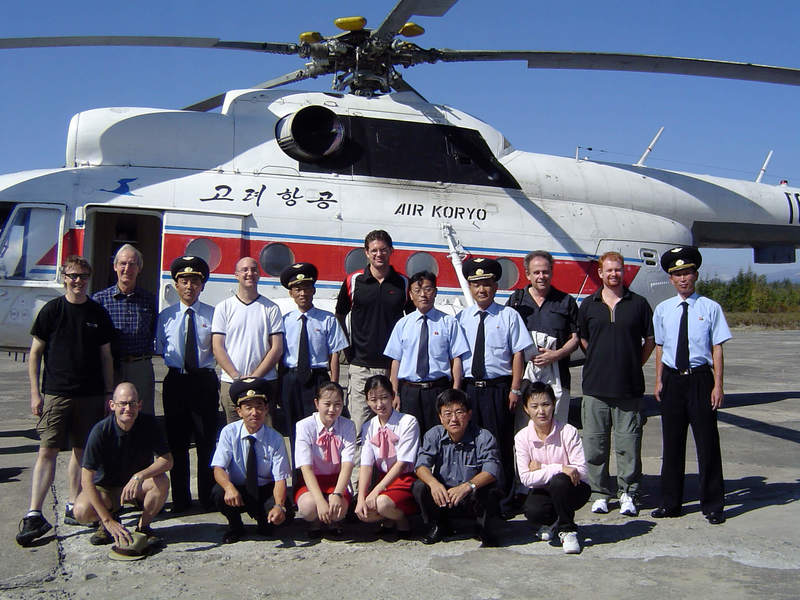 ---
---
Interested in a tour to North Korea?


Travel to

North Korea

with the only
North Korea travel experts, Koryo Tours
North Korea Travel Guide PDF | Sign up to the mailing list | About Koryo Tours