Prince Gong's Palace Museum
Location: 17 West Qianhai Street, Xicheng District, Beijing. Nearest subway station is Beihai Bei Station, around ten minutes away on foot

Opening: March 1st - Nov 15th 07:30 – 16:30, Nov 16th – Feb 28th 08:30 – 16:00

Cost: 30 RMB


The only Qing Dynasty mansion open to the public in Beijing, Prince Gong's (also transliterated as Prince 'Kung' throughout, only slightly confusing) Palace is a magnificent complex covering a huge 60,000 square metres in total, divided equally between the residence and the garden, both of which should be included on any visit here.

Very conveniently located for anyone spending time in the centre of Beijing, this site is on the south side of Houhai Lake, just a few minutes walk through some attractive hutongs. Only a few minutes walk away you can also visit the Former Home of Mei Lanfang, and the Former Home of Guo Moruo.

Prince Gong's Palace Museum is actually one of the most popular tourist spots in Beijing, and in peak season can be exceptionally busy, so my recommendation is to go early – I arrived at 08:30 and it was almost empty, when I left a couple of hours later tour groups were arriving and there was notably more noise breaking up what had been a very tranquil experience.

Prince Gong himself was a Manchu nobleman in the later years of the Qing Dynasty. He was one of the more influential and wealthiest men in the country and a man of apparently refined taste as well, given the architectural features and touches in evidence in both the residence and the garden. But this place wasn't actually built for him at all – it was constructed in 1777 for a man named Heshen, who has gone down in history as the archetype of a flamboyantly corrupt official. Heshen was executed after his benefactor, Emperor Qianlong, passed away, and his property was confiscated in 1799, to be handed to Prince Gong in 1851.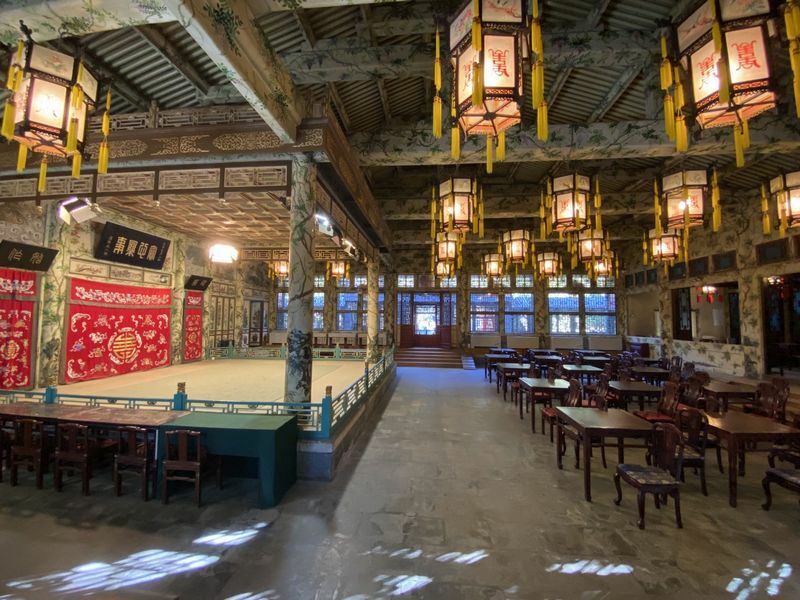 As the Qing Dynasty ended the mansion and grounds were gifted to the Catholic Church and used as a university until 1951, when the staff were expelled following the communist victory in the civil war and the foundation of the People's Republic of China. After this, the site was used for various purposes; people used it to live in, the Beijing Air Conditioning Factory took it over, and then finally, in 1982, it was taken back under state control and listed as a historical and cultural site and extensive recovery and renovations began – since at least 2008 Prince Gong's Palace Museum has become a very popular site for visitors from around China visiting the capital, and an exemplar of the very best of late-imperial garden and mansion design.

The residence part of the Palace is what the visitor arrives at first. A series of courtyards spread over a large area, each somewhat similar and each exceptionally pretty to look at, even the ones undergoing further renovation. There are exhibits on various subjects spread around here (all with basically no English explanations provided, Chinese only in this place), some about the mansion itself, some temporary exhibits, some about the religious life of Prince Gong, etc. Plenty to learn about, and a tour guide (available when booked in advance) would be able to provide a lot more context and information for anyone particularly interested.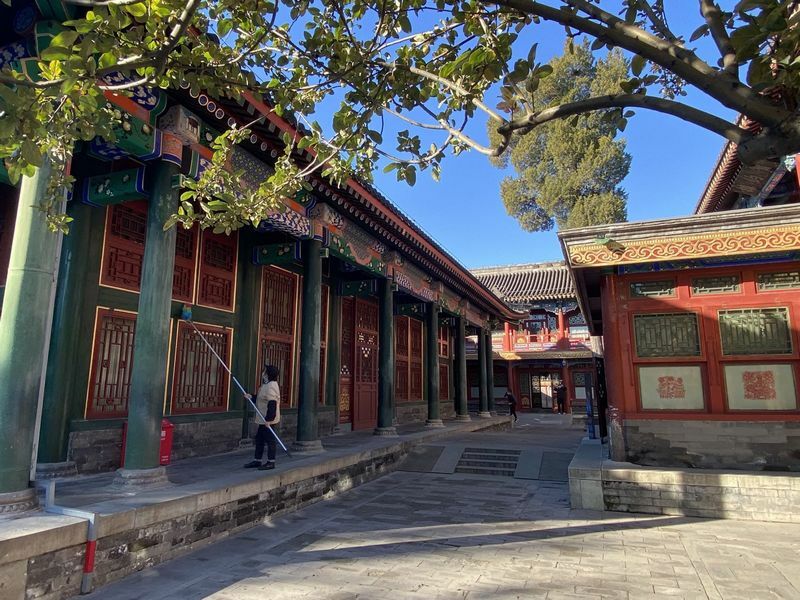 While the mansion is interesting, it is the garden section which is truly most impressive. To get there you simply pass the final building of the residence and find yourself in a long lateral corridor separating the two parts of the complex. There is a small temple to the Dragon King where Prince Gong would give offerings for (according to the signage) the maintenance of his own wealth through asking for good weather to be visited upon the lands where his wealth came from (where his peasants laboured basically).

An aside here – the emphasis on wealth here is omnipresent. Prince Gong was obviously a very well-off man to live in this incredible place, even if the original resident was even richer, and he was from a class of people who definitely flaunted what they had. One of the centrepiece places to visit here is a stelae with the Chinese character for wealth (fu) in the hand of Emperor Kangxi, and there is a lake shaped like a bat with trees around it which drop fruit into the water to make a noise that sounds like that very word – to me, after a while, this all started to get a bit like listening to some early 2000s hip-hop with all its braggadocio about how much wonga Prince Gong had access to, and given that it was the product of a noble lineage rather than his own hard graft it all felt a bit tasteless. But that was just a momentary feeling, until I was distracted by yet another scenic view, pretty building, or well-crafted rockery.

Entering the garden though the Western-style gate, a replica of one to be found at the Summer Palace, or by climbing along the small replica Great Wall (meant to remind Prince Gong that he is a Manchu, a people who had to cross the wall while coming from the north to take control of Beijing), the visitor is rewarded with some lovely views of sculpted gardens, a small lake, multiple winding covered walkways, artificial hills, pagodas, and of course gift shops, a café emanating the smell of instant noodles, and the very attractive 'Hall of Mental Preparation' which is now a shop selling various items emblazoned with incantations to gain and sustain your own wealth – buy them all, maybe you too could live in a house like this!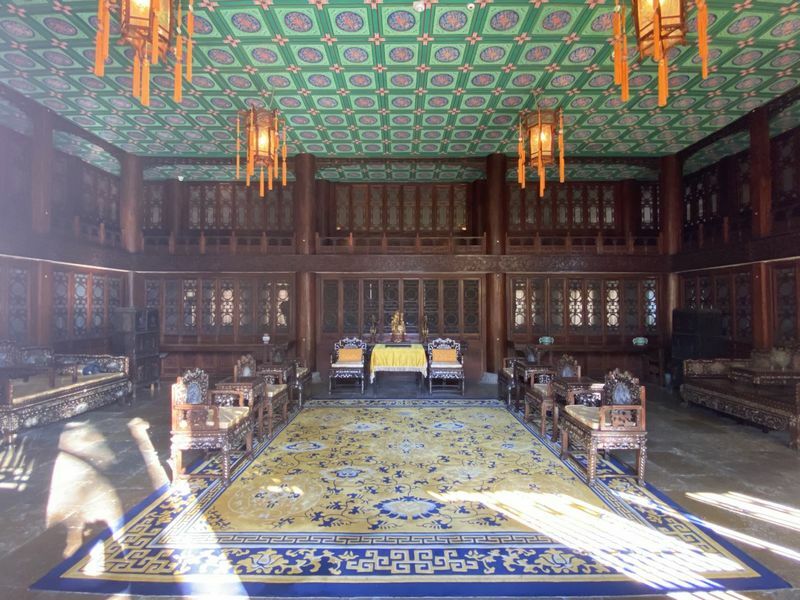 A good companion to a place such as the gardens of the Prince Gong Palace Museum would be the Museum of Chinese Gardens and Landscape Architecture, which offers a lot of detail about the various design elements, what they mean, and the development of these art forms.

At least two hours is needed to see the whole of the mansion and gardens that make up the Prince Gong Mansion Museum, more if you also intend to witness one of the performances that happen in the very impressive Grand Theatre which is in the garden area. This was one of my favourite buildings (along with the 'Rain Listening Room', which everyone should have really. I'll be converting my living room into one as soon as time allows!), and the tranquil little bamboo courtyard too.

I would strongly recommend the Prince Gong Palace Museum to any visitor to Beijing or to anyone looking to experience a bit of the height of Chinese garden design. Just be sure to avoid the crowds by going early or going in winter if you like a chillier aesthetic.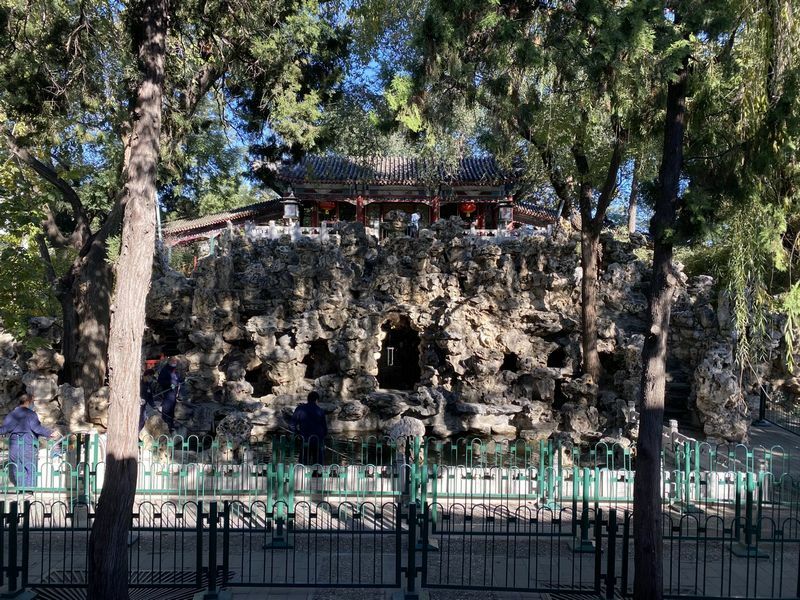 ---
---