Kalma Airport

Introduction
Modernisation
Location
Exterior
Interior
Visiting Tips
Introduction
Kalma Airport was originally a military airport on the east coast near Wonsan, Kangwon Province, and in use during the Korean War.
During the years of the 'Sunshine Policy' it was sometimes used for flights from South Korea to take tourists to the Hyundai Mt Kumgang resort (on the North Korean side).
Kalma Airport was significantly upgraded in September 2015 with a second runway, main runway extension, and brand new airport buildings but has as yet no regular flight service.

The airport is now predominantly a civilian airport (with some military usage) and is also referred to as Wonsan-Kalma Airport.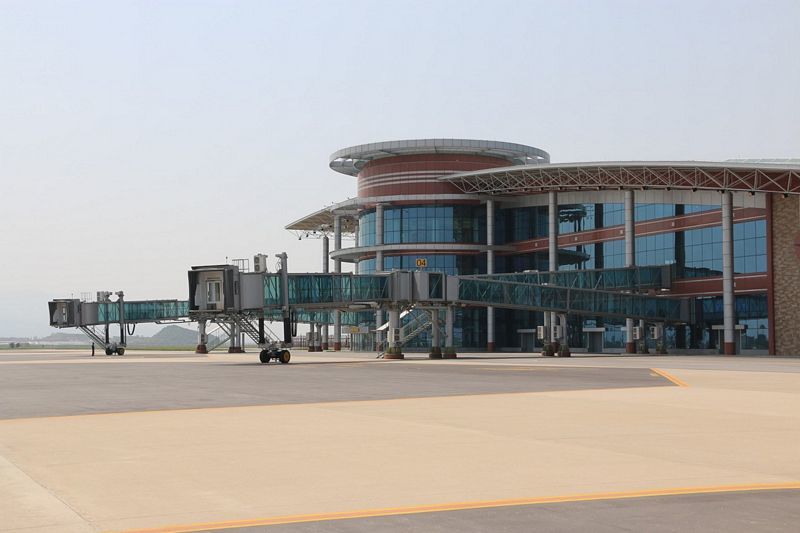 ---
Modernisation
In July 2013, North Korean leader Kim Jong Un approved plans for a complete redesign of the airport, turning it into an international airport for civilian use.
The goal of re-modelling the airport was clearly to expand international tourism to the new Wonsan-Kalma Tourist Project and Mt Kumgang, most likely tourists from South Korea in the future.

The airport will also serve the Masik-Ryong Ski Resort. Kalma Airport was intended as a major element towards the economic development of the region with the intention of luring foreign investment.

The design was based on schematics from Hong Kong architectural firm PLT Planning and Architecture Limited but it seems to have altered significantly from the original plans.

Wonsan-Kalma Airport has two runways. A new runway was constructed parallel to the existing main runway, which is 375 metres longer. The pre-existing runway was converted into a taxiway.

The design consisted of two new terminals for international and domestic use each with a jet bridge and a newly designed apron that can accommodate 12 commercial aircraft at any one time. The airport also features a private hangar for Kim Jong Un's personal Ilyushin-62.

Despite building for quite a significant capacity of passengers there is no current regular international or domestic service, in addition, sanctions place problems on acquisition of jet fuel and other necessities for operating a second international airport (the only current one being Pyongyang Sunan Airport).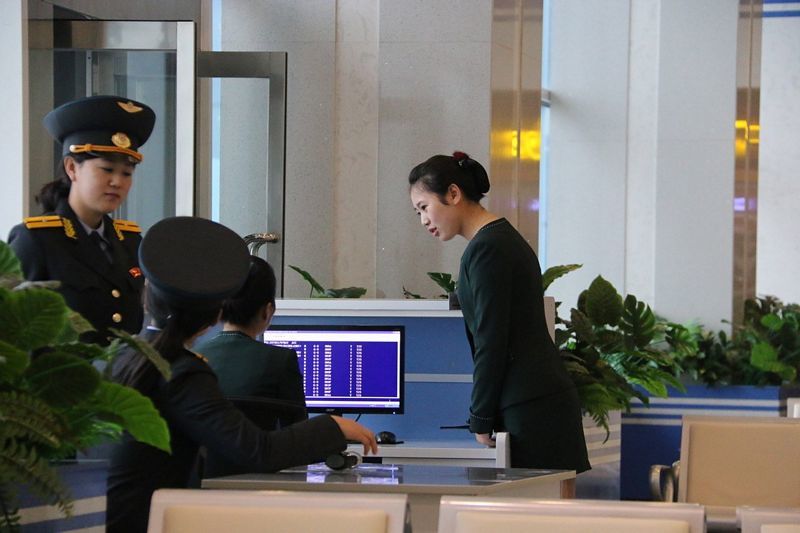 ---
Location
Wonsan-Kalma Airport is located on the east coast of the DPRK, near Wonsan City.
Kalma is the name of the peninsular that sits across the bay from the city of Wonsan itself and can be seen from the waterfront and beach areas in central Wonsan.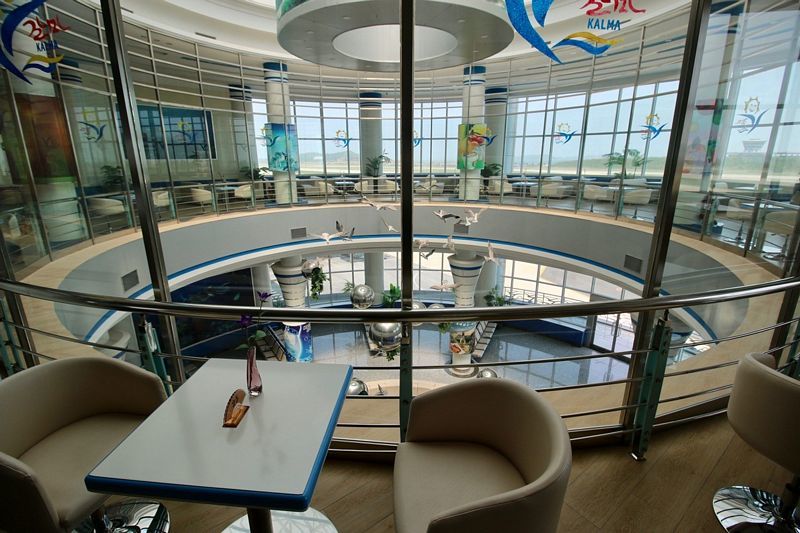 ---
Exterior
All rather quiet, as there are simply no tourists or planes...!
Nicholas Bonner from Koryo Tours took British TV Legend Michael Palin and his crew to interview the head of tourism for this area on the empty runway apron while filming Michael Palin in North Korea in 2018.
Palin and his crew took a flight from here to Samjiyon Airport in the Mt. Paektu area, this was a charter rather than a regular flight though.
Kalma Airport also has a car parking area, to drive from here to central Wonsan takes only around 10 minutes.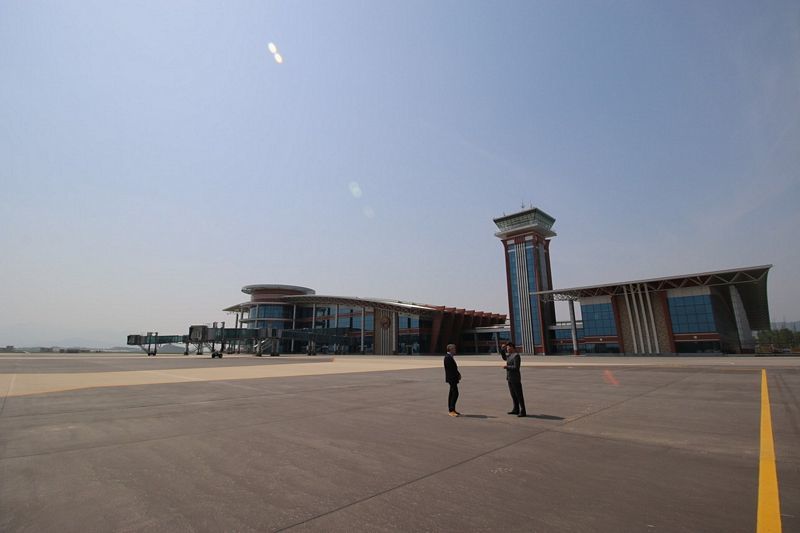 ---
Interior
Kalma Airport's interior is decorated with a colourful simplistic paint job using tones of baby blue and naval blue set against a shiny marble-tiled floor and chrome railings. This is very much in line with the current dominant aesthetic of new buildings and renovated areas in the DPRK.

It has the intentional feel of an airport made for holiday arrivals, reinforced by the Kalma Airport logo of sun and sea that is used throughout the building.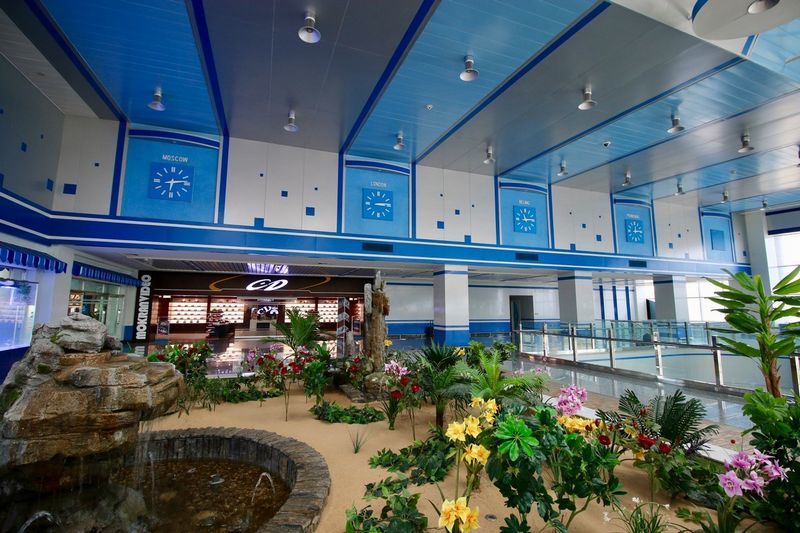 On the second floor, clocks tell the time from Moscow, London, Beijing, Pyongyang and once space is left free possibly waiting for Seoul, Tokyo, or New York?

The most bizarre space is the café that has an aeroplane interior feel to it, complete with a curved roof.
Various shops on the second floor are staffed by neatly uniformed young women selling mainly DPRK made products and occasional foreign brands. These shops are accessed along a stone-tiled pathway cutting its way through the marble tiles with a stone fountain decorated with a plastic flower garden off to one side.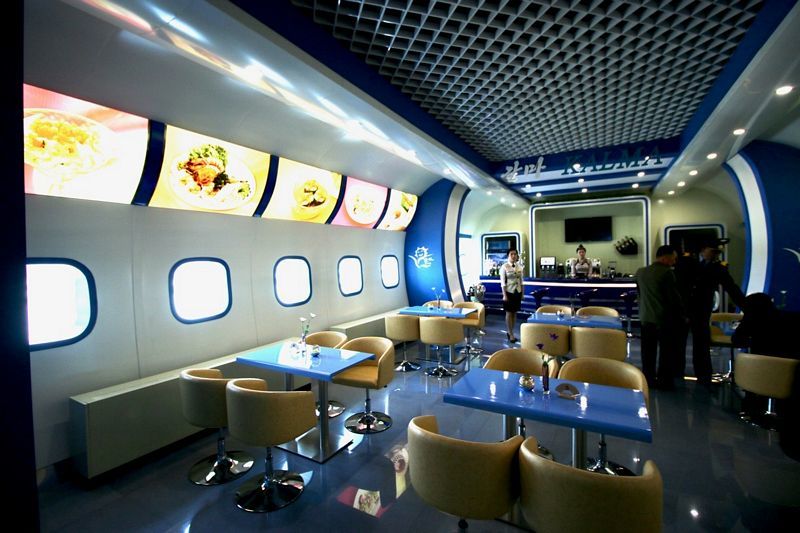 ---
Visiting Tips
• Grab a table in the circular glassed atrium seating area for rare views of any planes landing or taking off.

• Check out the rare advertising (in North Korea this is more properly called 'promotion') of Taeddonggang Beer, one of the more nationally known domestic brands of anything.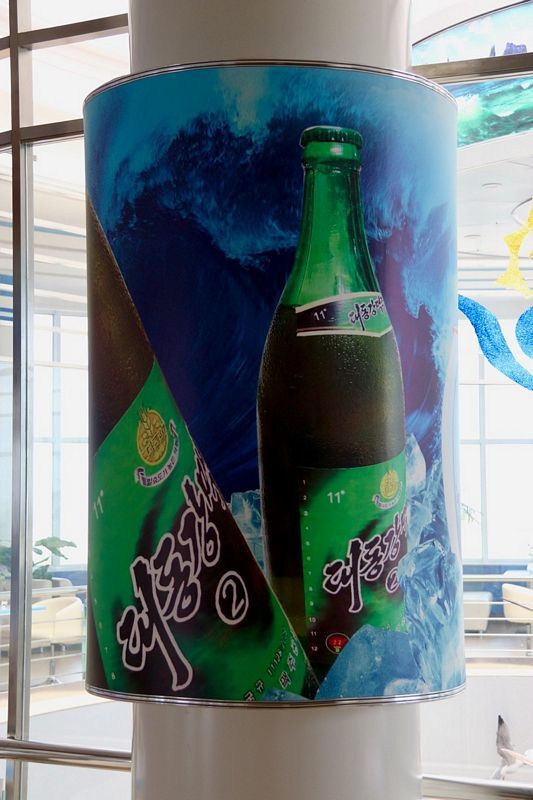 ---
---
Interested in a tour to North Korea?
Travel to
North Korea
with the only
North Korea travel experts, Koryo Tours
North Korea Travel Guide PDF | Sign up to the mailing list | About Koryo Tours