China Customs Museum
Location: 6 Jianguomen Inner Street, Dongcheng District. Nearest subway station is Jianguomen, Exit C. Just 5 mins walk away)

Opening: 09:00 – 16:00 Tues – Sun (closed on Monday)

Cost: Free! (bring your passport/ID card)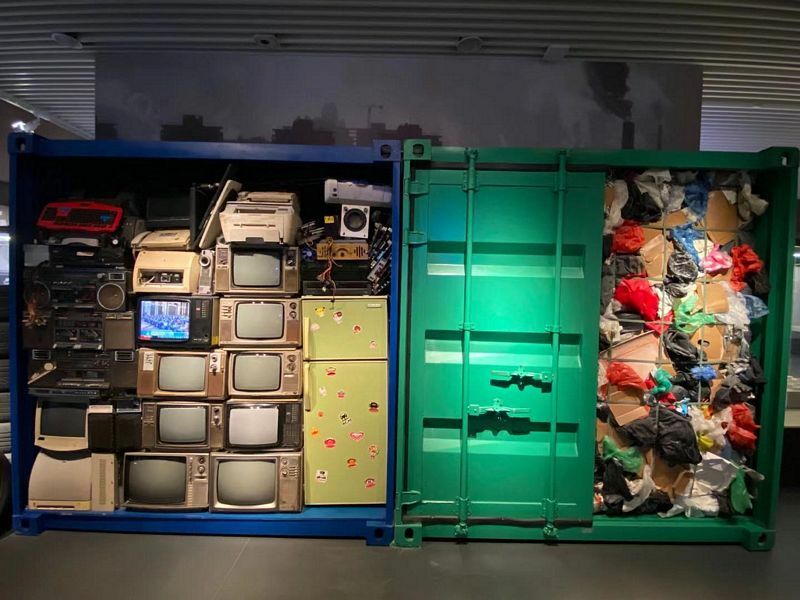 This museum is very centrally located, very easy to find, and in a large building. But, prior to my visit, nobody I have spoken to about it has ever even heard of it. So, is it a hidden gem on the Beijing museums scene, or is it justifiably unknown and overlooked? Let's have a look!

China Customs Museum is a large building, somewhat modernist and angular from the outside, located right next to the Beijing Ancient Observatory, beside the Jianguomen Subway Station. Easy to find and even signposted on the road leading up to it (rare for many of the non-core museums of Beijing), this is one that you may find yourself among a very small number of people visiting, or even all alone (as I was on a cold Sunday when I stopped by).

There is no entry fee at this museum, which is a nice sign, although the Covid-era entry process for a foreigner does involve scanning an interminable amount of QR codes, arguing that of course I don't have a Chinese ID card (not being Chinese would do that to a person), and the staff having to make a phone call to work out how to issue a free ticket to a foreigner. Eventually the doors open and in I go.

The China Customs Museum is laid out over two floors, with the basement being currently empty of exhibits. As it was built only in 2014 this is quite a modern place with moody lighting and some well-designed displays. Unfortunately (for non-Chinese readers), almost all the text is in Chinese only with the main section explanations being the only things in English, and being made up of such dense and dull text as to be not particularly thrilling to read. There are also displays of items on the top floor which often seem to have no context to the exhibit whatsoever, so it can be a little confusing to say the least!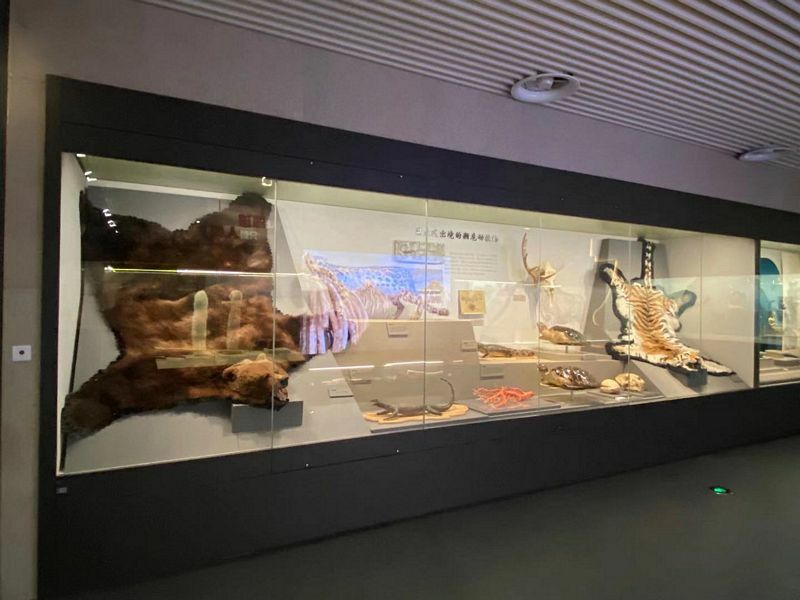 Anyway, on the top floor we pass through the history of the customs service, from the early dynastic period versions up to the more modern methodologies instituted by foreign powers during the nineteenth century when European countries carved out concessions in China's treaty ports and brought in the mechanisms of bureaucracy and paperwork. Here the visitor can see all manner of documents, models, and explanations of roughly how it all worked - interesting, if not fully explained (a guidebook would be a great addition to the completely empty large souvenir shop here, for anyone genuinely interested in the subject of the museum).

On the ground floor the displays ate more interesting; the modern customs service and all the interesting things they seize from smugglers. There are animal skins, ivory objects d'art, a mahjong set hollowed out to hide narcotics, and much more too. Displays of uniforms of the customs service since the early days of the PRC as well as various facts and figures about how their contribution to China has grown are here too, alongside a dull bit about how Xi Jinping thought is utilised in the modern customs service culture (I'd explain this, but I couldn't make any sense of it myself; It's almost as if this part just had to be added even without any real relevance or context at all!).

On leaving the museum I was directed by the security guard to go down a path and into the subterranean building opposite, still part of the museum. This turned out to be a great tip as the actual highlight is located here, and it is very special and unexpected indeed!

Under the ground, in a large chamber featuring a watery effect with appropriate light and sound one can find the full-sized China Customs Cutter 902. A boat around 80m in length stored down here. This vessel was used by Deng Xiaoping on his famous Southern Tour in 1992, when he journeyed around the southern manufacturing metropolises of China to legitimise their economic activity and to show to the rest of the country that this was the direction he saw the country going in the future; a key event in the development of modern China.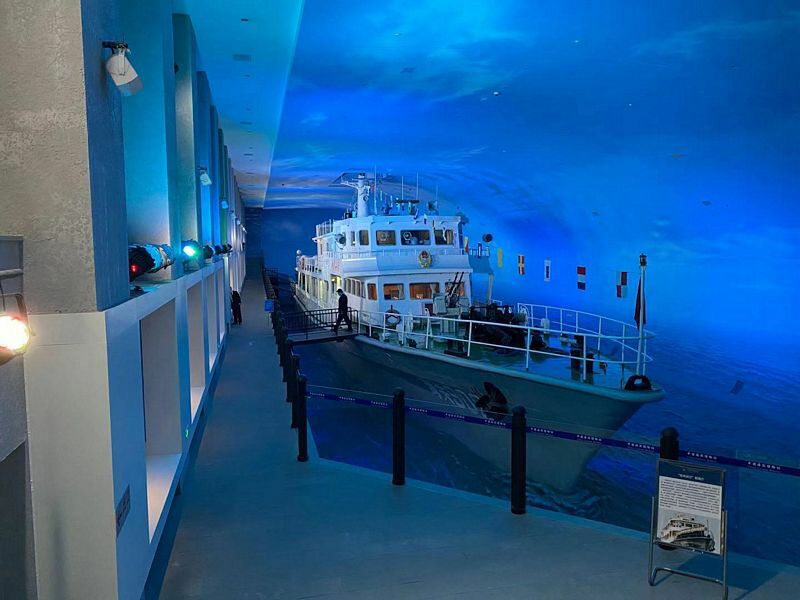 Deng travelled from Shenzhen to Zhuhai on this boat and gave various speeches and instructions on the journey. You can step aboard it in the China Customs Museum and have a wander around, not inside sadly, but the windows are there to be looked through. This was a fun and quirky way to end the trip to the museum and a very pleasant surprise; I had no idea there was such a thing in Beijing!

So the museum itself doesn't really enlighten the visitor on much about the process of hos customs work (assuming you already know the concepts already that is), but it is large, well-put-together, easy to get to, and of course it is free. You can just go there to look at Deng Xiaoping's boat too without any need to go into the main building at all.

Not one of the must-see museums of Beijing but still of interest to anyone with a curious mind and an appreciation of the quirky and esoteric; the China Customs Museum is one for the list for sure.

One hour is enough time to wander around for photos. If you read Chinese or have a guide, and if you're deeply interested in the subject the two hours would be a good amount of time to budget.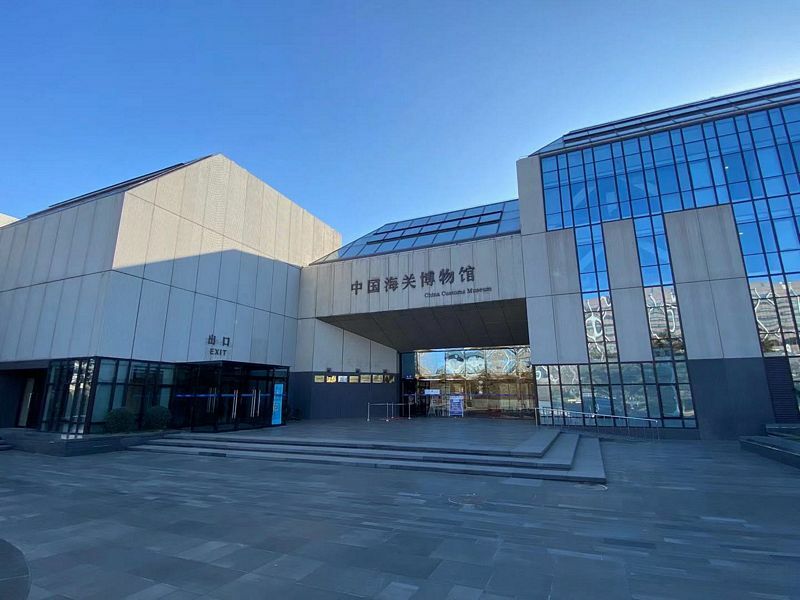 ---
---