Hotels of Rason
Hotels of Rajin City
Hotels of Pipha Area
Hotels of Sonbong City
Other Hotels in Rason
Rason, in the far northeast of North Korea, is a Special Economic Zone which borders Russia, China, and the East Sea of Korea (Sea of Japan). It is the area of the DPRK where economic experimentation takes place and functions somewhat differently to the rest of the country.

One way in which this region of the country is different is in the sheer extent of hotels that it is possible for foreign visitors to use in Rason.
Here follows a list (which may not even be exhaustive, hotels fall out of use, or are added, with some frequency) which demonstrates the options available.

None of these hotels can be described as genuinely luxurious, although the Imperial (formerly Emperor) Hotel is certainly the best-equipped place in the area. Still, by location the Namsan Hotel is superior, and if you're looking to stay somewhere simply weird then the Songbyok Hotel would be the one to select.

Read on for a brief explanation of the Hotels of Rason.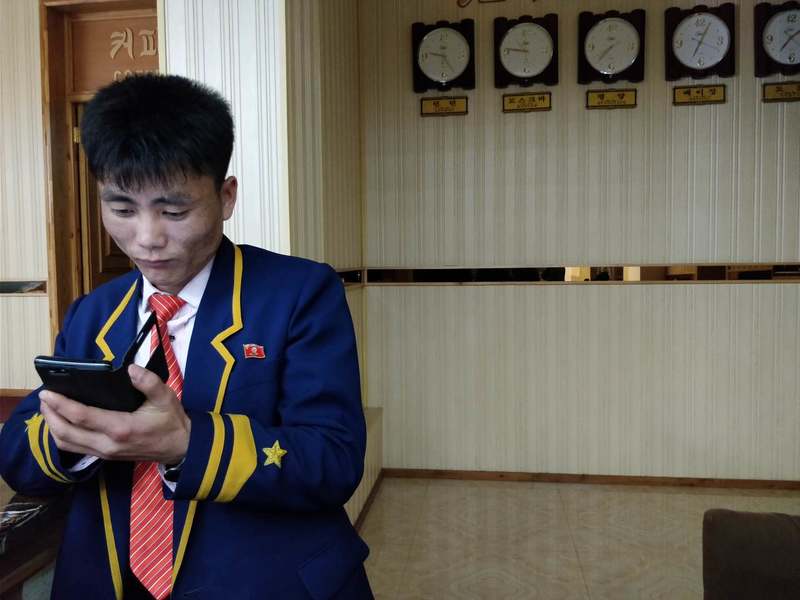 ---
Hotels of Rajin City
Namsan Hotel
The original hotel of Rajin City, situated right in the middle of the city on the main square and the place where even Kim Il Sung has stayed overnight (his rooms were the ones directly behind what is now a massive TV screen facing the square, now used for conferences – ask to have a look).

This two-storey building dates from the Japanese era and is of modest size and is a little past its prime, but the location and heritage cannot be beaten.

Evening relaxing walks in the square or a short trip to almost everywhere in Rajin City, this is the recommended hotel for visitors.

A restaurant, bar, billiards room on-site offer activities for guests as well as visitors.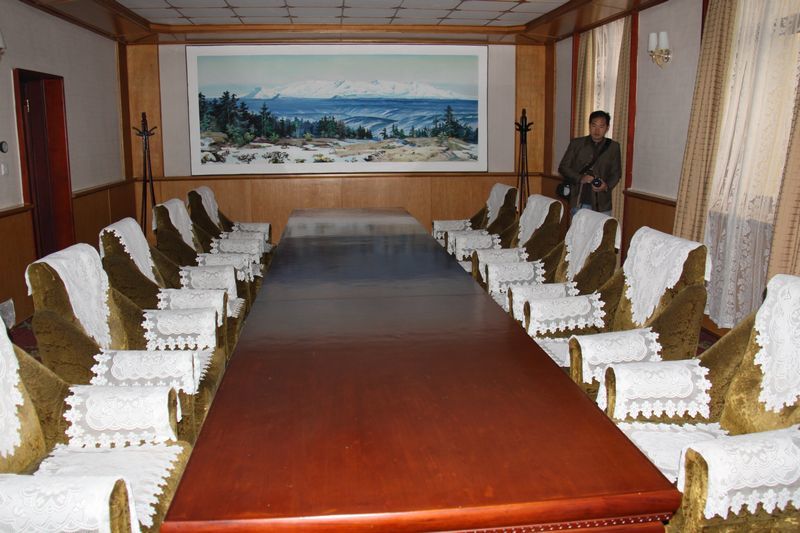 Rajin Hotel
A lovely near-brutalist 1980s pile sat on a small hill overlooking the scenic Hae'an Park, this hotel has all the classic DPRK internal décor elements of shiny grey marble, heavily upholstered fragile chairs, quirky décor and so on.
Somewhat more reliable hot water and electricity compared to the Namsan, and a similarly central location.
A very good option indeed.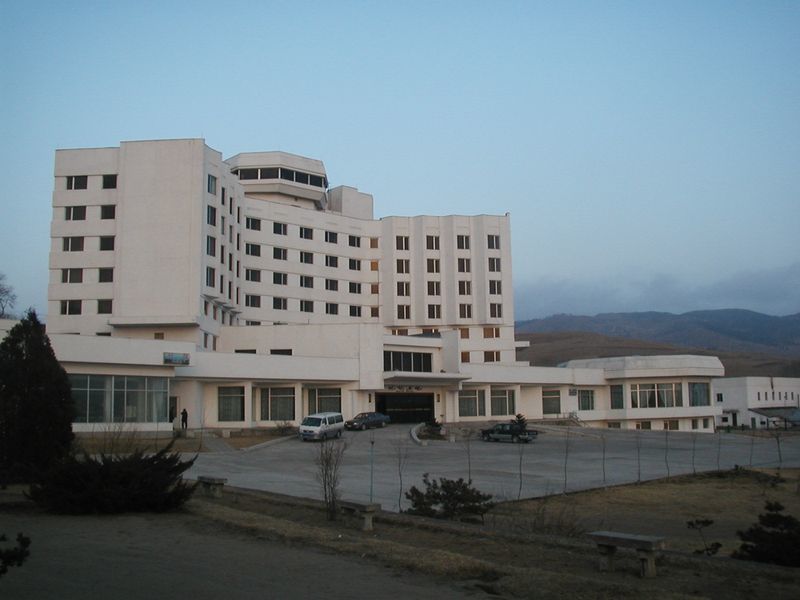 Tongmyongsan Hotel
Located just across the main square from the Namsan Hotel and tucked behind an apartment building – from the windows of the Tongmyongsan Hotel you can sit and watch the residents going about their daily lives.

This is a more basic hotel but has been used by a lot of Russian dockworkers over the years so is well accustomed to foreign guests. Simple rooms, limited power and hot water, but simple charms.

Usually only on the menu for tourists when everything else is full (almost never) or there is some kind of utility problem elsewhere which makes this more of a viable choice.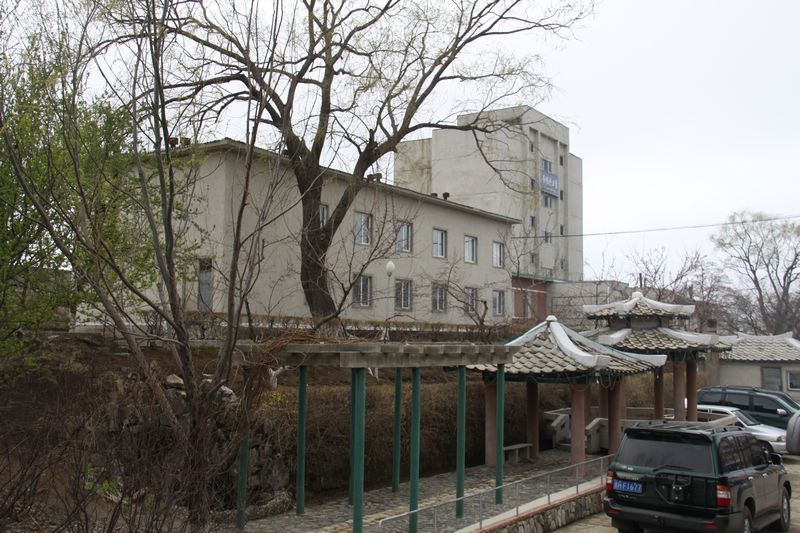 Dongmingsan Hotel
Probably the most modern hotel in Rason, but in a horrific location for anyone wanting to do more than just stay in a hotel.

Nestled up against a steep hill and charging extra for rooms with a nice view of the bay (otherwise, you get a view of some grass, or snow, season-depending) this is a Chinese-funded spot with decent supplies of hot water and electricity, a nice view, and a bumpy 15-minute drive to anything you could be going to do.

A bit inconvenient to be recommended.
Located not far from the Haeyang Revolutionary Site.
Taekwondo Hotel
Almost never open and looking very much in need of a lick of paint, this is a concrete box with a statue of someone doing a Taekwondo kick in front of it.
Very unclear who actually stays here.
Not an option that will be offered to any foreign tourists.
---
Hotels of Pipha Area
Imperial Hotel
Located on the shore of Pipha bay and just a short walk from the causeway to Pipha Island, this is a hotel/casino complex operated by the Emperor Group from Hong Kong/Macau.

Popular with those who like the best the Rason area has to offer in terms of rooms, as well as to sit at the baccarat tables of this longest-running casino in the area, mostly Chinese tourists.

Imperial Hotel even maintains a small fleet of Hummers to rush up to the Wonjong Bridge border with China to pick up their 'whales'.

With a nice coffee bar, grand piano, and British phone booth in the lobby this doesn't seem much like remote North Korea, and it is worth stopping by for a visit even if not staying here.

Imperial Hotel was called Emperor Hotel for the first couple of decades of its existence, changing its name when (it is said) a Feng Shui expert was called in to help with declining revenue and suggested that the name and the crown logo were simply too 'European', the logo was replaced with a more angular crown and 'Imperial' replaced 'Emperor' – at huge cost for the rebranding, signage, and so on.
Everyone still calls it the Emperor Hotel of course.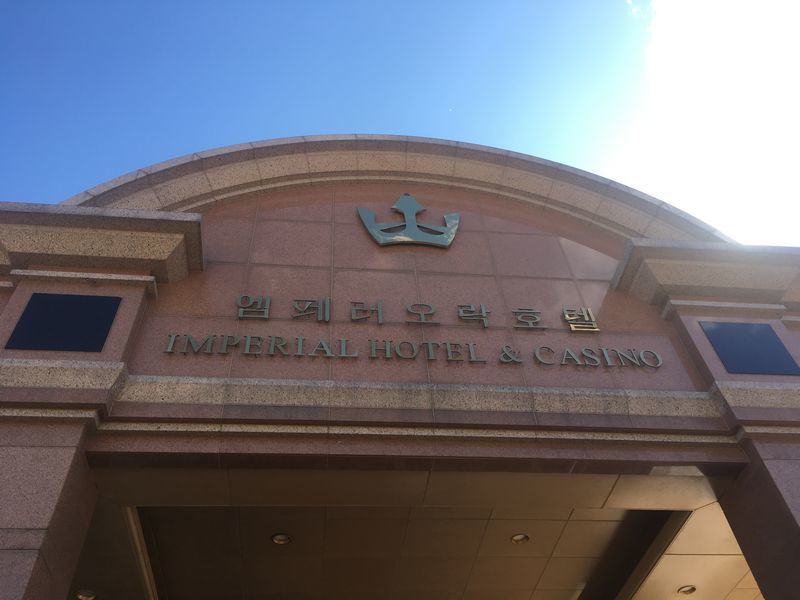 Pipha Island Hotel
A cute, curved-concrete pinkish structure on Pipha Island itself, right next to the seafood market/restaurant that sets up there in good weather.

Pipha Island Hotel has been essentially temporarily abandoned and doesn't function at the present time. It may make a comeback though but why anyone would stay here apart from to enjoy a nice view is a mystery, given that there are better-equipped places in this area. It would make a very well-placed nice restaurant/bar complex though!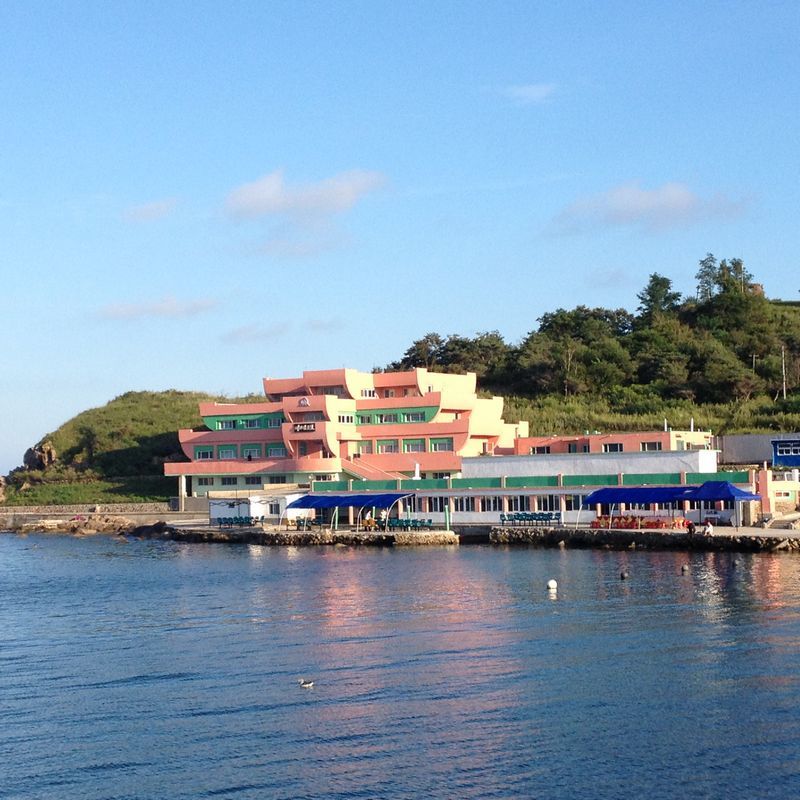 Pipha Tourist Hotel
A traditional Korean structure located just uphill from the Imperial Hotel. Picturesque and with good views of the hills behind and Pipha island and the water in front.

Pipha Tourist Hotel is walking distance to the casino but still, like everything in Pipha, a little remote from any other tourist sites. This looks like, and is, a relaxing option recommended for a night at most.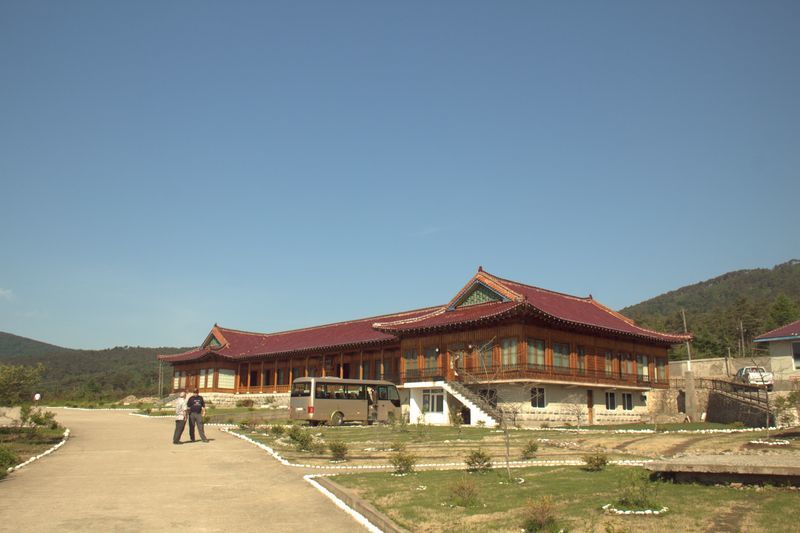 Pipha Hotel
This obviously gets complicated. There are a load of places with very similar names, so if booking one specifically you want to be clear on which one you want….and you don't want this one.

Pipha Hotel is most of the way up the hill that rises between Pipha area and the mainland of Rason, in a pleasant wooded area, however once here you cannot go anywhere.
It is too far to walk to Pipha itself (plus, not allowed) it is too far to walk to Rajin (plus, not allowed). The hotel is alright, but very few people ever stay here and it feels stifling to be so remote.
Also, when you eat here they add a fee for even daring to drink water or tea/coffee – something provided in almost all other hotel restaurants nationwide.
Not recommended unless you are in hiding.
---
Hotels of Sonbong City
Sonbong Hotel
Very well located right in front of the Junghyon Revolutionary Site, with a nice enough restaurant on-site and a bookshop to keep your brain fed as well. This is the best place to stay in Sonbong, but one would still suggest staying in Rajin instead, due to there being much more to see and do there.

Sonbong Hotel also has frustrating blue-tinted windows which makes everything outside look horribly otherworldly, not in a good way either.
Sonbong Hotel sees very few foreign guests apart from those stopping to eat here, mainly because it is simply not a large area and there is not much of a reason to stay in Sonbong at all.
But for something quirky this is a good option, why not?


Uamsan Hotel
Sonbong's other hotel option. Frankly, none of us has been to this hotel and we know nothing about it.
Could be amazing, could be awful. On the next visit to Rason, a stop will be made and this updated!
---
Other Hotels of Rason
Chujin Hotel
A fun little beachside hotel on the coast of the East Sea of Korea. A sandy beach outside is a good spot for sunbathing, volleyball, etc in the height of summer and from time to time Russian can be found here relaxing in the sun.
Chujin Hotel has very few rooms but does serve a good range of seafood in the restaurant.
In summer, this can be recommended as a good spot to stay for some relaxation and an evening sat on the beach with a cold drink and the small waves lapping in the darkness. In not-summer, there are zero reasons to be anywhere near the Chujin Hotel at all.


Songbyok Hotel
Easily the weirdest hotel in Rason, the Songbyok Hotel is built to look like a wall, a Great Wall kind of wall, with a gate in the middle.
It is not entirely clear what this represents although it is the closest hotel to the international border, being just down a large hill from the 3 Countries Viewpoint and close to the small town of Tumangang (where the train to Russia departs from), so maybe it is a defensive wall?

Next to the Songbyok Hotel is a reservoir with a small island, if you can get gold of rowing boat you can go there for sundown, which is nice.

With very few rooms, a restaurant in the basement (why?), and nothing to do at all, this would be a curious choice, but to avoid anyone else (as pretty much nobody ever stays here) this has to be somewhat recommended.
Caveat emptor on this place though, you are more than 20 minutes' drive from the nearest shop for example.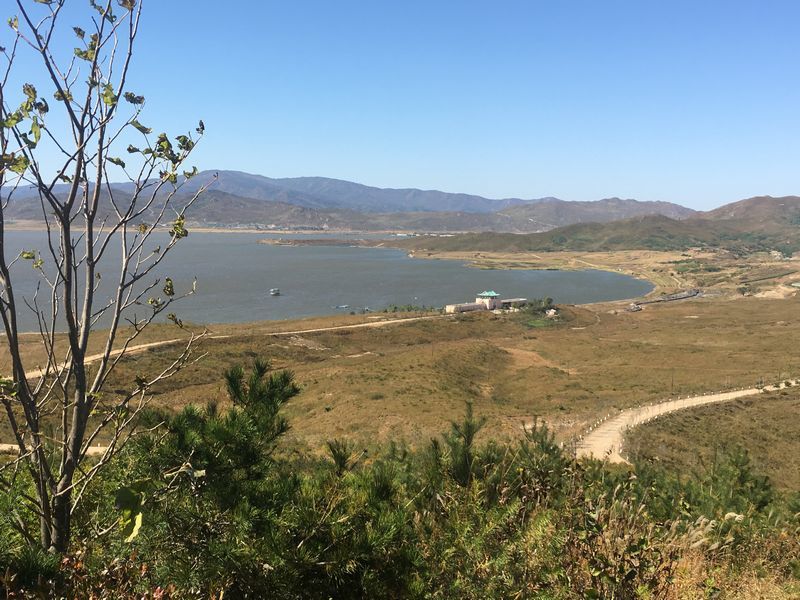 ---
---
Interested in a tour to North Korea?
Travel to
North Korea
with the only
North Korea travel experts, Koryo Tours
North Korea Travel Guide PDF | Sign up to the mailing list | About Koryo Tours