Bishkek Kyrgyzstan
Introduction
History
Bishkek Now
City Centre & Sites
Restaurants
Beyond Bishkek
Bishkek: Introduction
Bishkek first became the capital of Kyrgyzstan in 1926.
It was then named Frunze, after Mikhail Frunze, who was one of Lenin's associates who was born in the city.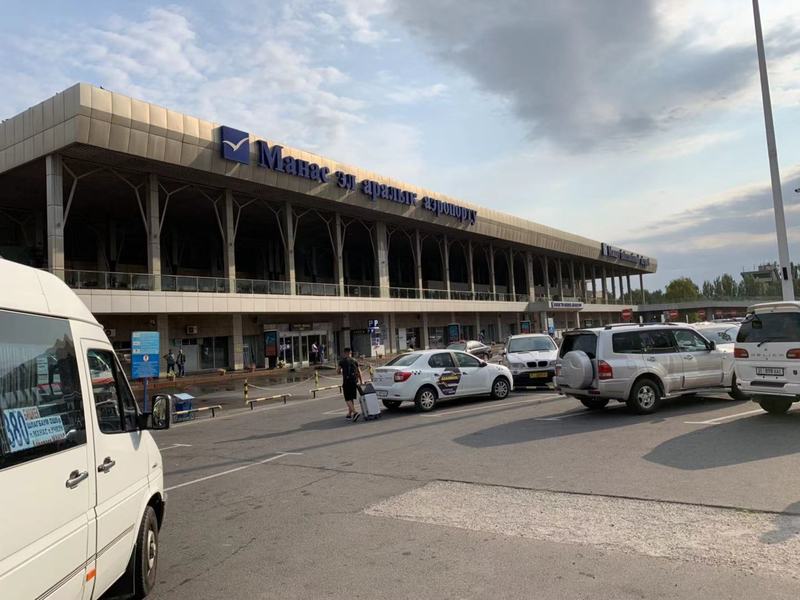 ---
Bishkek History
In the early '90s, Bishkek went through quite an unsettled period. A state of emergency was declared following ethnic riots in the south of the country which threatened to spread to the capital.
On the 5th February 1991, the capital was renamed prior to the country achieving its independence from the Soviet Union on 31st August.
These days, Bishkek is going through its period of modernization. Although at the current time, this still has not affected the Soviet ascetic of the city.
Any visitor entering the city either via the airport or via one of the other roads will be met by a low style city build up as the small village's transition into the city proper.
---
Bishkek Now
There is an old feel still apparent in Bishkek as the soviet grid system and housing still exist, although now punctuated with more modern construction in places as modern housing begins to grow, shopping malls spring up and hotels rise.
The centre of the city is still a pleasure for the relaxed explorer as the criss-cross of streets is home to low-rise restaurants, cafes and bars.
Although the city is changing, the roads and pavements remain the same and even the most erstwhile traveller should take care.
Open manhole covers and potholes mean one should tread carefully, especially on a rainy day.
Large gardens, tree-lined streets, and open squares also remain intact and offer Bishkek as another city perfect for exploring on foot.
Streets and sidewalks have fallen into disrepair since the 1990s.
At the same time, Bishkek still preserves its former Soviet feel with Soviet-period buildings and gardens prevailing over newer structures.
Bishkek remains the country's financial hub. It's home to its entire banking headquarters.
During the Soviet period, the city was home to many factories. Unfortunately, since 1991, many of these have closed down.
Nowadays, many of Bishkek's residents are employed within the Dordoy Bazaar open market, a huge imported and export market located on the outskirts of the city.
---
Bishkek City Centre Sites
ALA-TOO SQUARE
Formerly known as Lenin square, Ala-Too Square is Bishkek's main square.
It was built in 1984 to celebrate the 60th anniversary of the Kyrgyz SSR. At that time it was also home to a large statue of Lenin which has since been removed and is housed on a smaller square not far away.
Now in his place stands the statue of Manas, which was erected to celebrate the 20th anniversary of Kyrgyzstan's independence.
Ala-Too Square itself has had quite a tumultuous history.
On March 24th 2005, it was the site of an anti-government protest known as the Tulip Revolution. Here, over 15,000 people gathered early in the afternoon to protest the results of the parliamentary elections.
Two people were killed and many more wounded.
Now as the country moves forward and becomes more affluent, the square feels a more positive place to be.
One of the many highlights is the changing of the National Guard. This happens around every hour and lasts for ten minutes.
The guard's location is easily found as they are at the base of the 45-meter flag pole which in itself is an impressive sight.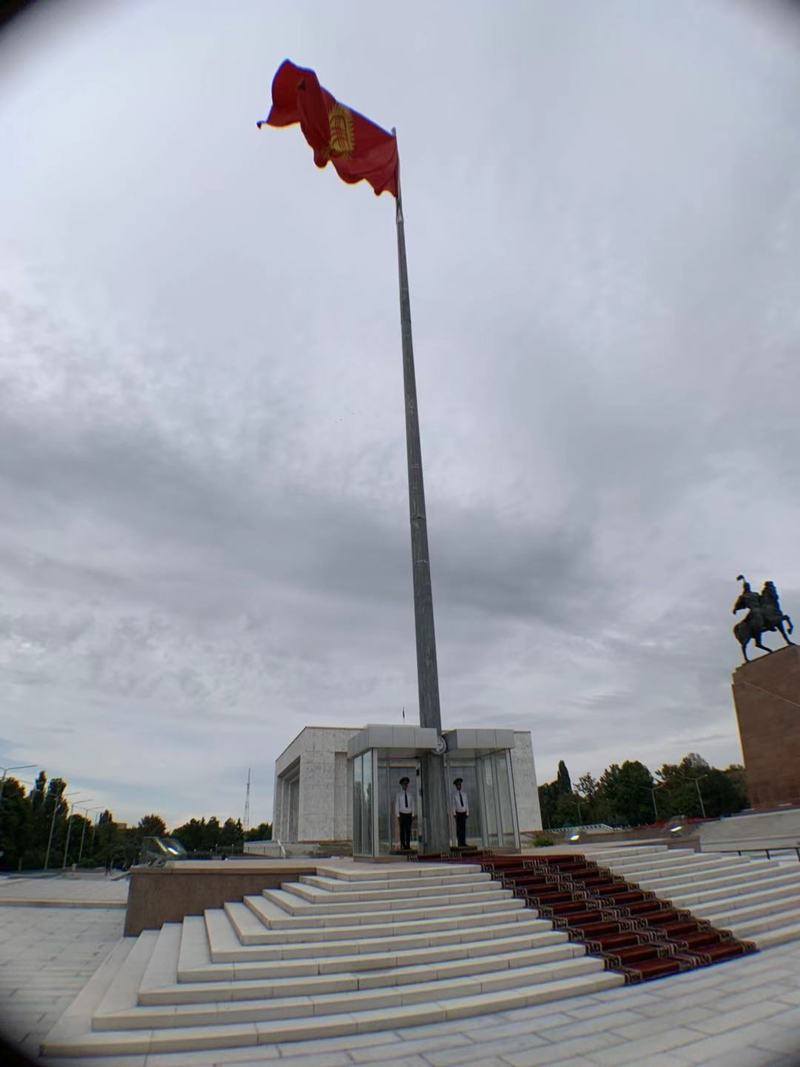 STATE HISTORICAL MUSEUM
The State Historical Museum is located as the backdrop to Ala-Too Square.
The imposing architectural style (modernist cube from Soviet times) cannot be missed.
Unfortunately, since its renovation, it has remained closed.
The good news is that recent reports have said it will open soon.
THE WHITE HOUSE
The White House can be found next to the main square.
It is the presidential office building and the focal point for the riots in 2005 and 2010.
This impressive structure is a great example of a Stalinist modern style clad in marble, the once seat of power for the Communist Party's Central Committee.
Standing and photographing this vast build, one can still imagine the president looking back.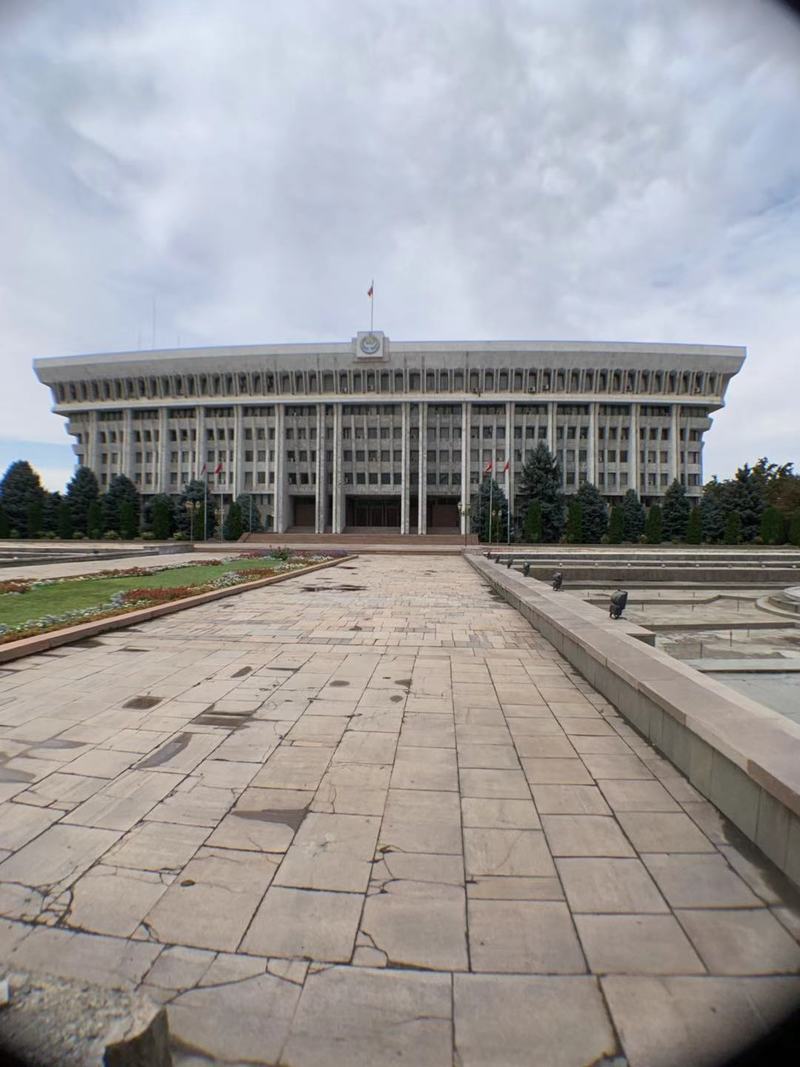 BISHKEK 2 RAILWAYS STATION
Bishkek two railways station was constructed in 1946 by German prisoners of war. It remains largely intact with little renovation.
On a more sombre note, many of those involved in its construction who died during this period were buried near the station.
OSH BAZAAR
Osh Bazaar is a traditional soviet designed market offering great local interaction and photo opportunities.
One can spend hours roaming searching for souvenirs, local handicrafts or seeing locals doing the weekly shop.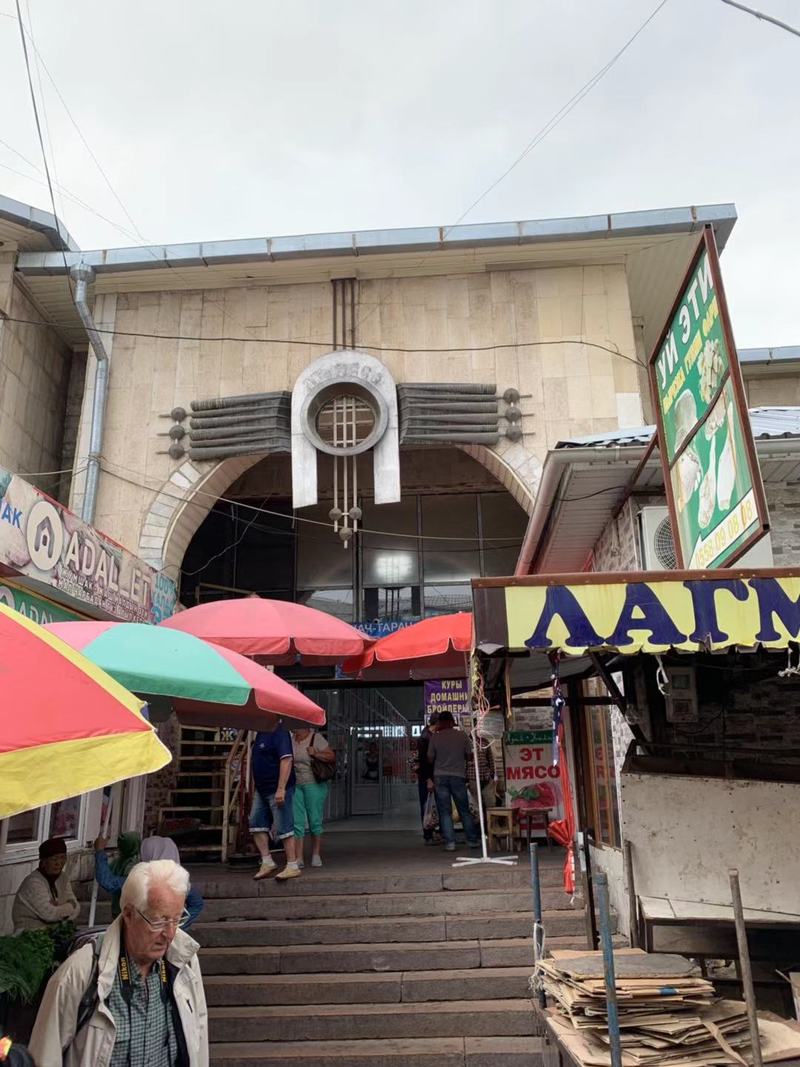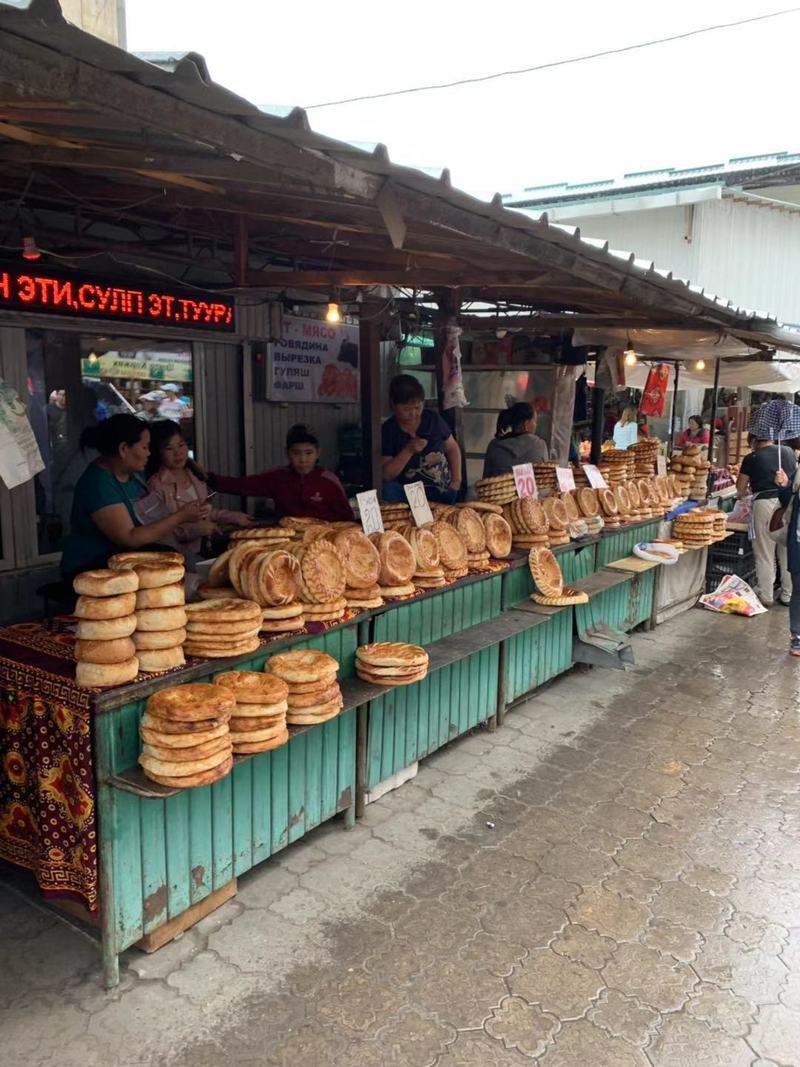 KYRGYZ NATIONAL PHILHARMONIC
The Kyrgyz National Philharmonic is a landmark building.
It is a real Soviet gem located in the heart of the city a great example of Brutalist style architecture.
---
Bishkek Restaurants
FOOD IN BISHKEK: CHAIKHANA NAVAT
Here, you can find traditional Kyrgyz food. Not for those on a budget, this restaurant can be a little pricier compared to similar outlets.
Although, the food is of a great standard in a lovely setting.
It offers both vegan and vegetarian options, along with its large selection of traditional meat eats.
For those after a traditional style meal, there is a large horse meat selection.
If you can't eat a horse, a favourite pick would be the 'plov' along with a side of traditional bread.
FOOD IN BISHKEK: ARZU
This Asian and local restaurant is one of my favourites offering nice dining at reasonable prices.
With an extensive menu, you can try local Kyrgyz cuisine or pay a little more for a western dish.
Vegetarian and Vegan options are available and a pleasant evening can be enjoyed.
Depending on the time of year, alcohol may not always be served (religious holidays).
Local beers can be commonly sampled along with more expensive Georgian wines.
Beyond Bishkek
Bishkek is a great city to visit as part of a larger tour as its location is part of the great central Asian crossroads.
Once here, you're perfectly located to follow the M41 highway (AKA Pamir highway) only 300KM from Osh - Kyrgyzstan's second city and a great place for a tour into Tajikistan.
To the East, one can adventure into Kazakhstan and visit one of the country's most beautiful cities Almaty only 190 KM the drive is a pleasant half-day journey.
Only 470 km further lays the capital of Uzbekistan Tashkent this journey though is made via road through Kazakhstan.
---
---
Interested in a tour to Central Asia?


Travel to Central Asia

with
Central Asia travel experts, Koryo Tours
International Tours | Sign up to the mailing list | About Koryo Tours