Introduction
History
Location
Gymnasiums, Hotels, and Facilities
Tips & Anecdotes
Pyongyang Sports' Street: Introduction
Chongchun Gori (lit. Youth Street) or as it is known for the rest of the World; Pyongyang Sports' Street / Sports' Village, is a city within the city as described in Model City Pyongyang.
Pyongyang Sports' Street was completed by 1989 for the 13th World Festival of Youth and Students and is the home to 10 indoor stadiums, a football stadium, 3 hotels, a health centre and restaurants.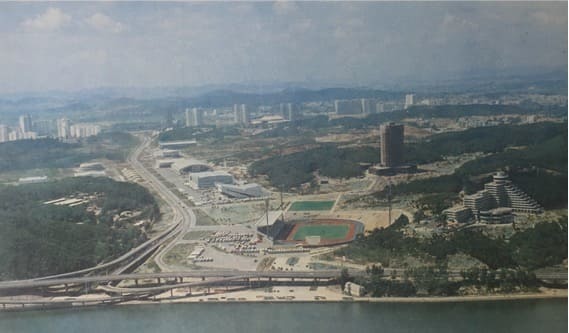 ---
Pyongyang Sports' Street: History
Constructions started in July 1986 initially for the co-hosting of the Games of the XXIV Olympiad (a.k.a. as 1988 Seoul Olympics) but eventually for the 13th World Festival of Youth and Students.
The indoor gymnasiums and other facilities were complete by September 1988, the three hotels were opened on May Day of 1989.
In 1985, backed by Cuban leader Fidel Castro, the DPRK suggested to co-host the 1988 Olympics under the name Korea Pyongyang Seoul Olympic Games and proposed to hold 11 events of the 23 sports (cf. the 10 indoor stadiums and the football stadium).
Several rounds of negotiations were held in Lausanne among the representatives of North Korea (DPRK), South Korea (ROK), and the International Olympic Committee (IOC) between 1986 and 1988.
In the meantime, construction works started in Pyongyang.
Many of landmarks of today's Pyongyang were built during this period: the May Day Stadium, Ryugyong Hotel (still not complete as of July 2020), Kwangbok Street (a 6-km long avenue with 25,000 apartments), Chongchun (Youth/Sports') Street, Yanggadko Football Stadium, and the Pyongyang–Kaesong Highway. In total, 260 new buildings were built that cost ca. 25-30% of the DPRK's annual budget.
Although Pyongyang's bid to co-host the 1988 Olympics had an ill-fate from the beginning as it lacked both the USSR's and China's support (both Moscow and Beijing didn't want to risk their bids for future events by boycotting the Olympic Games in Seoul. Also, Moscow – now under the rule of Gorbachev – had a bigger agenda for peace and reconciliation while Beijing recognized the economic potential of South Korea and its benefits for China), several offers were made over the two years of negotiations.
Offers ranged from handball and volleyball preliminaries to 8 complete events through three complete events including football.
The IOC also offered to call these events as Games of the XXIVth Olympiad in Pyongyang. At one point Kim Il Sung suggested hosting 1/3 of the events representing the 1/3 of Korea's population that lives in the North.
After it became obvious that a shared Olympics between the DPRK and the ROK is not possible, Pyongyang proposed to hold the 13th World Festival of Youth and Students to counterbalance or even outdo Seoul Olympics' success.
There is one thing the North managed to accomplish and the ROK couldn't: there was one participant from the South; Lim Su-Kyung ("The Flower of Reunification" as referred to in the North) who travelled to Pyongyang illegally for the event (she was arrested upon her return to the ROK and sentenced for 5 years' imprisonment).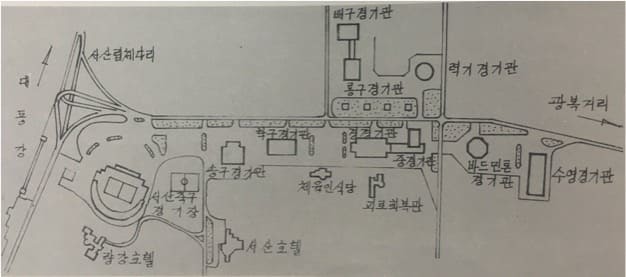 ---
Pyongyang Sports' Street: Location
Chongchun Street runs between Kwangbok Street and the Teadong River in Southwest Pyongyang, bordered by the Potong River in the East and Mangyongdae in the West.
The street is roughly 3 km long, intersected by Aesong Street that provides a corridor between Youth Hero Highway and Potong District.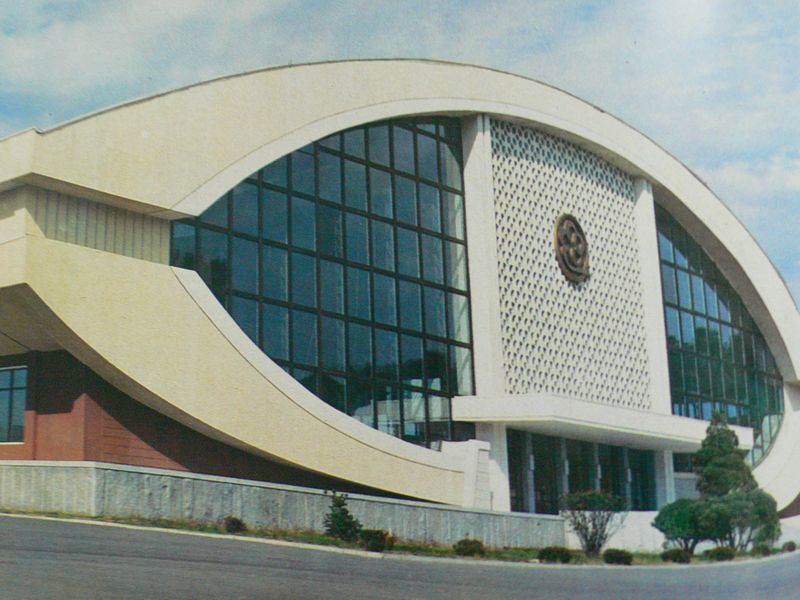 ---
Pyongyang Sports' Street: Gymnasiums, Hotels, and Facilities
Chongchun Street is home to 10 indoor stadiums, a football stadium, 3 hotels, a health centre and restaurants;
Handball Hall capable of hosting 2,400 people
Taekwondo Hall with the capacity of 2,400 people
Volleyball Hall: 2,000 seats
Weightlifting Hall: 2,000 seats
Badminton Hall that can host up to 3,000 spectators
Indoor Swimming Pool: 3,400 seats
Wrestling Hall: 2,300 seats
Table Tennis Hall, the biggest of the indoor stadium with the capacity of 4,300 seats
Basketball Hall: 2,000 seats
Athletics Stadium for an audience of 4,000 people
Sosan Football Stadium with a humble number of 25,000 seats
Sosan Hotel (30 floors, 523 rooms)
Ryanggang Hotel (13 floors with 327 rooms)
Chongnyon Hotel (31 floors, 446 rooms)
A health complex
Athletes' Restaurant
Each indoor stadium built in brutalist architectural style has a unique design representing the sport it gives home to.
Today there are even more facilities on Sports' Street that includes the Sacred Hall of Taekwondo and Maeri Shooting Range.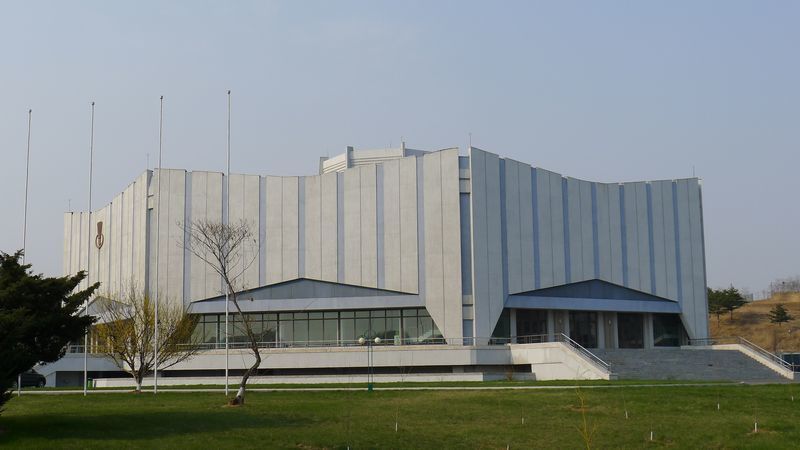 ---
Pyongyang Sports' Street: Tips and Anecdotes
If you're staying at any of the three hotels in the Sports' Village it's possible to go for a morning run (either a 2.5K or 5K).

In the mornings you can see North Korean athletes on morning runs or doing their morning exercise in front of the indoor stadiums. This is the DPRK's centre for sports, after all.

It is also possible to go for a walk, mainly for photographs of socialist brutalist architecture.

The eastern end of the street in front of Sosan Stadium is a venue for marching practice for parades.

Pyongyang Cycling Tour runs through Sports' Street.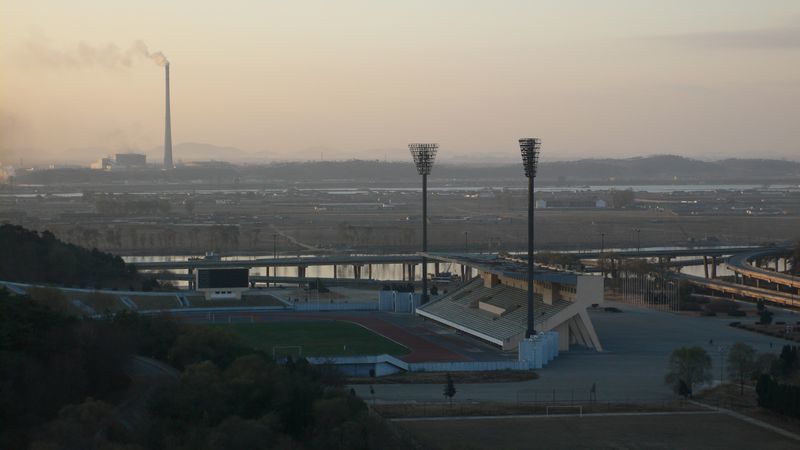 ---
---
Interested in a tour to North Korea?
Travel to
North Korea
with the only
North Korea travel experts, Koryo Tours
North Korea Travel Guide PDF | Sign up to the mailing list | About Koryo Tours