Ryanggang Hotel
Introduction
Location
Exterior
Interior
Visiting
Introduction
Along with the rest of the stadia and other facilities in the Sports Village of Pyongyang, the Ryanggang Hotel was built in time to be used in the 1989 World Youth and Students Festival.

Both the Sosan Hotel and the Youth Hotel (Chongnyon Hotel) were built for this purpose also, the Ryanggang completes the set of three late-80s hotels in this part of Pyongyang.

The name Ryanggang means 'two rivers' as the Ryanggang Hotel sits on a hill overlooking the meeting point of the Taedong River and the Potong River.

Being a 'Standard' class hotel the Ryanggang is somewhat less luxurious than the Yanggakdo and Koryo Hotels (classified as 'Deluxe' in the DPRK, but it has certain charms and attractions to make it a good option when staying in Pyongyang.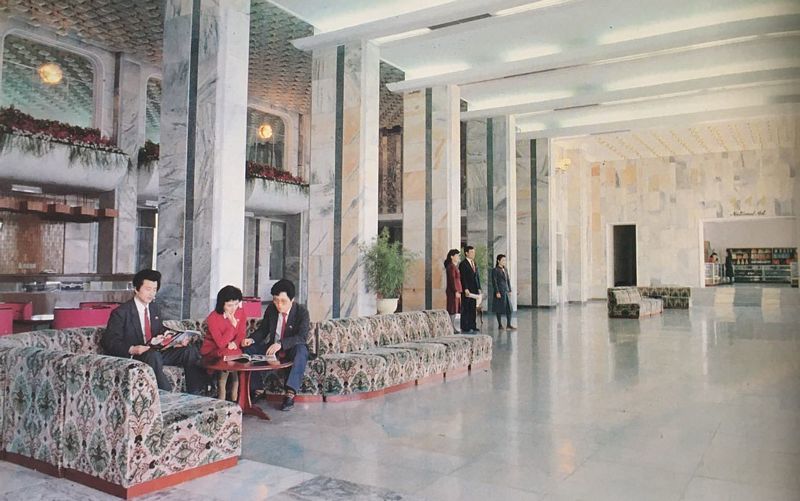 ---
Location
As per its name, this hotel is located at the convergence point of the two main rivers of Pyongyang, on a hill above the water and with some rooms facing this way while others look towards the sports village and Mangyongdae District.

Ryanggang Hotel is a mere 10-minute uphill walk from the Sosan Hotel. Both of them are situated at the south end of Chongchun Street.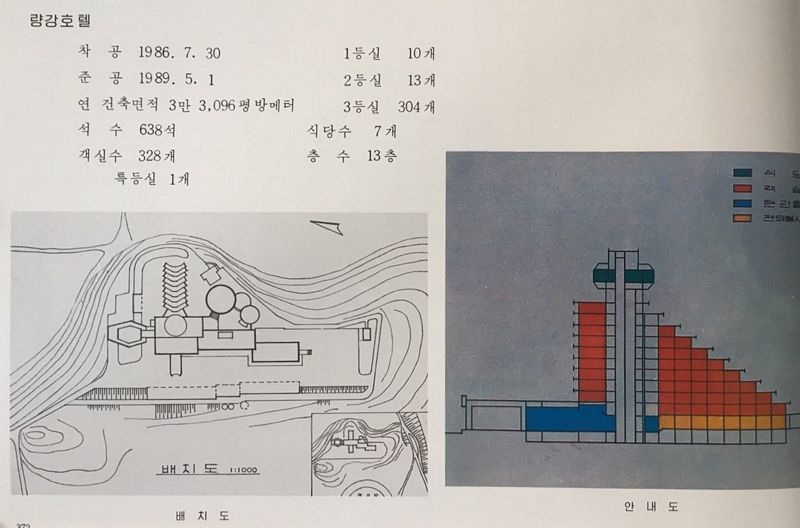 ---
Exterior
One of the most distinctive buildings in Pyongyang, the Ryanggang Hotel is roughly pyramidal in shape (lending comparisons, unfavourable usually, to the much larger pyramidal Ryugyong Hotel), and stepped up the sides with the balconies that each room is blessed with.

Topped off with a small revolving Restaurant which is rarely actually operational beyond serving food. This is not an unattractive building at all if you like this kind of faded-aesthetic.

Ryanggang Hotel can be said to be a very fine encapsulation of the design of the late 1980s DPRK.
There are elements of modernism and brutalism in the shape and scale of this structure, as well as it's unapologetic domination of the hilltop without regard given for blending in at all.
A brave piece of architecture that may look particularly dated in an era of clean lines of steel and glass but something both retro and mostly-fully-functional.
A bit of a gem in our opinion!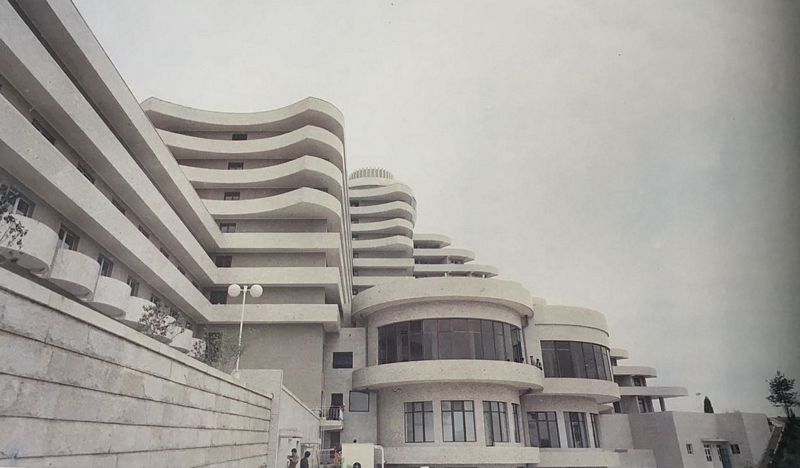 ---
Interior
Ryanggang Hotel has a reported 330 rooms. This is a large amount for a hotel in which only one or two elevators work at any one time and which also has limited space in the dining room. But there is usually capacity enough for whoever wants to stay here.

Rooms are a decent size and the balconies make them airy and light.
Thin mattresses and low beds don't suit some visitors, but these are standard across North Korea. TV (North Korean channels only), kettle, chair, desk, are the usual facilities provided and bathrooms are dated but still good enough, while hot water is usually available in some quantity or another for most guests there in the morning and evening.

Ryanggang Hotel's lobby is a particularly fun one. When entering from the car park, you arrive in a neon-lit grey marble area, with coloured lights not considered too 80s at all. A map of the world behind reception tells you the time in various cities that you have no need to know the time in at all.

A souvenir/local upmarket clothes shop is opposite reception, a small bookshop is near the elevators, and a bar sits opposite the bookshop. This bar has a limited range of drinks and doesn't really do meals beyond snacks, but it is a good spot to spend an evening.

Also in the hotel is a small pool, a nice karaoke room which is also very small and so often busy, billiards, ping pong, basically all the entertainment facilities you could possibly need…if you were to visit Pyongyang in 1989.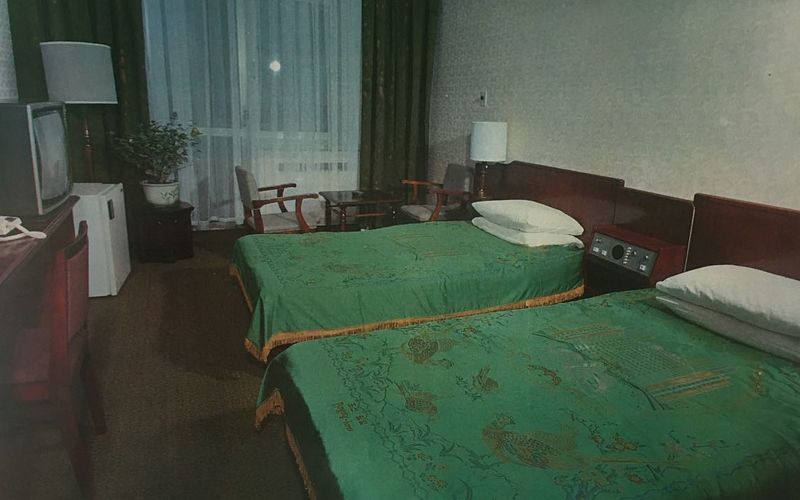 ---
Visiting
Ryanggang Hotel is fully authorised for foreign tourist and is usually used in more budget-oriented tours than its more famous counterparts.

While the room standard is not quite up to the level of the neighbouring Sosan hotel, it is a quieter place usually. If the entertainment isn't sufficient (or is full) then a walk to the Sosan is nice and easy (ask your guide first!) and there are other bars and things to do there too.

While the Ryanggang Hotel is slightly remote from the city centre, the traffic in Pyongyang is not so bad and so it is a quick enough journey to get anywhere. Another advantage of staying on Sports Street is that going for a jog in the morning can be easily arranged; local runners practice here every morning and so you will be very much not out of place at all.

Breakfast in the Ryanggang Hotel is served in the main dining room, through a couple of corridors from the lobby.
It is usually somewhat basic (eggs, toast, barley tea, instant coffee) but filling enough, the Ryangang is not known for great food options so it is recommended to have lunch and dinner elsewhere when staying overnight here.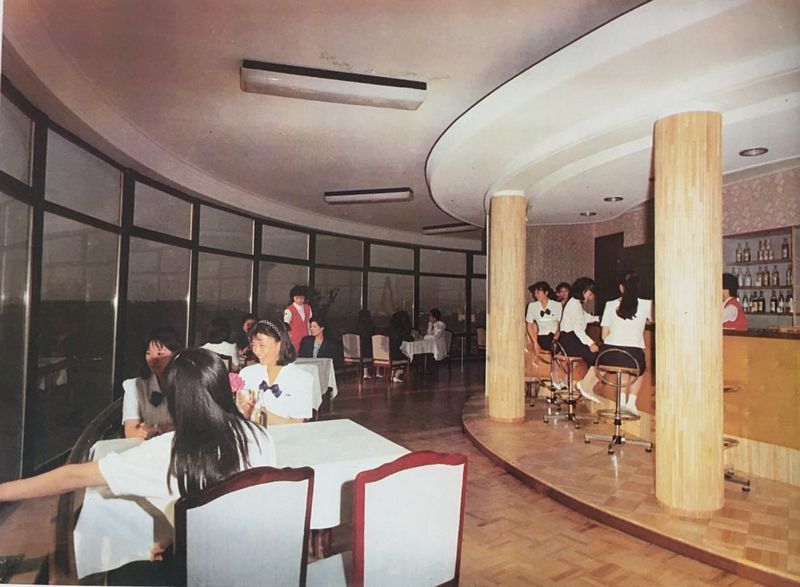 ---
---
Interested in a tour to North Korea?
Travel to
North Korea
with the only
North Korea travel experts, Koryo Tours
North Korea Travel Guide PDF | Sign up to the mailing list | About Koryo Tours