Pyongyang City Cycling
Introduction
Background
Pyongyang Routes
Other Routes
Pyongyang City Cycling: Introduction
Cycling, in general, was frowned upon in North Korea for decades, probably because it was seen as a primitive means of transportation in a socialist, modernizing society.
This has changed over the course of the 1990s and nowadays bicycles and even motorbikes are common images of any street scenes in North Korea.
In 2016, Koryo Tours has introduced Pyongyang City Cycling and cycling in Korea in general.
Since then we have arranged cycling tours in North Korea, offer tours with Pyongyang City Cycling, and it can also be added to any of our private tours as a unique option.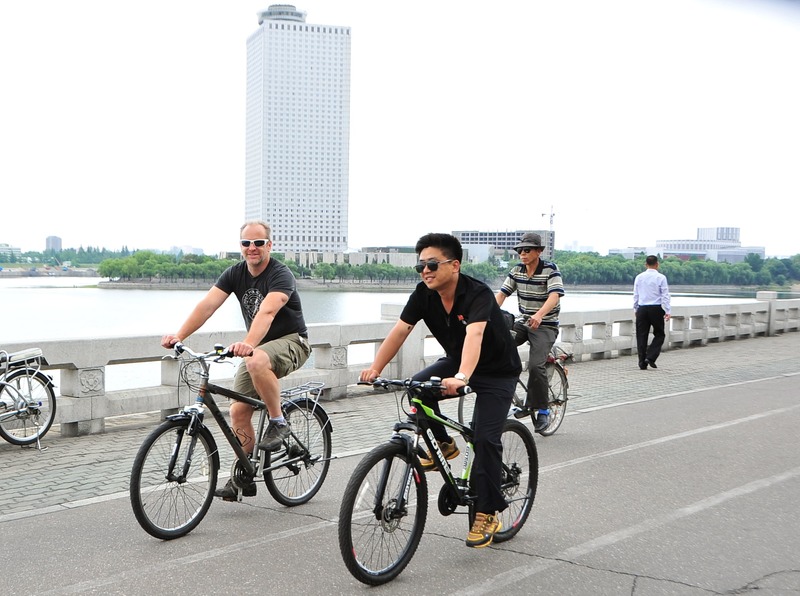 ---
Pyongyang City Cycling: Background
Since the early 1990s, bicycles have become an important means of transportation both in Pyongyang and across North Korea.
It wasn't always like this, though.
Before 1992, bicycles were banned from Pyongyang. The real reason is unknown but some speculates that they were deemed to be too primitive for a modern, socialist capital.
This ban has even led to a minor diplomatic incident. In the 1970s a Norwegian diplomat stationed in North Korea wanted to ride his own bike in Pyongyang. It took some negotiation until he was allowed to ride his bicycle in Pyongyang. Weekends only.
Although since 1992 bicycles were allowed in Pyongyang, in 1996 a new restriction was introduced: women were not allowed to ride bikes.
Nowadays, this has changed drastically.
Pyongyang has become a bicycle-friendly city.
Bicycle lanes can be found all over the city.
They are somewhat treated as cars would be in other countries and indeed they are equivalent to the four-wheelers in the rest of the World.
Each bicycle requires a license plate. This is a red circular-shaped piece of metal with the name of the district the bicycle belongs to, and a number.
To obtain a license plate, one must pass a test on traffic rules at the local police station.
The bicycle you ride can be a status symbol as well.
Japanese second-hand bicycles are considered the best, followed by locally made brands, and Chinese imports are the least sought after.
Nowadays, locally made brands enjoy a protectionist policy, import of bicycle is not encouraged, the least to say.
In 2017, a shared bicycle system was set up and the first locking stations appeared on Kwangbok Street. As of writing this blog in May 2020, however, the system is still not operational.
Recently, the number of motorized bicycles and motorbikes are also on the rise.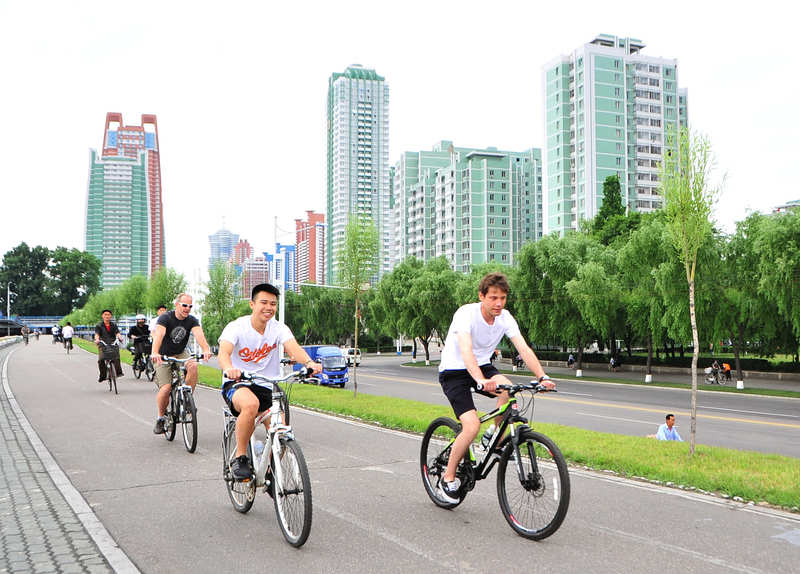 ---
Pyongyang City Cycling: The Pyongyang Route
There are several cycling routes in Pyongyang open for foreigners.
They can also be easily combined and you can tour the city on two wheels.
The typical Pyongyang cycling route would be the following (ca. 20 km);
Cycling in Pyongyang route
Start on Kwangbok Street.
Ride past Pyongyang Circus and turning onto Chongchun Street at Chongnyon (Youth) Hotel for a ride through Pyongyang's Sports Village (6 km).
Then ride along the Taedong River in Pyongchon District as far as Mirae (Future Scientists') Street heading towards the Central District (9.5 km).
Stop for photos at Pyongyang Grand Theatre and Kim Il Sung Square.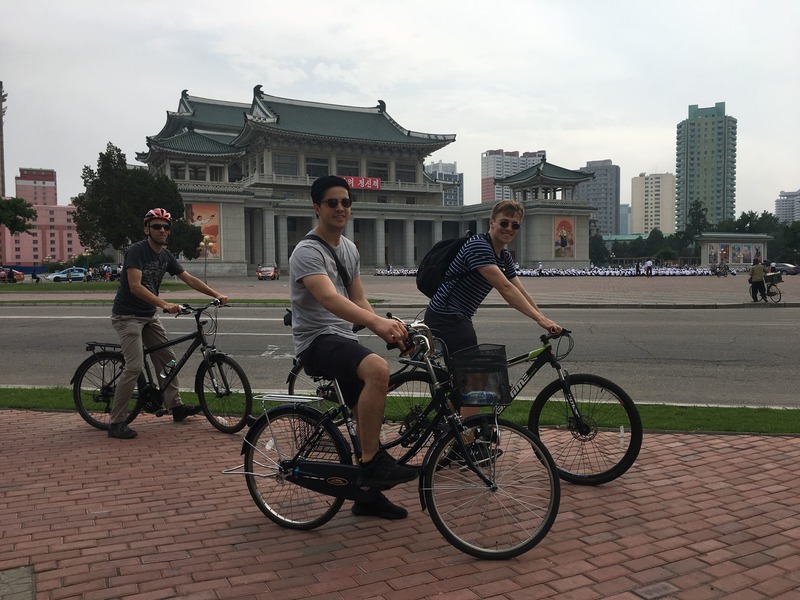 After the photo stops in the Central District cross over to East Pyongyang on Okryu Bridge for a visit at Juche Tower (1.5 km).
Then head to the Party Foundation Monument past Ryugyong Health Complex and Ice Rink, Golden Lane Bowling Alley, and Central Youth Hall (2 km).
The last leg of the sightseeing trip on the bike is through Teadeonggang District to Munsu Water Park (1 km).
---
North Korea Cycling: Other routes
It is also possible to do cycling outside Pyongyang.
We have arranged cycling trips from Pyongyang to Nampo.
In Masik Pass and Wonsan.
We also cooperate with Serk in arranging a North Korean cycling trip that includes cycling down to Kaesong and at Mt. Paektu.
---
---
Interested in a tour to North Korea?


Travel to

North Korea

with the only
North Korea travel experts, Koryo Tours
North Korea Travel Guide PDF | Sign up to the mailing list | About Koryo Tours