Youth Hotel (Chongnyon Hotel)
Introduction
Location
Exterior
Interior
Visiting Tips
Youth Hotel: Introduction
The Youth Hotel, also known as the Chongnyon Hotel, was built in 1989 for the World Youth Games.
It is classified as a;
"First Class North Korean hotel"
This is just a title though.
It doesn't reflect reality.
The hotel is 30 storeys tall and has 465 rooms.
It is finished in a very distinct shade of dark green that is unique in Pyongyang.
It is definitely one of Pyongyang's quirkiest hotels to stay at leaving you with an experience you probably won't forget.
Very few foreign tourists visit this hotel annually.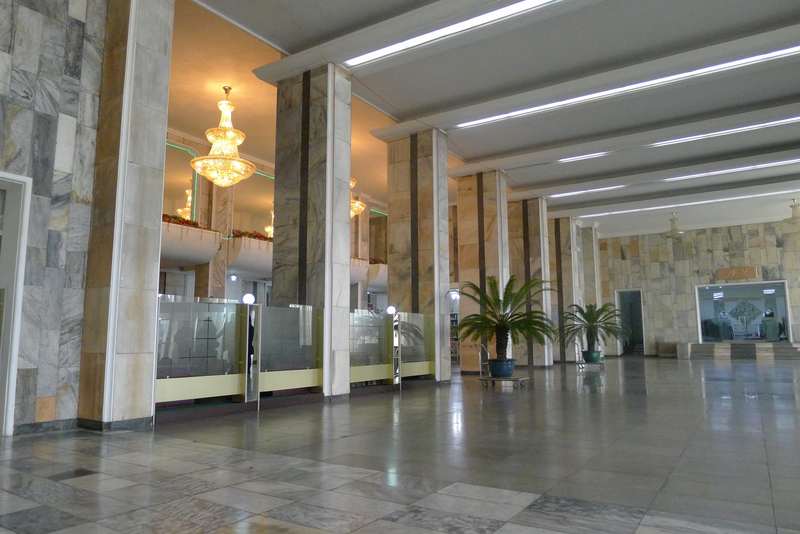 ---
Youth Hotel: Location
The Youth Hotel is located on Kwangbok Street in Pyongyang.
It is located on the junction of Chongchun Street and Kwangbok Street.
It is a few doors away from the Pyongyang Circus, and next door is the Pyeonghwa Motors dealership.
This is North Korea's only car manufacturer and car showroom.
Also located nearby are the Kwangbok Department Store, Mangyongdae Schoolchildren's Palace and Central Court.
It is just a stone's throw from the Mangyongdae area where you'll find Mangyongdae Native House and Mangyongdae Funfair.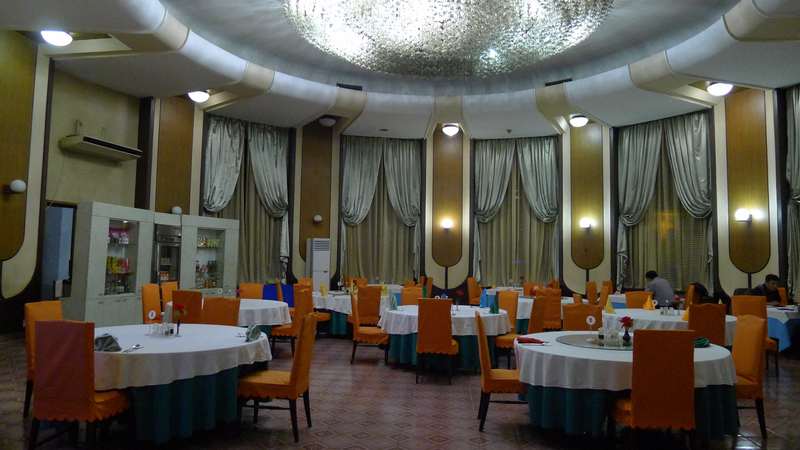 ---
Youth Hotel: Exterior
Its exterior shape resembles a missile, while its interior areas contain some of the finest examples of late-socialist interior design in the city.
The building combines a brutalist high-rise main section with cylindrically-shaped low-rise sections at the front and rear.
Particularly notable are the beautifully-designed circular lobby, the large, open balconies running along its perimeter, the long, curved billiards room on the hotel's first floor, and the two strikingly-designed swimming pools. One is indoor and one outdoor.
The latter of which features a distinctive curved design, original tiling and splendid views of the gargantuan socialist blocks around the hotel.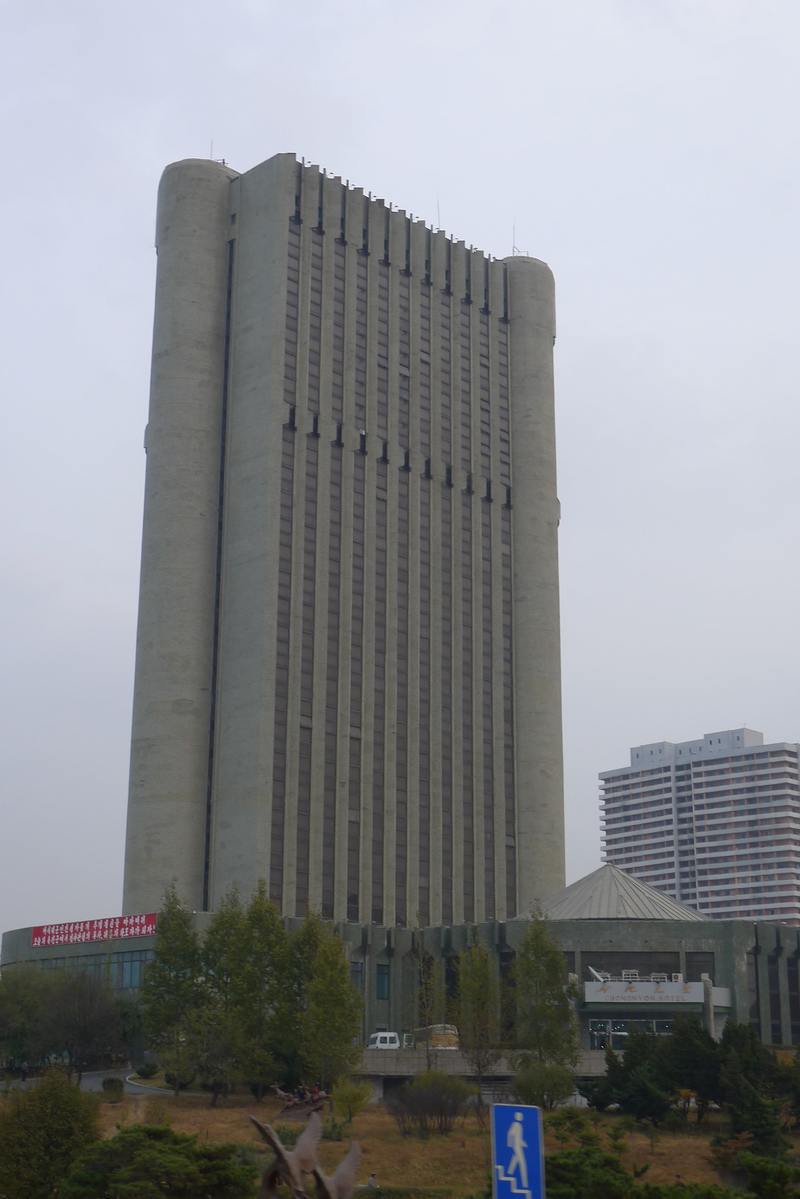 ---
Youth Hotel: Interior
The hotel has only ever received minor renovations at various times since it was built in 1989.
Some rooms and common areas are in good condition, but most are original 1989 condition and in need of renovation.
Bathrooms all seemed to have been renovated at some point and seem much more modern than the rest of the room.
Rooms are basic but comfortable for a short stay.
Televisions are tuned for local channels only.
Power points mainly seem to be the twin flat prong type in the room, whereas the bathrooms have the more common European twin round prong plug type. You may need to charge your devices next to the toilet.
Electricity can be unreliable, water pressure is low and hot water is only available during limited times.
Do ensure to confirm with your guides the hours during which hot water will be available.
The hotel is equipped with the following facilities;
Bar with a lounge area decorated to look like you're flying on an aeroplane
Two restaurants
Indoor swimming pool
Outdoor swimming pool with barbeque area (only open in summer)
Karaoke room
Bookshop
Air China's Pyongyang office is located on the second floor of the hotel.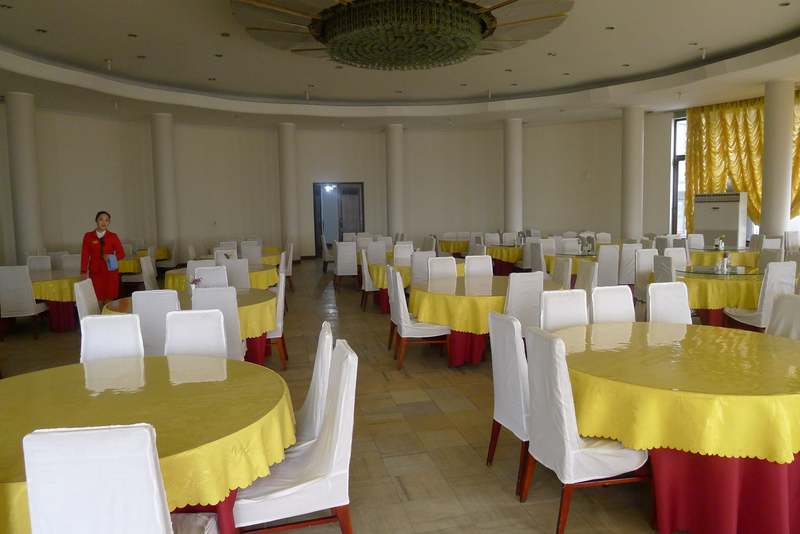 ---
Youth Hotel: Visiting Tips
Here are some tips for getting the most out of your stay at the Youth Hotel;
Room keys are attached to an unnecessarily large piece of plastic – you can leave it with reception when you're out sightseeing and pick it up when you get back.

The restaurant where breakfast is served is located on the second floor.

Breakfast is western style, but Korean breakfast can be requested the night before if you desire.

If you wish to use the indoor pool after returning from your day out get your guides to call ahead as it can close early if there are no customers.

Bar staff do try to close the bar as early as 10 pm sometimes even if there are paying customers in it.

The bar is the place to get your bottled water and snacks.

The hotel features one of the only open-air swimming pools open to tourists (the other being Munsu Waterpark) and is a great place to cool off and enjoy poolside barbeques in summer.

You don't need to be staying at the hotel to use the pool, just pay the entrance fee. It can get busy with locals here.

Attached to the hotel is one of Pyongyang's burger restaurants which features regularly on Koryo Tours' longer group tours, but you can also visit here if staying at the Youth Hotel if you desire a North Korean hamburger.
---
---
Interested in a tour to North Korea?


Travel to

North Korea

with the only
North Korea travel experts, Koryo Tours
North Korea Travel Guide PDF | Sign up to the mailing list | About Koryo Tours