Introduction
Destinations and Schedule
Ticket Booking
Baggage Policy
In-Flight Service
Fleet
History
Tips & Anecdotes
Air Koryo: Introduction
Air Koryo is the flag carrier and only airline of the DPRK and apart from Air China's tri-weekly air-bridge between Beijing Capital and Pyongyang, the only air connection between North Korea and the rest of the world.
Air Koryo serves four international destinations in two countries and two domestic airports.
It is also possible to charter Air Koryo planes both domestically (6 cities) and internationally. The latter is subject to approval by the civil aviation authorities of second countries.
North Korea's flag carrier is often referred to as the "only one-star airline", a myth busted in our blog in which we rated Air Koryo a 3-star airline.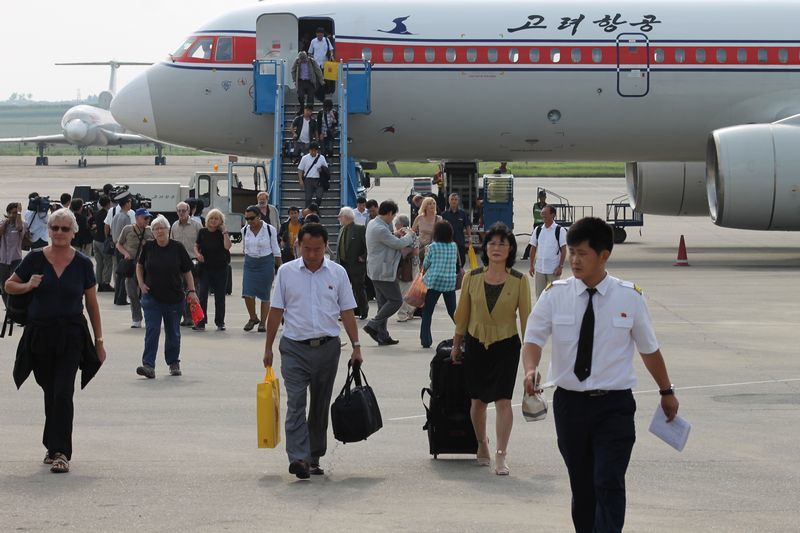 ---
Air Koryo: Destinations and Schedule
Air Koryo flies to four cities (Beijing, Shenyang, Shanghai, and Vladivostok) in two countries (China and Russia) internationally and to two cities (Chongjin, Mt. Paektu) internationally.
*Air Koryo operates at Capital International Airport Terminal 2 in Beijing and Pudong International Aiport Terminal 1 in Shanghai. In Shenyang and Vladivorosk there is only one terminal.*
It is also possible to charter flights within North Korea to Mt. Paektu, Chongjin, Wonsan, Hamhung, Mt. Kumgang, and Sinuiju.
Although as of writing this travel guide pleasure flights over Pyongyang are grounded but in general it's possible to take a pleasure flight over Pyongyang on a Mil Mi-17 helicopter or on a Antonov An-24 turboprop aircraft.
Flight. no. Days Route Dep. Arr. Aircraft Remark(s)
Pyongyang (FNJ) – Beijing/Capital (PEK) – Pyongyang (FNJ)
JS151 x2xxx6x FNJPEK 08:35 09:55 T20
JS152 x2xxx6x PEKFNJ 12:55 15:55 T20
JS251 xxx4xxx FNJPEK 10:10 11:30 T20
JS252 xxx4xxx PEKFNJ 14:05 17:05 T20
JS151 1xxx5xx FNJPEK 08:50 10:00 EQV *Apr-Oct* only
JS152 1xxx5xx PEKFNJ 12:00 15:00 EQV *Apr-Oct* only
Pyongyang (FNJ) – Shenyang (SHE) – Pyongyang (FNJ)
JS155 xx3xx6x FNJSHE 12:00 12:10 T20
JS156 xx3xx6x SHEFNJ 08:30 11:00 T20
Pyongyang (FNJ) – Shanghai/Pudong (PVG) – Pyongyang (FNJ)
JS157 xxx4xx7 FNJPVG 19:55 21:35 EQV
JS158 xxx4xx7 PVGFNJ 22:35 01:55 EQV
Pyongyang (FNJ) – Vladivostok (VVO) – Pyongyang (FNJ)
JS271 1xxx5xx FNJVVO 08:30 11:00 T20
JS272 1xxx5xx VVOFNJ 12:20 13:00 T20
Pyongyang (FNJ) – Chongjin/Orang (RGO) – Pyongyang (FNJ)
JS4101 x2xx5xx FNJRGO 10:00 11:00 IL8 *Oct-Mar*
JS4102 x2xx5xx RGOFNJ 13:30 14:30 IL8 *Oct-Mar*
JS4101 1x3x5xx FNJRGO 10:00 11:00 TU5 *Apr - Oct*
JS4102 1x3x5xx RGOFNJ 13:30 14:30 TU5 *Apr - Oct*
Pyongyang (FNJ) – Samjiyon/Paektusan (YJS) – Pyongyang (FNJ)
JS3101 x2xx5xx FNJYJS 10:30 12:00 TU3
JS3102 x2xx5xx YJSFNJ 14:00 15:30 TU3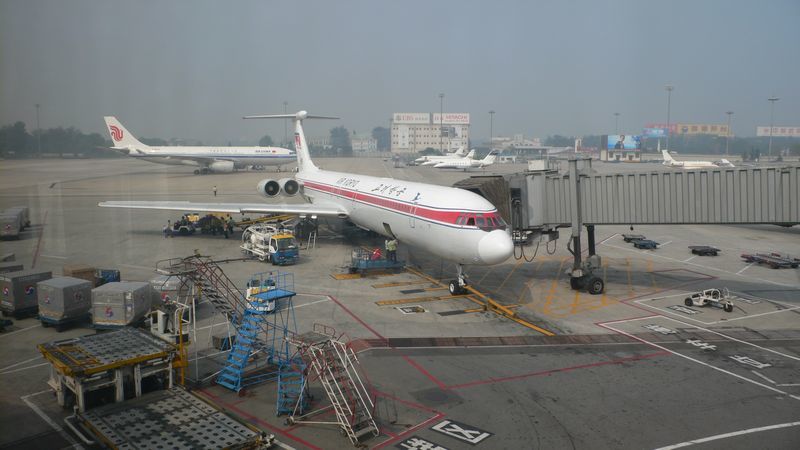 ---
Air Koryo: Ticket Booking
Ticket booking is handled by Koryo Tours and its partner in North Korea, the Korea International Travel Company.
Tourists cannot book their tickets directly with Air Koryo.
However, Air Koryo maintains ticket offices in Beijing, Shenyang, Shanghai, Vladivostok, Moscow, Berlin, and Kuwait.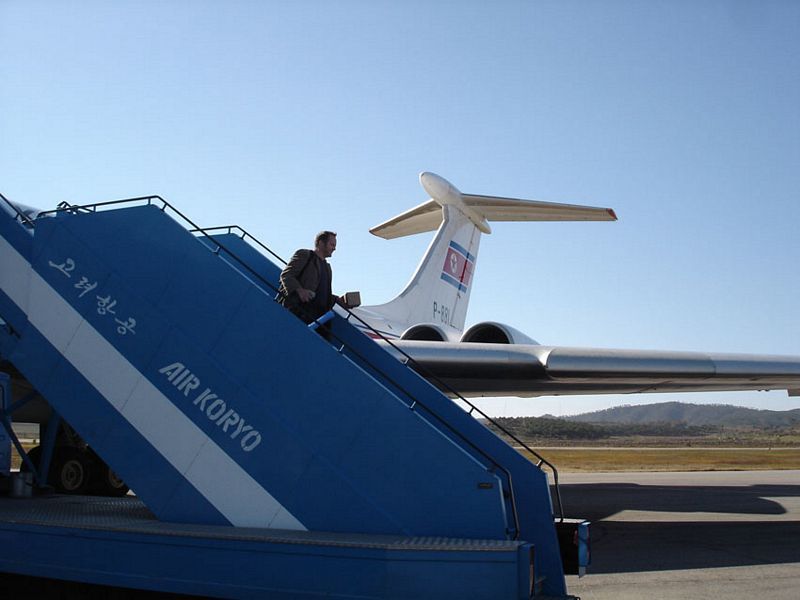 ---
Air Koryo: Baggage Policy
Economy Class passengers can check-in up to 23kg of luggage.
Business Class passengers can check-in up to 40kg of luggage to Pyongyang and 30kg of luggage from Pyongyang.
The carry-on allowance for Economy Class passengers is 1 piece while for Business Class passengers 2 pieces.
The dimensions for carry-on baggage should not exceed 115 cm in total (56 x 45 x 25 cm).
Carry-on limits are not strictly enforced.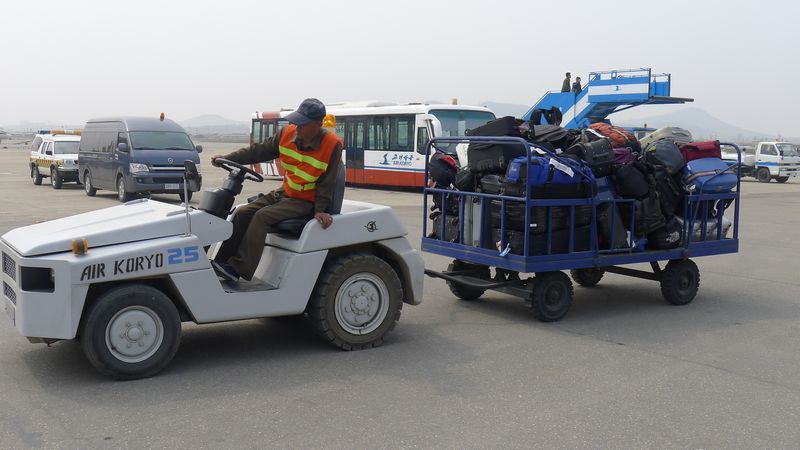 ---
Air Koryo: In-flight service
Depending on the travel class, length of the flight, and the time of the day Air Koryo offers cold and hot beverages and a snack or full meal on its international flights.
Vegetarian option is sporadically available.
On international flights, inflight entertainment is provided through overhead TV monitors.
On domestic flights, cold beverages are offered.
Newspapers (Pyongyang Times and Rodong Sinmun) and magazines (DPRK pictorial) are offered on international, domestic, and charter flights.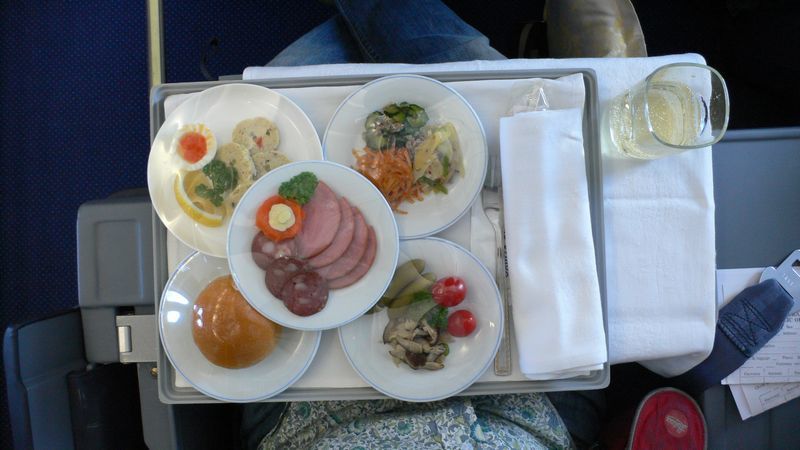 ---
Air Koryo: Fleet
Air Koryo's international fleet consists of modern Russian aircraft;
1 x Tupolev Tu-204-300 (8 C class and 134 Y class seats) (P-632)
1 x Tupolev Tu-204-100 (12 C class and 164 Y class seats) (P-633)
2 x Antonov An-148-100B (8 C class and 65 Y class seats) (P-671 and P-672)
The average age of the international fleet is 12.8 years.
The domestic fleet, both for scheduled and charter services is made of Soviet-era old-timers, a real treat for aviation enthusiast;
2 x Ilyushin Il-62M (12 C class and 138 Y class seats) (P-881 and P-885)
*A third aircraft (P-883) is a VIP configuration used by the government.*
2 x Tupolev Tu-154-B (16 C class and 120 Y class seats) (P-552 and P-561)
2 x Tupolev Tu-134 (72 Y class seats) (P-813 and P-814)
1 x Ilyushin Il-18D (100 Y class seats) (P-835)
3 x Antonov An-24 (48 Y class seats) (P-532, P-533, and P-537)
The cargo fleet has three Ilyushin Il-76 aircraft;
3 x Ilyushin I-76 (P-912, P-913, and P-914)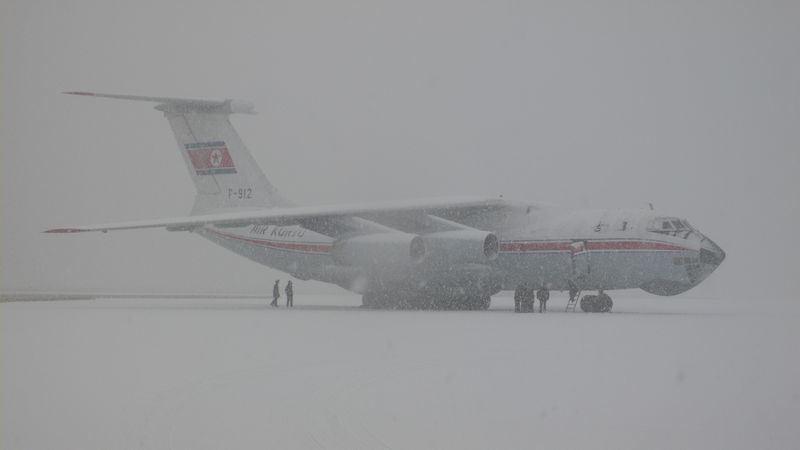 ---
Air Koryo: History
The first North Korean airline was founded as a joint venture with the Soviet Union after Liberation (1945).
In the late 1950s Chosonminhang – Korean Airways (조선민항) was founded.
Domestic operations were started to Hamhung and Chongjin, followed by the opening of international routes to Moscow (with stopovers along the way) and Beijing, Khabarovsk being added later.
Chosonminhang entered the jet age in 1975 with Tupolev Tu-154 aircraft and that allowed their route network extension to East Europe, including East Berlin, Sofia, and Prague.
In 1982 the first Ilyushin Il-62 was delivered allowing to fly to Moscow without technical landings along the way.
Flights to Japan were also operated sporadically due to the relatively high number of Koreans living in Japan associated with the pro-North Korean organization, Chongryon.
The Ilyushin Il-76 cargo aircraft were delivered in the 1990s.
Chosonminhang was rebranded as Air Koryo (고려한공) in 1992.
In the 2000s Air Koryo was also flying to Bangkok, Kuwait City, and Kuala Lumpur.
In the mid-2010s these flights were ceased as a result of a UN Security Council resolution urging member states to deny permission to North Korean aircrafts for take off, land, and overfly.
During the thaw in the inter-Korean relations in the early 2000s, there were also charter flights operating to South Korea.
The late 2000s and early 2010s saw a modernization of Air Koryo's international fleet: the first Tupolev-204 was delivered in late 2007 followed by a longer variant of the Tu-204 in 2010, and the two Antonov An-148s in 2013 and 2015.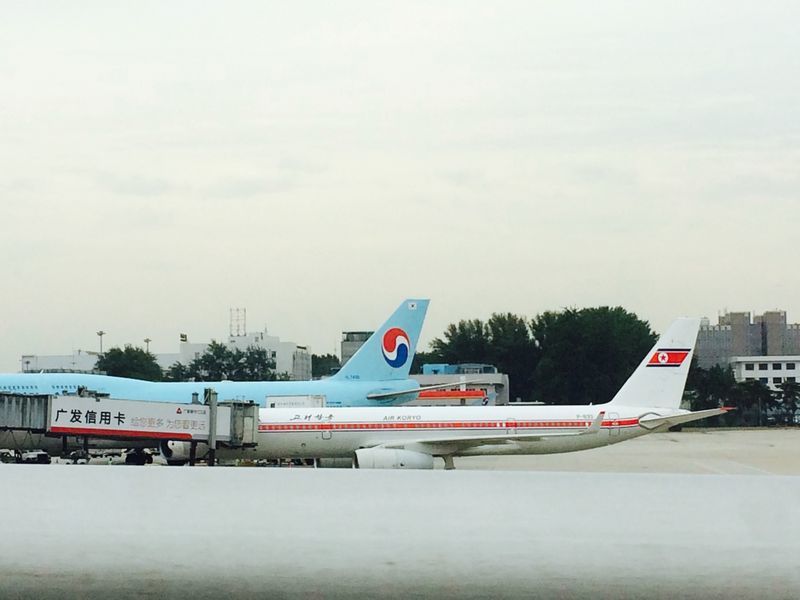 ---
Air Koryo: Tips and Anecdotes
Arrive early at the airport, approximately 3 hours before the scheduled departure time as check-in can take ages.
Makes sure that you have no electronics, lithium batteries, and lighters in your check-in luggage.
Have all your publishing in your carry-on and have them ready along with your electronics to speed up the customs check procedure at Pyongyang Airport.
Flying out of Pyongyang you can have liquids even in your carry-ons, Pyongyang Airport security doesn't observe the 10x100ml liquid rule. Lighters are strictly forbidden, though.
Buy water after security and before boarding when flying to Pyongyang. Departure delays in Beijing and Shanghai are more like a formality than irregularity due to air traffic control restrictions and the cabin can get quite hot – Air Koryo doesn't turn the A/C on until they start up the engines.
Although smoking is not allowed on all Air Koryo flights, this rule apparently doesn't apply to the Air Koryo staff. You can quite often smell cigarette smoke onboard.
The infamous Air Koryo has improved a lot throughout the years and in fact, it's quite delicious.
Air Koryo burger has been replaced with a 'tri-colour' sandwich on some flights.
Air Koryo maintains a very good safety record as opposed to the general belief and 2 aircraft of their international fleet could even enter European airspace.


---
---
Interested in a tour to North Korea?
Travel to
North Korea
with the only
North Korea travel experts, Koryo Tours
North Korea Travel Guide PDF | Sign up to the mailing list | About Koryo Tours