Vladivostok
Introduction
History
Visiting
Weather
Transport
Sights
Hotels
Bonus Section!
Vladivostok Introduction
Vladivostok. The name means 'ruler of the east' and it was with this modest goal that in the mid-19th Century Russian explorers and frontiersmen seized this part of the world and made it part of the Russian Hinterland.

Previously, this area had been either a constituent part of, or a vassal area of, various Chinese Dynasties and the history here is still somewhat contentious. Many in China claim that the city itself, known generally by its pre-Russian settlement days as Haishenwai (海參崴) is rightfully Chinese.

What is not disputed though, is that on June 29th1860 a small unit of Russian troops landed here from a ship and set up a settlement. That swelled into the current city of Vladivostok over the years.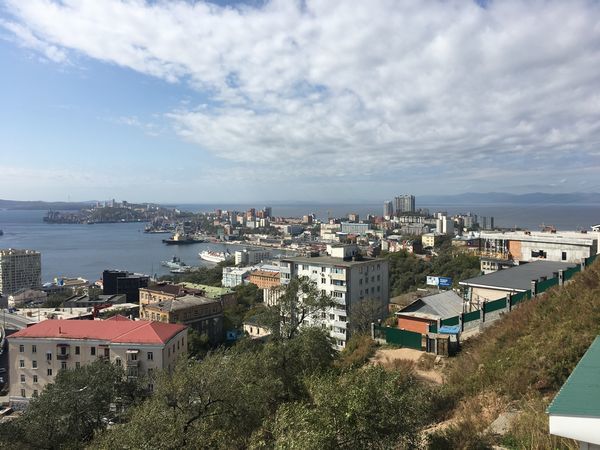 ---
Vladivostok History
There were wars in Vladivostok between expansionist Russia and the fading Qing Dynasty of China. Territory ebbed and flowed, then more parties joined more conflicts as first the Russo-Japanese War raged in the seas near to Vladivostok. Although this never reached the city, thanks they say to the forts built for just this eventuality – see below.
Then Tsar fell in far-away European Russia and the civil war swept east. Vladivostok was a traders town by that time and the Whites mostly fled abroad, after a curious period when Vladivostok became the first capital of the short-lived Far Eastern Republic, then of the even-shorter-lived Provisional Priamurye Government (the final White Russian Enclave of the civil war).

Finally, the Reds took the upper hand and took the city on 25th October 1922, 5 years after the Red October events in the far west.

From that time, Vladivostok has never been credibly militarily threatened, although as the HQ of the Soviet Pacific Fleet is has no doubt been in the crosshairs of various simulated conflicts during the Cold War and since then too.
A Closed City (no foreigners allowed in!) until 1992, Vladivostok also retains an air of mystery and of the forbidden form that time.
So, what better place to make a visit than this amazing European city that is far to the east of almost all of Asia?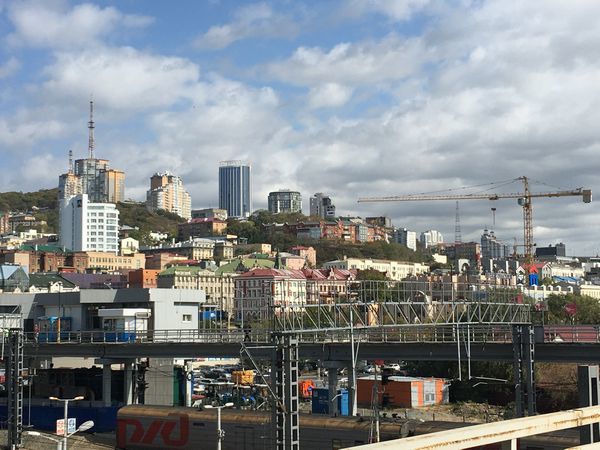 ---
Visiting Vladivostok
Vladivostok is a city on a peninsular. With the familiar utilitarian concrete apartment buildings forming suburbs heading north from the small central area at the tip of the peninsular, it has limited space to expand it has a densely packed central urban areas.

The large Russky Island has long been a settled area but only since 2012 has it been reachable by road. This per the Zolotoy Bridge and then the massive Russky Bridge opening then in time for the Island to host the APEC Summit and become home to the enormous Far Eastern Federal University.

Vladivostok is perhaps most well-known outside of Russia simply for its remoteness. It is the eastern terminal of the Trans-Siberian Railway and to get here by rail from Moscow, taking a full 7 days non-stop, so it is certainly a journey and half!
Despite this, the culture here is very European and visitors are in no doubt that they are in Russia as soon as they arrive, not for this area the gradual mixing of the various regional cultures, apart from better Asian food options than in the rest of Russia this is very much a part of Europe.

It is common to see various races of people around the city, and it has ever been thus. But again this is definitively a Russian European city. For those arriving on short hops from various east Asian destinations, this can create a bit of mild cognitive dissonance at first, especially arriving on a 90-minute flight from Pyongyang to suddenly find yourself in Eastern Europe!

Vladivostok exists though because of access to the sea. The port is ice-free and thus is home to large vessels.
The Submarines of the Pacific Fleet have moved to another bay up the coast, but ice breakers sit here all summer waiting for deployment to Magadan and other remote areas that get iced in through the bitter Russian winter.

Cargo ships and passenger ferries dock here keeping the port busy, and a large commercial fishing operation is headquartered here, making up an estimated 80% of the local economy – one other major industry being the semi-legal importing of second-hand cars from Japan.
If you find yourself anywhere in Russia or neighbouring countries looking at a used right-hand-drive car then that will have come off a ship in Vladivostok and been sold onwards from there.

Let's take a look at the highlights of a visit to Vladivostok and some practical information and advice for the adventurer making their way to this most fascinating of cities.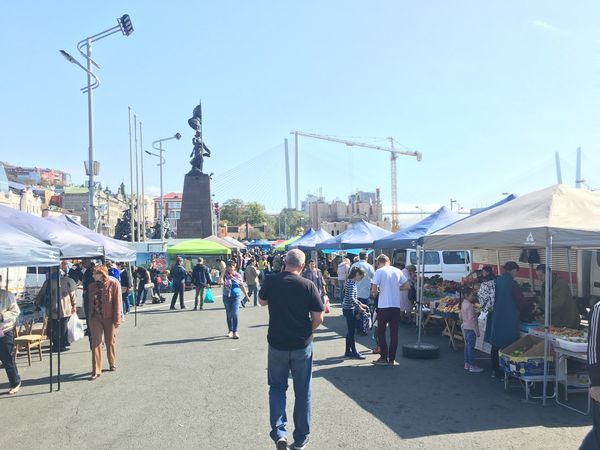 ---
Weather
What is the weather like in Vladivostok?

Pretty tough actually.
The summer is warm and quite unbearably humid, with temperatures up to the low 30s centigrade.
In August, it rains all the time (more or less, a kind of mini-Monsoon season) and due to the general wetness and humidity, there are clouds and fog obscuring everything.
In winter the weather in Vladivostok plunges below zero and snows lightly but enough to make walking around a treacherous pastime!

The bay itself may not freeze totally but some parts do. You can enjoy activities such as ice fishing, an ice marathon, and other on-water sports.
So the weather in Vladivostok can be tough, but this is Russia! It is a country for the tough, so don't let that put you off!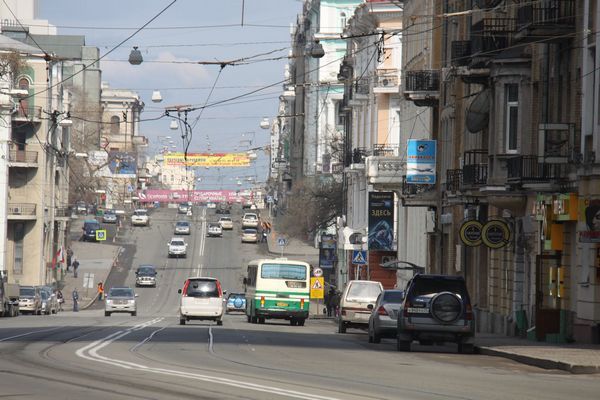 ---
Transport
How to get to and travel around Vladivostok

Flight
Vladivostok International Airport, the largest in the Russian far East after a recent expansion, is quite far from the city, an hour by road on a good day. Best is to take the fast train (which isn't at all fast) but costs only a couple of hundred roubles, however, it only runs a few times a day)

Flights go from here to multiple Russian cities as well as to China, South Korea, Japan, and even to Pyongyang (with Air Koryo, this is the only non-China destination they regularly fly to)

Ship
Vladivostok's Ferry Port is very central, right next to the train station, and large ships regularly arrive in the high season to disgorge multiple Japanese and South Korean tour groups into the city. It is a common sight to see Russian tour guides fluently speaking Japanese, Korean, and Chinese while taking groups around the highlights of the centre.

Most ferries come in from either Takaoka in Japan or Donghae in South Korea. There are some visa-free regulations for some nationalities when arriving by train but check in advance if this applies to you before heading off. Russian entry authorities don't just wave you in for no reason!
Train
The Trans-Siberian Railway starts or finishes in Vladivostok (depends on which way you are facing), and you can get from here to all of the major Russian cities by riding the rails.

Our pro-tip though is that getting on here and then getting off in Moscow while doing nothing in between is not the best use of the journey;' stop at some of the amazing places en route, explore some of the Russian interiors and get a sense of the scale of the place as well as having some amazing adventures along the way.

Buying tickets on the official Russian Railways Website is an easy thing to do and is also by far the cheapest option.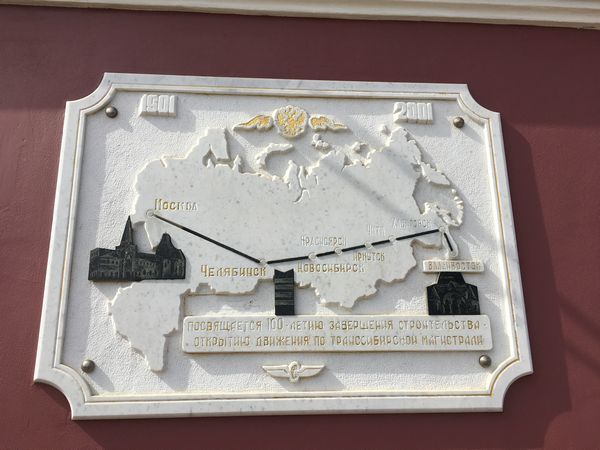 Public Transport in Vladivostok
Downtown Vladivostok used to have a fleet of trams and trolleybuses, they were cheap, looked cool, and were easy to use to get around, They were then all ripped out and the road was conquered y the cars that clog up downtown almost all day.

So if you need to go somewhere in a vehicle not you could take a marshrutka (a kind of mini-bus), or a taxi, Taxi drivers hang around hotels and the station and are usually looking for a longer journey from foreign guests.

Buses are cheap but crowded and take forever. Honestly just stay somewhere central and travel by foot, that's the best way to get around for sure.

Yandex Taxi is the app to download (it exists in English too) if you need to get an Uber equivalent.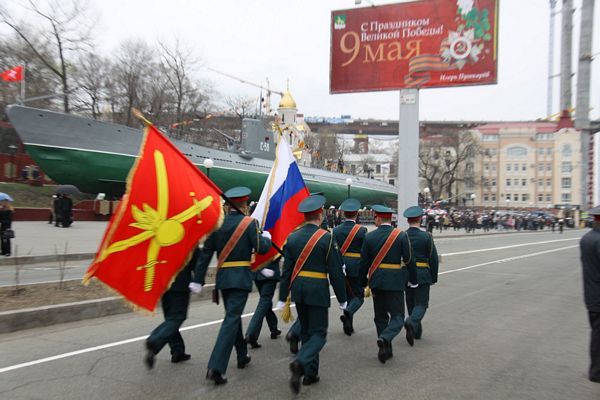 ---
Sights
What to do in and around Magadan

The Usual
As with all large Russian cities, there is a range of higher-cultural things to see and do; there are theatres (the Maxim Gorky Theatre from 1931 is a nice piece of soviet brutalism), parks, concert halls, churches and places of worship for various confessions (Orthodoxy of course, but also Muslims, Buddhists, Protestants, Catholics, Jews, and more).

We will focus here on the simpler and more proletarian concerns though, things which might not make the top 5 in the Lonely Planet but which we recommend anyway!
Vladivostok Fortress: Forts, Battlements, Underground Bunkers
For fans of the abandoned, of little-known history, or epic achievements in engineering and construction, there is not much better than the Vladivostok Fortress to visit, even though the sheer scale of the various sites and almost-complete inaccessibility of it means that only a little can realistically be visited on any single journey.

This system of forts and underground emplacements was built between 1889 and 1918, to entrench Russian power in this region. Amazingly despite the sheer scale of what exists it was only ever completed to two-thirds of the plan; the Bolshevik Revolution and simply running out of money putting paid to the hugely aspirational scheme.

Wikipedia has a good entry on this fortress and it is far too detailed to go into in a space such as this Travel Guide, but the strongest recommendation that can be made to anyone visiting Vladivostok is to get themselves to at least one side of the fortress.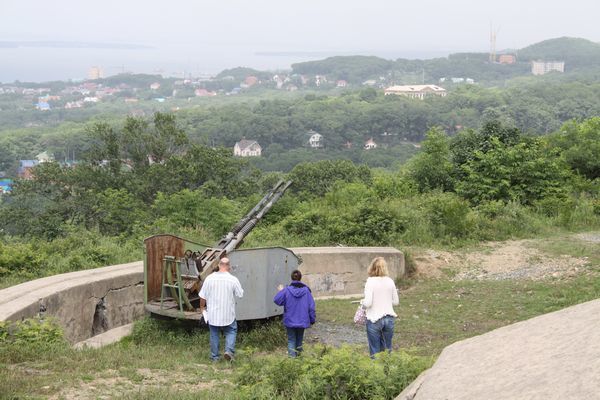 Fort Number 7
This is a museum and the easiest to reach (there is even a public bus) but there are also fortifications on Russky Island

This website also contains a good range of photos and info on the various sites of the fortress.

It is hard to describe just how massive and wide-ranging this place it though, it is not one single site, but a loosely connected series of dozens-hundreds of large and small sites. Some of them going as far as 100m underground. Some abandoned, some explorable, some not even rediscovered to this day. Do not miss this when in Vladivostok!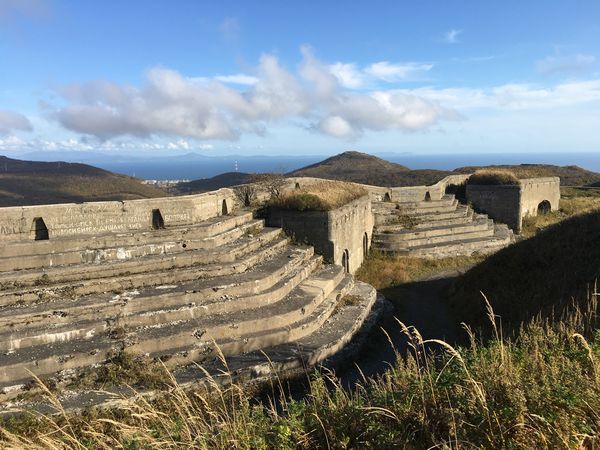 Vladivostok Digger Club
Vladivostok Digger Club is a local group of passionate and experienced folks who have spent decades exploring, charting, accessing, and opening up some of the underground parts of the fortress and the tunnels built during the cold war era too. If you wanted to visit the abandoned underground KGB base that is right in the centre of the city then these are the guys who literally hold the only key to the place.

Led by the amazing and inspirational Artur, these guys arrange guided trips that tourists can sometimes join (occasionally in more dangerous spots they are open only to Russian speakers due to concern for instructions being followed properly). They also do educational lectures and trips, and simply know more about subterranean Vladivostok than anyone else. Follow them on Instagram here, you won't regret it!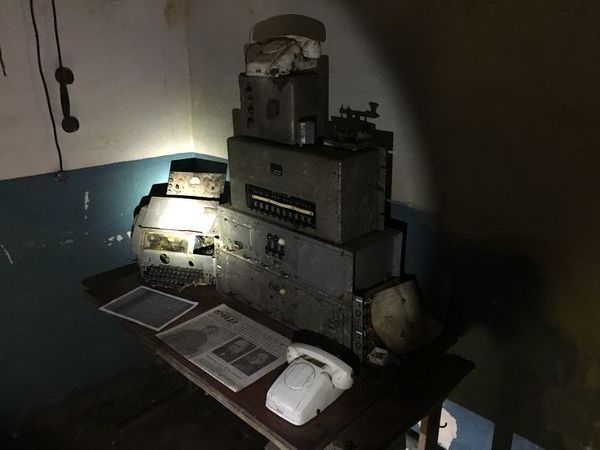 Voroshilov Battery
Located on Russky Island, this massive gun battery is claimed by locals as the single piece of weaponry that deterred the all-conquering Imperial Japanese from attempting a landing in Vladivostok.

Voroshilov Battery is basically a colossal gun pointing out to sea but with multiple underground levels that you can explore too. A small part of the weapon is fired every day (and more if you pay!) this is a very worthwhile side trip, not least to cross the new bridges and get over to the island, what was once a long day trip by boat can now be done by car in a morning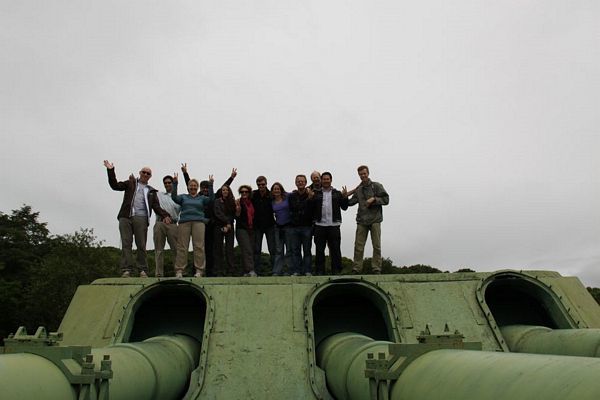 Central Square
The centre of the city and the best place to start a walking tour of downtown is this concrete area on the waterfront. With the very impressive statue group Memorial to the Fighters for Soviet Power in the Far East as its centrepiece. Usually mostly empty but occasionally home to a fun farmers market and the occasional concert this is a good place to get some orientation, some photos, and fan out to see the rest of the city from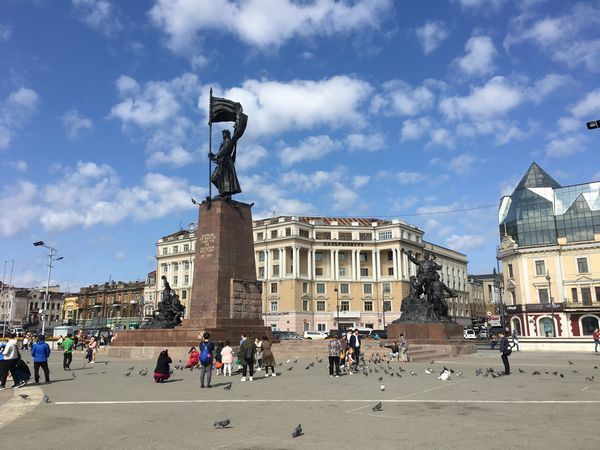 C-56 Submarine
Just down the steps from the square is this WWII era submarine, you can go inside and squeeze through the tiny gaps to see exhibitions on the development of submarine technology, and how sailors cooped up on this tin can would have lived.

This boat itself never saw action in the war but many like it did make the long journey to the west and never return.

The War Memorial next to the submarine is sobering and well done.

Just around the corner is the Nikolai Gate, built in honour of the visit of the then-Tsarevich (crown prince) who would become Nicholas II, the last Tsar of Russia. Local lore has it that he even got a naval tattoo while he was away from mum & dad in the far east, what a rebel!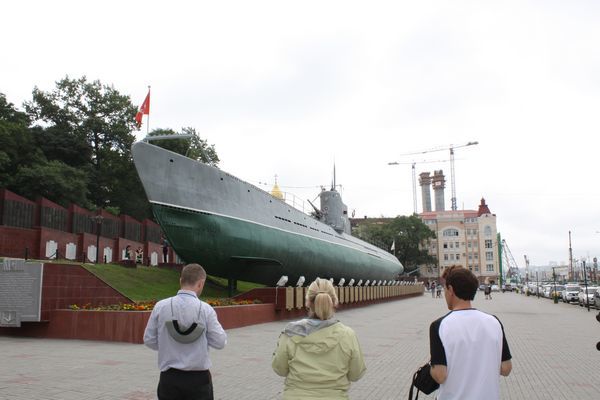 Eagle's Nest
A short walk from the central Square (head through the 19th Century buildings of the old university area) brings one to a beautiful Funicular Railway, ride this lovely vehicle to the top of the hill and here you are at the Eagle's Nest, 199m above the water and the highest point in downtown Vladivostok.

Topped by a statue of St. Cyril and St. Methodius and a small souvenir shop the main reason to come here is for the view over the downtown area and the bay here, as well as the new bridges and Russky Island. A lovely spot for a great view unless the clouds come down and swallow you up!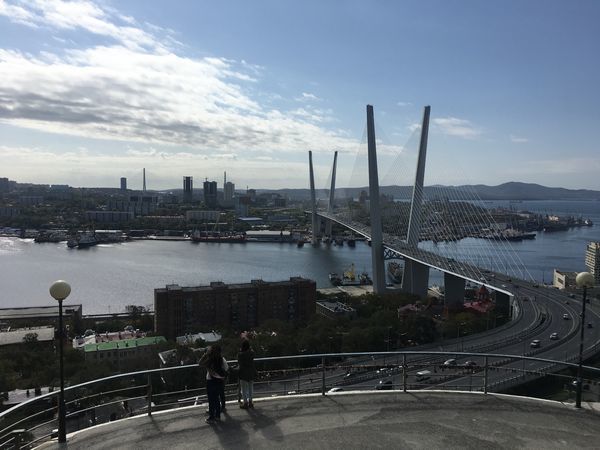 Egersheld Lighthouse
Best visited in winter when the ice freezes and you can walk or even drive over, this 1910-built small lighthouse used to guide vessels safely into the harbour.
Now it makes for great photos and a fine point from which to view the city from the opposite end to the Eagle's Nest.
Vladivostok Station
Even if not arriving or departing on the train this is worth a visit. With the same architecture as the larger Yaroslavsky Station in Moscow (from where the trans-Siberians starts) this place is aesthetically pleasing but also has much more to offer.
You can go down to the platform to see the marker than signals the end of the world's longest railway (9288km) as well as a well-preserved black steam engine donated to the USSR as part of the US' wartime lend-lease program.

There is also a marker on one of the walls at the platform reminding you that Ho Chi Minh was here as he headed to Moscow, pre-Vietnam War, on his path to becoming a proper Communist later in life.

Of course, if you are using this station as an arrival or departure point you will spend time here, but make a stop as a tourist too so that you can see all the sights and not be burdened by your luggage all the time!

Just outside the station is a powerful Lenin Statue with a small supermarket underneath his plinth.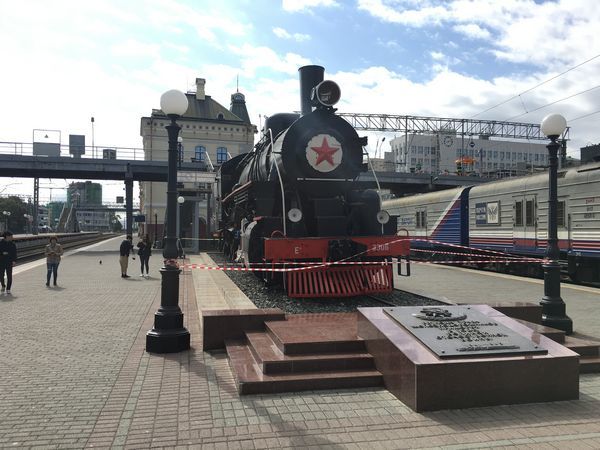 Arsenyev Regional Museum
Not actually an essential visit but a good place to spend an hour to get some info on the natural history of this ecologically diverse area (the famous bear vs tiger taxidermied animal fight is of course flamboyantly different to how these animals have ever interacted, looks cool though!
A little bit of Soviet history is shown here but it is mostly animals and plants. Next door is the shop of the Pacific Fleet where you can buy Russian Navy uniforms and badges as well as various other militaria
Sportivnava Harbour
Small seaside promenade and funfair, one of those old-school Russian ones that seem like a carnival came to town decades ago and forgot to leave. So, a small Ferris Wheel, some shooting games, a 7D cinema (maybe 9D by now, if there are that many dimensions!) and a good place to mix with locals, have fun, relax when there is good weather!
Walk the Town!
Vladivostok centre is small, easy to walk around and this is the way to do it.
There are hills of course but mostly you won't be needing to climb them (and the one main hill has a funicular after all).
Stop at Clover House (Known to locals as 'Clever House' due to the calligraphy of the sign) if you need a supermarket (most of the mini-buses that drive around the city start from here too). Stop at the Pushkin Statue (the only monument more ubiquitous in Russia than a Lenin!). Pop into one of the innumerable coffee shops that dot the city, try a slice of pizza in a plastic bag at Magic Burger on the main Svetlanskaya Street, stroll down Fokina Street, the city's Arbat (a Russian term for a pedestrianised street), stop at the British Tea Shop (5 o'clock, that's the name), and pass through the area once known as 'Millionka' the former China town so-called because of the perception that it contained an uncountable number of residents in its cramped tenements.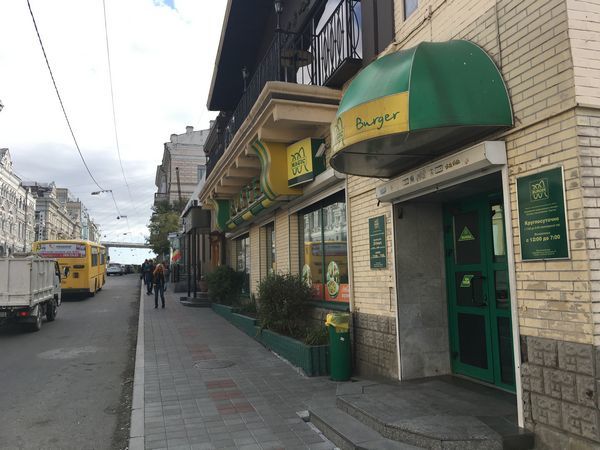 Vladivostok rewards the curious and there is all manner of fun street arts from the Soviet days to amusing contemporary graffiti as well as architectural gems to be seen around. The city used to have a reputation for being a bit on the rough side but that is all in the past and it is one of the more peaceful Russian cities for sure.

Be sure to stop for some of the local chocolate, the seaweed flavour is a gimmick, but the sea salt flavour is good enough to seize the territory to get a mouthful of!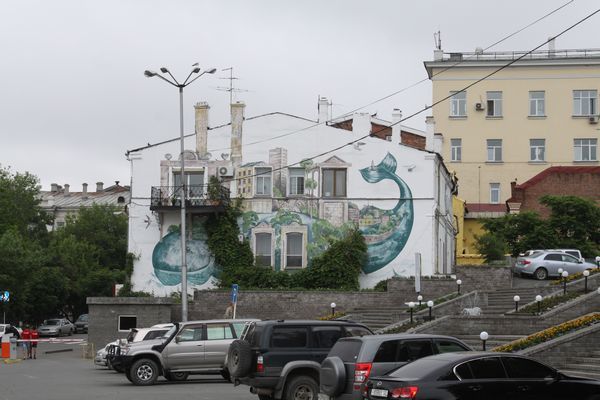 ---
Hotels
Being a sizeable city there are a lot of options in Vladivostok, from Airbnb and hostels to quite fancy spots. We will list a couple of central options and of course more can be found on all the usual booking sites.

A strong recommendation is to stay downtown though to avoid having to bother with finding transportation in and out of that area. As the city centre is walkable it is very much worth the slightly higher costs

Azimut Hotel: The former Hotel Vladivostok, high on a hill over the city centre and with a lovely seaside view. Rooms are old and this is very much a faded giant. Good value but a calf-killer of a walk to get back up here after a night out in the lower section of town!

Hotel Versal: Once the fanciest place in the city (now that is the Lotte Hotel), this small place is ideally located and quite luxuriously outfitted. Pricey but in a hard to beat location and with everything you need for a short visit within a short walk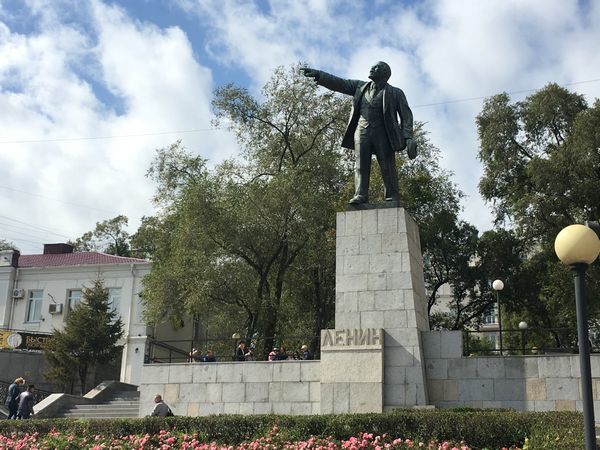 ---
Bonus Section!
Well done for reading this far, here we provide a couple of extra facts and snippets about the amazing city of Vladivostok!

• This is the original home of Hollywood titan Yul Brynner (the bald guy from the Magnificent Seven, and the King in The King & I). Brynner's family were merchants and so did a runner as the tide of the Red Army advanced, leaving when he was a baby. Despite this, he is claimed by the city and his grandson is deeply involved in the local film festival. A statue of Yul can be found on Aleutskaya Street, near the railway station, outside what was his family home.

• If you like Georgian food (and if you don't then you will, try it ASAP!) the restaurant Supra, next to the Dinamo Stadium is simply the best in the region. It gets very busy so a boking may be needed but you won't regret it. Lovely and super-fun!

• Enjoy a tasty cocktail? Moonshine is the bar with the best in the city. It is a bit hipstery and of course, everyone has a well-crafted beard in a place like this (even more so in the related craft beer bar next door!), but the Negroni on offer here is the best for literally hundreds of miles!

• What is more popular than eating and drinking? Football of course! Vladivostok is home to the plucky FC Luch-Energiya. Previously premier league perennials almost unbeatable at home (helped by the fact that their opponents had to travel countless hours and multiple time zones to play them) they now play in the first division and a home game here can be a rowdy and profane experience. Check the schedule in advance and tickets can be bought outside the Dinamo Stadium where they play. It is laddish and with the faint hint of imminent violence so not for the timid, a bit like going to European football in the 80s and early 90s.

• Mumiy Troll – one of Russia's greatest rock bands and a popular act since the mid-19080s are from Vladivostok. A truly popular band with a vast discography who are still producing music, they also own a bar near to the Dinamo Stadium (MT Bar) which is filled with their own memorabilia, like a Hard Rock Café in a world where there is only one band.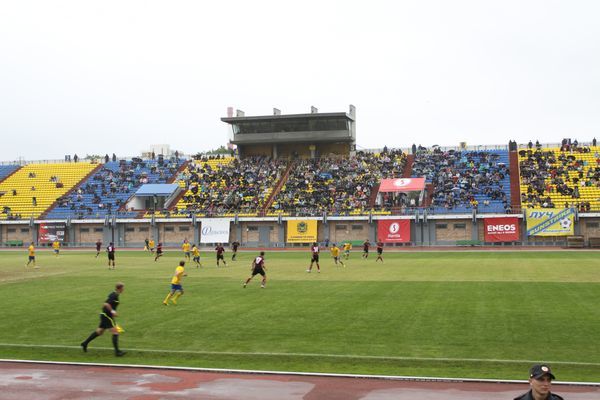 ---
---
Interested in a tour to Russia?
Travel to
Russia
with the
Russia travel experts, Koryo Tours
Russia Tours | Sign up to the mailing list | About Koryo Tours