Since writing, GM Simon has made it back to Beijing - just a few hours before the government introduced the compulsory 14-day quarantine at a government facility.
He arrived in Beijing a few hours before this and is currently undergoing 14-day quarantine at his home in Beijing, under careful watch.
Read about his experience here.
In 2003 when SARS was at its peak in Beijing I was a mere 25 years old, younger and more reckless than I am today.
I was the General Manager of Koryo Tours at that time (and am still GM! No promotion in 17 years, maybe I should call the union).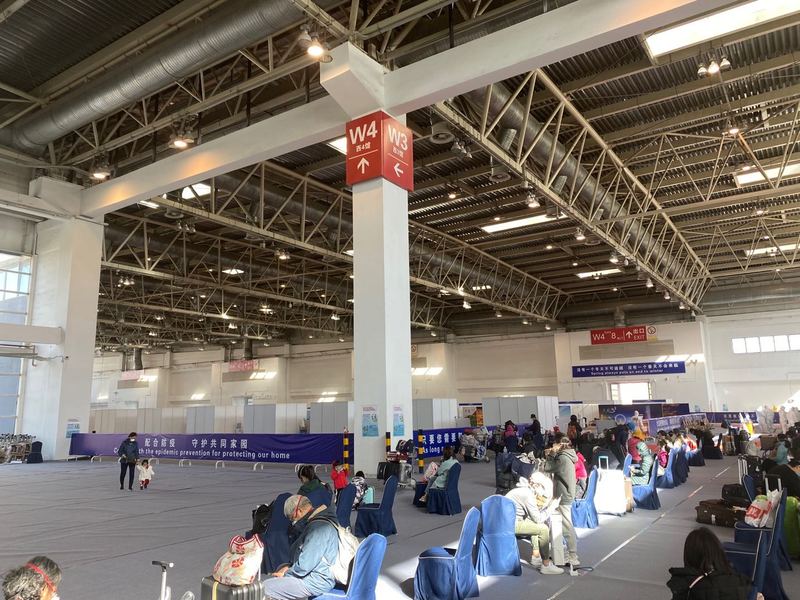 China & SARS
At the time, part of me thought SARS was a bit of a pain (it closed the North Korea border, meant we had zero clients for some months, shut down most of the city's restaurants and so on) and also something of a unique and fun time (empty streets, lots of leisure time, the dubious excitement of living in the epicentre of the world's biggest story).
Of course, even in my youth I didn't lose sight of the fact that thousands of people were suffering from the disease and that hundreds had died, this was manifestly a tragedy, and even in the absence of social media it was widely known to all in Beijing that the number of cases for weeks was significantly higher than the zero being reported officially (was a broader lesson learned from that disgraceful cover-up? Partly yes and party no).
At the time I wore a mask only twice; once to go to the airport to see a friend off to Pyongyang (even though the border was closed North Koreans were still going into Pyongyang, quarantine for 2 weeks on arrival) and once to a party. Otherwise, there didn't seem to be a need and while there was still some panic (especially when the real numbers were finally revealed) it didn't seem to me to be the level of this time around.
The bar near my flat remained open and took the precaution of providing every customer with their own pint glass with their name written on it, as did some restaurants.
The DPRK tour market was much smaller at the time and there were only two of us in the company, so while it was a great blow it wasn't as severe a hardship as today's issues, also the market rebounded very quickly (again probably because it was so small, just a few hundred tourists per year) after the crisis was over, we can only hope that this happens again this time around!
The most uncanny moment I experienced during SARS was when I had to go to a medical supplies shop in Wangfujing, the busiest pedestrian shopping street in Beijing - imagine Oxford Street meets Time Square.
I had somehow fallen on some ice and broken my hand one night and after visiting a couple of hospitals and being sent away as they would only see people with suspected SARS, never mind the actual bone sticking out of my hand.
I finally got put in plaster and was sent off to get a sling.
I walked into the centre of Wangfujing and saw not a single living thing in either direction on a street normally teeming with human life of all kinds.
If I had a camera or advanced phone at that time this would have made an amazing photo, and these kinds of scenes are being replicated in Wuhan regularly now.
China & Ebola
In 2014-15, the Ebola outbreak caused untold death and suffering in Africa and caused panic and alarm across the world.
North Korea responded by closing its borders again (Ironically we are often asked if some political drama could lead to the border being sealed, this has literally never happened; it is always a response to disease).
This time, it was unexpected seeing as nobody in the whole of Asia had Ebola.
The country was closed to tourists for 4 months and this had a devastating effect on our company and business. Beijing didn't shut down at all of course and it was business as usual for everyone not in the DPRK field. I spent some of the time worrying in Beijing, and some of it off getting married and on honeymoon (with North Korea closed to tourists I had to settle for the Caribbean, a hard choice!). Eventually, the risk, or perceived risk, in this case, subsided and the borders opened again. Tourism numbers rebounded promptly and saved the industry. Great relief all round!
North Korea, China, and Covid-19
Now here we are I the age of Covid-19, a nasty and persistent panic-causer around the world. North Korea was the first country to respond to the spread in China by sealing their borders again.
This seemed excessive initially and led to a lot of "when China sneezes, DPRK panics" kind of comments, from the current position thought this seems to have been prudent even if heavy-handed.
So, all tourism stopped dead in its tracks.
Pyongyang Marathon cancelled, it's a big blow to the company and the industry, but we will get through it and come out the other side for sure. I personally have spent only about 10 days of the hard times in Beijing as I was away when it all started and then away again just after the peak-panic time, so I have avoided quarantine but have had to be certified to enter the area of our office, had to wear a mask to go into any building (banks, shops, etc). Colleagues of mine have been stranded abroad, been quarantined at home, had times of both excitement and boredom, its been a challenge and continues to be so, hope it is over soon!
It's heartwarming to see that the foreigners of Beijing don't all just cut and run, abandoning the city at a dark time.
There have been some silly media stories (such as this chap and his claim that people are fighting over carrots) and there has been a lot of rumour-mongering (despite it being outlawed in China!) but we hope that calm heads and clean hands prevail soon and we can get back to work.
Thanks to all of our friends and clients for their understanding and patience – we will get you back to North Korea soon, and for those who missed out on the Pyongyang Marathon, we will get you there in 2021!
---
---