Tumangang Railway Station
Introduction
Architecture
Location
Visiting
Introduction
Tumangang (literally 'Tuman River') is a small town in the Rason Special Economic Zone in the far northeast of the DPRK, the last stop in the country before Russian territory begins.
The Tumangang Railway Station sits here as the main reason for the town's existence as well as the transit point for all passengers and freight passing by land between North Korea and Russia.

From this point, train lines stretch back to Pyongyang Station and onwards to Khasan in Russia, then all the way along the Trans-Siberian railway, passing the line that goes to Vladivostok, then on to Moscow.
Rail lines of both Russian and Korean gauges exist here and trains travelling between Pyongyang and Moscow will pause here for 1-3 days to allow for delays in the North Korean network.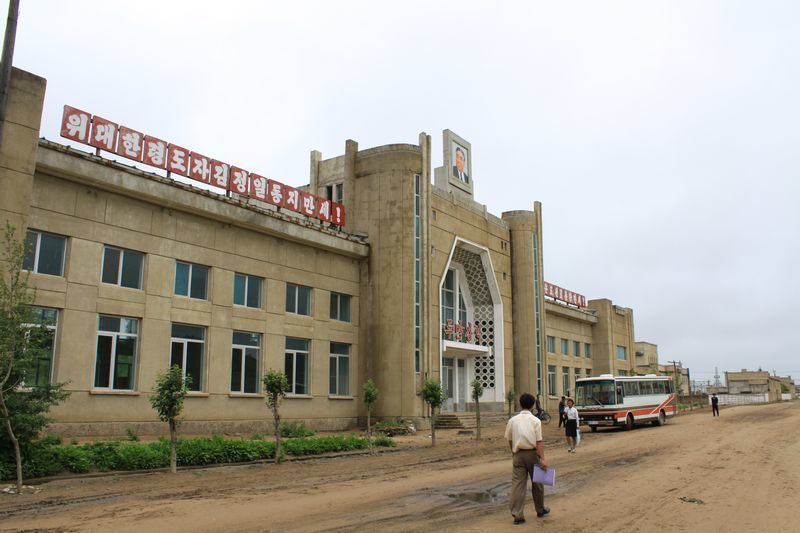 ---
Architecture
For aficionados of the classic concrete 20th Century DPRK architectural style, Tumangang Station is an excellent example. Inevitably, this building will be modernised with glass and steel at some point but at the present time, it is still an attractive building in this more dated style.
Once sandy coloured and now painted a bright-but-fading green, the station is a building of two storeys with an arched entranceway flanked by two tall columns, looking a little bit like a truncated mosque.
The portraits of Kim Il Sung and Kim Jong Il of course immediately locate this in the DPRK.
Inside the passenger-processing area, the building is mostly austere and functional, but there are some interesting designs on the ceiling, and some of the heavily-upholstered furniture found in regional DPRK hotels and offices is still in use here.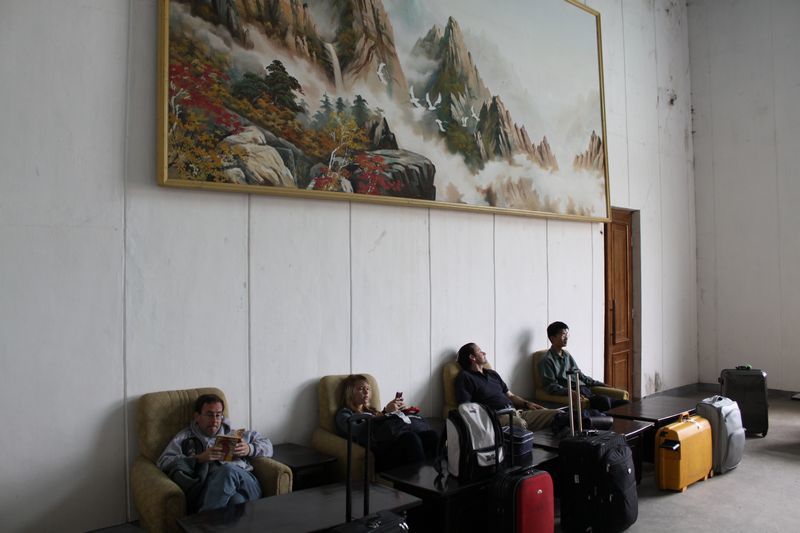 ---
Location
The centre of Tumangang, on a dusty road running alongside the railway tracks.
Tumangang Railway Station is the key building in the town and the main reason for any visitor to be in Tumangang.
To reach Tumangang from Rajin City is about a one-hour drive.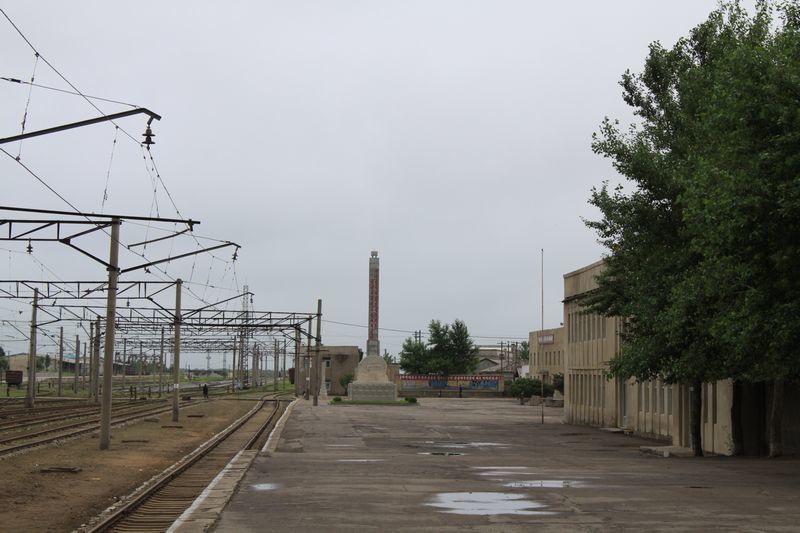 ---
Visiting
There is not much else to see and do in Tumangang, so any visitors will also pass through here to the Russia-DPRK Friendship House and the Three Countries Viewpoint, usually visited before boarding the train at Tumangang to go to Russia.

It is possible to simply go to Tumangang to see the station too, but this would be only the exterior of the building.

When entering the station to board the train to Khasan and points onward in Russia there is quite a strict security process to pass through.
Body scanners, x-ray machines, and a hand search of luggage all take place (much stricter for the many Korean labourers commonly passing through here than for tourists). Then a customs check which usually involves officers requesting to see cameras and electronic devices.
The key tip here is to insist that you be present if they wish to examine the photos on the devices and that they not plug anything into the device.
This is something that will be agreed to and if in a group of travellers then usually the officers will get tired of looking at the same photos over and over and simply decide that you might as well as carry on. These encounters with DPRK border officials can be nerve-wracking for some but the best advice is to remain calm, don't over-cooperate, and simply move slowly. They want to be doing this as much as you want it to be done to you.
Eventually, enough time will have passed that they can claim to have diligently done their job and it will all be over.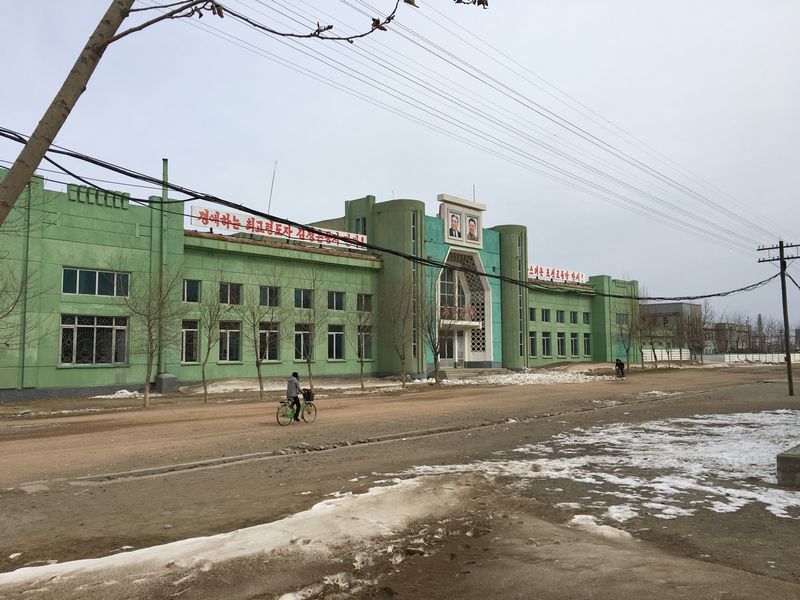 ---
---
Interested in a tour to North Korea?


Travel to

North Korea

with the only
North Korea travel experts, Koryo Tours
North Korea Travel Guide PDF | Sign up to the mailing list | About Koryo Tours