Pakyon Falls & Nearby Temples
Introduction
Location
Visiting
Introduction
Pakyon Falls is a stunning spot, with water pouring over a smooth granite edge, 37m down into a deep blue pool below.
There are large rocks in the pool, one with a handy small staircase carved into it, and on some days locals flock here for picnics and frolicking.
While swimming isn't permitted due to safety concerns there are certainly some Korean lads who do it anyway, so see if you can convince your guide (and be careful!).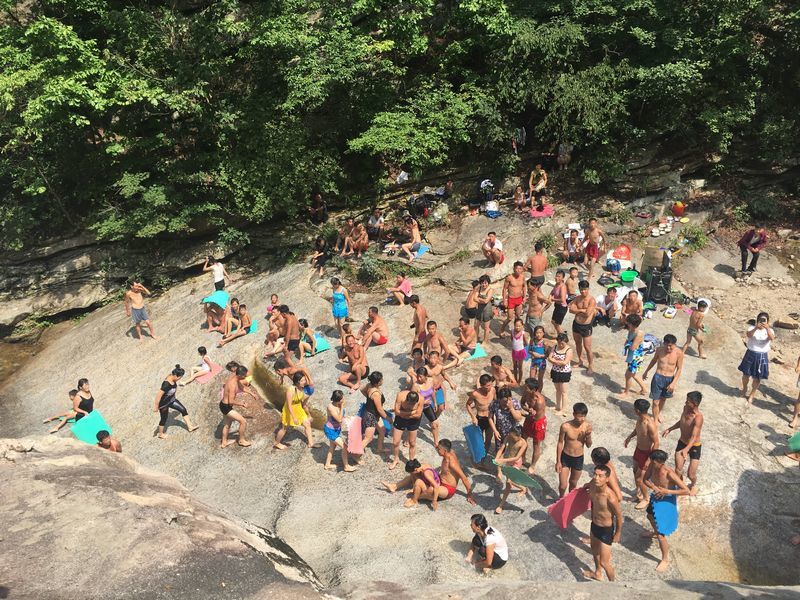 Travelling from Pyongyang to Kaesong and the DMZ at Panmunjom is on the itinerary for almost all visitors to North Korea. However, there are places along the highway which are usually skipped and yet have great value in stopping at, from the small (Dinosaur footprints!), to the large (Sariwon City), such a journey can be added-to and enhanced, and for anyone with an interest in a bit of scenery as well as some ancient history the Pakyon Falls area would be good option.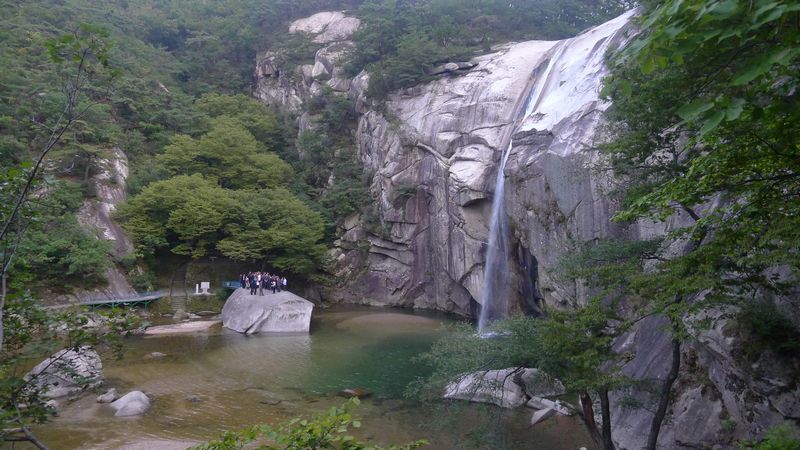 ---
Location
Around 45 mins by road from Kaesong itself the southern end of the Ahobiryong Mountains can be reached, the road is steep but good enough for cars and buses.
Although decent shoes would be well recommended depending on how far you intend to walk.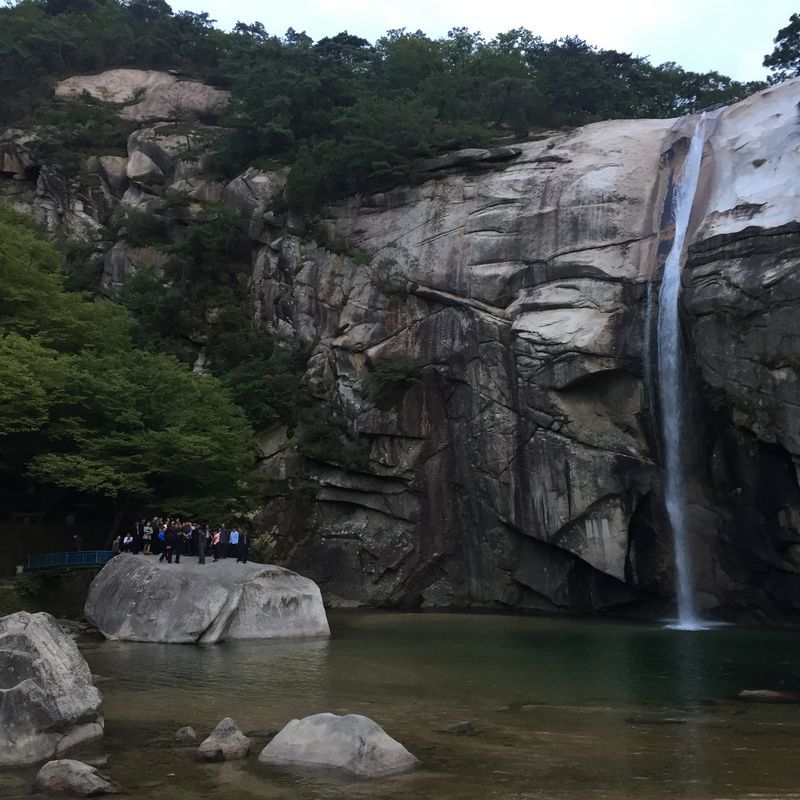 ---
Visiting
This scenic spot is worth the journey by itself for sure, it is a lovely area and in while it can get hot in summer it is a good way to cool off and mix with whoever is passing through. But there is more to see and do here, so lace up your shoes, as it involves walking uphill!
The ruins of Taehungsan Fortress are mostly long-gone, once a mighty castle but now just walls mostly, the North Gate survives and was added to with a pavilion during the Ri (Joseon) Dynasty (it was originally built in the Koryo Period).
Hike onwards for about 1.5km and you can reach the Kwanum Temple, founded in 970 but renovated and redeveloped over the centuries this spot is historically notable for the ancient marble statues of Guanyin (Kwanum is Korean for Guanyin) still located in the Kwanum Cave. There is also a stone pagoda and various temple buildings, with the mountains rising above them, it is a genuinely serene and rarely-visited place.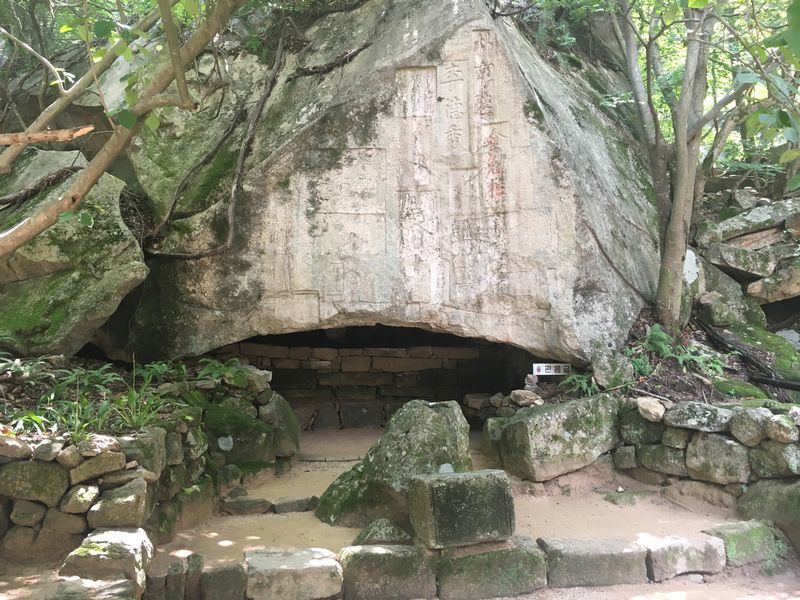 Even further and another temple survives, this one is Taehung Temple and was once a famed place, the son of the founder king of the Koryo Dynasty studied here.
The invasion of the Red Turbans into Korea (long story, but they were rebels opposed to the Yuan Dynasty in China, of which the early Koryo Dynasty was a vassal state) laid ruin to most of the temple and there is little to see, but the hike is pleasant and the views amazing, give it a try!
A stop here on the way from Kaesong to Pyongyang would take 1-3 hours usually, depending on how far/fast you walk and how interested you are in the area, plus how long you want to dip your toes in the water for too!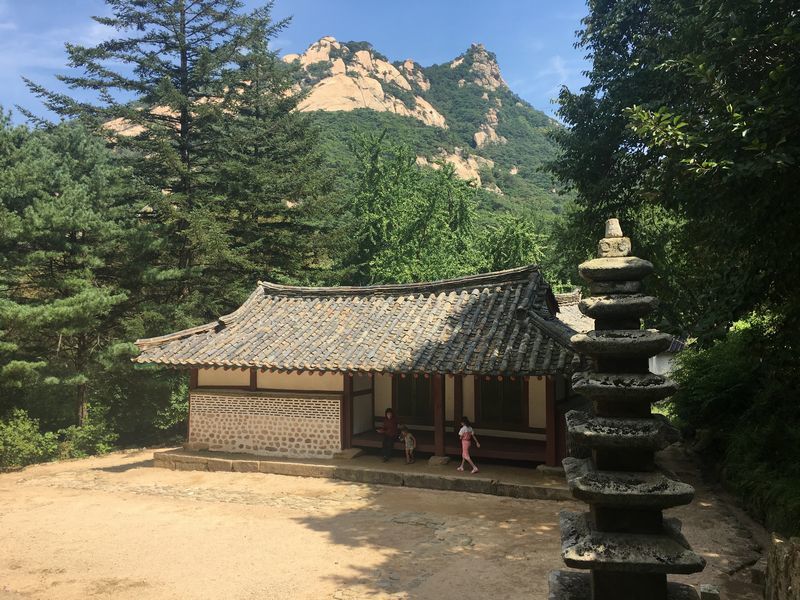 ---
---
Interested in a tour to North Korea?
Travel to
North Korea
with the only
North Korea travel experts, Koryo Tours
North Korea Travel Guide PDF | Sign up to the mailing list | About Koryo Tours