Introduction
Taedong River Routes
When to Go
Planning
Kayaking in North Korea may not be at the forefront of everyone's mind when visiting North Korea.
The thought of kayaking as a means of transportation for Koreans is still seen as a rather unusual activity, although opinions have somewhat changed in recent years.
Since the 1990s, Kayaking in North Korea has been viewed as a leisure activity with ageing Kayaks available to rent amongst locals at several places along the Taedong River; people take them out for a fun paddle for 20-30 minutes having a laugh and cooling off during the sticky summer months.
The only other time Kayaks are spotted is when viewed on the smaller Potong River. It is on the Potong River where the more serious-looking athletes pull away practising for possible entry-level events.
In 2015, Koryo Tours introduced kayaking on the Taedong River as a possible option for those joining one of our independent tour options.
Since then we have arranged a few Kayaking trips on the Taedongg river. If the weather is right then, we can add a small Kayaking adventure onto one of your private tour bookings.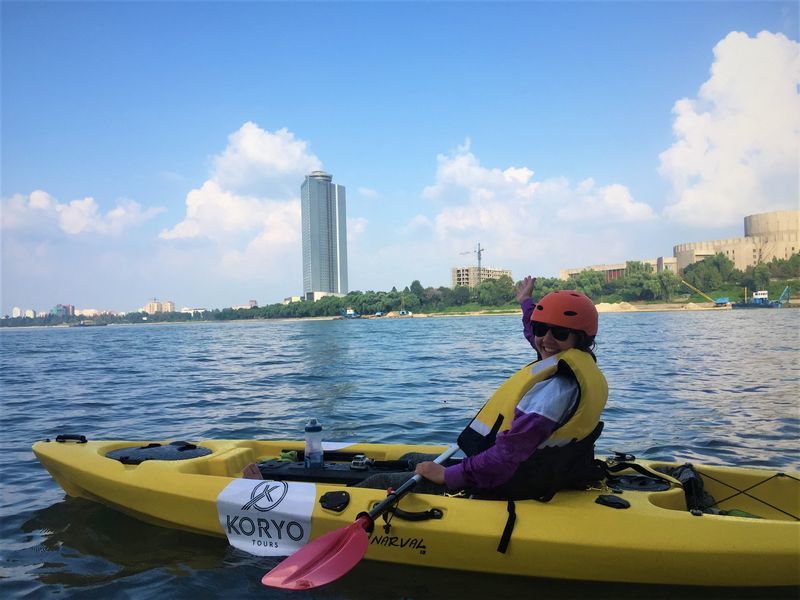 ---
Introduction
As the Taedong River is dammed at its mouth near the port city of Nampo, the waters are always quite slow-moving. One of the reasons for the construction of the West Sea Barrage was to make the river simpler to navigate.
Since 2008 at Koryo tours we had been enquiring about the possibility of kayaking on the Taedong River. The idea of kayaking from city to city appealed, offering unrivalled views of local life along the river banks.
Our Korean partners at first though we were not serious about the idea, later asking as to why we would want to undertake such a journey. We explained that it is for sport, exercise, and to view such an essential element in of Korean life as the Taedong River. We were then eventually permitted to paddle in early 2015!
Koryo Tours keeps a small fleet of three kayaks in the country, so two visitors can use them at once, with one reserved for the local guide.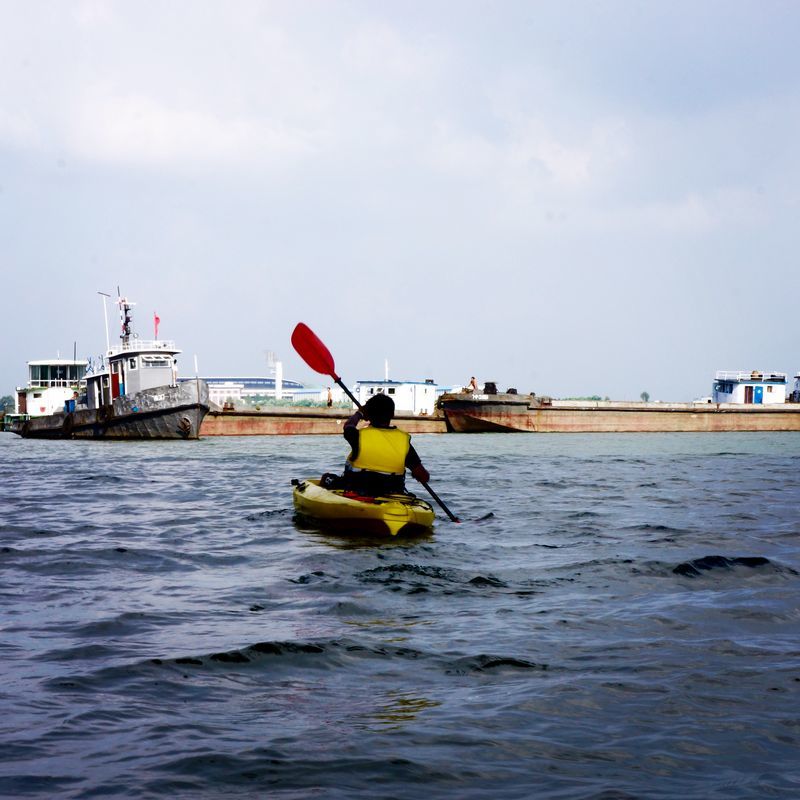 ---
Taedong River Routes
The routes available all involve kayaking on the Taedong River, we can travel differing distances.
The longest possible course is the 27KM paddle downstream to the riverside county of Chollima, in Nampo District 1.
One day full Kayak
For all Kayaking options starting at Pyongyang's Yanggakdo International Hotel is perfect as it sits in the middle of the Taedong river.
After a short practice, it's downstream padding past the Sci-tech Centre and United Front Monument on Ssuk Island and the impressive buildings of Future Science Street to the right.
For lunch, we stop for a picnic on Konnyu Islet; a small beauty spot where locals come to picnic and relax on weekends and national holidays.
As we continue the paddling, we pass rural riverbank dwellings deep reed beds and people busing themselves with life on the Taedong.
Mid-afternoon, we arrive into Chollima town from where we will be whisked away to relax those aching muscles in the Ryonggang Hot Spa Hotel Resort.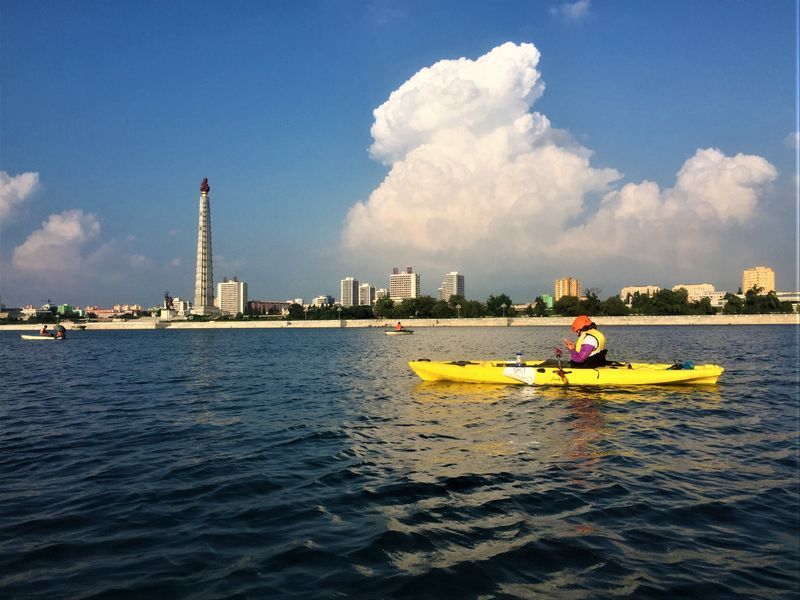 Half-Day/ fun Kayak
For many, the offer of kayaking 27KM is not the most appealing - it is strenuous and tiring for sure, although utterly amazing!
The other option is to enjoy a leisurely paddle past some of Pyongyang's most famous sites.
Start morning from the Yangagkdo Hotel and paddle upstream viewing the Juche Tower and surrounding sites from the river. It may be possible to climb ashore and enjoy lunch on the shore or one of the restaurant boats in the river. For a little more kayaking it may be possible to also include a return paddle to the Sci-Tech Centre.
---
What to See
Kayaking may not be for everyone, but this experience is enriching, especially for those who wish to see a little more of the country. Aside from seeing Pyongyang from the river, local life between the capital and Nampo feels unique. People working away repairing ships, dredging the channels and cutting reeds, scenes that would perhaps be no different from a river Kayak at home. One has to remind oneself that this is North Korea the look on peoples faces is just that, one of surprise and then happiness waves and even a few cheers as you pass on by. Farmers, sailors, construction workers and even soldiers seem to take time for a smile and even a few words.
The journey may be arduous realising that kayaking uses muscles rarely exercised but for those who wish to view something that little more special this is definitely for you.
---
When to Go
The best times for Kayaking in North Korea are the spring months April to May and the autumn September to October.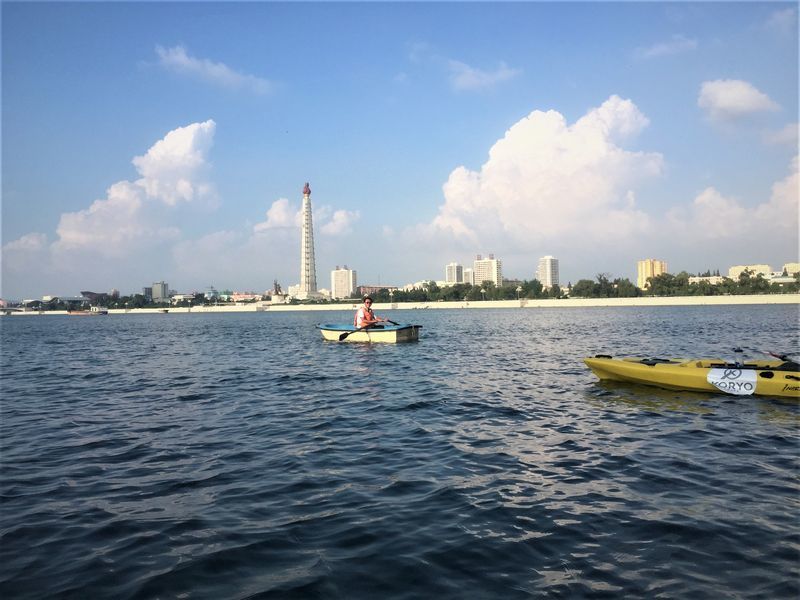 ---
Planning
Not all routes will always be available; it takes time to plan kayaking on the Taedong River.
Please contact us at least three to four months before your scheduled visit, and we will be happy to help include a Kayaking adventure within your tour itinerary.
---
---
Interested in a tour to North Korea?
Travel to
North Korea
with the only
North Korea travel experts, Koryo Tours
North Korea Travel Guide PDF | Sign up to the mailing list | About Koryo Tours