Yanggakdo Hotel
Introduction
Location
Exterior
Interior
Visting & Tips
Further Information
Yanggakdo Hotel: Introduction
The Yanggakdo Hotel is one of North Korea's best hotels due to a lively mix of people that stay here and an excellent range of leisure activities.

Chances are if you visit as a tourist you will be staying here. But put aside fears of being in a 'tourist' hotel, ignore the oft-repeated claim "they put you on an island so they can control you" (you can't go out of any hotel unaccompanied anyway, and you can choose where to stay), and make the most of this place which has the most leisure activities of any hotel in the country.
Yanggakdo Hotel is the most fun place to stay. It is lively and mysterious, hosts normal folks, 'friendship' groups, trade and journalism delegations, and much more besides.
Enjoy Pyongyang's most famous hotel when visiting North Korea!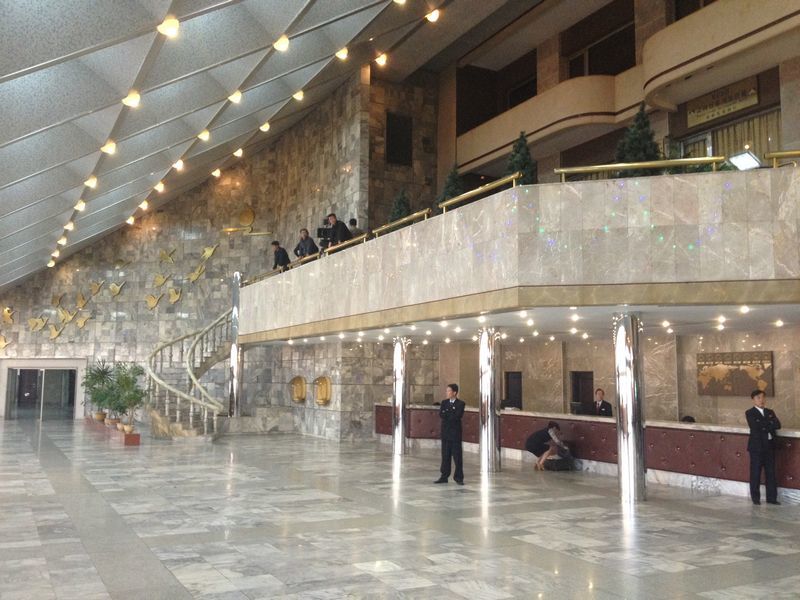 ---
Yanggakdo Hotel: Location
The Yanggakdo Hotel sits at the northern tip of Yanggak Island, located in the Taedong River in Pyongyang.
The Taedong River flows through the centre of Pyongyang. It is one of the longest in Korea at 439km and stretches from the Rangrim Mountains deep in the interior before emptying into the West Sea (known outside as the Yellow Sea). Broadly heading from east to west it takes a sharp zig south at the north end of Pyongyang and then cuts west again at the bottom end of the city.
Multiple islands of various sizes sit at various points of the river and among the most important and well-known is the 'Sheep Horn Island', Yanggakdo (the 'do' suffix means 'island') – home of the most commonly-used hotel for foreign tourists in North Korea - the Yanggakdo International Hotel.

On Yanggakdo Island you will also find the International Cinema House (home of the Pyongyang International Film Festival), and the Yanggakdo Stadium and sports complex (home of the Pyongyang Railways Football Team).

Future Scientist Street and Pyongyang Railway Station are both just a short drive away from the Yanggakdo Hotel, but not on the island itself.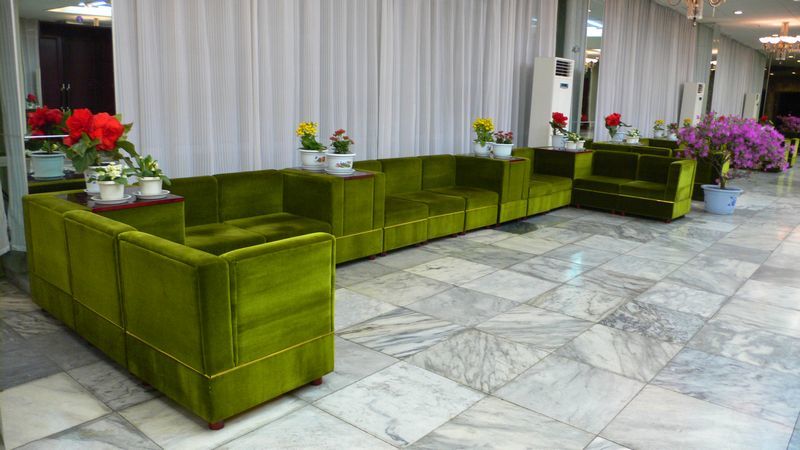 ---
Yanggakdo Hotel: Exterior
The Yanggakdo Hotel is the tallest operational hotel in the country. It is 47 storeys high and 170m above the river water below. The structure was reportedly built between 1986 and 1992 with involvement from France's Campenon Bernard Construction Company and opened in 1996.
Its exterior has been clad with a metallic material which gives it a silver/greyish finish.

The building is a mix of shapes – it looks rectangular side on, but from above is triangular. Perched on top is the revolving restaurant looking rather like a 'UFO' from the sixties has landed giving it a futuristic, albeit dated, look.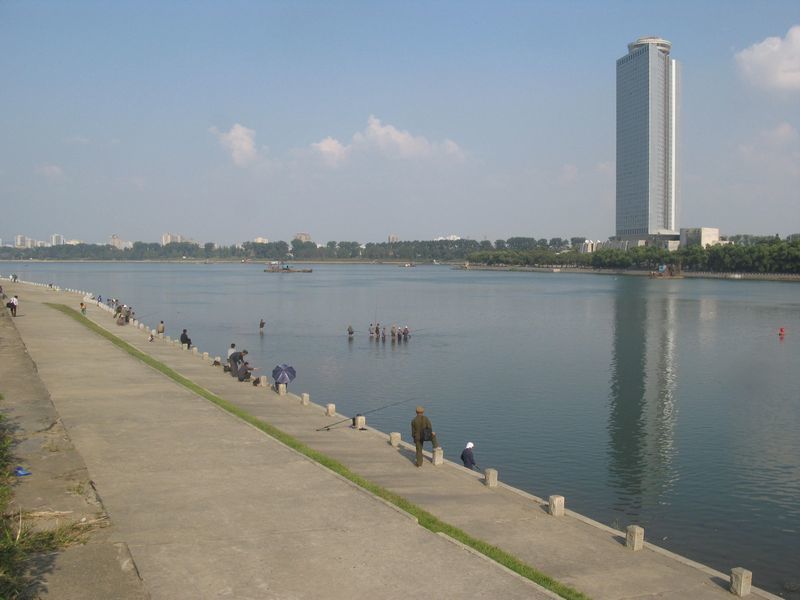 ---
Yanggakdo Hotel: Interior
Tour guides and hotel staff will claim that the Yanggakdo Hotel has 1000 room. If this includes all the staff areas and cubby holes here and there then this may be true. Even so, it has the most capacity of any of Pyongyang's Hotels and while that means that often it is very quiet and seems deserted there are also times (such as during the Pyongyang Marathon) that it can be full to capacity and thus very busy indeed.
Lobby
On entry from the car park you find yourself in a rather shiny and new lobby.
This was renovated and reopened in April 2019, so far the renovations are just on this floor and the rooms remain as they were, in that particularly "timeless" North Korean style.

In the lobby, facing the reception desk you have on your left a tea shop, this is a bar and general sitting area, staff don't mind if you sit here not ordering.
Then further left, past the entrance to the basement there is a large glass door to go through and on the left is the Yanggakdo Hotel bookshop (same stock as the Foreign Language Bookshop in the centre of Pyongyang), and opposite it is a souvenir shop.
Further down are banquet halls used at busy times, and at the end a little-used auditorium (looks like a mini-UN chamber) available for hire.
On the right side of the lobby is a small booth that can print documents, make copies, print photos, and behind it is a snack shop, then to the right some more is the telecoms centre (open 24 hours!) where you can make international phone calls (which you can do from your room too, though at more expense), and send postcards.

Next on the right is the Unjong Teahouse. This is a bar; it stays open as long as there are customers, serves food (Korean and western) and specialises in its home-brewed beer which at 3 EUR a pint is the most expensive in the country. This is the place many regulars in the Yanggakdo Hotel call their home and you should definitely stop in for a pint of the brown stuff if visiting or staying at the Yanggakdo!

The lobby floor also contains a range of restaurants; Rainbow Restaurant, Korean Restaurant, Chinese Restaurant, Restaurant Number 1, Restaurant number 2. They have different décor but are fundamentally the same more or less. You will have breakfast in one of these or in the banquet hall.
basement 1 (Casino)
Taking the lifts down to level '1' (the lobby is level '2') you will find yourself in one of two basements of the Yanggakdo Hotel.
This one is leased to a company in Macau and it hosts a range of activities designed for the Chinese tourists who provide the majority population of the Yanggakdo Hotel at most times.
There is a restaurant serving normal Chinese food, an abandoned nightclub (closed around 2008) which at one time was the only one in the country, a massage centre where, rumour has it, gentleman's services are provided by the Chinese staff there, and a small casino.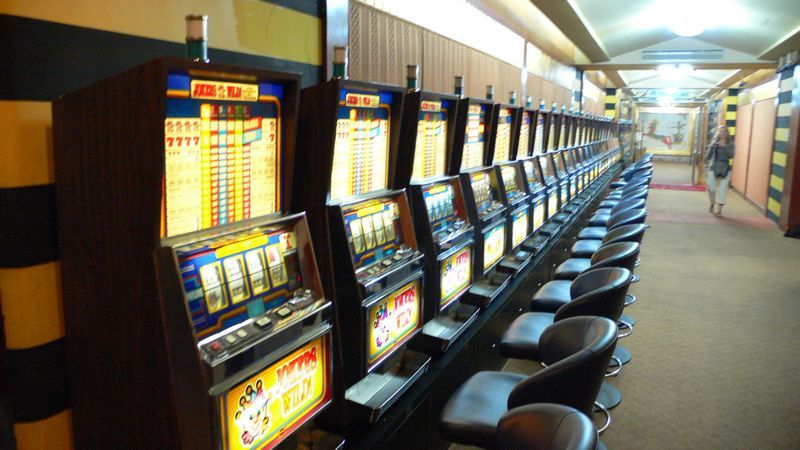 Basement 2 (Entertainments)
In the other basement you will find (in order from this entry point): Ping pong room, shoe repair, billiards room, ten-pin bowling (3 lanes), small shop, Karaoke room, cold noodle restaurant, swimming pool, then it all ends at a strange kind of Batcave entrance that opens into a small car park below the normal car park.
Almost all of these establishments listed have a bar, they are all staffed by Koreans (the other basement is the Chinese one, some people seem to get them confused), and are usually open until midnight or a little later, depending on how many customers there are.
Yanggakdo Hotel Rooms
As for the rooms, the Yanggakdo Hotel staff and basement staff use most of the lower floors (they will be mostly dark when the lift stops on those floors), and tour guides usually are accommodated around 11-13 floors.
Above that are for tourists.
As the lifts can be slow, and everyone tends to use them at the same time, it is not necessarily an advantage to being higher. Although, the views over Pyongyang are better of course.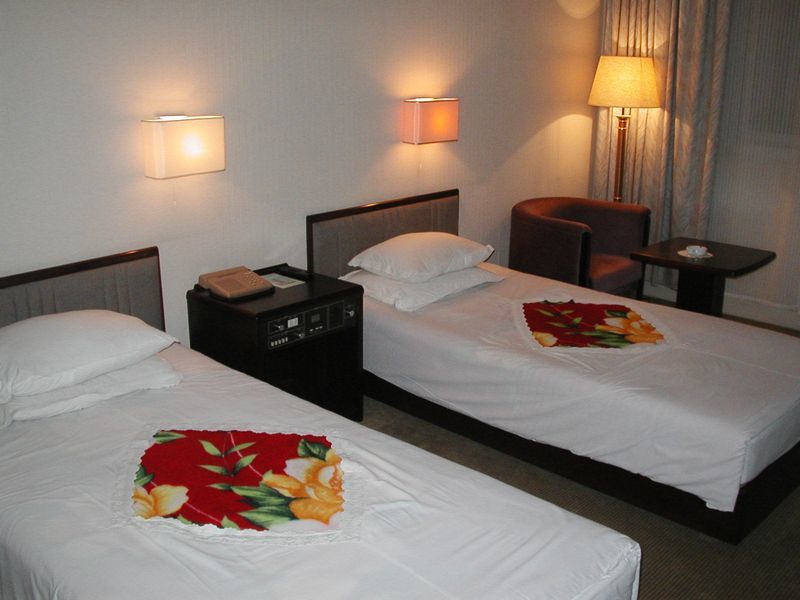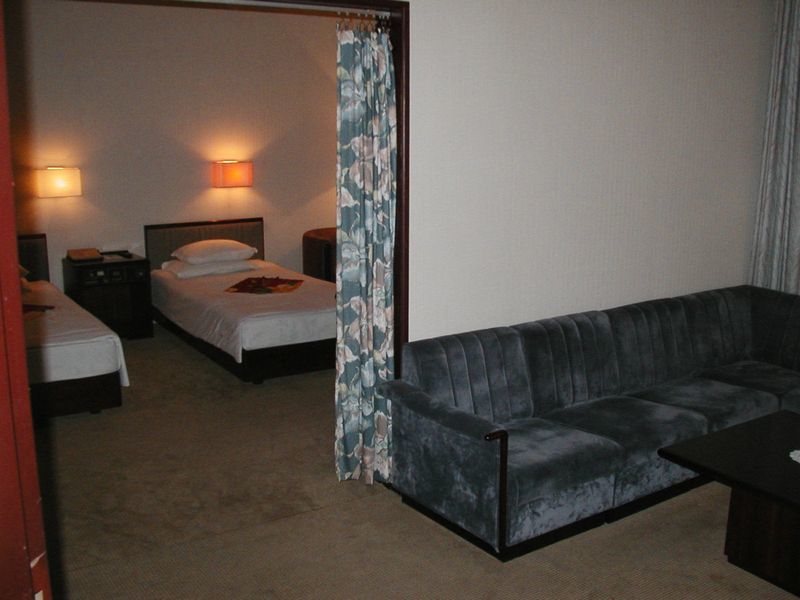 Most floors are made up of standard rooms with en suite, two single beds, a table and two chairs, fridge, water heater for hot drinks, etc.
Fairly standard and a bit dated but kept in good enough nick.
The furniture has been here since 1992 and the chairs could be better made. Remember, if you break them it is the fault of you alone, not the thousands of other people who used and misused them before you!

Suites also exist, and some go up to 4 rooms (although these are hardly ever used) in one. Most tourists will be fine with the normal room though seeing as you just spend the night in the Yanggakdo Hotel, not live there for a length of time.

The top floor is the revolving Restaurant.
It doesn't always work but when it does you are in for a very slow one-hour revolution around Pyongyang.
The view is better at night, but photos are invariably terrible due to lights on the windows, so come at lunchtime for a meal, or come in the evening for a drink.
It closes around 11 PM usually though, unless there are a lot of customers.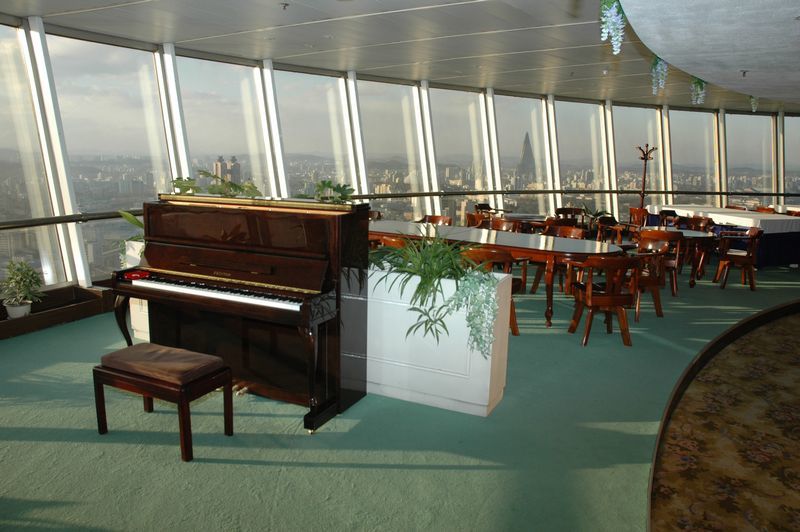 ---
Yanggakdo Hotel: Visting & Tips
The lobby is technically on the 2nd floor, so hit '2' in one of the 8 lifts (two of which glass-fronted to give a view from the exterior as they go up and down) to get here. Pressing '1' will bring you to one of the two basements.

Yes, the Yanggakdo Hotel has two basements that are not linked – to move between them you need to go back up to the lobby floor.

To access the other basement you need to head to the side where a flock of metallic cranes seem to fly out of a small doorway. Go down a narrow staircase into a narrow and low corridor underground – this is the right way, honest!

The lifts are slow and it can take time to move around the Yanggakdo Hotel, particularly during busy times, so ensure when you come down in the morning you are ready to go - needing to go back up to your room can become a 30 minute or longer round trip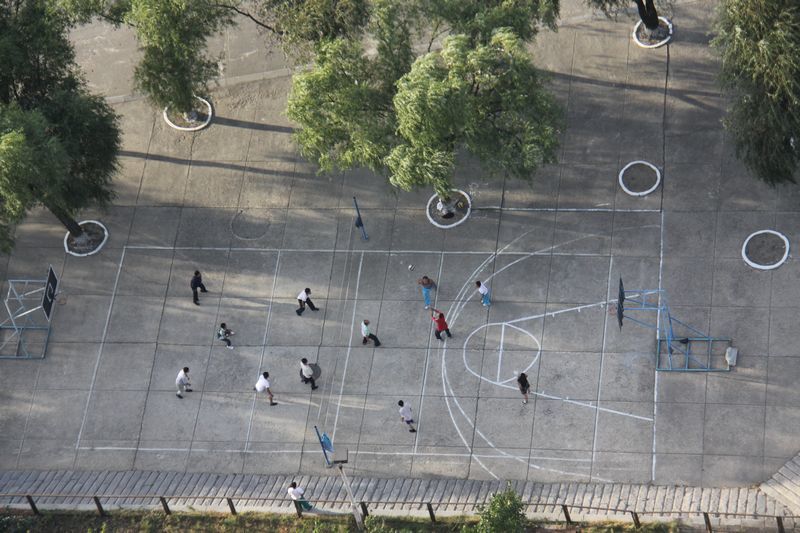 You can send postcards from the communications centre to anywhere in the world except to South Korea. And be careful with any stamps featuring any representation of North Korea's leaders and do not use the term 'North Korea' on your postcards otherwise they will not be sent.

The top floor is the 47th and only 2 lifts go there (both signposted on the lobby floor) and while there are stairs to other floors, there are not above 43 so you can only take the lift to the top.

Pyongyang Casino is the only one outside of the Rason Free Trade area. It is made up of 3 rooms and has a small range of games; one-armed bandits, blackjack, big/small (kind of like a Chinese version of roulette, with dice instead of a wheel), and the real money-maker: baccarat.
Tourists of any variety can come in here, there is no alcohol though (they will give you a free tea), and photos are not allowed. Everything is done in Chinese and you shouldn't expect English to be spoken. It is smoky and a bit poky and a lot of people take their gambling very seriously. Our top tip is to stick to the blackjack, it is more fun and a better chance of winning or at least stretching your money there! Old decks of cards cannot be bought as souvenirs, but casino chips can be bought and taken away.

The other main reason to visit the Casino is that it is one of the few places in North Korea where you can get a Wi-Fi signal.
This is for customers only and the signal only works in the casino, so you have to play something with the minimum bet being $20 USD.
The casino is open until 5 AM so you can stay until then using the Wi-Fi, but be sensible and don't ruin it for those who come after you!

As with all hotels in North Korea, tourism law forbids tourists to wander around without guides, but Yanggakdo Hotel has fairly substantial grounds so a little unaccompanied walk can be done. Straight out of the Yanggakdo Hotel is a road that leads to the bridge to town, it is clearly marked where the Yanggakdo Hotel grounds end, so go there then turn around, you can walk around the outside of the building to the tip of the island for a lovely view north up the Taedong River and to central Pyongyang.

In the morning this is sometimes very misty but a view of the Juche Tower looking from the mist is a good one and worth getting up for! There used to be a golf driving range here where balls were simply whacked into the river, but this is defunct now and just the shelters remain, a basic basketball court used by the staff for exercise can be found though.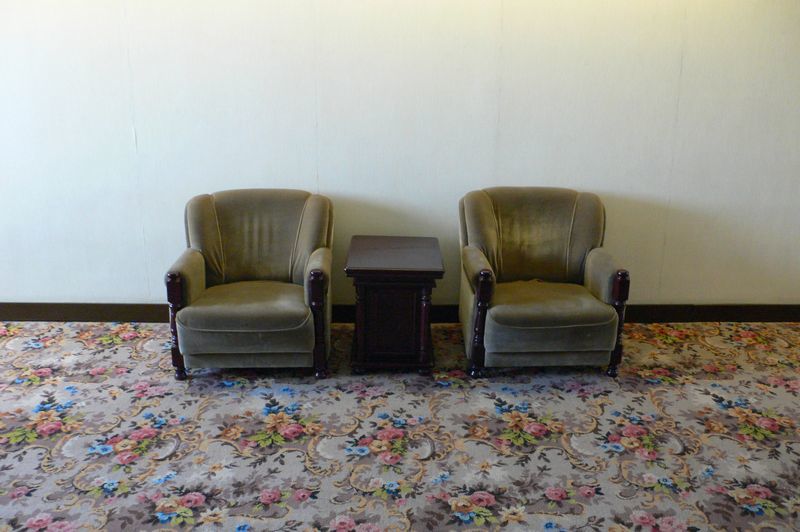 ---
Yanggakdo Hotel: Further Information
One thing it would be remiss not to note in the Yanggakdo Hotel is the persistent story of the ominous '5th floor'. This is widely reported to be home to all kinds of nefarious activities. We can't go into great detail about this here for reasons you probably understand, but suffice it to say that even though the main lifts do not stop on the 5th floor (there is no button), there are service lifts that do go there - these are for staff only because the floor itself is for staff only. There are videos online of what the floor looks like; dark and with violent propaganda posters everywhere, but this is literally what all North Korean offices look like, so the truth may be somewhat more mundane than the fantasy! Still of you wish to stay in the Yanggakdo and imagine that a man on the 5th floor is there listening to everything you say in the room then make it part of the experience. But in decades of the tourism industry bringing people here nobody has yet managed to find any bugs, so while you may not be able to prove that something doesn't happen, you can come to the realization that the reason you can't find any may well be because there aren't any! Anyway, don't go to the 5th floor, it isn't permitted, it's considered trespassing and causes a lot of problems for your travel company and guides.
As mentioned, the lifts are slow and a little unsynchronized, but they do at least have a video playing, advertising the Yanggakdo Hotel itself. These were installed during the time in 2015 when tourism was suspended over fears of Ebola. The video shows off the facilities of the Yanggakdo Hotel and a sometimes bombastic manner, and even features the 9-hole par-3 golf course that used to be across the car park from the Yanggakdo Hotel but which was closed several years before the video was added to the lift (Making us wonder why it is still featured!) On the site of the old golf course now is a half-built leisure complex which has very much ground to a halt, hopefully, funding and will to finish it will exist before too long!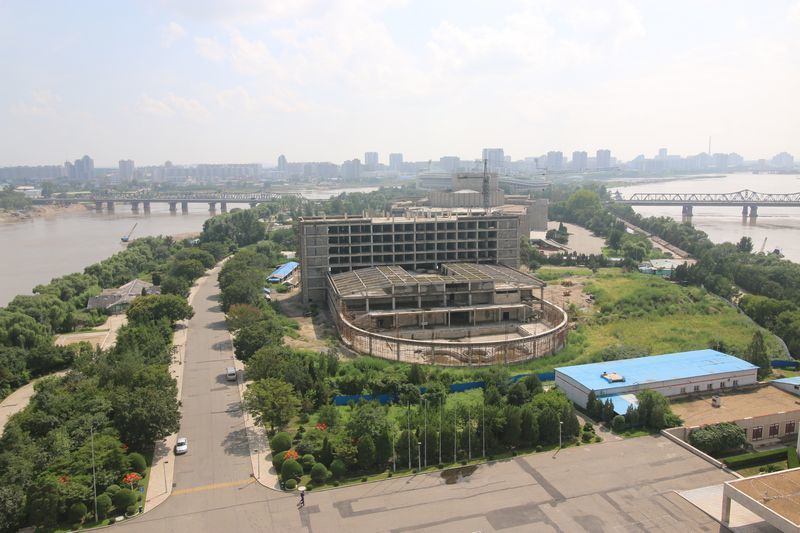 ---
---
Interested in a tour to North Korea?


Travel to

North Korea

with the only
North Korea travel experts, Koryo Tours
North Korea Travel Guide PDF | Sign up to the mailing list | About Koryo Tours