Chollima Steel Complex
Chollima Steelworks Introduction
Chollima Steelworks Location
Chollima Steelworks History
Chollima Steelworks Visiting
Chollima Steelworks Introduction
North Korean artist Chong Yong Man's most famous work is the painting Evening Glow at Kangson. The factory the painting represents is a real place, and this place has, since 2010, been open to foreign tourists (although sporadically closed for various 'renovation' reasons, for which read; power supply problems most of the time). This is Chollima Steelworks.
Perhaps the single most famous painting ever produced in North Korea, this stunning piece is justifiably renowned in the country; a deep red sunset with flashes of gold in the clouds dominates the scene while the towering smokestacks of the massive Kangson Steelworks, reflected in the Taedong River, give an industrial setting to the lower right-hand side of the work.

Recognised and identifiable by literally all of the North Korean population this artwork, which hangs in the Korea Central Art Museum on Kim Il Sung Square, is a genuinely excellent work and deserves to be known internationally as well as throughout North Korea. Koryo Studio commissioned art for the Asia Pacific Trienniale in 2010 - a great adventure and beautiful artworks here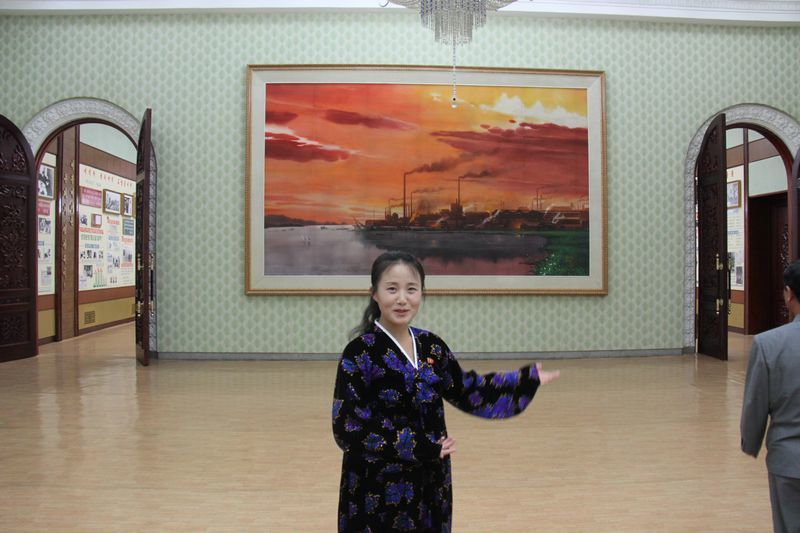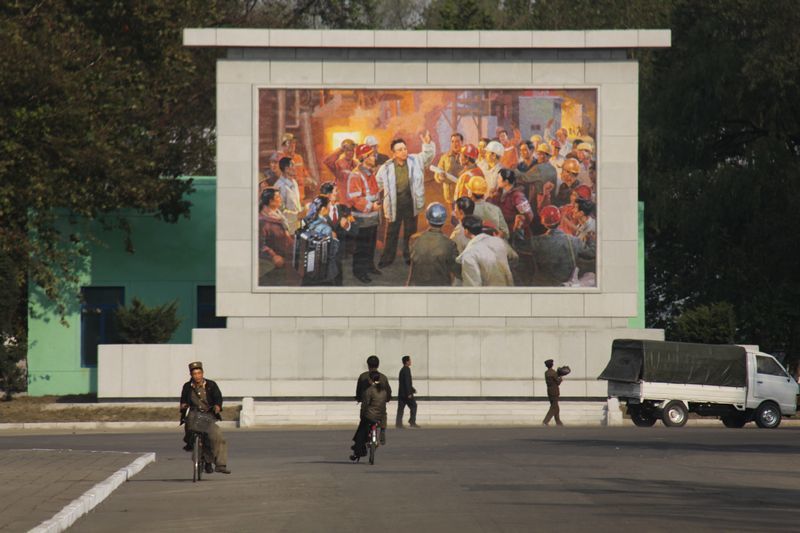 ---
Chollima Steelworks Location
Chollima Steelworks is located downstream of Pyongyang on the Taedong River.
A drive of around 45 mins from the centre of the capital brings you to the factory, located on a rail line as well as the Taedong River itself; both providing ways for the material produced here to be sent out to the rest of the country.
As with all factories, there is an armed guard at the gate (usually a petite woman armed with a Kalashnikov, also a normal site at DPRK factories.
Not due to any actual current fear of invasion, just to show readiness and the ongoing war-footing of the country) and your visit will have been arranged in advance by your travel company.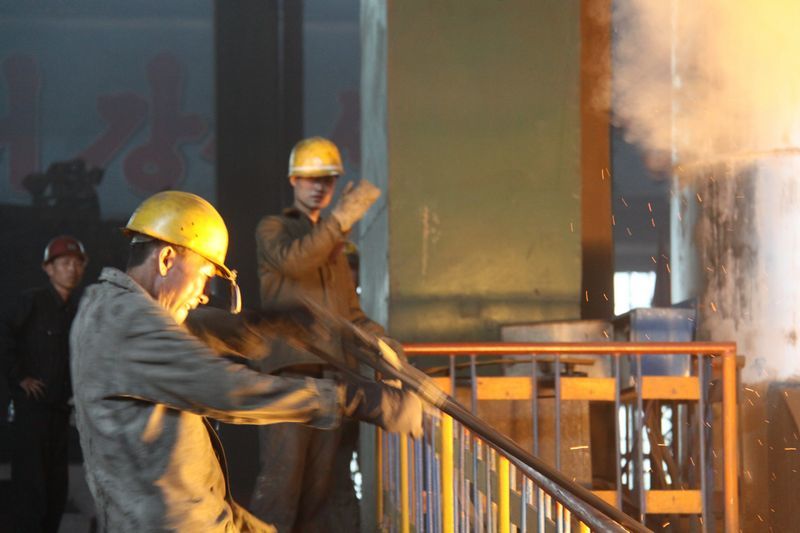 ---
Chollima Steelworks History
First, a bit of background as to why this is such a famous and important place; Steel is, of course, the quintessential communist material. But imperialist and other nations also use this material, so it is a crucial component of everyday life.
Everyone needs a bit of steel.
Chollima Steelworks was first opened under the Japanese occupation, called Kangson Steelworks but also commonly going by the name of the company that operated it at the time: Mitsubishi.
After Liberation the place was asset-stripped and fell into immediate disrepair, efforts were made to renovate and re-start it but just a few years later in the Korean War the plant, along with the entire industrial base of the country, was bombed to pieces.

After the devastation of the war (Known as the Victorious Fatherland Liberation War in the DPRK) a massive effort was made to rebuild, and this is best encapsulated in the Chollima Movement, launched in 1956.
Chollima is a mythological winged horse that (as per its name meaning literally 'thousand ri horse' with a ri being 400m in metric measurements) can ride vast distances at a constant speed.

As the story in North Korea goes, Kim Il Sung beseeched the workers of this factory to produce above what was then their normal capacity of 60,000 tons of steel. They heeded the no-doubt inspirational speech and went above and beyond what could reasonably be expected of them, and in a magnificent feat of mass-Stakhanovism managed to ramp up production to 120,000 tons.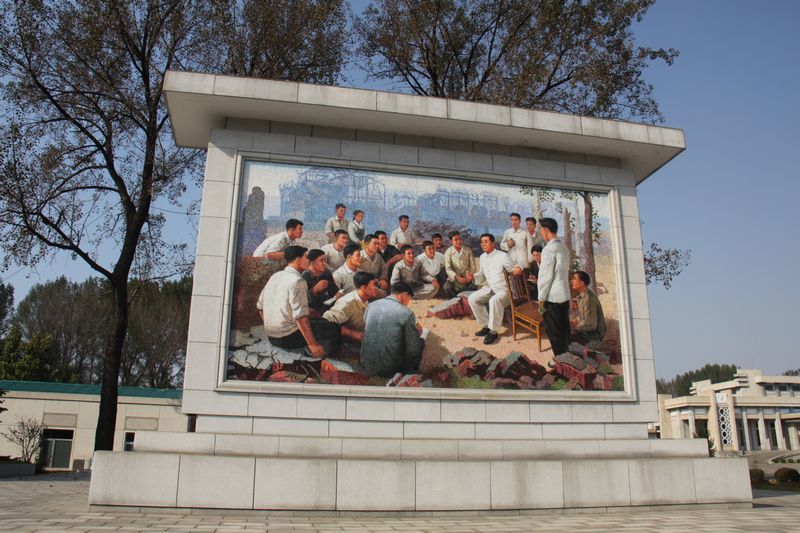 Serving as an example for the nation, the Chollima Movement (the name of the factory was Chollima Steelworks by now) went into full swing across all industrial fields and basically mean working much harder than previously thought possible, fueled by revolutionary and patriotic zeal.

As a result of this incredible feat as well as the understandably central importance of steel to the rebuilding and building of a modern state the factory (known as both the Chollima Steelworks and Kangson Steelworks, Kangson being the name of the area in which it is located) holds a special place in both state propaganda regarding industrial output, as well as anyone who has passed through the education system of North Korea.

It is no exaggeration to say that the Chollima Steelworks is the most famous factory in North Korea (followed by the Hungnam Fertiliser Factory perhaps), and workers here are highly regarded for labouring in such a well-known place with such historical and revolutionary pedigree.

While another steelworks in the DPRK, the Kim Chaek Iron and Steel Factory, is larger, this one is more special (also the Kim Chaek factory, in Chongjin city, cannot be visited yet by tourists – it is the home of 'Juche Steel' though; steel made without coking coal, but that's a whole other story!).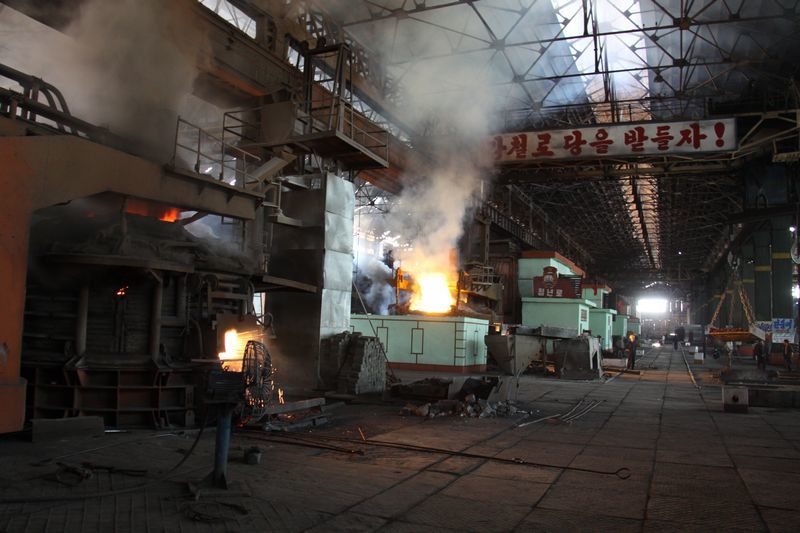 ---
Chollima Steelworks Visiting
Prior to 2010, tourists were not allowed to visit the Chollima Steelworks.
Despite this, some parts of the UK/DPRK co-production (written, co-produced, and co-directed by Koryo Tours' President Nicholas Bonner) Comrade Kim Goes Flying were shot here in 2009.

If you are fortunate enough to be able to visit the factory these days what will you see?
First of all, like all major factories in the country, there is a small museum.
This is normal and not specifically for foreigners as such places also receive domestic groups. The museum contains photos from the early days of the plant, its destruction and rebuilding, charts showing the production levels as they smash through the quotas and expected levels of production, visits by the DPRK's leaders, photos and honours for particularly prolific workers, in general, they display the achievements of a site and workforce who show great loyalty and work ethic.
.
After this museum and a brief look at the outside of the main buildings, it is possible to go into one of the production halls.
Tourists are not allowed to visit the main steel rollers, ostensibly to prevent industrial espionage but also probably because amateurs wandering excitably around semi-molten metal is a recipe for disaster!

Don your hard hats when you go in and prepare for a wave of heat and industrial aroma and you can see some smelters, arc smelters, and other massive machines in operation, some emitting vast clouds as the molten steel is cooled and then re-heated.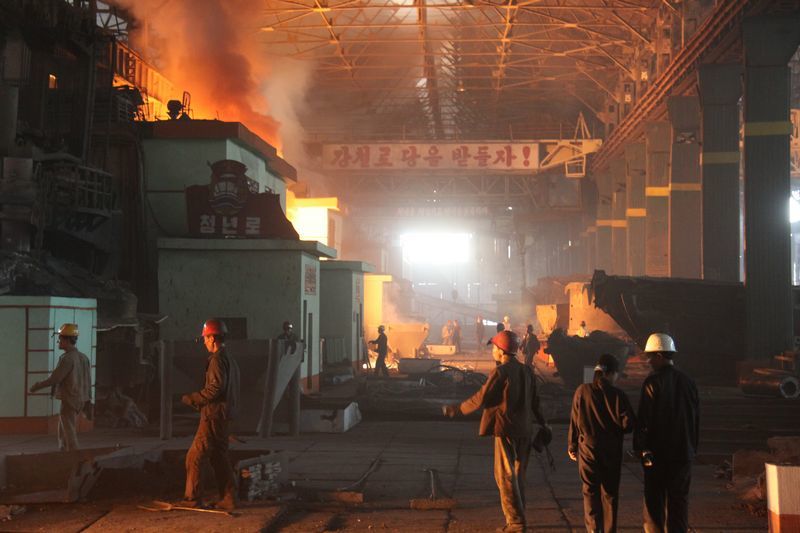 We won't pretend to be experts in the industrial process here, but suffice to say that it is hot, dangerous work, makes for amazing photos, and just looks suitably awesome.
Even a short visit to this massive facility is well worth the time taken and you at the very least get a reconfirmed respect for the people who work in such an environment and a sense (if you didn't have one before) that veneration of those who get such work done is actually not such a bad thing at all.
Long live the working classes and all that!
A visit to the Chollima Steelworksis not just to learn how steel is made (that can be found online!), but is a trip to a place heavily loaded with political symbolism, crucial to the myth-making of DPRK's modern history, and a place of intense significance and resonance to the entire North Korean population.

There is simply nowhere with this amount of importance in most other countries in the world – so pay a visit, take some great photos and be overwhelmed by the relentless statistics (summary: the workers make much more than they would be expected to), try not to get too close to any molten metal though!

A visit to the Chollima Steelworks is best done as part of a half-day trip from Pyongyang, maybe combined with the Kangson Mineral Water Factory, Chongsan-ri Cooperative Farm (which holds the same status in agriculture as this factory does in heavy industry), or as part of a trip to Nampo city on the West Coast of the DPRK.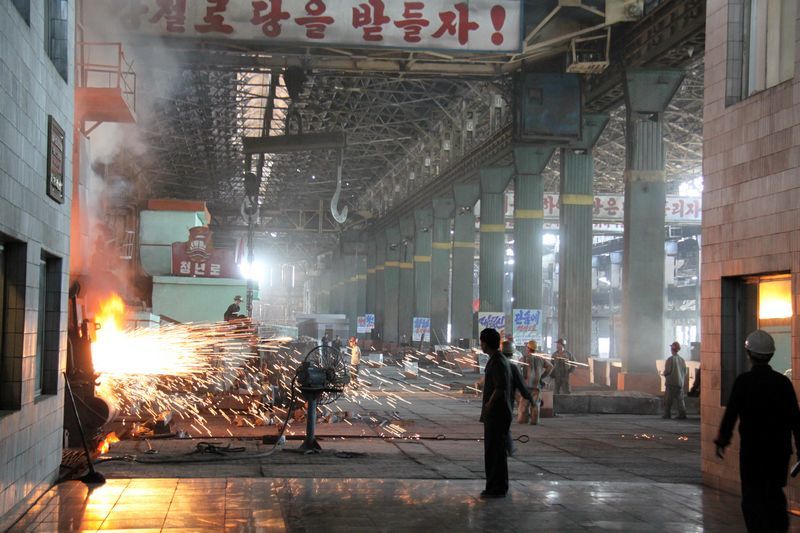 ---
---
---
Interested in a tour to North Korea?
Travel to
North Korea
with the only
North Korea travel experts, Koryo Tours
North Korea Travel Guide PDF | Sign up to the mailing list | About Koryo Tours