Ha'amonga
Captain Cook's Landing Spot
Anahulu Caves
3-Headed Coconut Tree
Hufangalupe Landing Bridge
Blowholes
Flying Foxes Area
Abe Tasman Landing Spot
Ha'atafu Beach
Tongatapu is the main island of Tonga. It's located in the southern island group also known collectively as Tongatapu. Tongatapu is Tonga's centre of government and is also home to Tonga's capital city Nukualofa. 70.5% of Tonga's entire population lives on this island alone, making it Tonga's most populated island. Tonga's total population is just over 100,000, so that makes about 70,000 people living on Tongatapu, 100 square miles (260 square kilometres) in total.
It takes about 1-1.5 hours to drive the entire length of the island, from the Western tip right to the Eastern tip. There is are roads that circle the circumference of the island roughly, and if you were to drive the entire circumference of this, it would probably take somewhere between 2-4 hours, depending on what kind of car you're driving (some of the roads require a 4x4, otherwise you'll have to make a detour) and how many stops you make on the way - and how much you stick to the speed limits.
In other words, Tongatapu is pretty small - especially considering its the main island of a country and the location of the capital city.
It remains the gateway for many people arriving in the Kingdom so most people will at least pass through here for a day or two before heading out to the other islands, even if you don't stay.
So on this small island, can you see ALL of the BEST sites it has to offer in just one day?!
The answer is yes.
But you need a car, and a map.
And if you want to make the most out of it, you're going to need an early morning too.
Ready… Set… Go!
---
START
Ha'amonga - 6:00 AM (Sunrise)
Ha'amonga is the most famous site in Tonga. It's known as 'The Stonehenge of the Pacific' and is one of the first places in the world to see the sunrise. And it makes for some great photos.
You'll find images and replications of the Ha'amonga throughout Tonga. Indeed, the door to Billfish Bar, one of Tonga's most popular bars, replicates it.
The full name is Ha'amonga 'a Maui (Maui's Burden) and despite the fact that no one really knows why it's here, according to archaeologists this site dates way back.
It's made up of 3 coralline stones of nearly 40 tones each formed to make a trilithon gate.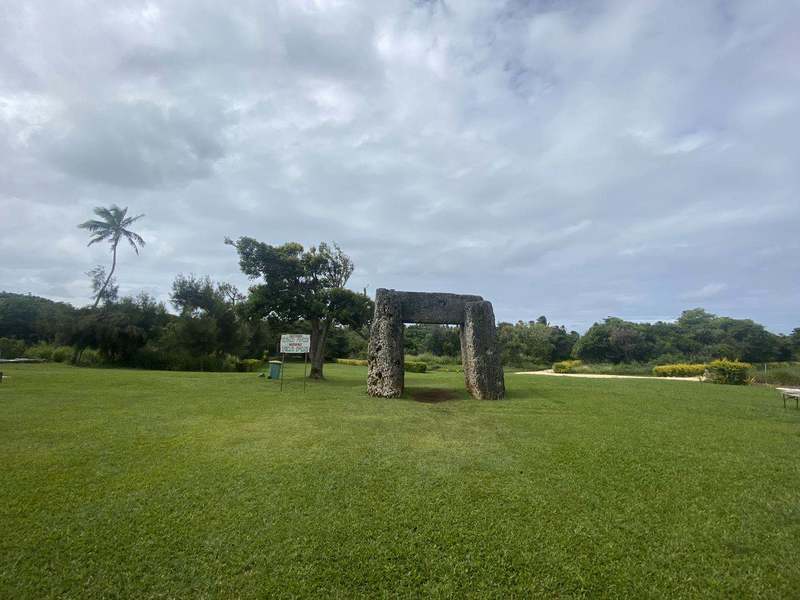 ---
Captain Cook's Landing Spot
After Abe Talisman (see below), Captain Cook was the second European to set foot upon Tonga. He visited Tonga first in 1773 (or some say 1774) and revisited in 1777 sailing the Resolution.
This landing spot marks the spot where Captain Cook came ashore Tonga in 1777. It has also been visited by Queen Elizabeth II in 1970 to commemorate it.
This is a modest monument with very little around. It's not close to much, either. You can go here for the historical significance - but you also don't need to see this area.
There is simply the landing spot - a large concrete platform, and a sign commemorating the site with some information.
---
Anahulu Cave
The Anahulu Cave is located on the east side of Tongatapu right next to the sea. In fact, if you want to put in a bit of a swim here there is a small beach further down. Instead of entering the cave, walk to your left and you will walk down a steep path. At the bottom is a small secluded beach protected by a reef and good for snorkelling.
The cave itself is a large underground network of limestone caverns. You could spend a good hour or two exploring here. There's a natural underground swimming pool at the bottom, and if you're brave enough (and have enough light) you can go far down into these caves and see what creatures you come across..!
Entry costs but it's not expensive. Just go up to the booth - containing probably the only person around. There is parking in front of the caves.
If you want the cave to yourself, remember it will be busy of a Saturday, but during the day for the rest of the week it should be pretty empty.
The cave is closed on Sundays.
---
3 Headed Coconut Tree
The epic 3-headed coconut.
This coconut tree is on TripAdvisor and Lonely Planet's top things to see in Tongatapu. The fact that it is even listed as a "top site" or "thing to do" will either make you cry with disappointment or laugh in acceptance that there isn't much else TripAdvisor could fill their '10 Top' lists with.
It's not just TripAdvisor, there are signs all over Tongatapu for the 3-Headed Coconut. They seem quite proud of it.
Originally, I passed it a grand total of 4 times on separate occasions before I realised that I was looking right at it. There is a sign "3-Headed Coconut Tree" pointing directly at it (but I always presumed it was pointing to a turn I was missing).
It's a big coconut tree in the middle of a field. The field is surrounded by coconut trees and I suppose they probably cut down the other coconut trees to really show off this freak of nature.
The 3-Headed Coconut Tree isn't even properly 3-headed. It has two heads and from one of these another branch spouts.
But you should definitely make a stop here - since you will be driving past anyway.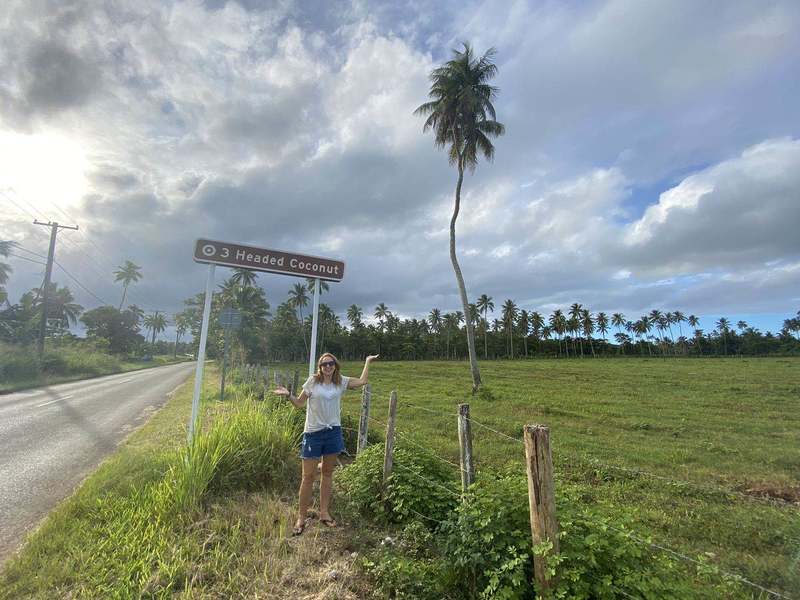 ---
Hufangalupe Landing Bridge
Hufangalupe is a natural land bridge in one of Tongatapu's most beautiful places.
It's a bit of a trek and difficult to find, but once you're here you will have a beautiful view along Tongatapu's west coast, and you'll have a great view far out into the ocean - perfect for seeing the whales too.
Health and safety is questionable here. There are no barriers. So it's down to common sense only. Do make sure to make the most of it and have a good walk around and explore here.
---
Blowholes
One of the best sites you will see on Tongatapu, make the most of it by going at high tide.
Hundreds of blowholes along Tongatapu's west coast fill up with water and the pressure from the waves coming in blasts large streams of water into the sky. These can get to 30 meters high.
You can walk along for 5kms along these rocks - but make sure not to get too close to the shore. You don't want to be blasted by a sudden big wave. The rocks below are not something you'll want to fall onto, or indeed live to tell the tale of.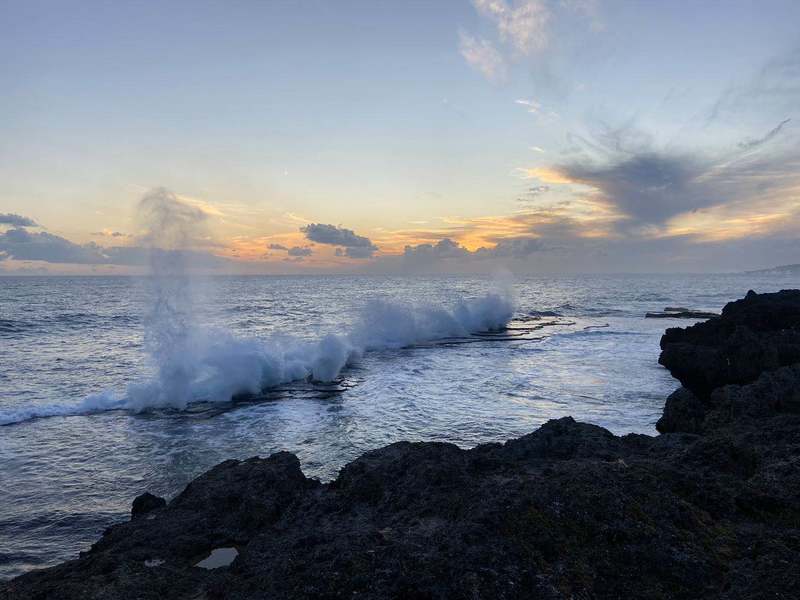 ---
Flying Foxes Area
The South Pacific's local bat, these flying foxes can be found all along the west coast of the island, but have their main point in this area. Go at dusk or late afternoon and you'll see many flying over your head.
They're pretty big bats - you can't miss them.
---
Abe Tasman Landing Point
Similar to Captain Cook's landing spot, this monument is modest but one to see for the historical significance. It is located right at the northwestern tip of Tongatapu - really, you can't go any further north or western unless you want to be in the ocean.
Tonga was first discovered by Europeans in 1643. This was by Dutch explorer Abel Tasman. He bumped into Tasmania on a trip back from Jakarta, then New Zealand then Tonga. He named Tongatapu 'Amsterdam'.
Surprisingly, the name didn't stick.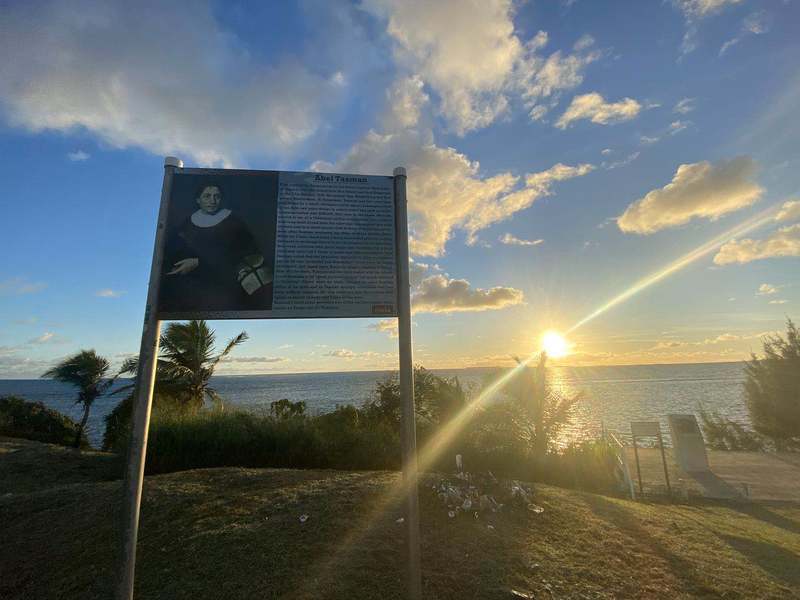 ---
FINISH
Ha'atafu Beach - 6:00 PM (Sunset)
If you're looking for a beach in Tongatapu, Ha'atafu is the one and only. Now a protected area (as of June 2020), Ha'atafu beach is located on the westernmost point of the island. There is a reef surrounding the waters making for beautiful snorkelling, paddle boarding, and even surfing.
During whale season, you can watch the whales right from the shore here.
You won't get a better sunset in Tonga than at Ha'atafu.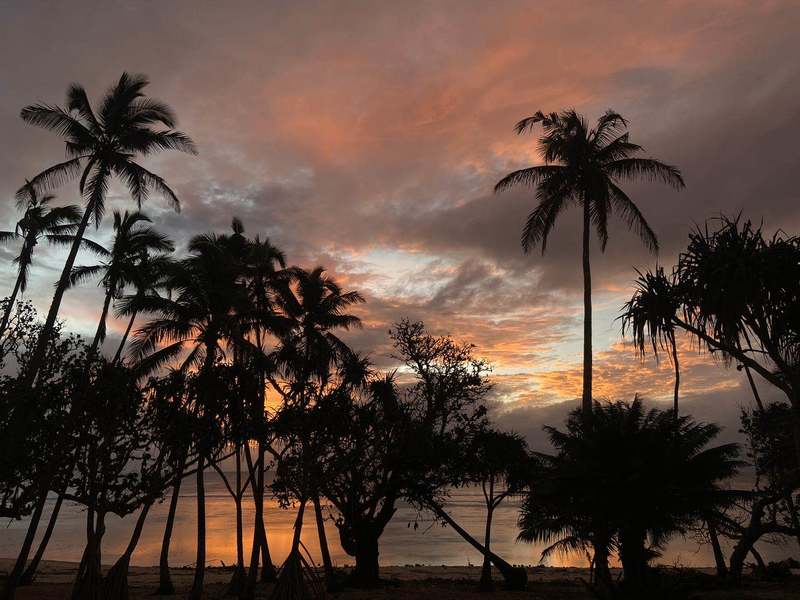 ---
---