Kenji Fujimoto
Kenji Fujimoto (藤本 健二 Fujimoto Kenji) is the pen name of a Japanese sushi chef who is said to have served North Korean leader Kim Jong Il and his family for over a decade in North Korea.
He was born in 1947, and between the years 1988 to 2001 claimed to be the personal sushi chef to former North Korean leader Kim Jong Il. He first visited North Korea in 1982 and 6 years later became the sushi chef for the former leader.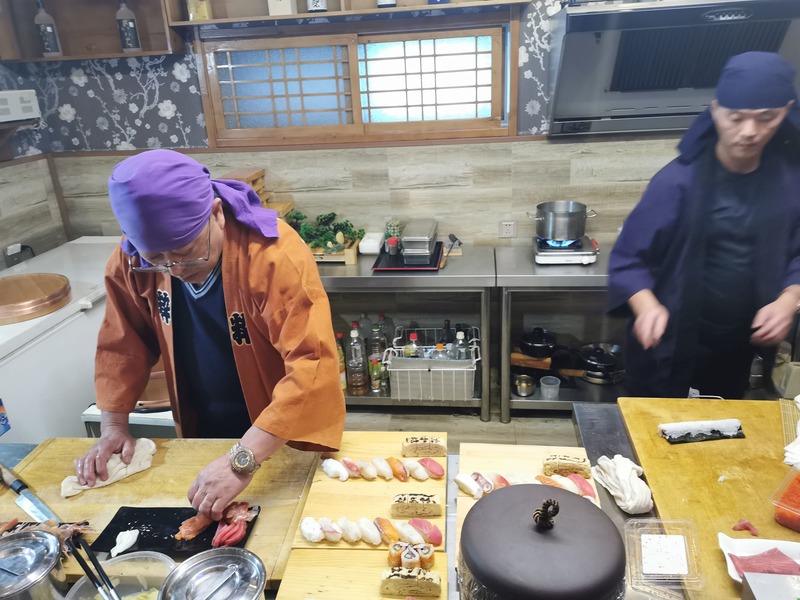 Kenji Fujimoto: Life in North Korea
He wrote a memoir of his experience in 2003 entitled 'Kim Jong-il's Cook' in which he claims to not only be Kim Jong Il's personal sushi chef, but also a close companion, retailing many accounts where him and the former leader would go out and do activities together.
He has made various claims about the former leader's private life and food preferences, stating that he was required to cook many, sometimes peculiar foods for the family. He also claimed that he first met Kim Jong Un when he was seven years old and was assigned to Kim Jong Un as his 'playmate'. They quickly became close after this.
Kenji Fujimoto made many visits abroad during his time working in North Korea, including visits to Japan.
Kenji Fujimoto: Departure from North Korea
In 2001, he left North Korea for Japan, without permission from the North Korean authorities. He then lived in Japan for over 10 years in hiding.
In 2012, he received an invitation from current leader Kim Jong Un to visit Pyongyang. He accepted this invitation, and in July 2012 visited Pyongyang via a flight from Beijing. Fujimoto recalled that it was a "tearful" reunion.
Kenji Fujimoto: Return to North Korea
He spent the next few years going back and forward to Pyongyang where he intended to settle down, and finally returned permanently to North Korea and in 2017. He opened his Japanese restaurant 'Takahashi'. (see below)
As of October 2019, he is working in his restaurant as the head chef with his daughter who works as a waitress, but she will leave to get married soon.
He speaks both Japanese and Korean. He goes to work most days of the week, but usually whenever he feels like it or whenever it is required of him.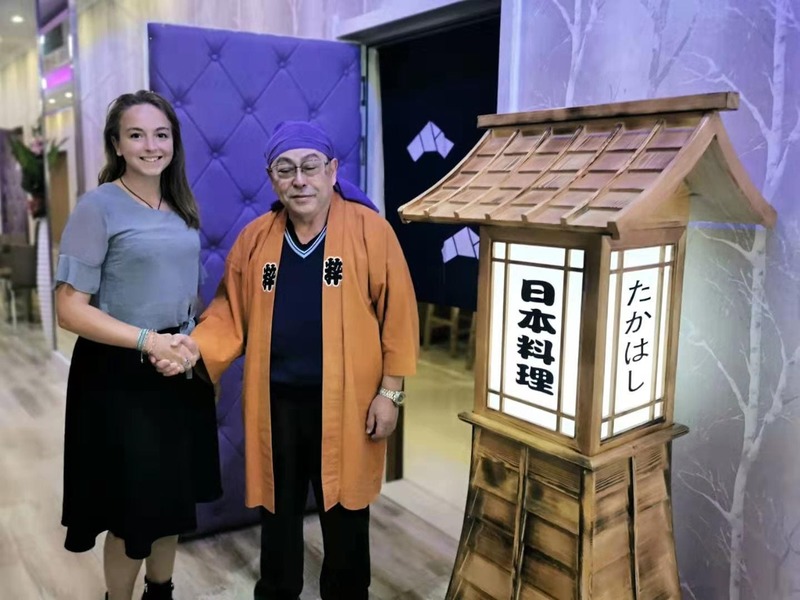 Kenji Fujimoto meets tour leader Zoe in October 2019
Kenji Fujimoto: Restaurant in Pyongyang, North Korea
Takahashi
Kenji Fujimoto's restaurant is located right next to the upper class "Paradise Department Store" inside the building to the right of it, you have to go upstairs, then upstairs again to reach this small, cosy restaurant tucked away at the back.
It was opened in 2017, and Kenji Fujimoto is often there himself preparing food. He works there with his daughter who works as a waitress but will be getting married soon.
Fujimoto's restaurant is called "Takahashi" (髙橋).
Kenji Fujimoto is not Fujimoto's real name, but a pen name he uses.
On a Koryo Tours visit to Kenji Fujimoto's restaurant Takahashi, we asked why his restaurant was called "Takahashi". He suggested that this is his original name.
The exterior looks like it's been taken straight from a street in Japan.
Once you walk inside, you forget immediately that you're in North Korea. The interior is very authentic.
There is a wide range of sushi sets, bento boxes, udon noodles, soba noodles, individual sushi pieces, miso soup, tempura… Basically, anything you would find in any Japanese restaurant in Japan or over the world.
All of the fish is locally sourced from North Korea. However, a lot of the other produce comes from Japan, such as Soba noodles, Udon noodles etc.
It may not be possible to see Kenji Fujimoto when you are here. He doesn't visit every day, and indeed he owns and runs it himself. He decides when he wants to go to work or not or when he needs to. Although, he is generally there most days of the week.
You can watch Kenji Fujimoto prepare the sushi if you take a seat at the bar. Other meals are prepared in the kitchen next door.
Read more about Kenji Fujimoto's restaurant Takahashi (たかはし) here.