Ten years ago we departed Beijing airport with the crew of Departures on the Air Koryo Iluyshin flight to Pyongyang to attempt to film a travel program 'al fresco' in a country that has stringent regulations on what can be shot and what cannot. We got off to a bad start.
We made the first travel documentary in 1996 'Travelogue' with host Andy Kershaw for Britain's Chanel 4 tv https://youtu.be/J1ofUxT5IOw It had taken thirteen years to receive permission from the Korean travel authorities for us to make a second travel show, however they forgot one small thing, the guides had not been informed that this was not a standard tour. It was for a travel documentary and they were going to feature on film. I had requested the two guides (Ms Chae and Mr Kim and for this trip, having worked with them for several years) and on arrival at Pyongyang Station it was rather an icy and guarded welcome. It would take some days for them to gain the confidence of the Canadian crew: Scott Wilson (producer and presenter), Justin Lukach (presenter), Steven Bray (producer) and Andrew Dupuis (Director/Director of Photography).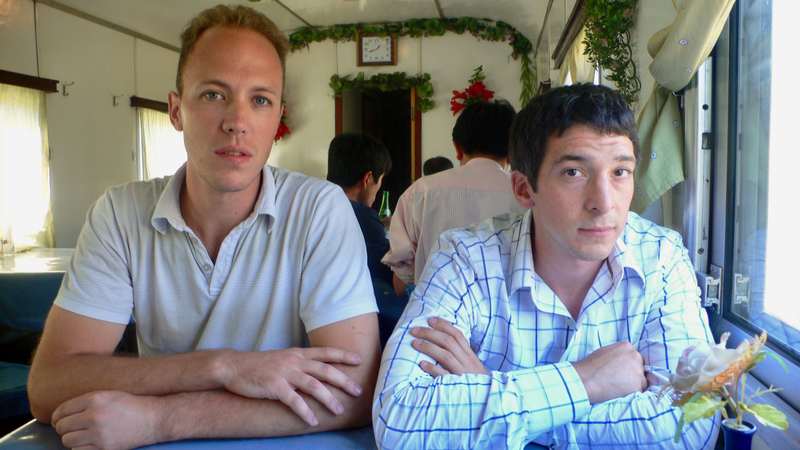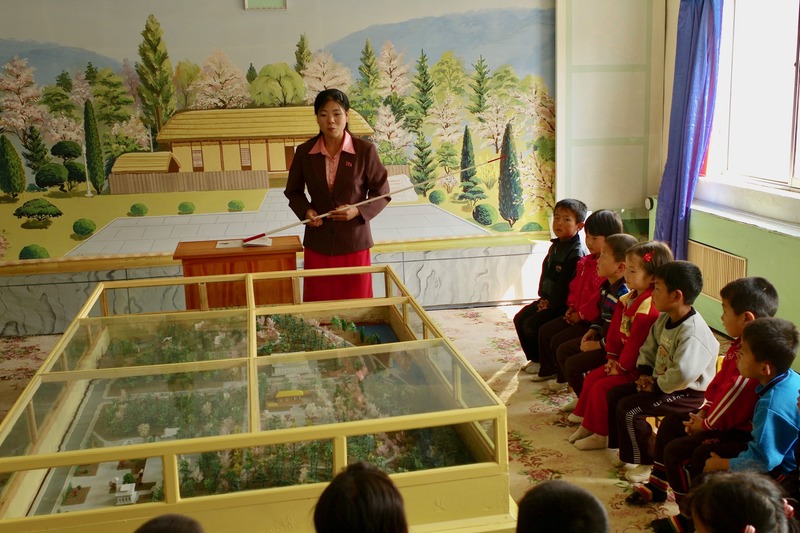 Steven and Andre, Scott and Steven had met while attending the Media Arts program at Sheridan College, outside Toronto, Canada. Their love for film was matched only by their passion for travel, and each of them, upon graduating, took to travelling and filming abroad. It was based on these individual experiences that the show 'Departures' was created. They were into their third series (broadcast internationally on National Geographic Adventure Channel) and for them North Korea was the 'Holy Grail' of places to visit. They contacted Koryo Tours about the possibilities of filming in 2008. It was because of their observational and natural film style that we decided to apply for permissions.
The two presenters were very different, Scott is professional, worldly wise and relaxed with the film world whereas Justin is much more of a lad experiencing the world for the first time. As a teenager, he was best friends with Scott and the two were inseparable. Following high school, the pair began to drift apart, with Scott focusing on music and media, and Justin taking a course towards engineering. Justin was working for an engineering firm dealing with fire sprinkler systems, when he received a call from Scott and an offer to leave his day job behind, and begin a world-wide trip with Departures.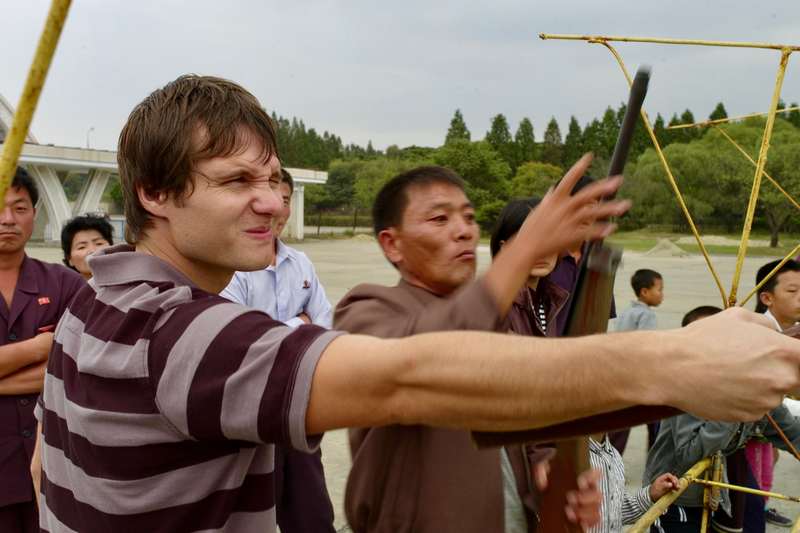 I had told Steve, the producer, that we would need to cut down on the film gear so as not to look too professional (our visa was arranged through the Korean travel company and whilst we had permissions it is better to remain as indiscreet as possible. Travelling light meant we could be more flexible, and, from experience I know that some of the golden moments -where the Koreans are relaxed or simply when something out of the blue happens- we would need Andre on camera to be ready to shoot within a few seconds.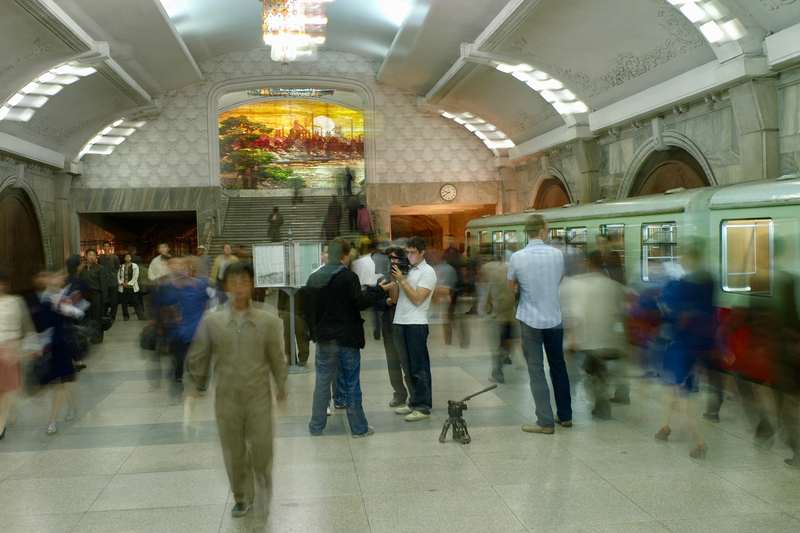 We spent the first few days visiting the standard historical and political sights, learning the local perspective on world events, and slowly appreciating just how very different the country is from the world outside. Scott, the lead presenter immediately got to grips with the country, however for his old school friend Justin was finding it tricky. His style is light hearted and being in a country which is both serious and other-worldly to was proving problematic. It took him several days to get 'into the groove' and gain confidence. At the same pace the guides slowly relaxed and drew closer- on the film you can feel the warming up of relations as the trip progresses. The crew together with their guides brought out the best of the Koreans we interacted with, bringing out their more nuanced, natural traits– their individuality rather than simply portraying the impersonal 'Single Hearted Unity' of a brainwashed mass.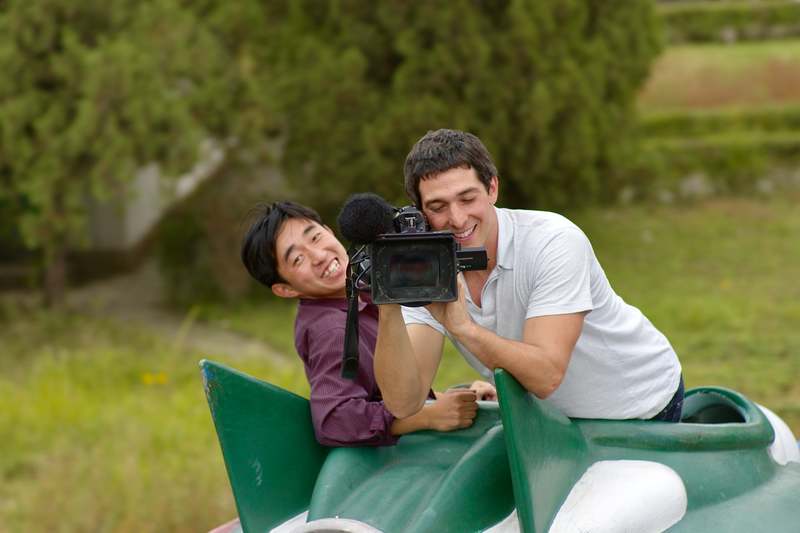 We took part in a high school English class, visit the thrills and spills of a water bottling factory, a farm complete with Pandas and took rides on the Mangyongdae funfair with a final tense shoot-out between Justin and a drunk local. Their experiences were capped off by the largest and most impressive choreographed spectacle on earth – the Arirang Mass Games – where 100,000 people perform the ultimate homage to their country and ideologies. The filming ended with an evening cruise down the Taedong River marking a solid friendship between the guys and their guides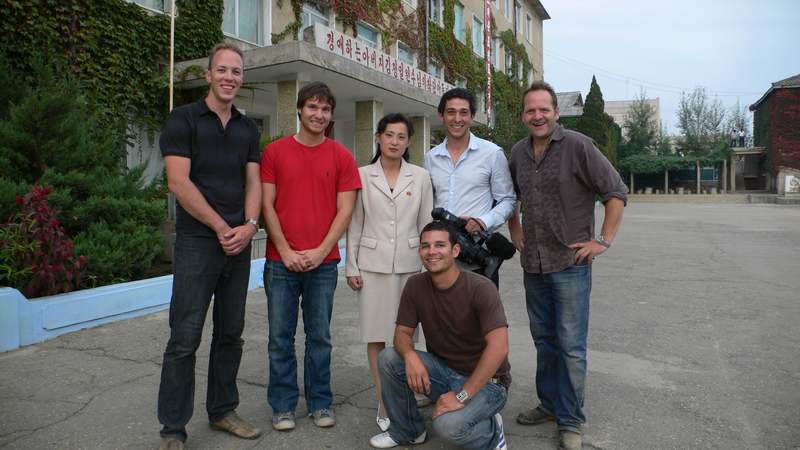 Departing from Pyongyang was an emotional experience, we headed back out on the 23 hour train back to Beijing, and for the crew onwards to Canada for post production. The footage was so spectacular that it was turned into a two-part show 'Departures, The Musical' with soundtrack by Ryan Latham.
The conclusion was that we all thought they were excellent, low on bias/ demonization, and it actually showed the North Koreans as humans, not a totally alien life form.

- Frank; a Koryo Tours Tourist