From January 21st, North Korea announced the closure of its borders amongst fears of the rising spread of the Coronavirus.
This was just the beginning of the ride for Koryo Tours, our members of staff - and indeed it seems, almost the entire world.
Koryo Tours tour leader and DPRK tour manager Greg takes us through his experience of life in 2020 changing drastically over a month.
Diary entries from Greg translated from Hungarian.
---
January 21st
In the evening I received a message from the KITC representative in China that Korea will close its borders due to the Coronavirus (it is not known yet if it applies to everyone and all points of entry). In Beijing – apart from reading the news about the outbreak in Wuhan – you can't really feel anything.
Lunar New Year is just around the corner, it's only natural that traffic gets lighter and there are less and less people on the metro. With some luck you can even grab yourself a seat. After Lunar New Year Day it usually gets busier but still quite pleasant.
January 22nd
Our Korean colleague confirmed in the morning that until further notice Korea closes her borders (we had to cancel our Lunar New Year Tour that was due to depart the next day). In the afternoon, we received the official letter from Pyongyang. Our Chinese colleagues are wearing masks and they tell me to do so (this makes me want to resist it).
Hairdresser in the evening.
January 24th
Lunar New Year's Eve. On the way home I can still spot bars open on Sanlitun Bar Street.
January 25th–26th
Weekend and Lunar New Year. Because of the latter, there is not much point to leave the apartment. The food is delivered to my door.
January 27th
The subway is deserted but I remember: "Lunar New Year".
The coffee place from where I usually order coffee doesn't deliver any more but you can still pick up your order at their shop, Starbucks only opens at 11. I received a message from the gym that due to a central decision they will be closed till February 1st.
People in full protection gear ("little sperms") appear at the subway stations to measure body temperature (I'm kinda fed up with this as I believe it's only for show but it's also the best way to cause panic and be an illustration for fake news). The shopping mall at the subway station near to my apartment that usually closes at 21:00 is closed at 19:30 when I pass by.
The dog grooming salon near my apartment, however, is open without any disruptions.
January 28th
I'm refused entry to the supermarket near the office because I have no mask (it's not a central directive only a decision enforced by the supermarket), I can shop next to my apartment without a mask.
They start to close the door to my building (this must be an individual action as it's sometimes closed, sometimes open – I wonder if they believe that the virus will sneak in if the door is still open or if there is going to be a zombie attack of infected people?).
The dog grooming salon is open without any disruptions.
January 29th
I start to wear a mask.
We make the decision about the cancellation of our February tours.
At the metro station the "little sperms" have disappeared (my critical remarks on January 27th were correct, after all), only the usual security guys are there and they take our temperature wearing a mask (at one station N95 mask with goggles at another one only a surgical mask).
The subway is still empty; sometimes I'm the only passenger on the bus.
The dog grooming salon is open without any disruptions.
January 30th
Food is still delivered to the office but the neighbourhood communities start to close the gates.
To my compound, access is only possible through two gates.
The stock in the supermarket is normal as usual, I see the delivery to stock up every morning.
The dog grooming salon is open without any disruptions.
January 31st
I will spend the weekend in Seoul. I ask myself if it's the right decision to make – for many reasons. The numbers in Beijing are negligible, I took all preventive measures the WHO suggests, etc.
And after all, the WHO suggests against any restrictions on international trade and travel. At the airport there are heat cameras, I can only enter Starbucks after they took my temperature and used a hand sanitizer. I need to fill out a Health Declaration Form if I've been to affected areas (i.e. Wuhan), or had contact with anyone who did, and if I have symptoms.
The airport is less busy than usual but I wouldn't say that it's deserted. Onboard the Asiana Airlines flight, the flight attendants wear masks and gloves – so do I as well as all other passengers (well, masks).
The load factor is just below average, a Josonjok (Chinese Korean) is sitting next to me. They have reintroduced the Health Declaration Card for flights from China. At Gimpo Airport, they take the temperature of all passengers from Beijing and note it down on the Health Form. At the airport, all employees wear a mask, on the subway, I would say at least 2/3 of the people. After I put down my stuff at the accommodation, I head out for lunch – I was craving for Korean food, I haven't been to any of the Koreas since January 2nd.
Kimchi stew with rice and banchan.
A good start.
I meet Zoe at Gangnam Station and we head out to a "fake pojangmacha".
Somek, tokbukki, fried eggs – everything you need for a perfect night out. Chatting, drinking, seems like life is normal. I decide not go home as it would be quite expensive to catch a cab – it's 3 in the morning, after all.
So I head to a jjimjilbang.
There is a guy sleeping on the couch in the changing room. I get undressed, rinse myself, soak a bit, then I head upwards to sleep.
That's something I really missed.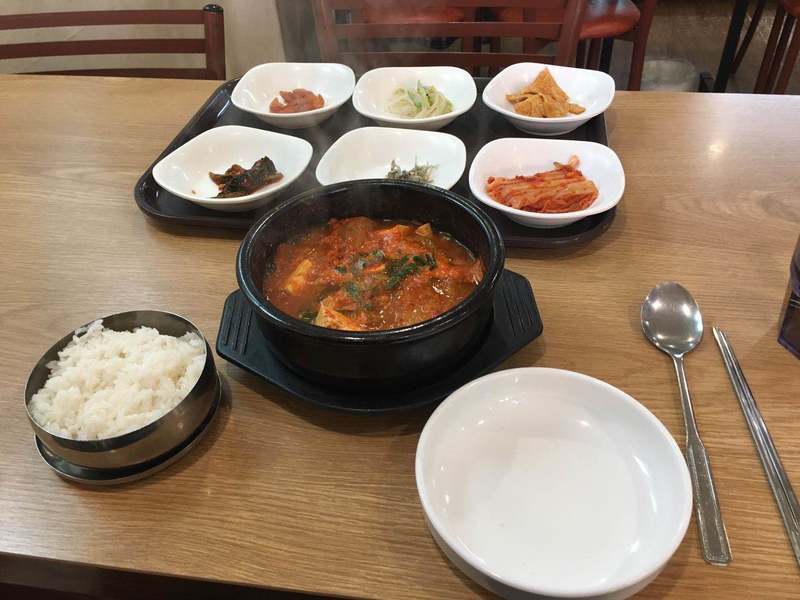 February 1st
I woke up with a headache. I soak a bit, get dressed, and meet Zoe.
Soup and rice for lunch, this time I have bean paste soup – I wish I had an ajumma at home back in Beijing to cook for me. Power nap at the accommodation.
A quick coffee at one of my favourite cafes in Seoul and the best cheesecake ever. We head to Kyobo, Seoul's largest bookstore near Gwanghwamun.
I spend like 80 USD on new books, among them the Palin one (no more excuse, I need to start translating it to Hungarian). We go on a hunt for the makkoli bar I visited in May 2018. We have to pass through Gwanghwamun Square – it's a place I admire a lot but also always makes me upset. There are constant protests there.
We ran onto a demonstration against President Moon where we learn that he is a "fake president" and a "communist". His life-sized puppet is hanged.
I swear in Korean quietly, then we continue. Before the makkoli bar, we decide to have Korean barbecue.
Makkoli bar: fried zucchini and Korean savoury pancake, the best combination with makkoli. During drinking, I receive a message from the agency who rents out my apartment that I need to complete an online form regardless of my whereabouts.
Actually, that's the first question: if I left Beijing and where did I go if I did. I even have to submit a photo of my itinerary back to Beijing.
After the makkoli bar, we head home.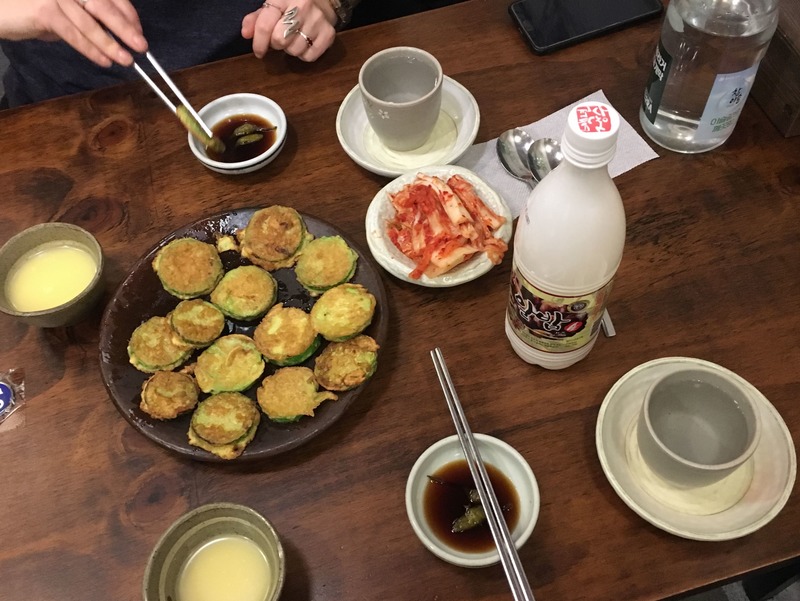 February 2nd
First, we head to Seodaemun Independence Park but we stop by an Ediya Café to fetch breakfast – I'm happy to find that they have Vietnamese coffee with condensed milk, something I've been in love since my trip to Ho Chi Minh City.
At the entrance of the park is the counterpart of the Arch of Triumph in Pyongyang, the Independence Gate built in 1897.
The main "attraction" in the park is Seodaemun Prison a symbol of Japanese colonial oppression and Korean independence activism, or I would say Korean political activism in general. It was opened in 1908 and closed in 1987, becoming a museum in 1992. Among its inmates were many Korean independence activists, and after Korea's liberation, members of the democratic movement, among them Kim Dae-jung (the first South Korean president to meet the North Korean leader which earned him a Nobel Prize) and incumbent president Moon Jae-in.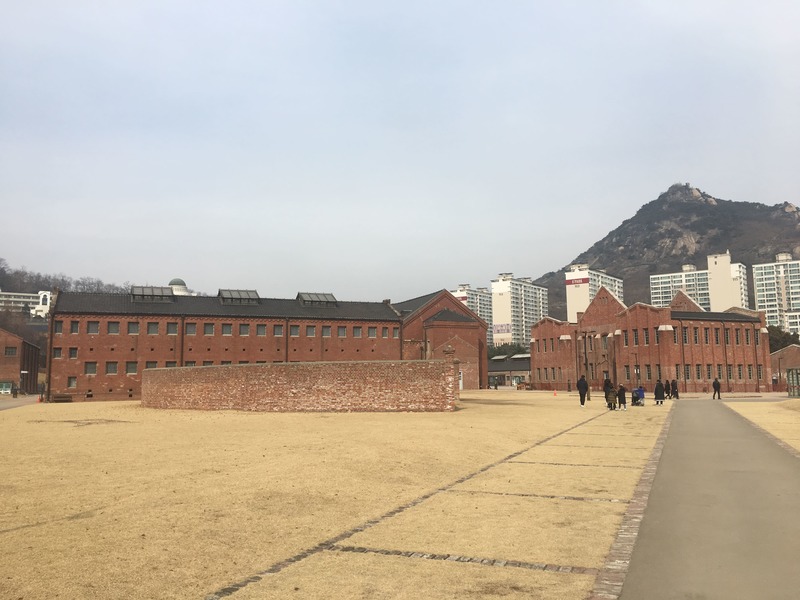 After Seodaemun I went to do my routine shopping for Korean products that I usually stock up on my bi-monthly visits.
Myeongdong is less busy than usual but you can spot and hear quite a few Chinese tourists.
Jajangmyong for lunch, the food court is quite busy. I head home after my routine shopping to do some work, then we head out for dinner in a local restaurant in Hongdae.
Makkoli and movie at home.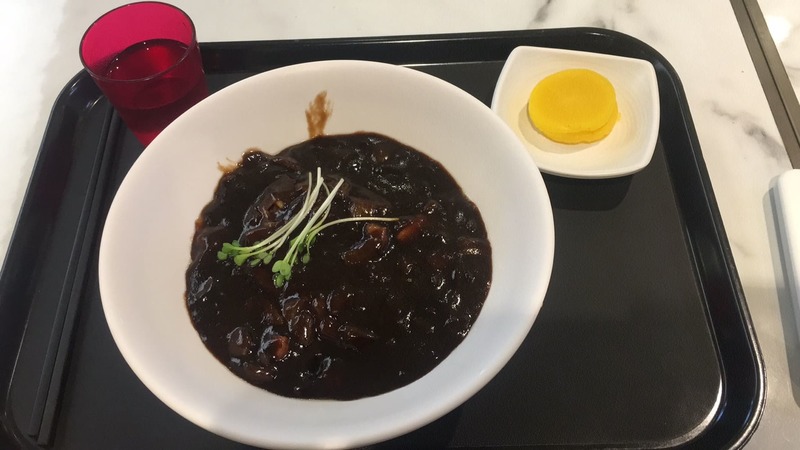 February 3rd
Flying back to Beijing. The flight has a relatively high load factor: Chinese, Korean, and foreigners are on board.
I have to fill out the Health Declaration Card again. Upon entry, the usual heat camera, nothing special. When I return to my compound I need to fill out a form: name, age, passport no., permanent residency, where am I coming from, do I have symptoms.
The stock at the shop is normal as usual.
The dog grooming salon is open without any disruptions.
February 4th
The subway is still deserted but the Spring Festival holiday has been extended.
At the metro station, instead of the thermometer, they installed heat cameras.
At the office, the delivery guys can't enter the compound we have to go to the gate to receive food and package, only one gate is open. Both Starbucks and my usual coffee place are shut down. The bus runs on a very low frequency – it feels like only twice an hour.
We make the decision about cancelling our March tours (most of the "Western airlines" in spite of the WHO advise suspended their flight to Beijing till February 29th or March 29th but American carrier Delta till April 30th, South Korean airlines have also drastically reduced their flights).
The dog grooming salon is open without any disruptions.
February 6th
Biggest snowfall of the season so far.
I can enter only through one gate to my neighbourhood community. Measuring body temperature at the gate is on a random basis.
The dog grooming salon is open without any disruptions.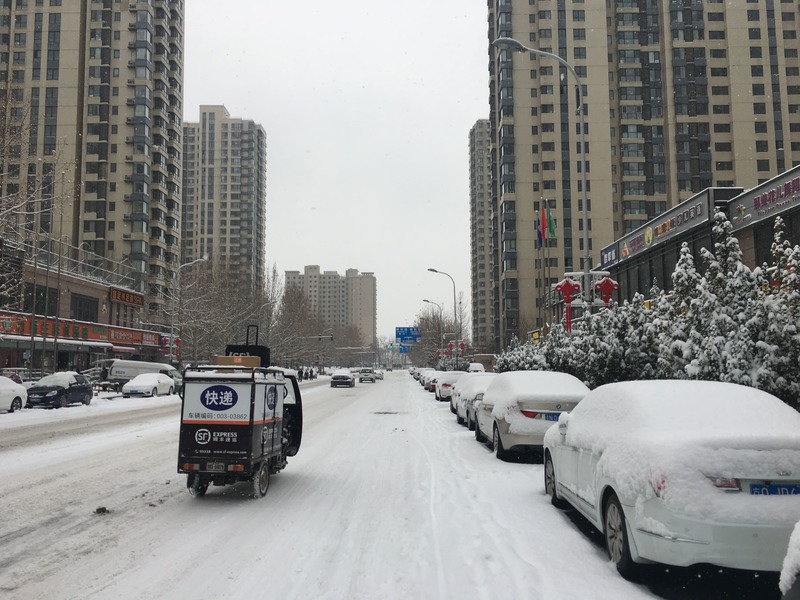 February 7th
The dog grooming salon is open without any disruptions.
February 8th
Weekly shopping. I found everything that is on my shopping list. The stock at the supermarket is normal as usual.
The dog grooming salon is open without any disruptions.
February 9th
I need to go down to the store to buy a snack for my Sunday movie night. When I re-enter my neighbourhood community I need to collect my Entry/Exit Card – in theory, only residents can enter.
The dog grooming salon is open without any disruptions.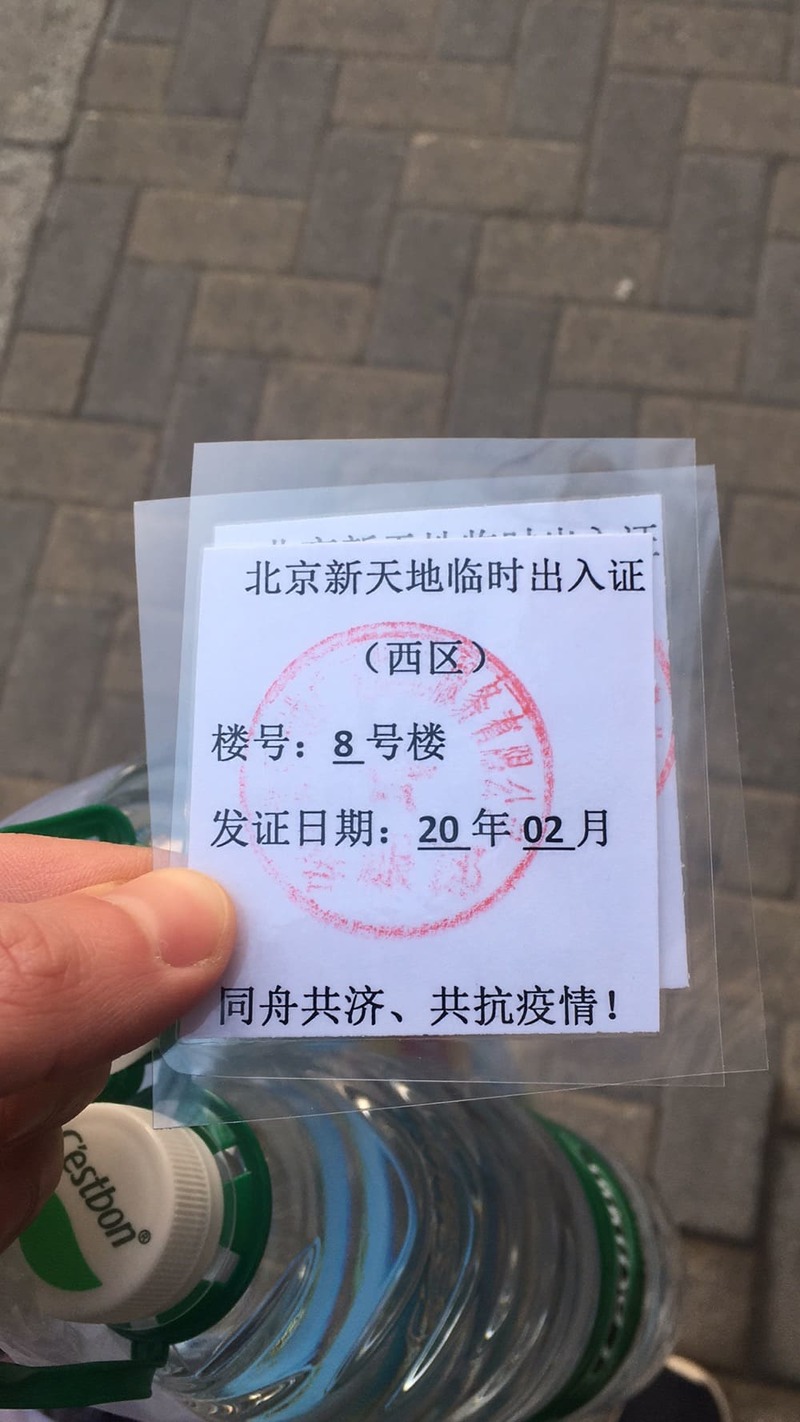 February 10th
In theory, the extended holiday season is over, there is slightly more traffic on the streets, but according to my observations, there is only one bus in service on my route.
On the metro, I wouldn't be able to lie down anymore, but there are still plenty of seats.
It's compulsory to wear a mask in public (in shops and on public transport).
More than 2 persons can't go to a restaurant together but most of the restaurants deliver – till the main gate of the neighbourhoods.
Most shops that are not supermarkets or convenience stores are still closed.
Upon entry to my neighbourhood community, they measure my temperature but they don't really check my Entry Card. I'm the "laowai" (old outsider, i.e. foreigner) here.
The dog grooming salon is open without any disruptions.
February 11th
The dog grooming salon is open without any disruptions.
My hair is getting long though…
China Corona Virus Diaries: Entry 2 (Feb - March 2020) Coming Soon
---
---
Koryo Tours