Koryo Hotel
Introduction
Location
Exterior
Interior
Visting & Tips
History
Anecdotes
Koryo Hotel: Introduction
The Koryo Dynasty (also Romanised as Goryeo), the first unified Dynasty of Korea, existed from 918 until 1392. The Koryo Dynasty was considered a high watermark in the history of Korea by many.
It had its main capital in Kaesong for most of its duration and despite coming to an end several hundred years ago, has given its name to various enterprises and organisations ever since, from Air Koryo (North Korea's national airline) to Koryo Tours (the leading travel company innovating in tours to North Korea), and of course Pyongyang's famous Koryo Hotel.
Let's take a look at Pyongyang's famous luxury Koryo Hotel.
---
Koryo Hotel: Location
Located on Changgwang Street, the Koryo Hotel sits in a prime location right in downtown Pyongyang. It sits in close range of the Pyongyang Railway Station, the Party Central District (the so-called 'Forbidden City'), the Yokjon Department Store, and many more Pyongyang landmarks and crucial areas.

Next to the Koryo Hotel is the central Stamp Store. Two minutes' walk away is the first modern café in Pyongyang (the Pyolmuri Café), and various other restaurants and bars are just a short stroll from this building.

Of course, tourists have to go with guides, but there are options within a few hundred paces from here to the next place.
It is among the most convenient places it is possible to stay when on a visit to North Korea.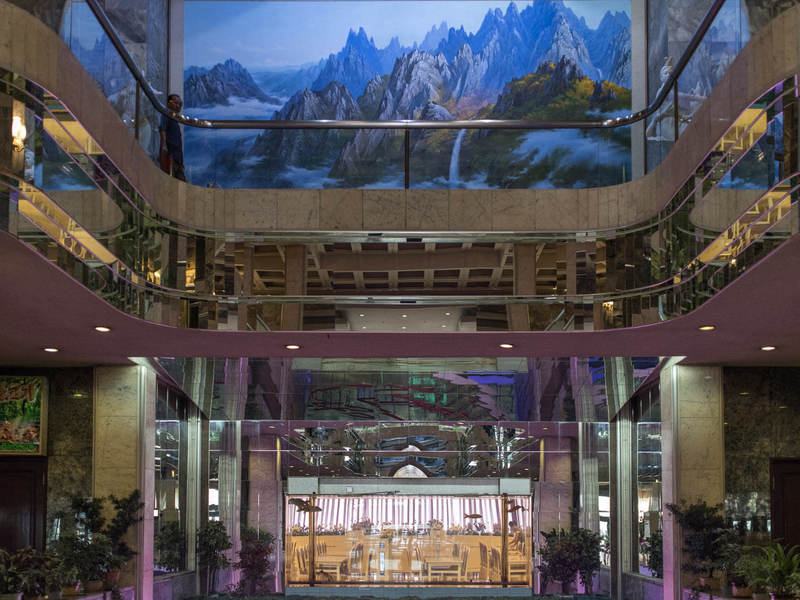 Koryo Hotel Lobby Pre Renovation
---
Koryo Hotel: Exterior
Built in 1985 as the first 'deluxe class' hotel in Pyongyang (North Korean hotels do not use a star system, so ranking can be somewhat subjective), the Koryo Hotel is a twin-towered, 43-storey building covered in red tiles.

It is immediately recognisable to any North Korean, and to many people around the world too, as one of the iconic buildings of Pyongyang and North Korea in general.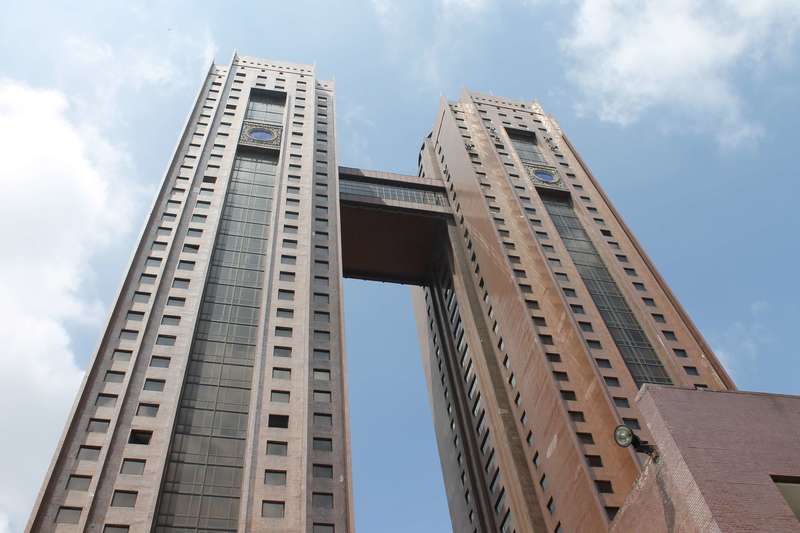 The Koryo Hotel
---
Koryo Hotel: Interior
The Koryo Hotel is well-equipped with facilities for guests.

In the lobby floor you can find restaurants, a bar, tea house, a small supermarket, cloakroom, international communications centre and more.

On the mezzanine floor more bars, a billiard room, bookshop and meeting rooms.

Down in the basement there is a pool and basic gym, as well as a fantastically retro Karaoke room, scene of many a late-night and also the first-ever performance in North Korea by a foreign DJ.

Rooms vary in size and layout, but the standard rooms are comfortable albeit a little dated with flowery carpets, dark wallpaper and bedspreads. Most have a table and chair in a cubby by one of the large windows (that can be opened to an extent, not usually possible in western hotels of such height).

There are also suites, rooms with very large beds, all manner of options here.

Koryo Hotel received some extensive renovations in 2017 which mainly focused on the lobby and on public areas which were made much shinier.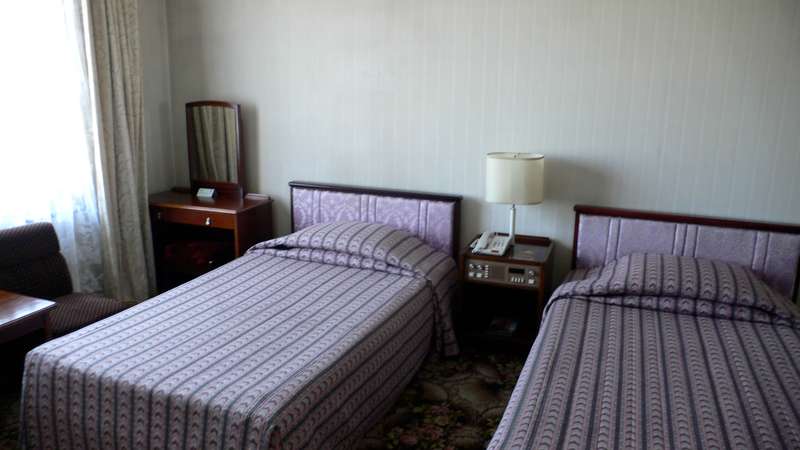 Koryo Hotel - Standard Room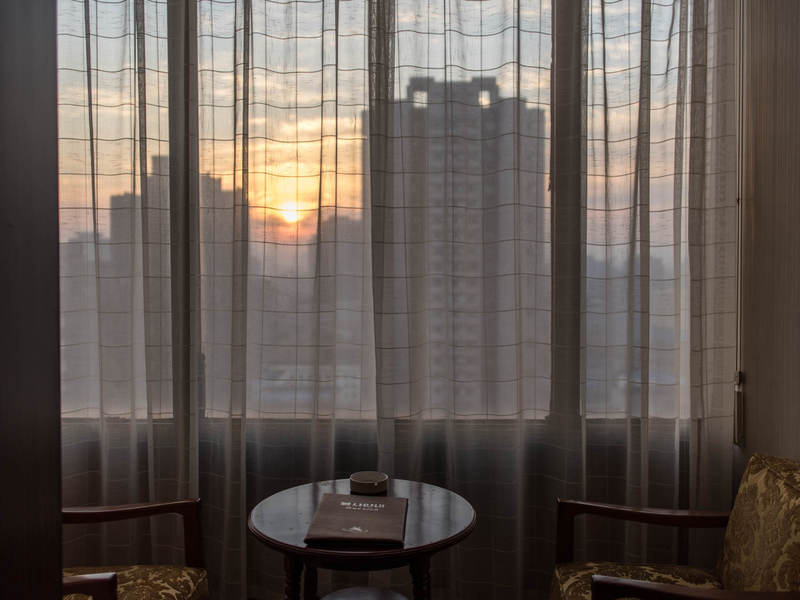 Sunset view from room at Koryo Hotel
---
Koryo Hotel: Visting & Tips
As with all other North Korean hotels you cannot go out without guides, so post-dinner evenings are usually spent on site.

Do ensure to pay attention to which tower your room is in as the corridors look the same and finding you are in the wrong tower requires you to go back down to the lobby to get into the right tower.

The breakfast restaurant is an attached building that requires you to go down to the lobby, go through a side door (on the opposite side of the building to Koryo Hotel's supermarket) and then get another lift up to the third floor of this building.

The Koryo Hotel's microbrewery is located in the same adjacent building, but to access it you need to go out of the front entrance, turn right and walk to the edge of the building where you'll find the revolving door entrance to this bar. This bar produces North Korean Beer - both a lager style beer and an excellent dark beer. Do ensure to let your guides know if you are planning on heading here.

While the Yanggakdo Hotel (the other main hotel used by tourists in Pyongyang) may be livelier at night with bars staying open later, a casino and bowling adding to the options available it is the Koryo Hotel that has better rooms, so as a hotel this is the superior option.

While it has a curious history, a fascinating and possibly-unique list of previous guests, and a constant flow of curious tourists, businessmen both of the frontier and dodgy variety, sports teams, government delegations, faded TV stars, and so many more, the Koryo is a place to see and be seen.

So even if you are staying elsewhere do see if you can stop by for a photo in the lobby, a pint in the bar, or a view (if available) from the revolving restaurant. One of the great buildings of North Korea is open to visitors and you can be among those who get to experience it!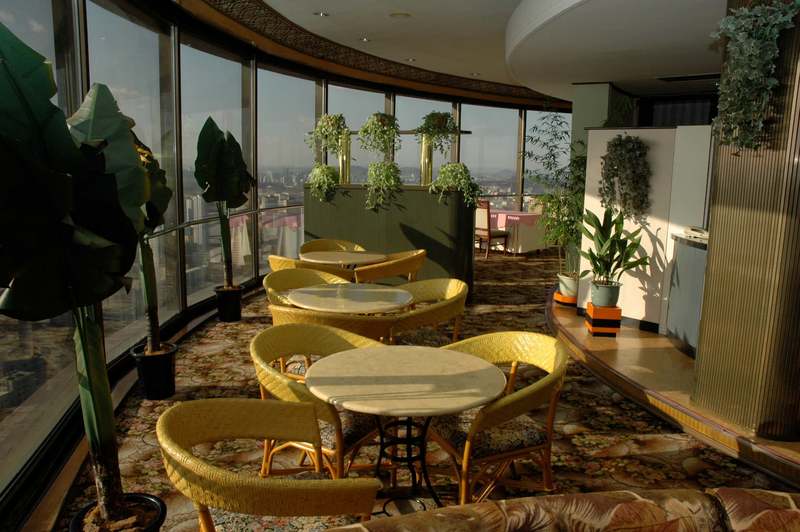 Koryo Hotel Revolving Restaurant
---
Koryo Hotel: History
1985
Koryo Hotel built.
2011
Around 2011 ground was broken in the space behind Koryo Hotel (previously a small unused garden and some areas used by staff) on a new hotel, this was never completed though and quietly the project was closed.
2012
The first ever performance in North Korea by a foreign DJ was in the Karaoke room of the Koryo Hotel, with Shanghai-based American DJ BO (Brian Offenther) spinning party classics in August 2012 to an audience of tourists, diplomats, and tour guides.
2015
In 2015 there was a fire at the Koryo Hotel on a higher floor which for a time looked very bad news, it was swiftly dealt with though, repairs were made and the rooms reopened.
2017
The extensive renovations in 2017 which focused on the lobby and public areas have sadly thrown the rather dated aesthetic of the rooms into sharper relief. The bar and tea shop in the lobby also swapped places and a detailed model of the Koryo Hotel was installed in the lobby, presumably with an even smaller model of the Koryo Hotel inside the model lobby, with an even smaller one inside its own lobby, and so on into eternity.
2019
In late 2019 the Koryo Hotel became one of the buildings in central Pyongyang to fall victim to a curious trend which is as-yet unexplained (many theories abound, one day we may know the full story!), as the windows of many high-rise buildings, apartment and hotel, were blocked up to obscure and limit views over certain parts of the city.
So, at the time of writing if one stays in the Koryo hotel expect the view to be blocked above a certain level (and sadly from the Revolving Restaurant too).
This will likely change back in the future, so watch this space!
---
Koryo Hotel: Anecdotes
The fanciest room at the Koryo Hotel is one that few of the hotel staff will even admit to having heard of, and no tour guides have ever set foot in.

It is a 3-floor suite with a private elevator that Jimmy Carter is said to have used in 1994 and which was also used by Dennis Rodman in January 2014. This place is fully off-limits and you'll never stay there, but know that this is the kind of building that can effectively hide such a massive set of rooms and have hardly anyone know about it at all (the writer of this piece has been in this suite, seen with their very own eyes!)

Jimmy Carter and Dennis Rodman are not the only celebrities and VIPs who have stayed here. The Koryo Hotel is known as the main business and delegation venue, rather than the main tourist hotel (which would be the more lively Yanggakdo); over the years such luminaries as Michael Palin, Dan Rather, the Australian national soccer team, and even Alfonso Ribiero (Carlton from the Fresh Prince of Bel Air) have stayed here. So, if you bed down for the night just imagine who may have used that room before you - it could be Bam Margera from Jackass, it could be former NBA great Charles Smith, who knows!

Fans of detective literature will be aware of this place as it features heavily in the plot of the first in the series of Inspector O Mysteries by pseudonymous author James Church; A Corpse in the Koryo.

Anyone who has read the fascinating, but largely dubious memoir of BBQ restaurateur/citizen-diplomat Bobby Egan 'Eating With the Enemy' may note the Koryo Hotel as the venue of his great anecdote about finding two people supposed to be surveilling him from a secret room in the corridor taking the time to get to know each other better than they would professionally be expected to. This story is almost certainly misremembered (shall we say), but it is well told anyway!

There used to be a place where you could even have 3D lenticular photographs taken and printed at this hotel, sadly that is a thing of the past now.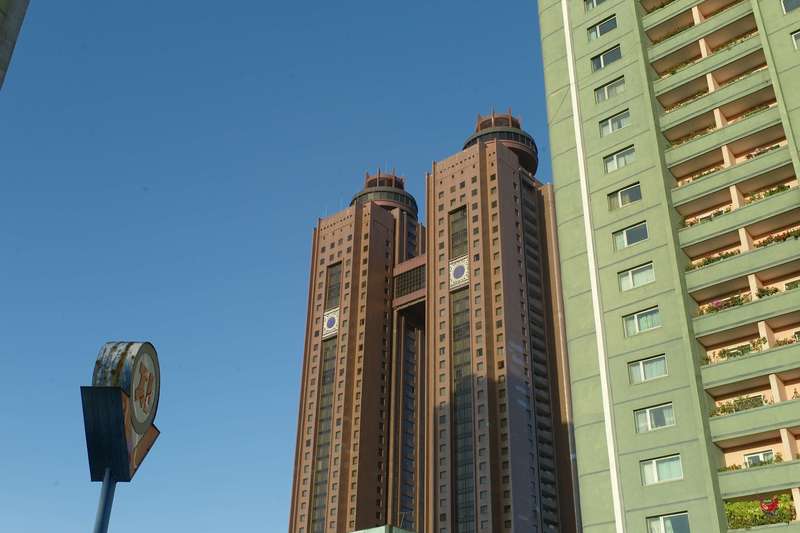 Koryo Hotel as appears from Yonggwang Metro Station Entrance
---
---
Interested in a tour to North Korea?


Travel to

North Korea

with the only
North Korea travel experts, Koryo Tours
North Korea Travel Guide PDF | Sign up to the mailing list | About Koryo Tours