Pohyon Buddhist Temple
Location
Architecture
Buddhism in North Korea
Visiting
Cost
Tips
Pohyon Temple is probably the most visited Buddhist temple in North Korea.
Pohyon Temple is in the Mt. Myohyang area, just across a small stream from the International Friendship Exhibition. Built in 1042 and rebuilt several times since then, Pohyon Temple it is a genuinely serene and truly lovely spot.
Exactly as a countryside Buddhist temple should be really.
---
Location
Mt. Myohyang is about 3 hours drive north of Pyongyang.
Combining a trip to the International Friendship Exhibition with the Pohyon Temple is ideal, Hiking in this mountain is possible, as are visits to some underground cave systems.

A day-trip from Pyongyang is possible but staying overnight makes it easier to do more when in this part of the country.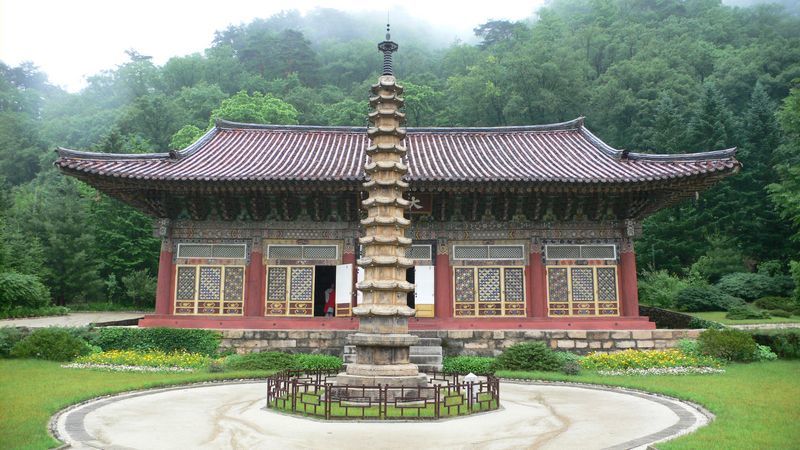 ---
Architecture
Originally consisting of a larger complex of 24 buildings, the temple is now made up of around half as many.
This is largely due to the bombing of this area during the Korean War, the scars of which will be shown to visitors by local guides during a tour of the Pohyon Temple.
---
Buddhism in North Korea
The history of Buddhism in Korea is a long and complex one.
Buddhism in North Korea came from China in the 4th Century. It took around six hundred years to become the state religion, under the Koryo Dynasty. While extent since its introduction, it has also been suppressed at times. We can see this throughout history for example under the Li (Joseon) Dynasty which preferred Confucianism.
These days, of course, North Korea doesn't have an official state religion. Nevertheless, Buddhism remains the most prominent of the traditional belief systems in terms of relics remaining around the country.
Temples built in remote areas often avoided the destruction of the various wars, or have been rebuilt and restored as parts of cultural history.

While it is easy to be sceptical of the current status of any practising Buddhists in the aggressively secular North Korea, there are a handful of monks on site who are happy to answer questions about their faith and their lives, rituals do get carried out and, as with all such temples, visitors are welcome to burn incense, make offerings, and so on when visiting this place.
Religion aside, this is simply a beautiful place. It's architecturally significant, historically fascinating (ask to be told about the warrior monks who lived here in the 16th Century), and photographically ideal.
This is an essential spot to visit when in the Mt. Myohyang area.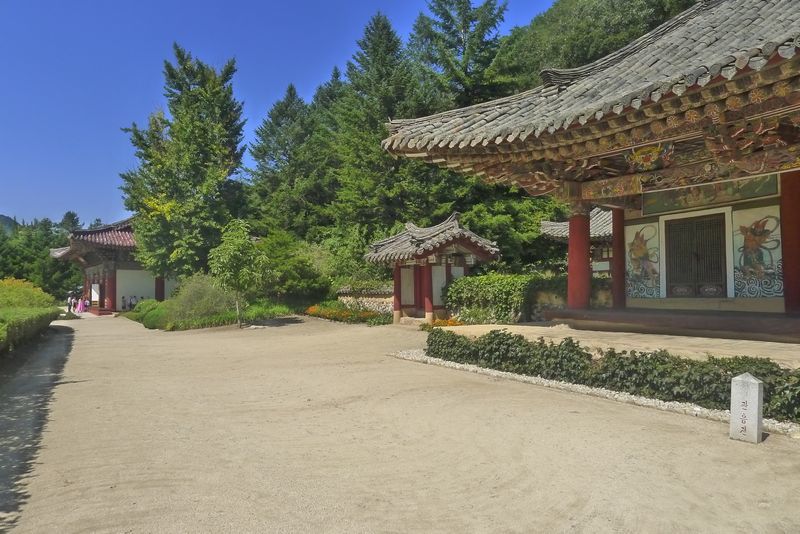 ---
Visiting
There is a set tour path around this temple.
Visitors gather in the car park and first see a mosaic map of the temple and surrounding valleys (see the hermitages and various pavilions in the Myohyang area here). Some old stelae and markers (some with war damage) show the age of the site.
Then visitors, proceed through various halls and past buildings showing Buddhist scenes, some of them rather violent.
Sokka Pagoda is particularly impressive.
It dates from the 14th Century and is a 10m, 13 storey stone pagoda decorated with 104 small bronze bells. When the wind blows this makes a lovely sound.

Each of the buildings and halls here have a different purpose and history some are for study, some are for specific rituals, all can be explained on-site. The oldest extant building here is the Kwanum Hall, built in 1449, the newest would be the re-built Taehung Hall, finished in 1979.

At the end of the Temple tour, there is an archive building called Changgyong Pavilion. This contains a copy of the Tripitaka Koreana; more than eighty thousand wooden blocks printed with Buddhist Scriptures.
After this, you will find a small shop selling guidebooks and some goodies made from the wood of the surrounding mountains (backscratchers, wooden pillows, toothpicks, etc).
This is a good place to sit and soak up the unusually serene atmosphere of this lovely spot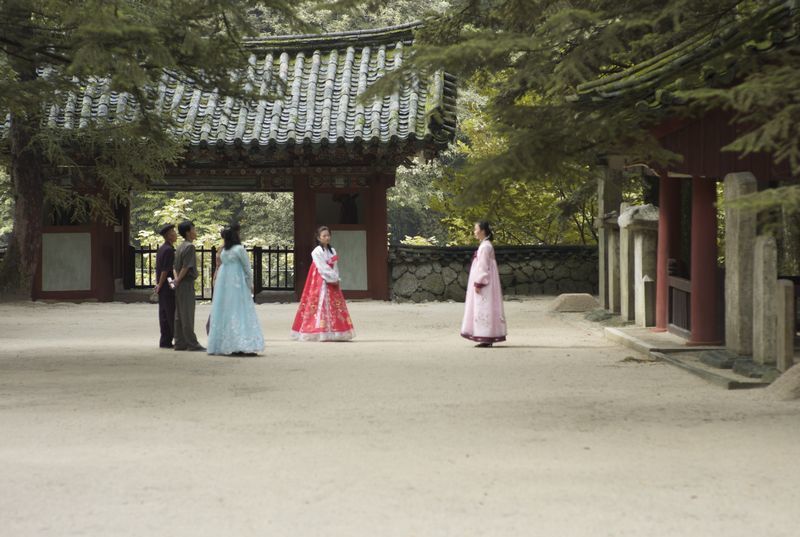 ---
Cost
No additional fee for tourists visiting here, offerings in the form of money can be made at the various halls in this temple and incense etc can be bought here but there is no obligation to pay for anything or buy anything.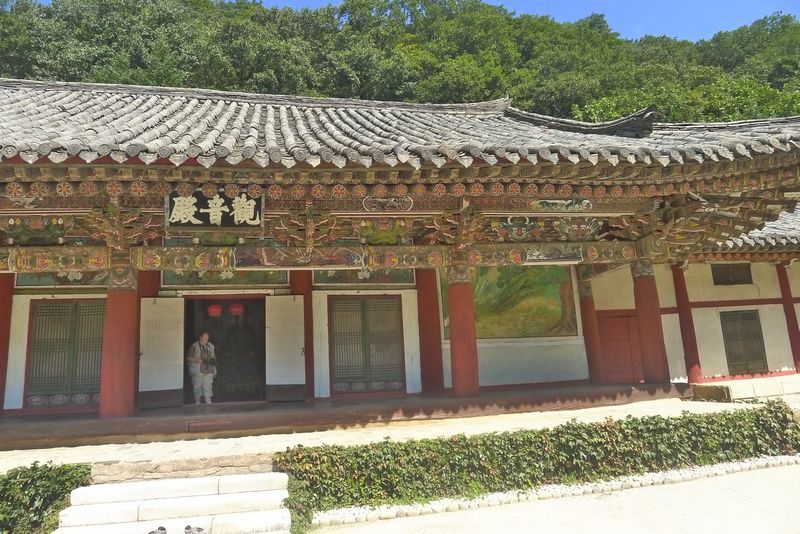 ---
Tips
If you want to go inside any of the halls you will need to take off your shoes.

While many other Buddhist temples in the world will also have a dress code about covering up legs etc this, Pohyon Temple has no such rules and is fairly laissez-faire with what tourists wear here, as long as you take off your shoes!

If setting out on a long hike in the Mt. Myohyang area, it is best to visit Pohyon Temple first to see the map of the area you will be hiking in and to hear some stories of the monks and holy men who were based in the temple and went into the mountains for stays at hermitages.

Ask about the monk Sosan, a warrior who fought the Japanese and is honoured at this temple, he spent time at the Kumgang Hermitage, deep in the mountains that rise above the temple.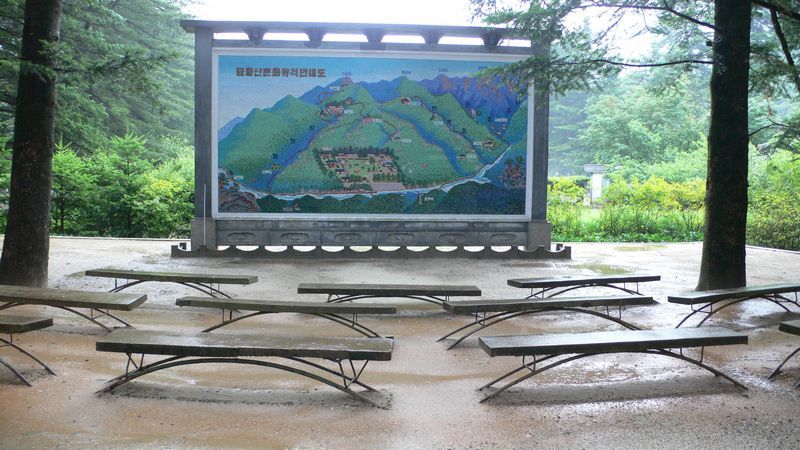 ---
---
Interested in a tour to North Korea?


Travel to

North Korea

with the only
North Korea travel experts, Koryo Tours
North Korea Travel Guide PDF | Sign up to the mailing list | About Koryo Tours