Mt. Taesong - Taesongsan
Introduction
History
Location
Visiting
Pro-Tip
Introduction
At the edge of Pyongyang, the north-west side, the peaks of Mt. Taesong loom.
This is these days an area mainly devoted to leisure, but in the distant past was a powerful fortress and strategic location, crucial to the survival of Pyongyang as a city and powerbase in its own right.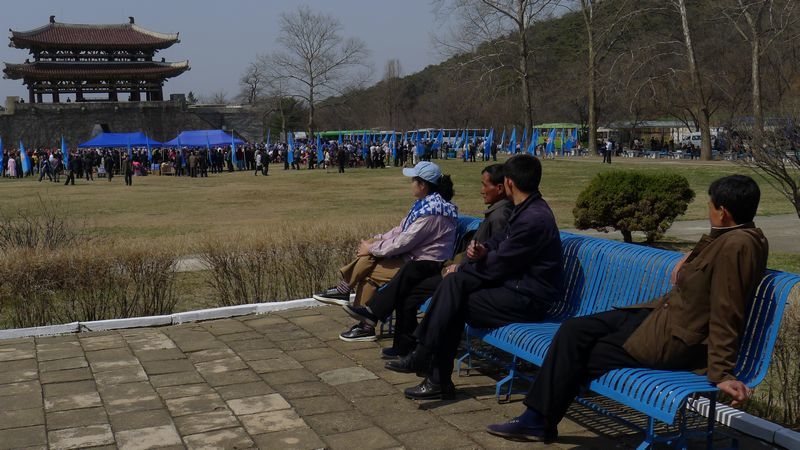 ---
History
Pyongyang was already a significant regional centre by when the Kings of the Koguryo Dynasty decamped from their previous capital (which now sits in Jilin Province, China) to Mt. Taesong, building a fortress here which became the capital city in 427 when a defensive wall of more than 7km was built. Remnants of this wall still exist.

With the nearby Anhak Palace (now a site for archaeological excavations) as well as being home to various tombs of leaders, this became a very important place, but as the urban sprawl of Pyongyang became more important and the administration of the kingdoms moved down the hill and then on to Kaesong city over the centuries Mt. Taesong became a less important place and fell into disrepair.

DPRK history records anti-Japanese activity (as evidenced by the finding of the famous 'slogan trees' in this area) here in the 1930s, this would be a testament to how overgrown the area had become though.

Form the 1970s though, large-scale renovations began to turn Mt. Taesong into an area accessible and useable by Pyongyang's citizens.

In 1975 the Revolutionary Martyrs' Cemetery was built here, in 1977 the Taesongsan Funfair was opened and visitors here can still ride some of the rides from that time if they dare; plus it is here that you can see the renovated Nam Gate; once the main entrance to the citadel from which the Koguryo Dynasty projected its power.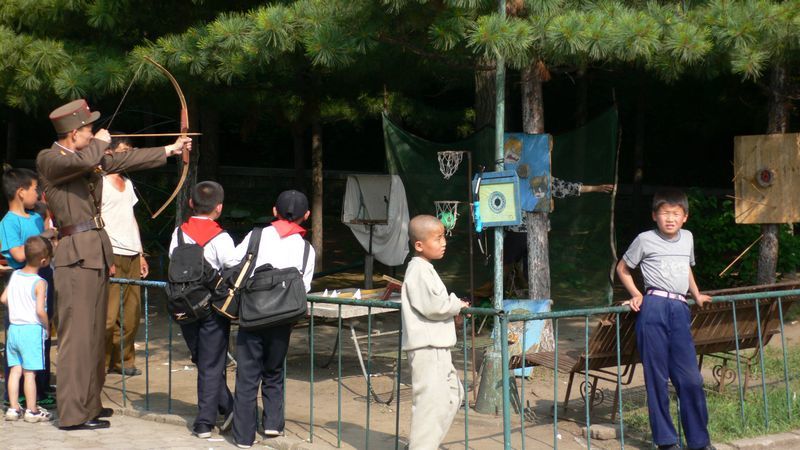 ---
Location
Mt. Taesong is directly to the north-east of central Pyongyang, around 20 minutes' drive from the city centre.
The Pyongyang Metro reaches all the way out to Mt. Taesong with its most remote station 'Rakwon' (meaning 'paradise') reaching all the way out here.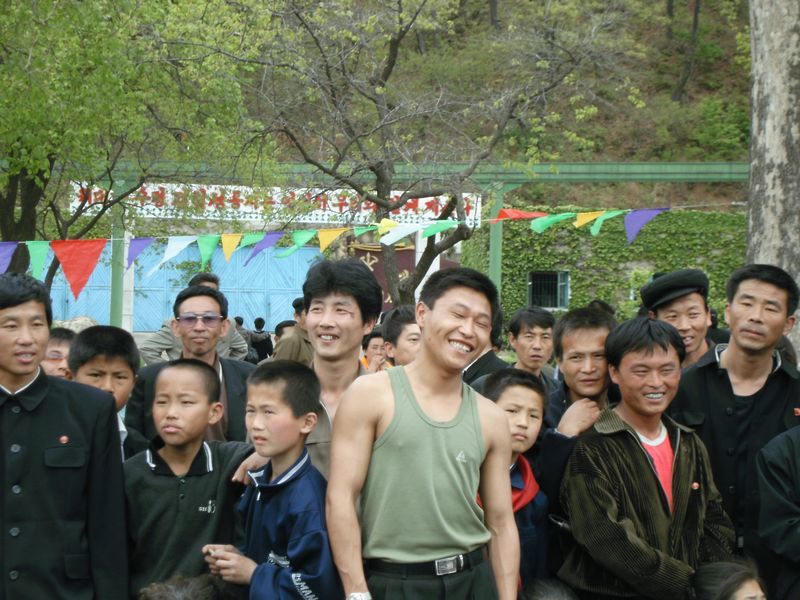 ---
Visiting
At the foot of the mountain are the Pyongyang Central Zoo and Botanical Gardens, and while the Anhak Palace may not be available for foreign tourists there was briefly a very quirky park built next to it and then demolished a couple of years later which featured scale models of Pyongyang's main sites as well as a selection of highlights of the country in general.

Known as 'Mini-Pyongyang' to many but officially as the 'Pyongyang Folk Park' this curio was a fun place to visit but the reason for its hasty demolition remains unknown.

Near to Mt. Taesong, you can also find the Pyongyang Astronomical Observatory, not open for visitors but a notable site anyway in a society with a long history of stargazing and astronomical observations (Korea is considered the first country to specialise in this).

While much of Mt. Taesong remains covered in trees there is still much to see here for the visitor; the funfair is rarely open (having been superseded by three successors in Pyongyang; Mangyongdae Funfair, Kaeson Youth Funfair, and Rungrado Funfair) but on holidays, some Sundays, you can come out to join locals relaxing in this very pleasant area.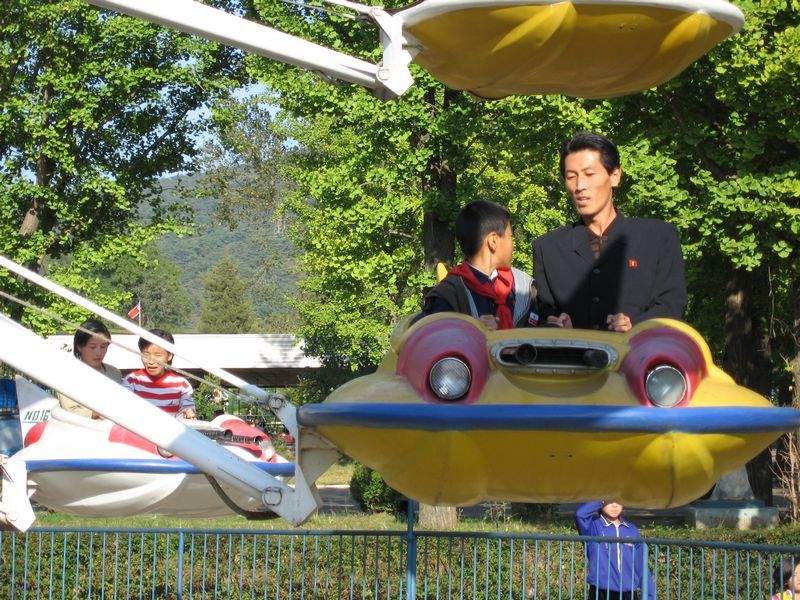 ---
Pro-Tip
Visit here on May 1st for International Workers' Day celebrations. This is the only major holiday in the DPRK that is not specifically related to a North Korean event (being an international holiday).

People from all over Pyongyang gather at Mt. Taesong for folk games, picnics, relaxing. It is genuinely the best day of the year for mixing with locals.

Tour guides are happy to let visitors wander off (under the promise of not getting lost!) and much fun can be had along with much more interaction than is usually possible or would be expected by most tourists.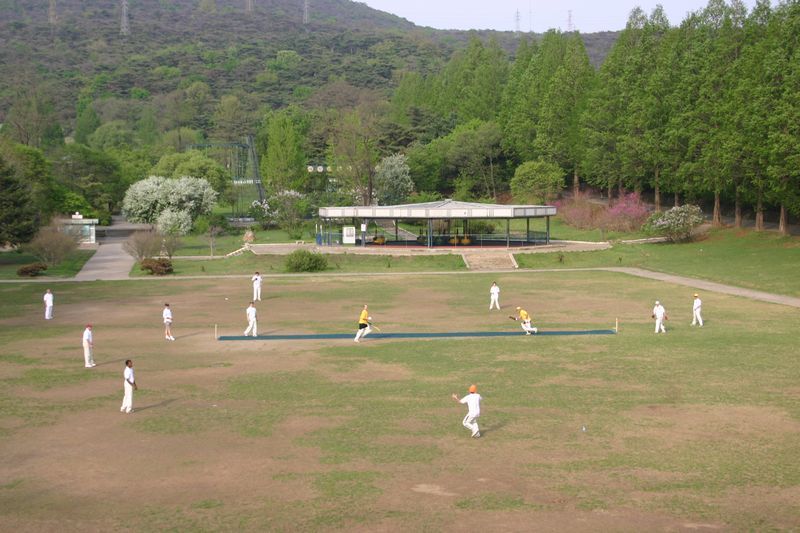 ---
---
Interested in a tour to North Korea?


Travel to

North Korea

with the only
North Korea travel experts, Koryo Tours
North Korea Travel Guide PDF | Sign up to the mailing list | About Koryo Tours