Revolutionary Martyrs' Cemetery
Background
Location
Notable Burials
Revolutionary Martyrs' Cemetery: Background
The Revolutionary Martyrs' Cemetery is dedicated to individuals who fought for the liberation of Korea from Japan during the 1930s and 40s.
Originally completed in 1975, it was renovated a decade later in 1985 when it was expanded to cover an area of 30 hectares.
Each grave's headstone is topped with a bronze bust of the individual, made at Mansudae Art Studio.
They are also engraved with their name and the dates of their birth and death.
The cemetery is not only for revolutionary fighters who died during the struggle, but also fighters who survived and died in the decades following national liberation.
At the far end of the cemetery is a large red flag made of granite; there are numerous other statues and monuments dotted around the cemetery.

Revolutionary Martyrs' Cemetery: Location
The cemetery is located on Mt. Taesong just outside of Pyongyang to the east. It is visible from miles around due to its conspicuous location on the side of the mountain.
This cemetery is not to be confused with the Victorious Fatherland Liberation War Martyrs' Cemetery which is situated north of Pyongyang and is dedicated to Korean War veterans.

Revolutionary Martyrs' Cemetery: Notable Burials
Kim Jong Suk – The wife of the President Kim Il Sung and mother of the General Kim Jong Il who served alongside her husband during the anti-Japanese revolutionary struggle. She died in 1949.
Kang Pan Sok – The mother of the President Kim Il Sung. She is known as the 'Great Mother of Korea' and is commemorated at the Chilgol Revolutionary Site – the church which she used to attend with her son.
Nam Il – A Russian-born Korean politician and general who moved to soviet-occupied North Korea after the second world war. He served as the DPRK Chief of the General Staff during the Korean War and as Foreign Minister from 1953 until 1959. He died in 1976.
Kim Chaek – A guerrilla fighter who joined Kim Il Sung's revolutionaries in 1927 and commanded Korean People's Army troops on the frontline during the Korean War. He died in combat in 1951.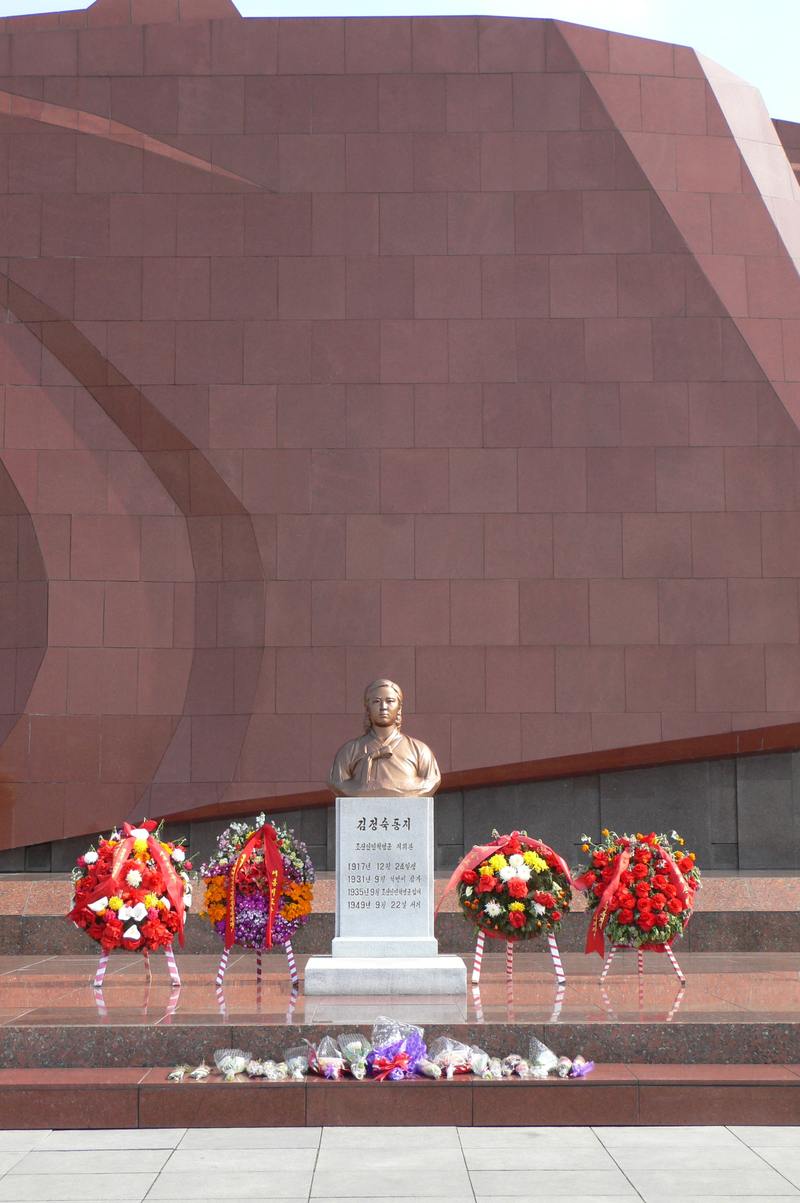 ---
---
Interested in a tour to North Korea?


Travel to

North Korea

with the only
North Korea travel experts, Koryo Tours
North Korea Travel Guide PDF | Sign up to the mailing list | About Koryo Tours