Moranbong Park
Introduction
Location
Visiting
Tips & Anecdotes
Introduction
While much of Pyongyang was built in the modern post-war era, Moranbong Park has been a beauty spot for generations, the name itself means "Peony Hill" due to either the shape of the park or the proliferation of flowers within it, take your pick!

There is a claim made that of all of Asia's capital cities it is Pyongyang which has the greenest space per capita. This may well be true and the amount of parks and green areas in the DPRK capital is indeed impressive, the most central and most worthwhile for visitors is Moranbong Park.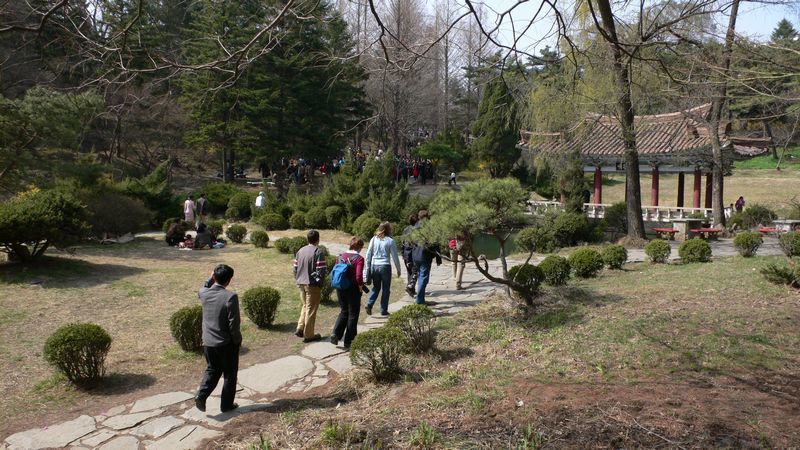 ---
Location
Moranbong Park is in the centre of Pyongyang, just to the north of the Mansudae Grand Monument and set on a scenic hillside which rises up to give a view over Kim Il Sung Stadium, the Arch of Triumph, Pyongyang Television Tower, and the Taedong River.

During the winter this is a desolate and brown place, open but usually empty. In spring and summer though, especially on holidays and Sundays, this can be a very bustling place, with many tens of thousands of Pyongyangers gathering for picnics, drinking, dancing, courting, and much more.

For anyone wanting to increase their interaction with local people having a relaxing time, this is the very best place you can come to, so make sure it is part of your tour itinerary! There is grass, so many trees, the deafening sound of cicadas at certain times, it is simply one of the most fun places in the DPRK on such days.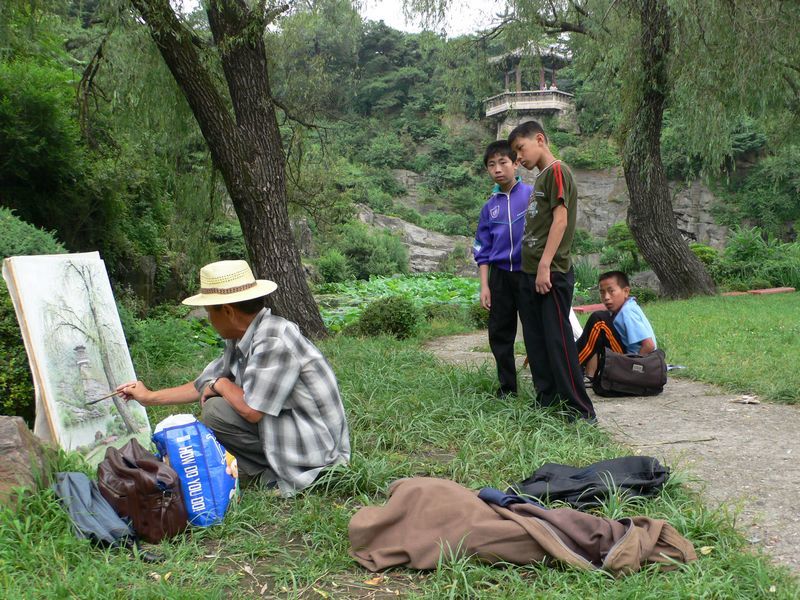 ---
Visiting
Within Moranbong Park itself are a range of interesting sites to visit too, some ancient and some more recent.
As the city wall of Pyongyang was built around here during the Koguryo Dynasty there are remnants of this structure to be seen, mostly on the side of the park that rises above the Taedong River, various wars were fought by folks on either side of these walls, so there is a deep pre-DPRK history to this place for sure.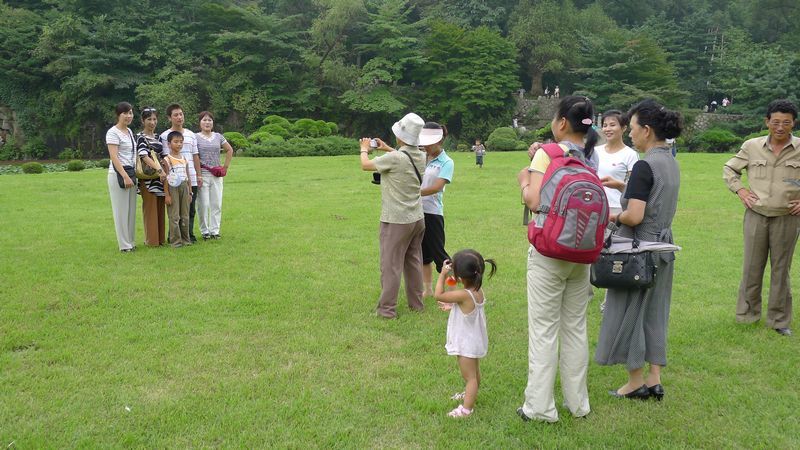 At the top of the hill itself is the Ulmil Pavilion, named either for a fairy who ascended from here to heaven, or a General who led a battle for this park, either way it is a fine spot to aim for, commanding excellent views, great photo opportunities, and there are usually ice-cream sellers nearby too.
Once part of the city wall and dating from the 6th century it survived numerous sieges and attacks until being destroyed in the bombing of the Korean War, rebuilt in the period style it is one of the best spots in the park and the view from here is considered to be one of the Eight Famous Views of Pyongyang from historical times.

On holidays the best place to head for though is Aeryon Pavilion, this is not a defensive structure but rather a large pavilion next to a pretty pond at a lower point of the park.
On holidays and good-weather weekends older people (and some young'uns) gather here in their multitudes for public dancing, this is a sweaty and frenetic affair, often fueled by a bit of liquid lunch, the music is incessant, the dancing is energetic and freestyle, mostly 'Korean' dancing which involves raised arms, quite tiring on the shoulders for those used to something more restrained! You can opt to join in, or just watch, but you may be dragged in anyway by some enthusiastic and fearless women, it is great fun and unmissable quite frankly!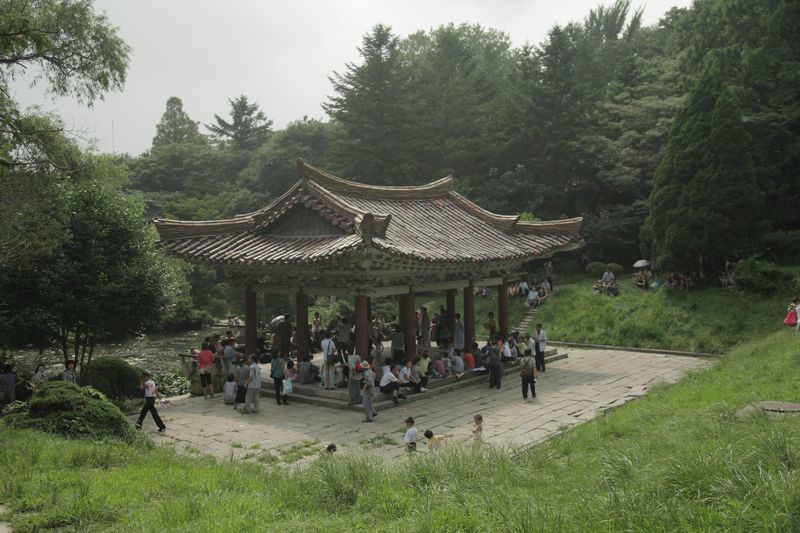 Chilsongmun, or Chilsong Gate is another particularly attractive spot, many DPRK period movies are filmed here so if you are a Chollywood film buff you will have seen this place plenty of times.
Once the northern gate of the walled city this powerful structure is built into the hill itself and is made up of a gatehouse with a road tunnelled underneath. Very impressive both architecturally and aesthetically, this is actually usually skipped on most visits to the park due to being in a slightly awkward location, but if you are interested then ask your guides and they can take you there.

Another spot where locals gather and have a drink and advance sometimes is the scenic Pubyok Pavilion, originally this was part of a 4th Century temple but now only the pavilion remains, offering a view over the river and over to the east side of Pyongyang.
Near here is where a Unicorn's Lair was discovered a few years ago, to derision and many lolz from the foreign press who ignored the fact that this was not actually claimed to hold a unicorn, and that one particular western country has a unicorn on the front of its passport and manages to avoid such mockery.

It seems myths are only allowed to be non-literal when it comes to places outside the DPRK!
For more on the unicorn story check out this guide to the Tomb of King Tongmyong, owner of the unicorn!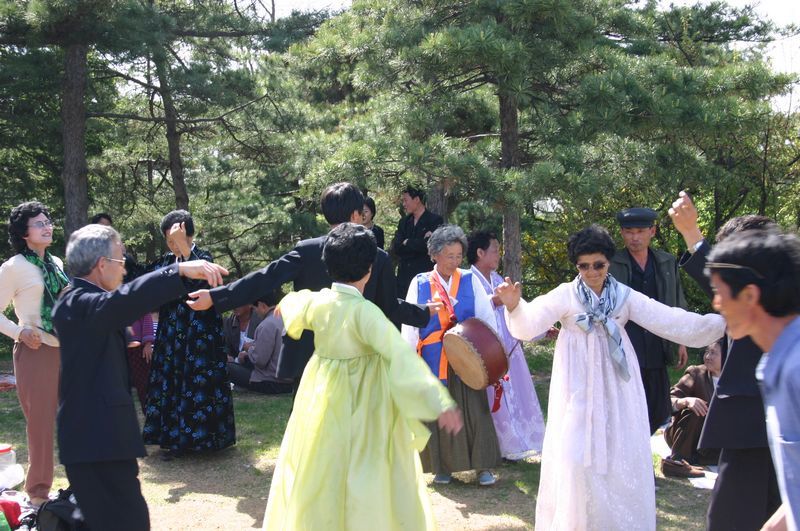 To the south end of Moranbong Park, you can find the Liberation Tower – built as a thank you to the soldiers of the Soviet Army who assisted in the defeat of the Japanese in 1945, there is no such offering to other nations who also went to war in the far east on the same side, and for much longer, but let's not complain about that!
The monument is a small stone tower, topped with a red star, and also has bronze reliefs of Russian and Korean soldiers working together. Vladimir Putin visited here in 2001, just after his elevation to the Presidency.
Looking over at the park from the Mansudae Grand Monument you can see the Liberation Tower, and beneath it the large open-air Moranbong Youth Theatre, recently renovated and used for concerts and rallies for the Children's Union and other youth groups, a small park-within-a-park with ponds, grassy areas, etc can be found here too.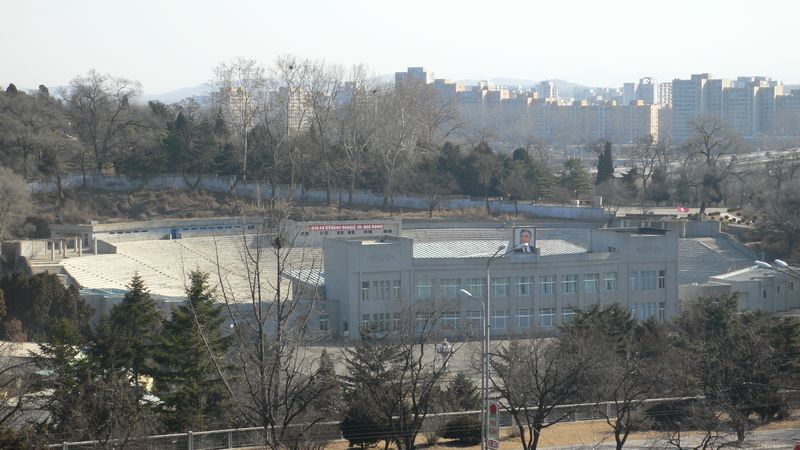 Further uphill is the Moranbong Theatre, still in use and one of the oldest buildings in Pyongyang.
This was once a Shinto shrine and the theatre was built on top of it in 1946, the roof style is suspiciously Japanese, but maybe don't mention that too loudly!
Bombed in the 1950s and then rebuilt this is now simply a theatre, pre-war though it was actually where the Parliament of the DPRK was initially held, as well as North-South joint conferences in the late 1940s too. So, it has a storied political history, as well as being quite a lovely building in and of itself.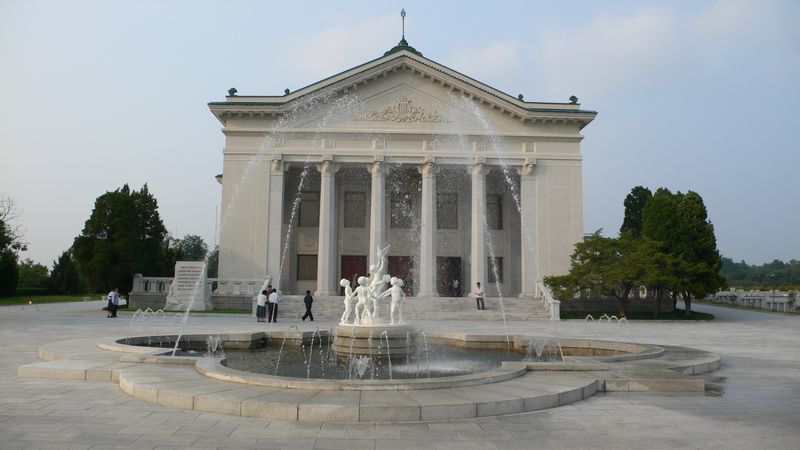 Moranbong Park also bends around the east side of Kim Il Sung Stadium and the Kaeson Youth Funfair, to technically encompass the part of the hill which holds the TV tower and the Sino-Korean Friendship tower, however this is not generally considered the main Moranbong Park by locals.

This isn't even an exhaustive list, there are lots of pavilions and beauty spots in the park, people playing volleyball, people getting wedding photos taken, people sleeping under trees, kids playing, it is genuinely charming and a lovely place, 100% a must-see if you are in Pyongyang on the kind of day that locals would spend in this park, so make sure you are there to experience Pyongyang Parklife, and limber up for some dancing in advance!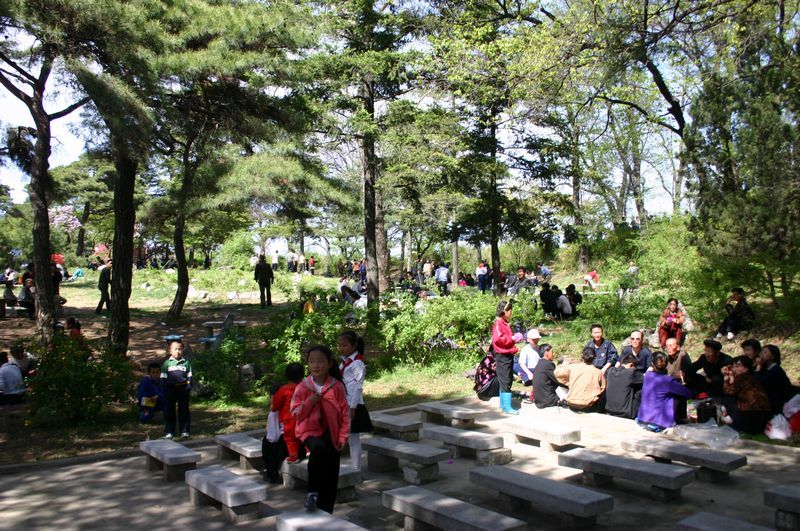 ---
Tips & Anecdotes
North Korea's most famous and admired band, the Moranbong Band, is named for this very hill/park. Since their foundation in 2012 they have dazzled local and foreign audiences with their upbeat, technically-advanced, and highly-patriotic concerts.

Probably the only genuine expression of North Korean soft power these ladies are the vanguard of both music and fashion in the country and would grace the bedroom walls of a million teenaged boys if posters of them were actually printed! Check out a concert by this remarkable band online here

Moranbong Band often perform in Kim Il Sung Square to see in the New Year, a concert open to foreign tourists too, so consider a visit over the new year if you want to see these ladies perform live and in public.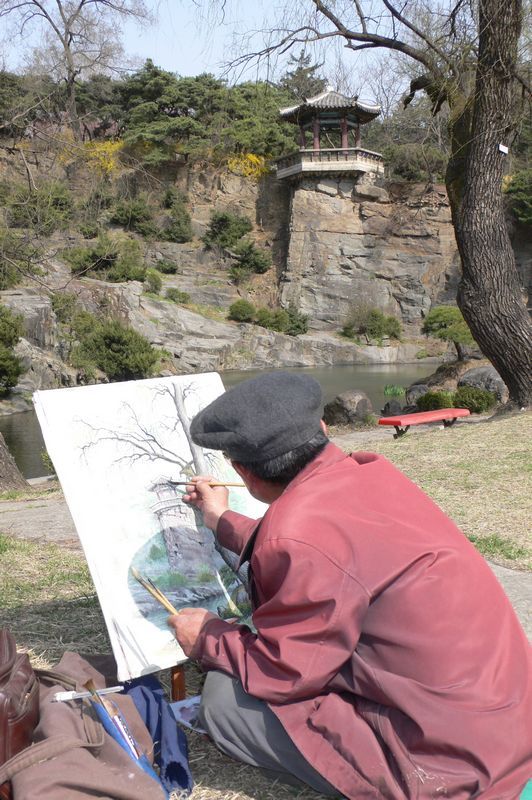 ---
---
Travel to
North Korea
with the only
North Korea travel experts, Koryo Tours
North Korea Travel Guide PDF | Sign up to the mailing list | About Koryo Tours